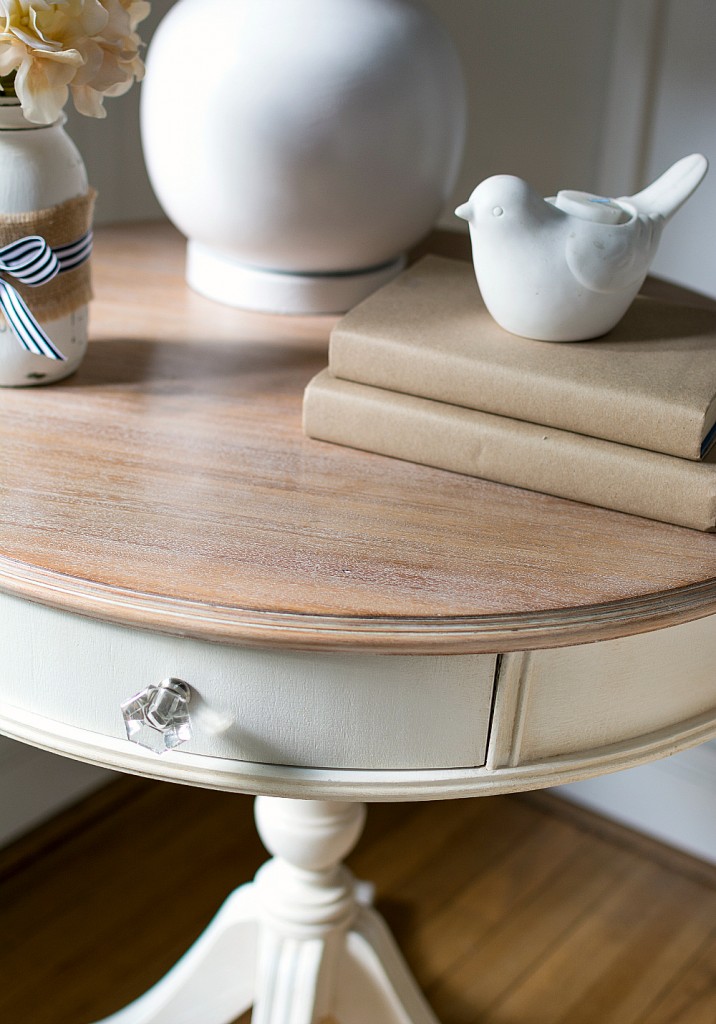 Remember yesterday when I was working on part 1 of my drum table makeover and I shared how I was told by the creative genius who is Amy Howard to put down the sandpaper when painting furniture?
Well, today I'm picking it back up. In 60, 120 and 220 grit.
But it's not to create a faux finish. It's for the prep for the liming wax finish. You see, I started with a surface that looked like this …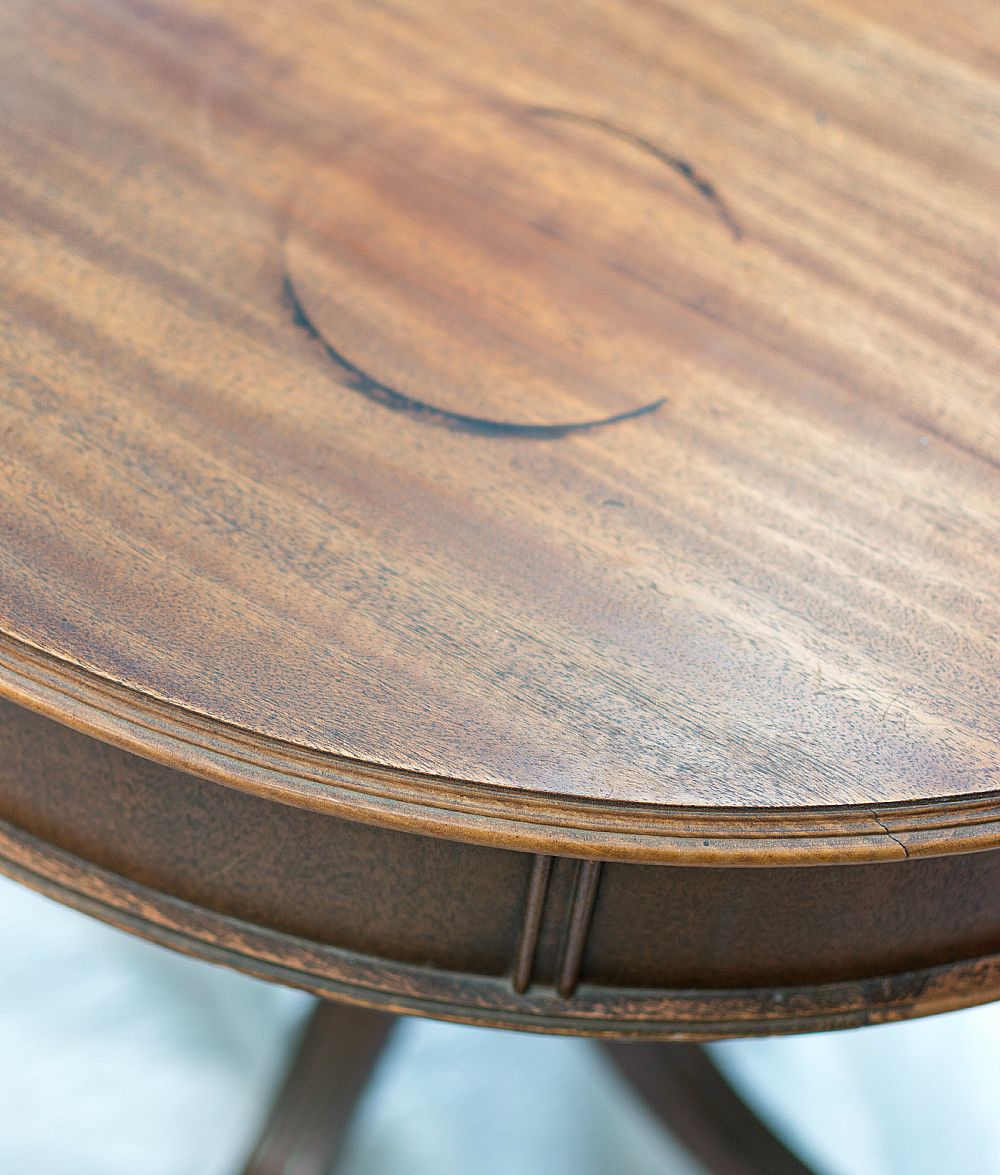 and there's not enough liming wax in the world to make that look better without a little prep.
Prepping The Wood Surface
Materials*
Sandpaper (60 grit, 120 grit, 220 grit)
Tack Cloths
Let me start by saying you don't have to strip the surface of the piece your working with. In fact, if you like the finish — whether stained or painted — but want to add a lime wash, skip to the "How To Whitewash With Liming Wax" section.
I toyed with the idea of first stripping the top, but that's messy. And a hassle. Plus, if we can believe what I found on the bottom of the drawer …
this piece is old.
Really old.
It's been in my home for 20+ years. It was with my husband for 10 years before that. And it came to him from an aunt. Or grandparent.
Which leaves me inclined to believe 1914 is a true indication of age. Which also means, 100+ years later, any varnish top coat had been completely worn away.
So I decided to attack it with sandpaper.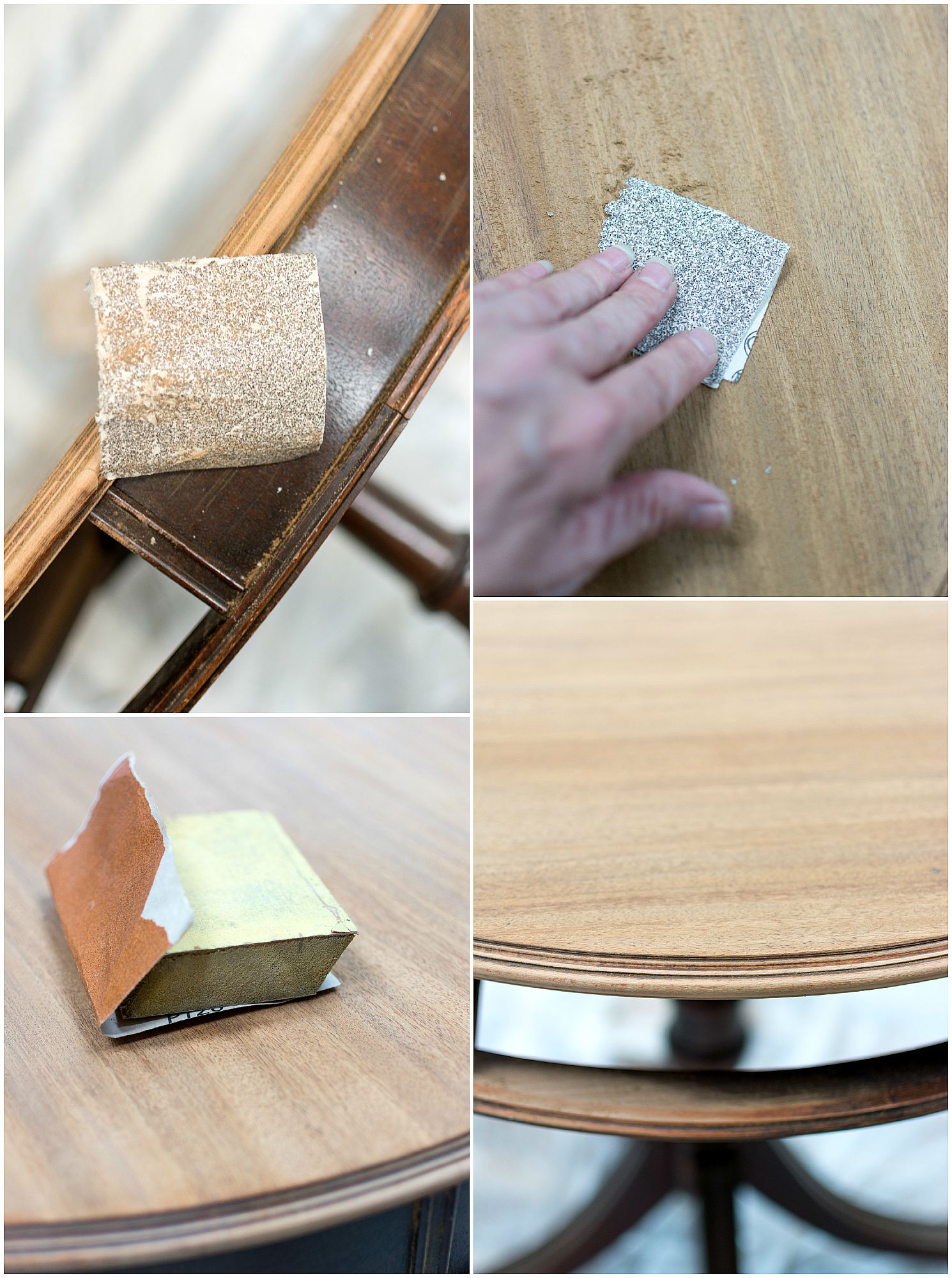 Which worked perfectly for me. I started with 60 grit. Followed by 120 grit. Then 220 grit. Followed by a tack cloth to thoroughly clean the surface.
Next up, I needed to open the grain. Which I did using a wire brush.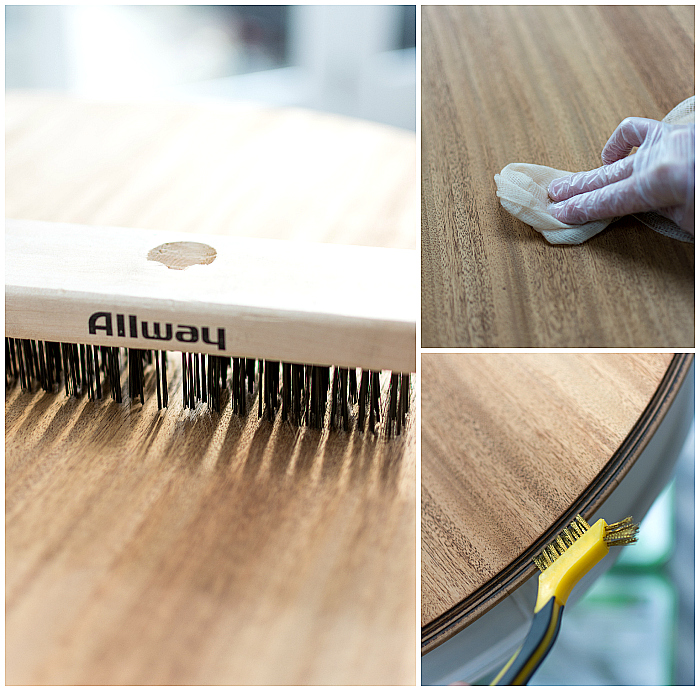 It's very important to go with the grain. Otherwise you'll create scratches in the wood. Use a tack cloth to clean off any residue and debris before moving on to the next step.
How To Whitewash Wood Using Liming Wax
Materials*
Amy Howard at Home Dark Antique Wax
Spackle Knife (Plastic)
Sponge
Lint Free Rags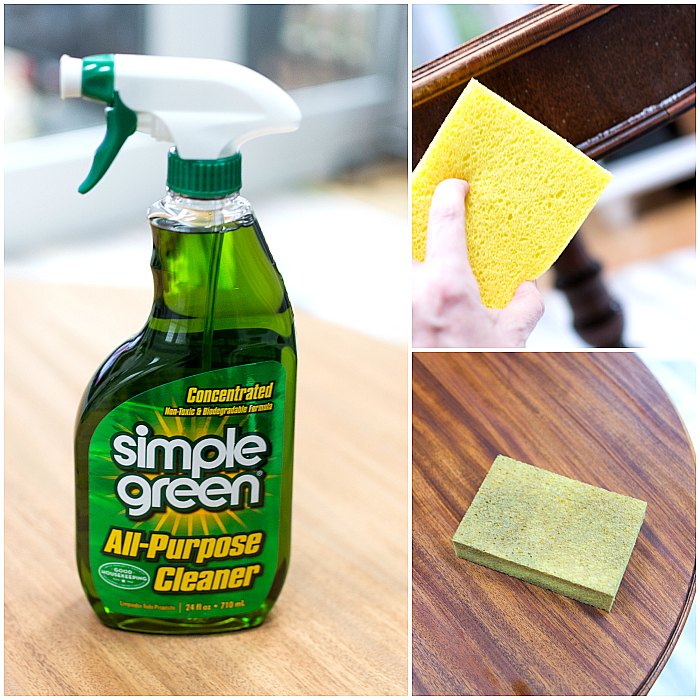 Clean the surface with an all-purpose cleaner. I used Simple Green – but you need to dilute the solution first according to instructions on the back of the bottle. I went with a 10 to 1 solution. And be sure to wipe it clean a second time with a wet sponge to remove any residue.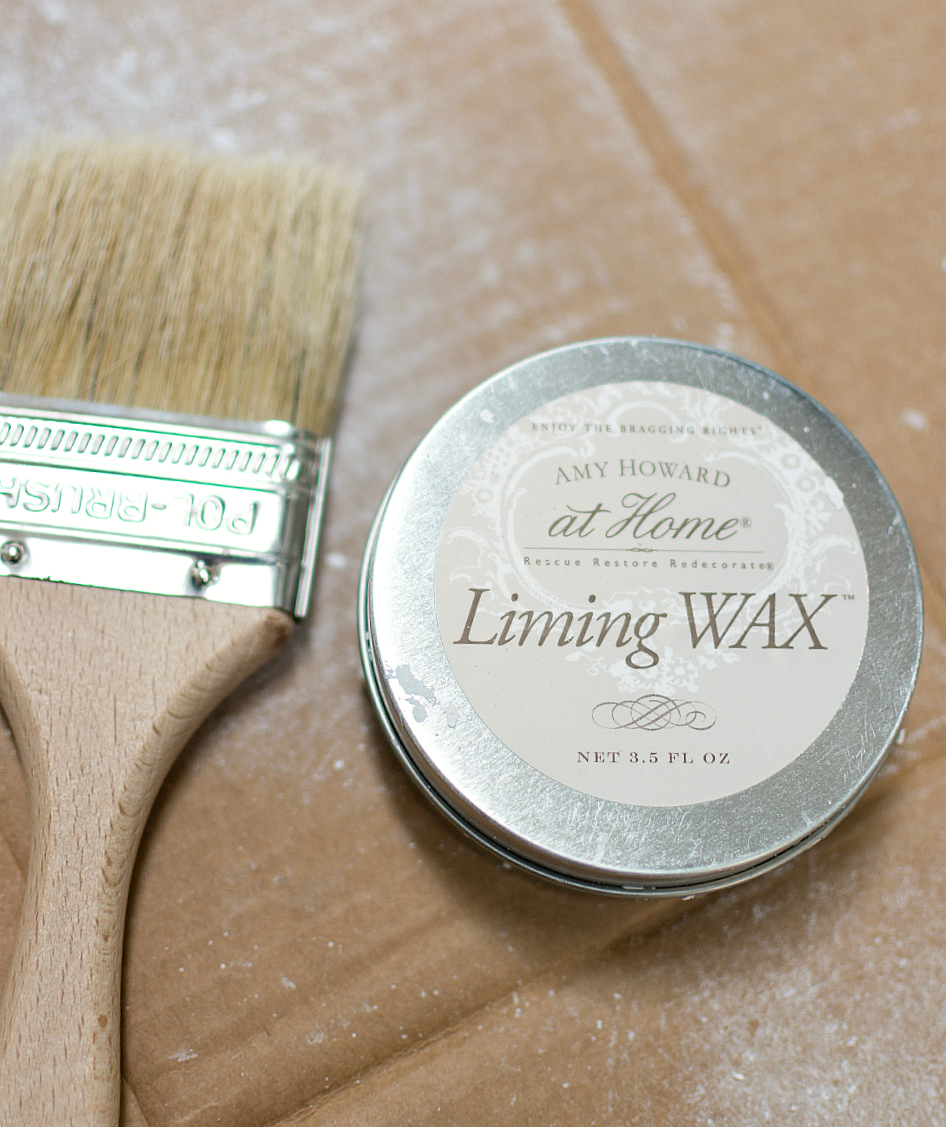 Now it's time to apply the Amy Howard at Home Liming Wax. For my first application I used a plastic spackle knife.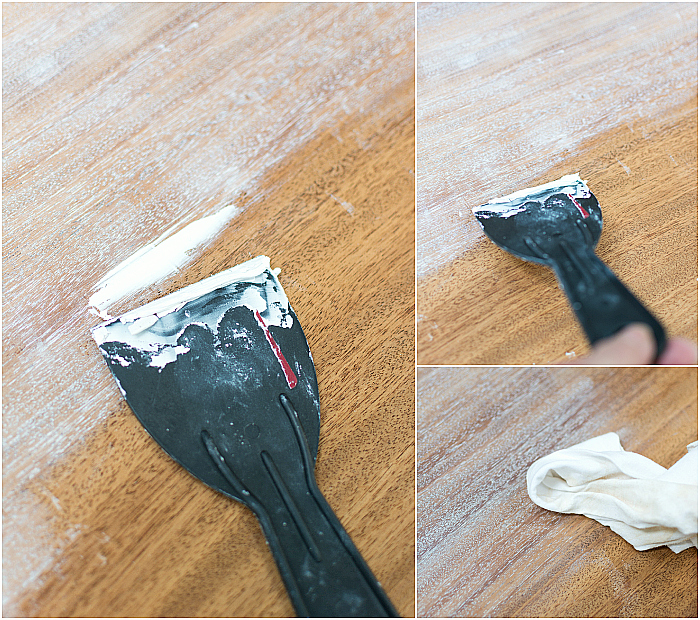 I put a generous portion of wax on the end of the knife. Working in 4-6″ widths across the table, I pushed the wax into the grain and immediately came back and pulled off the excess with the clean side. Much the same way you would apply spackle to a wall. As I worked my way across the table, I followed up each section with a lint free rage to buff away any extra wax without pulling it out of the grain.
*As a side note, this is when I started to panic. Wondering if perhaps I made a mistake. If perhaps I was waaaaay over my head. But I took a deep breath and charged on …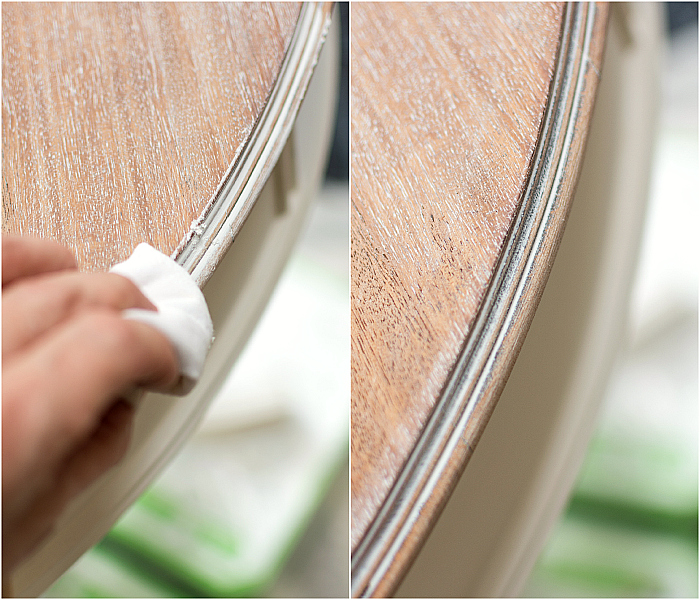 For the edge of the table, I loaded up wax on a lint free rag. Working in small sections, I pushed the wax into the crevices and immediately came back and wiped away the excess.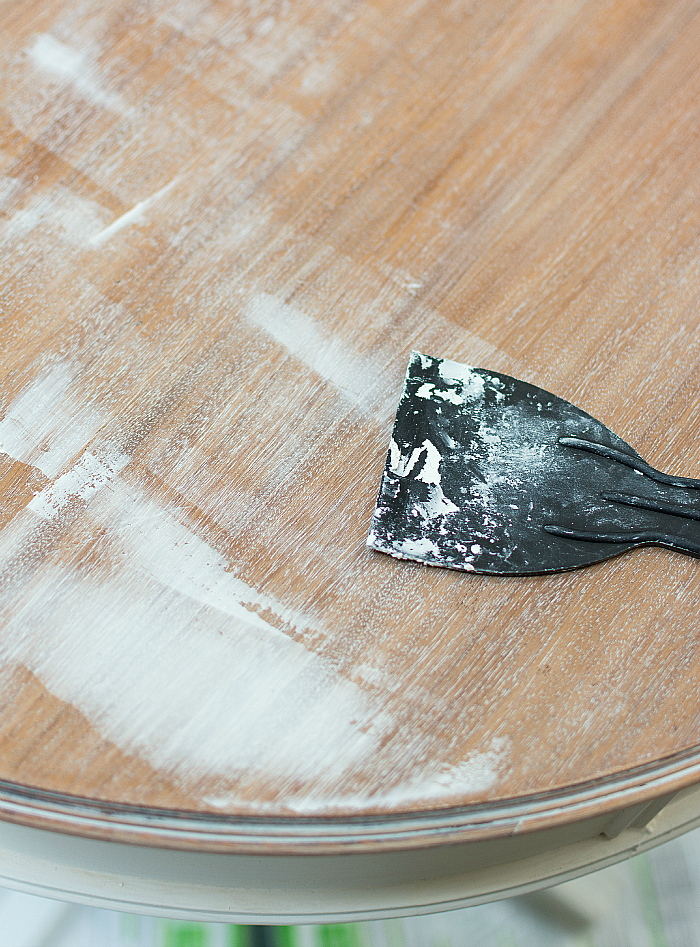 The first pass of the liming wax spackle technique didn't give me the deep whitewash finish I wanted, so I took a second pass with the spackle knife and lint free rag.
Spackle. Wipe. Spackle. Wipe.
As Amy will tell you, it's all about the layering.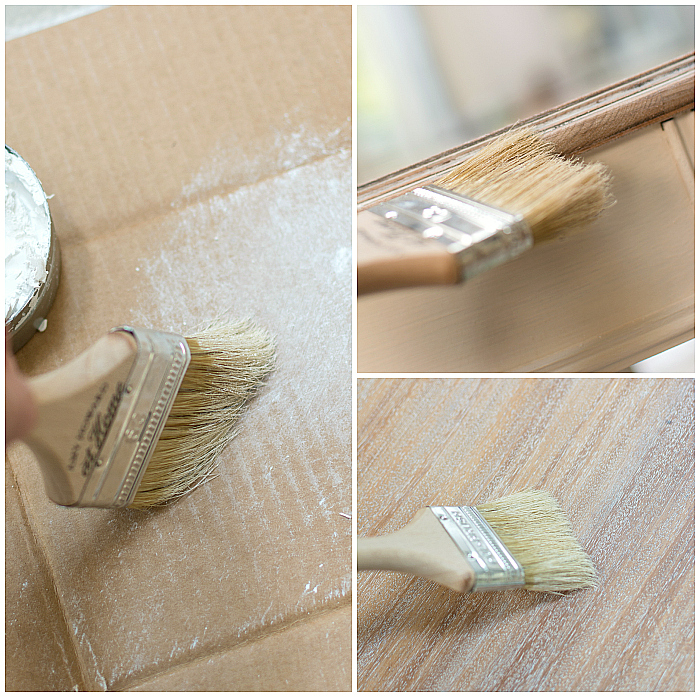 For the third layer, I used Amy's 2.5″ bristle brush. I loaded up the brush with liming wax and then offloaded most onto a piece of cardboard. Then using a cross hatch motion, I moved the brush along the table top and the edges.
At this point, I realized I needed to knock down the bright white a bit. Mostly because the wax application on the base of the piece gave it a richer, creamy look.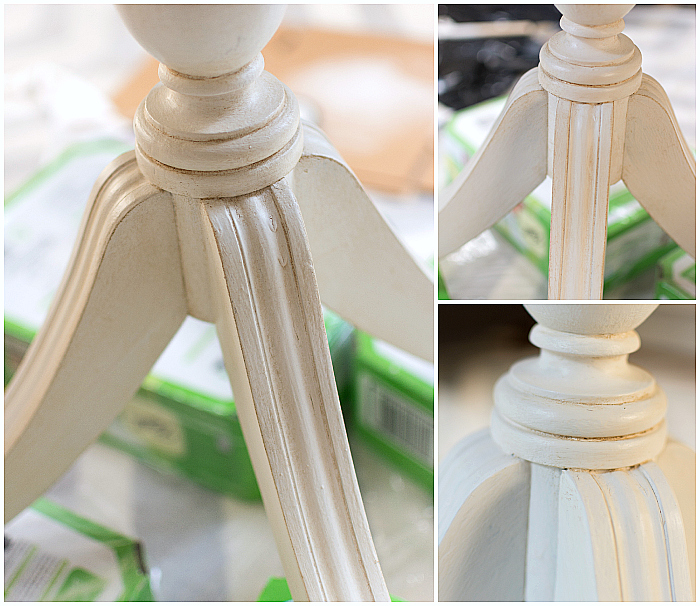 Leaving the starker white top looking mismatched with the bottom. Like they belonged on two different pieces.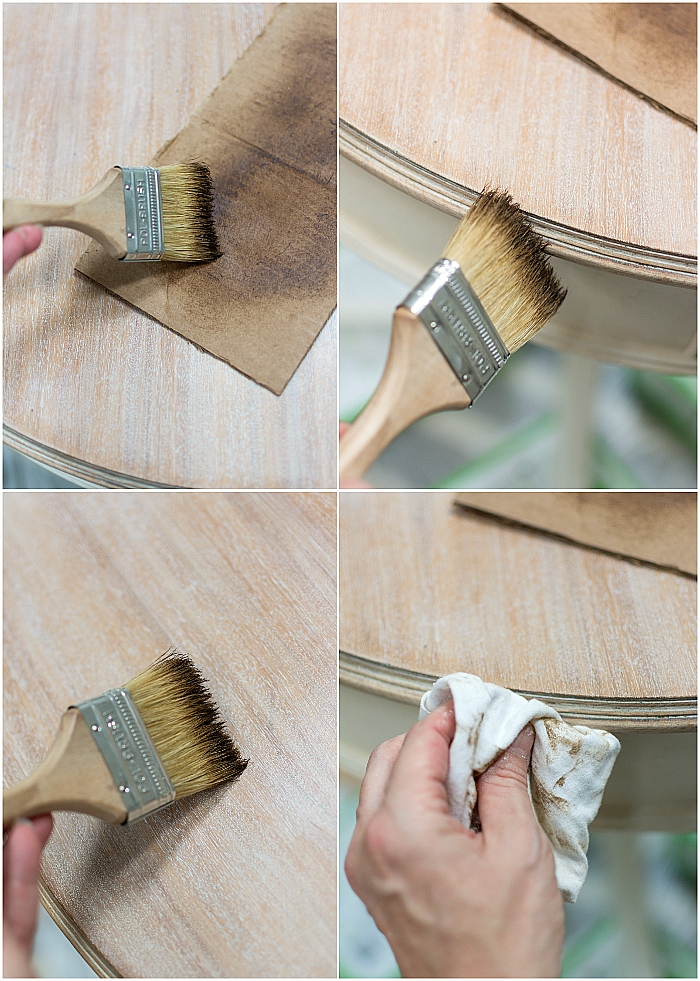 I waited about 15-minutes for the liming wax layer to "come to tack" — not fully dry but not greasy — and then added a fourth layer of Amy Howard at Home Dark Antique Wax. I loaded up my bristle brush with wax and offloaded almost all onto a piece of cardboard. I very, very gently added dark wax detail along the edge of the table (and immediately followed up with a clean, lint free rag). I also did a very gently cross hatching technique on the top. Again, working with a very light layer of wax and the lint free rag.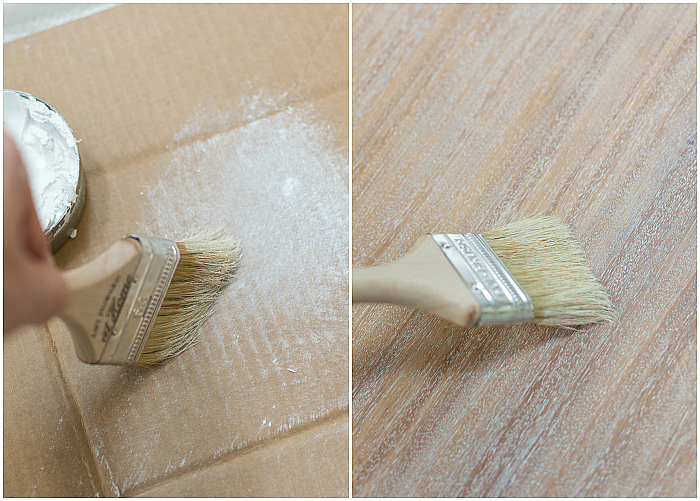 When the piece "came to tack" again (about 15-minutes), a fifth and final very light layer of liming wax was gently cross hatched across the top and edges.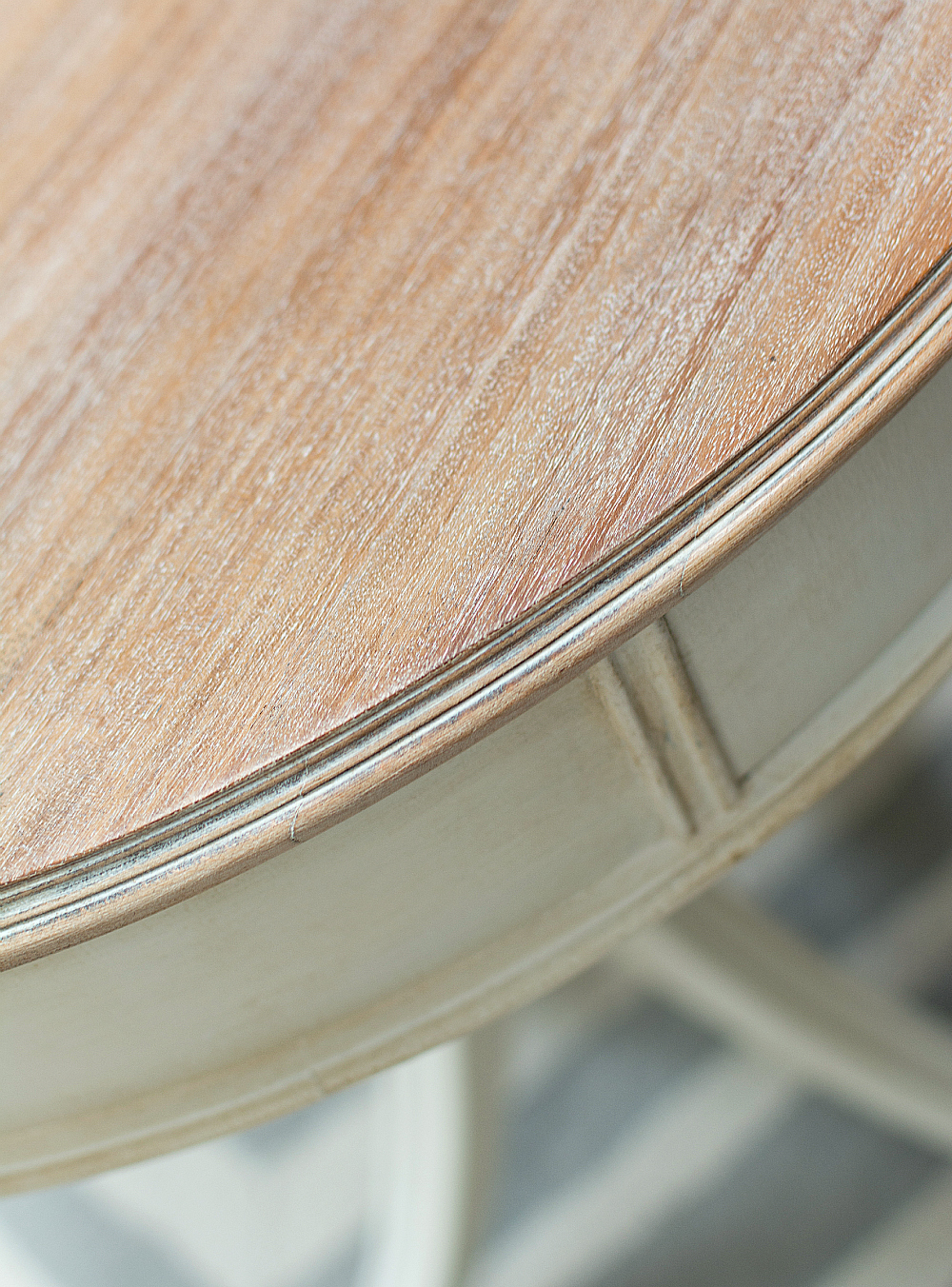 After 39-45 minutes dry time, I came back one last time with a lint free cloth and buffed the top.
Ahhhhh ….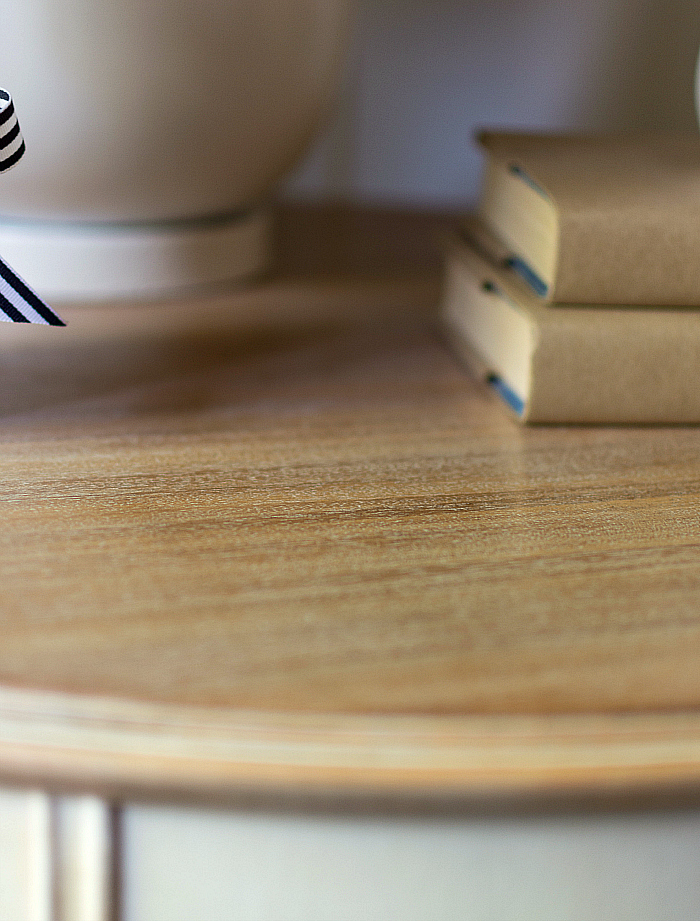 I'm in love with this finish. I only wish these photographs could do it justice.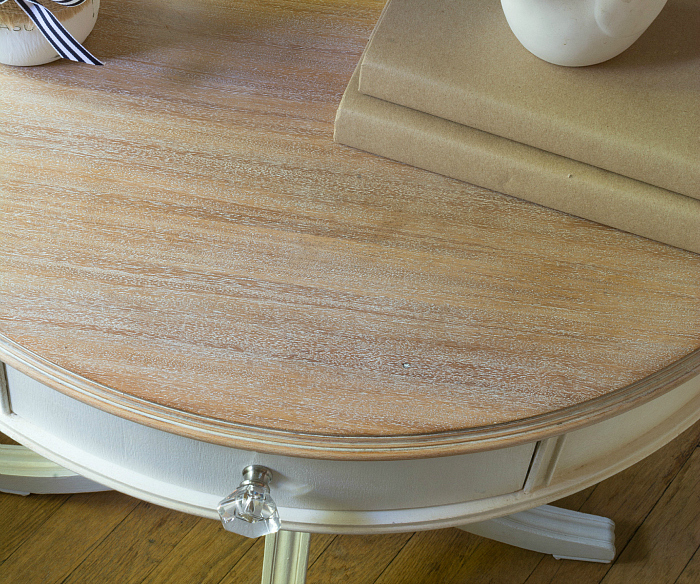 The play of light and shadows is deceiving.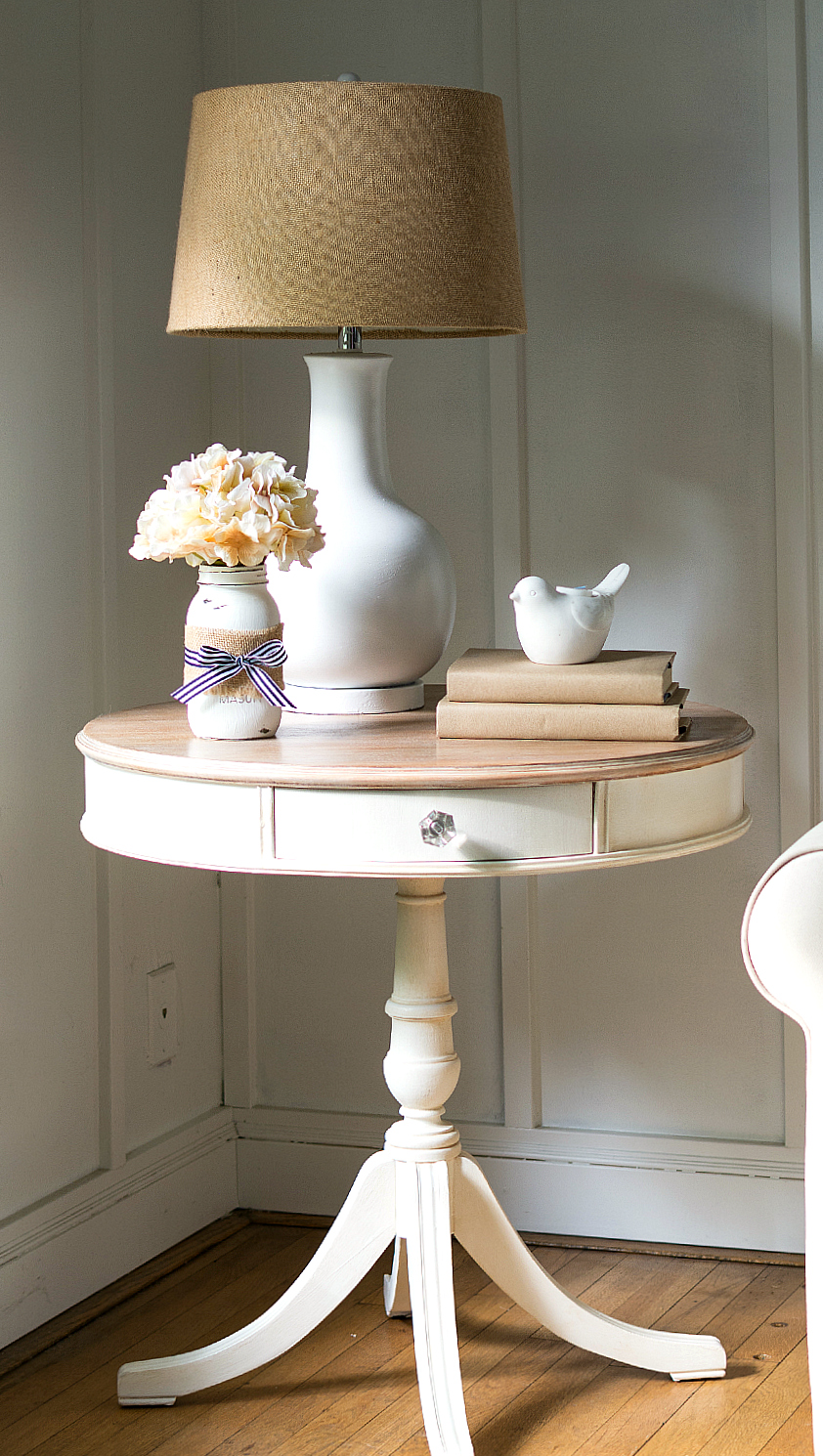 The finish is dreamy. And coastal. And perfection. I work on my laptop sitting next to this table and can't get over how much I love the finish.
Pre-Amy Howard at Home, this table was a dumping ground for papers and a holding place for my tea cup or Diet Coke can or wine glass. But now I can't imagine covering it up. Or marring the surface with sweaty cans and glasses.
It might be time for me to craft some coasters.
I wonder if I can come up with a coastal coaster idea using liming wax …
🙂

P.S. I'm giving away a $100 Ace Hardware Gift Card. Click here to enter …
P.P.S. I want to send a shout out to Amy Howard and her staff for giving me the confidence to tackle this furniture project. It's much more detailed and layered than anything I would have even tried in the past. I'm truly enjoying the bragging rights … 🙂
For the tutorial on how I finished the base of the table, click here …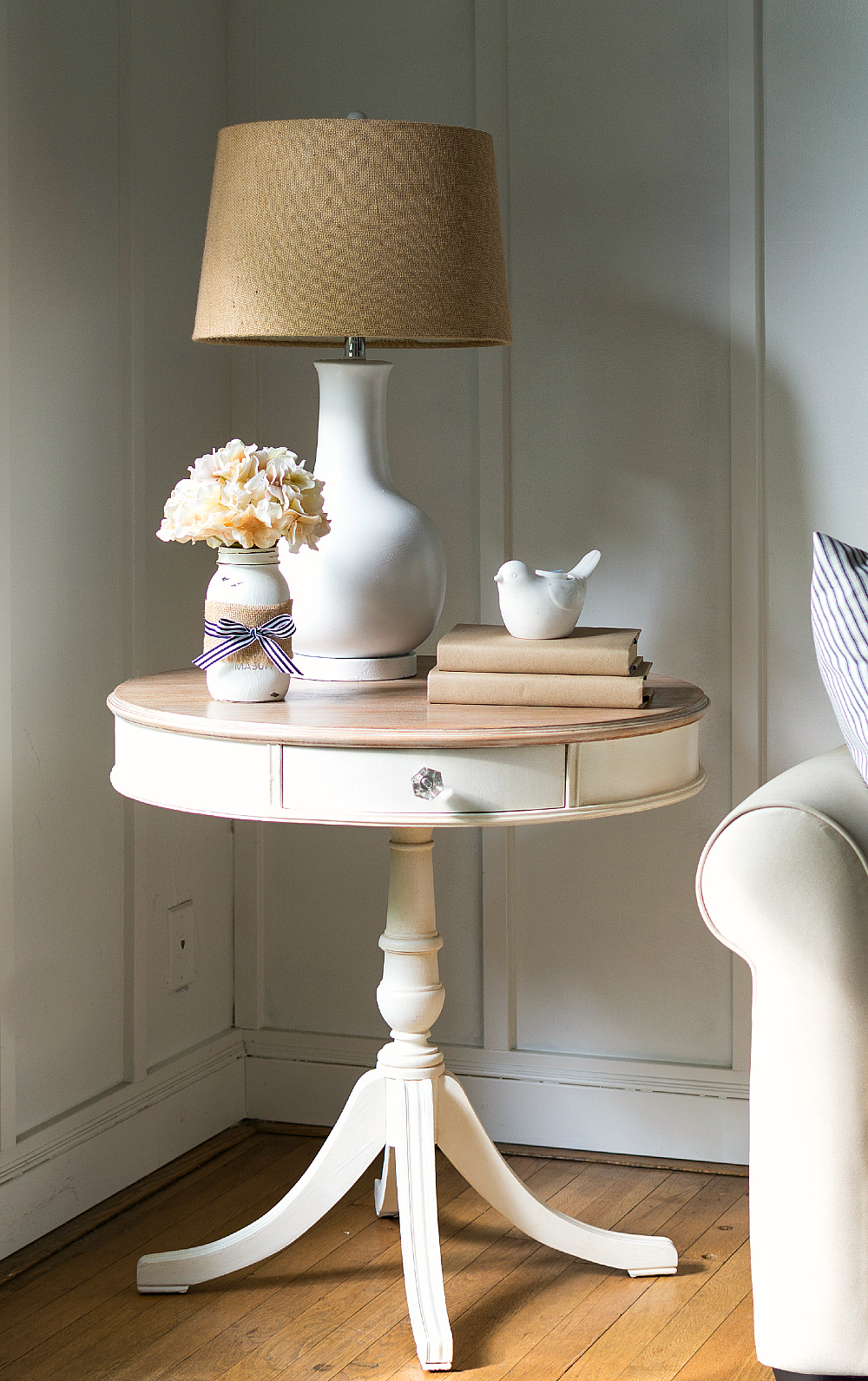 You might also like …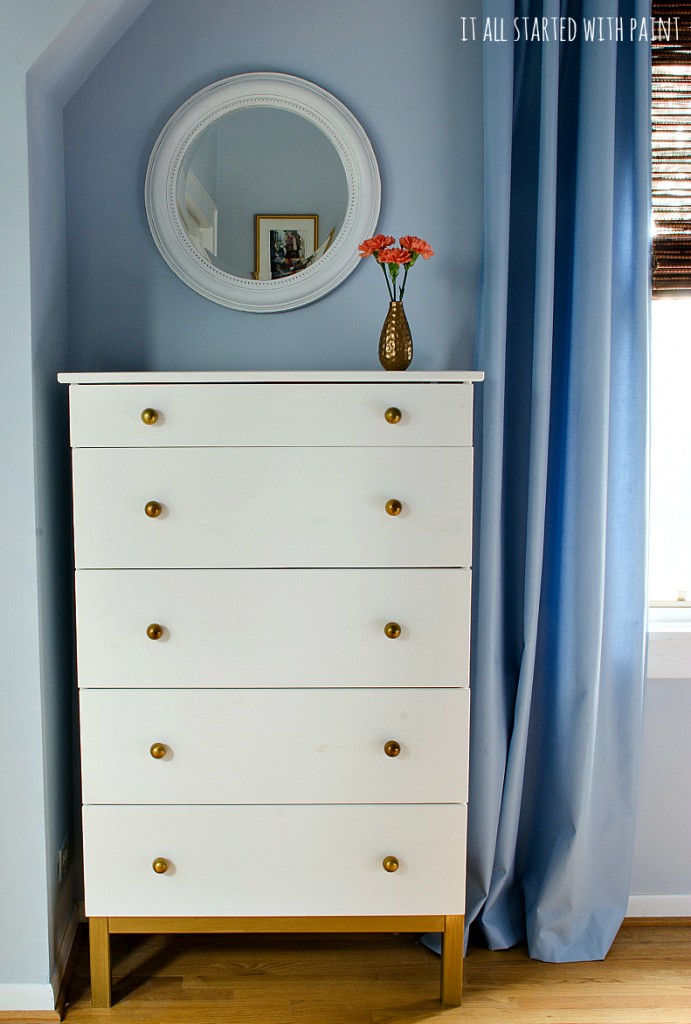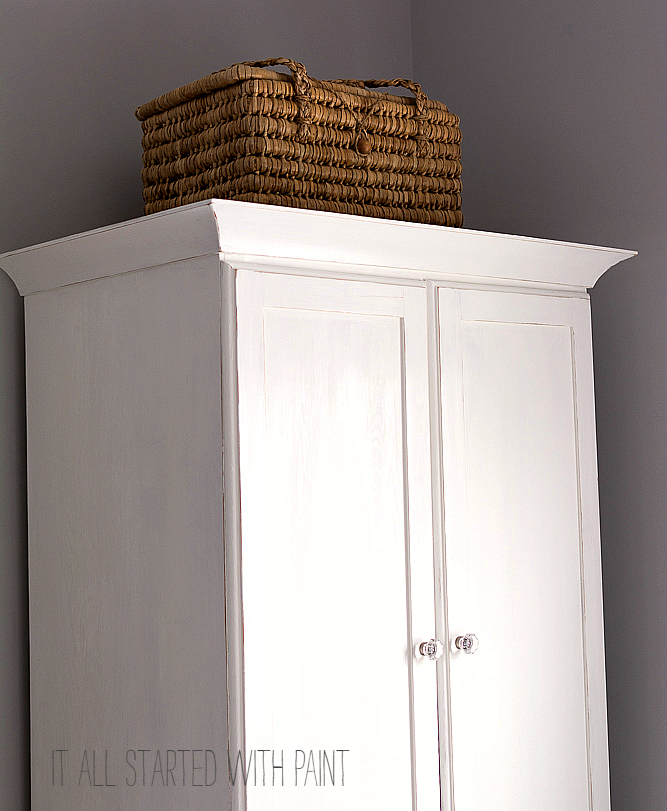 Armoire Makeover with Chalk Paint (click here)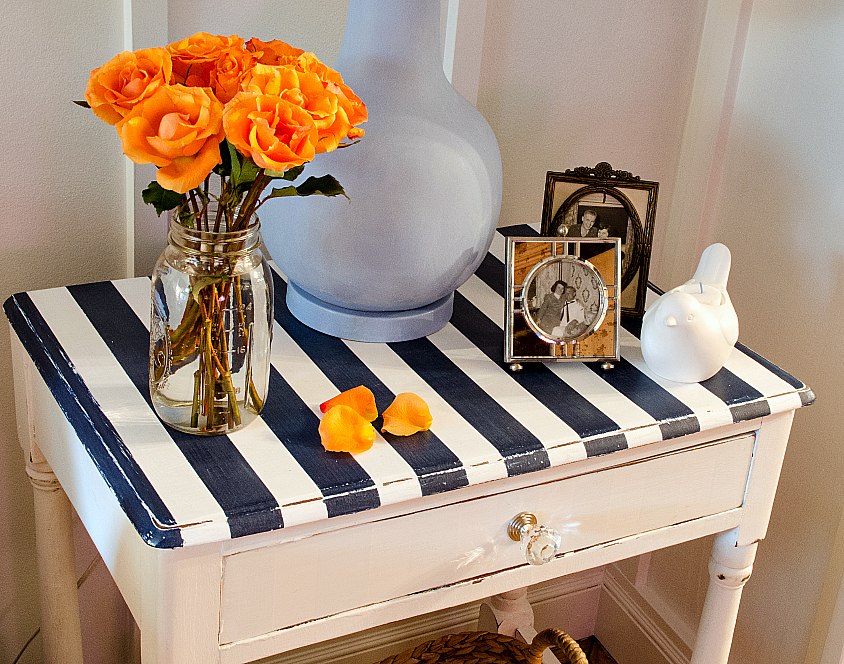 How to Paint Stripes on Table (click here)
Today's post was written as part of my role as an Ace Hardware Blogger. I was compensated by Ace for this post and for the products used, but all opinions about the Amy Howard at Home products used, liming wax, and Ace Hardware are my own.
*some affiliate links included.