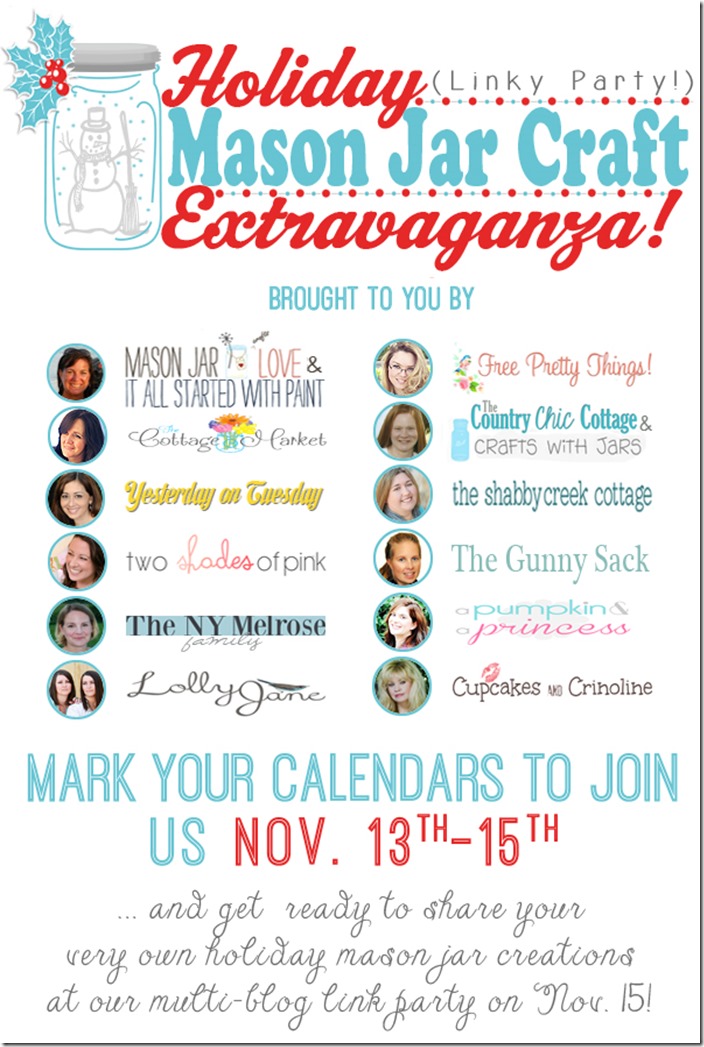 So I was sitting here in front of my laptop a few weeks ago minding my own business …
checking out some of my favorite blogs.  Sharing stuff on social media.  Reading comments from you …
my lovely commenting readers …
thank you!!!!
Basically avoiding the chaos around me.  The mason jars that need to be painted and distressed.  The pillows that need to be monogrammed and sewn.  The walls that need to be painted and wallpapered …
when an email pops up in my inbox.
It was a perky email.  You know what I mean, right?  How you can read between the lines …and the punctuation … and you just know that the person at the other end of the keyboard is fun.  And positive.  And uplifting.
Full of joy.
Full of perk!
And this perky emailer proposed the most fabulous idea …
a mason jar holiday craft party!
Clunk.
Yes, that is the sound of my palm hitting my head.
Why didn't I think of that?  I mean, I have been known to do a mason jar craft or two in my time …

Oh, and I do have that mason jar blog …
So when Keren at Free Pretty Things proposed this fabulous holiday mason jar party idea, I jumped.  Feet first.
And that's when the emails started to fly.  About inviting even more fabulous bloggers to be a part of the event …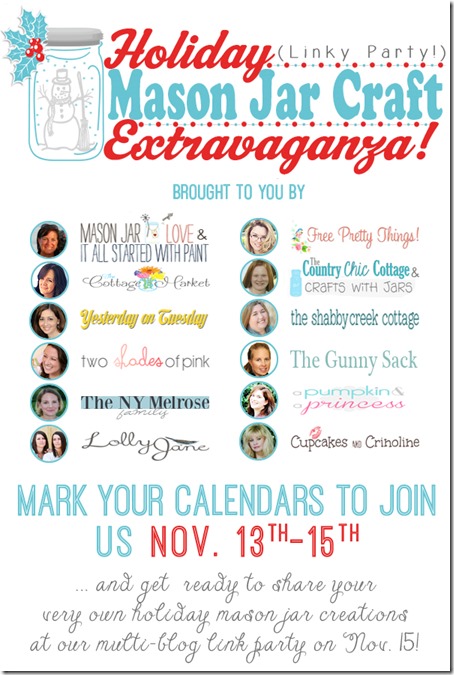 and inviting our fabulous readers to share their very own holiday mason jar creations at a linky party!
Make sure you check out all my co-hosts …
Keren at Free Pretty Things
Andrea at The Cottage Market
Angie at The Country Chic Cottage and Crafts with Jars
Malia at Yesterday on Tuesday
Gina at The Shabby Creek Cottage
Jessica at Two Shades of Pink
Tonia at The Gunny Sack
Jenny at The NY Melrose Family
Crystal at A Pumpkin and A Princess
Twins Kristi & Kelli at Lolly Jane
Marybeth at Cupcakes and Crinoline
So what mason jar holiday project will you be creating …
and linking up on November 15?

P.S.  I'm guest posting over at Dreaming In Color today.  Stop by and say hi!  Just click here …