In the house that lives in my mind …
… that dream house where everything is perfect and dust bunnies don't exist and things are never, ever out of place …
… the colors are subtle.  Neutral.  Tone-on-tone.
Much like the Union Jack pillows I sell at my Etsy shop.  I mean, look how perfectly they work at Thistlewood Farm …
… in Kari's stunning tone-on-tone bedroom.
And my Pinterest boards?  Yeah, they're filled with lots of things like this …

*swoon*



Hey, a girl can dream, can't she …


And often times my plans for a room's design start subtle.  Neutral.  As in Nate-Berkus-would-be-so-very-proud-of-me neutral …
The entry redesign?  Yeah, that was going to be lots of white board and batten, soft grays, and mellow yellows …
… and it ended up with a bold gray and crazy Michael Miller multi-colored fabric.
And then of course there's my son's room.  Nothing like bright orange walls to kill my subtle-neutral-tone-on-tone-in-my-mind-home dreams …
And now my in-my-head-dreams-of-a-soft-and-soothing bedroom are being invaded by color …
… as in the blue and brown and white color palette is not enough.  As in I'll be heading out to Lowes today to check out their spray paint selection …
… seeking out something bold.  And fun.
And you'll need to come back on Monday to see what color I've picked …
… and then you'll need to come back on Tuesday (July 31) and share your very own color crazed moments at our Mission Possible: Crazy for Color multi-blog linky party.
This time around we want to see how you add pops of color to your home.  It could be with fabric.  Or paint.  Or flowers.  Or accessories …
… and when you link up here, you'll automatically be linked at my lovely co-host's blogs …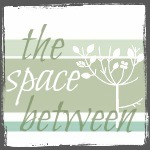 And who knows … maybe I'll bump into you at Lowes …
Let's keep in touch …