… has been postponed.  Not just by a day.  Or two.  But a full week.  As in seven full days from today.
*sigh*
I was so excited about today's post.  It was a post that was going to be filled with lots of photos … the befores … and the amazing, jaw-dropping afters.
There was going to be a lot of gushing accompanying those amazing-jaw-dropping-after-photos.  Gushing about my fabulous husband who so patiently put up with my gazillion projects … and the moving of the furniture to and fro and to again … and who must've said, "just tell me what you want me to do" about a hundred times over the past month …
Gushing about the amazing Sherwin-Williams Naval blue paint color.  And how it just pops against the crisp white board and batten wall treatment …
Gushing about my fabulous new cow print that I found on Etsy … and the faux leaded glass window I created with Gallery Glass … and my china cabinet display that so succinctly marries form and function …
Oh, and let's not forget the back patting …
… so much back patting …
… about my genius flimsy-to-fabulous baseboard fix.  And how I solved the awkward-wall-with-its-strange-window issue with the creative use of a non-functional curtains with custom curtain rods that I created using this tutorial and that should have cost $5 but somehow I ended up spending quite a bit more …
To top it all off … the piece de resistance … would be the rug reveal.  The rug that started it all.  The rug that inspired the room's color palette. The rug I purchased at a deep 65% off discount …
… the rug that has remained packed in plastic and rolled up in my entry for over a month.  Sigh.
And there was going to be lots and lots of exclamation points when I wrote about the rug …
It's plush pile!
It's stylish navy and white stripes!
How soft and supple it feels underfoot!
I envisioned when we finally ripped open that protective plastic wrapping and unfurled the rug that started it all, the kids and I would have rolled around on that rug.  Back and forth. Reveling in it's luxurious softness.  Running our fingers through it's glorious pile.  And as we rolled and reveled the kids would finally admit the changes made in the dining room were good.  No, better.  Make that the best. Ever.  And how the jewel toned rug had served it's purpose, but it's time had come.  It needed to go.  And then the kids would emphatically declare that they would never, ever doubt my design decisions again …
And you?  My dear readers? My dear friends?
You would have been "ooo'ing" and "aahh'ing" right along with my photos as you glossed over my gushing-and-back-patting prose.   And then you would've scrambled to the comments form, leaving and outpouring of love and admiration ….
… love and admiration that would've made my head swim and my heart sing …

*sigh*
But this past weekend as my husband and I raced against the clock to get the "install" complete, disaster struck.  With the ringing of the phone.  The dreaded call …
Our friend, our neighbor … and our certified electrician … would be unable to hang the new chandelier this weekend.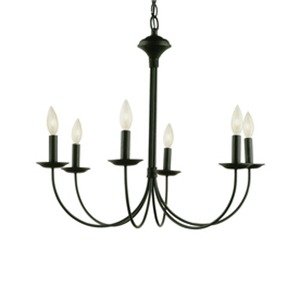 Something about a niece or nephew's birthday party …
So we are rescheduled.  Next Saturday.
Fingers crossed.

Want to keep up with my dining  room remodeling project?
It's easy.  Sign up here to get it all started with paint delivered to your email inbox: