… on my blog.
Stacy and Clinton stopped by the blog last week.  The caught wind of my move from the Blogger platform to WordPress.  And now that I'm on  WordPress, my old blog wardrobe wasn't going to cut it anymore…
At least that's what they told me.
And let me tell you:  They were harsh.  Unforgiving.  There may have been a few tears on my part …
"Quatrefoil is so 2011," snarked Stacey.
"Your blog header says nothing about your paint brand," remarked Clinton.   "I mean quatrefoil is more closely associated with stenciling."
"Or fabric," Stacey chimed in.  "It would work if your blog name was 'it all started with stencils' … or fabric."
Then they pulled out the giant garbage can and started dumping my header and sidebar elements (and I think they may have thrown in a few posts as well) …
"Paint should be fun and vibrant," encouraged Clinton as they spelled out the rules.
"Yeah … not one-note, one-color, tired-old-lady," added Stacy.
… she was getting on my last nerve at this point …

And then they sent me on my way  — all alone — to iStockphoto …
… shudder ..
Lucky for me, Kristi from  Linauer Designs intervened.  Because I couldn't make heads nor tails of Stacy and Clinton's crazy rules …
All I knew was when I spotted this …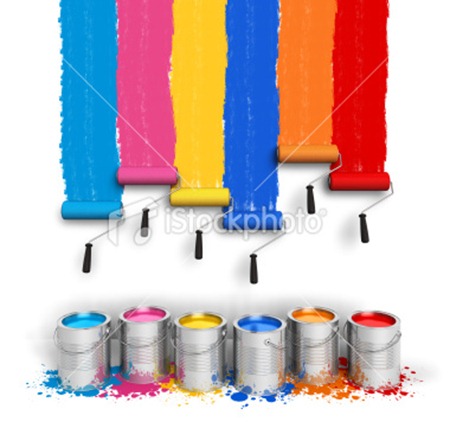 … hanging on the rack,  I was inspired.  Invigorated.  Seriously.  This just SCREAMS paint.  Right Stacy?  Right Clinton?
No one can accuse it of being 'one note' … or (shudder) 'tired old lady' …
And thus, thanks to the very talented, diligent … and patient …  Kristi, a new colorful blog wardrobe was fashioned.  A wardrobe that is fully buttoned up …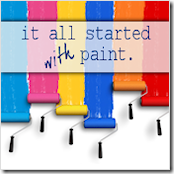 … from head to toe.
(scroll all the way to the bottom for a fun footer surprise).


P.S. Stacy and Clinton:  I'm still waiting for my $5,000 Visa card.  You did trash my blog wardrobe after all.
P.P.S. I'd like to extend a very special thank you to my drop cloth designs co. customers for helping me fund this makeover … a  makeover that includes a new header on Etsy too …