I fear I owe my china cabinet an apology.  A long overdue 19-years-in-the-making apology.
You see, since it was first delivered here in 1995 by the nice delivery guys from Room & Board, I've treated it like its namesake. A cabinet where china is stored. I merely cracked open that wedding china – you know, the china that I'm not quite so in love with anymore – and stored it in the china cabinet.  There was no eye for design.  Like items stored and stacked together …
… it was all about the function.
As the years passed, random things found themselves stored behind those glass cabinets.  Well, more like crammed and jammed behind those glass cabinets.
Now, I'm not claiming I've struck on some new high design concept.  Trust me.  I've Google searched and Pinterest searched "china cabinet display ideas" and have found many, many high design variations.  Only problem?  I still need some function with my form.   My house is square-foot-and-storage-challenged, you know.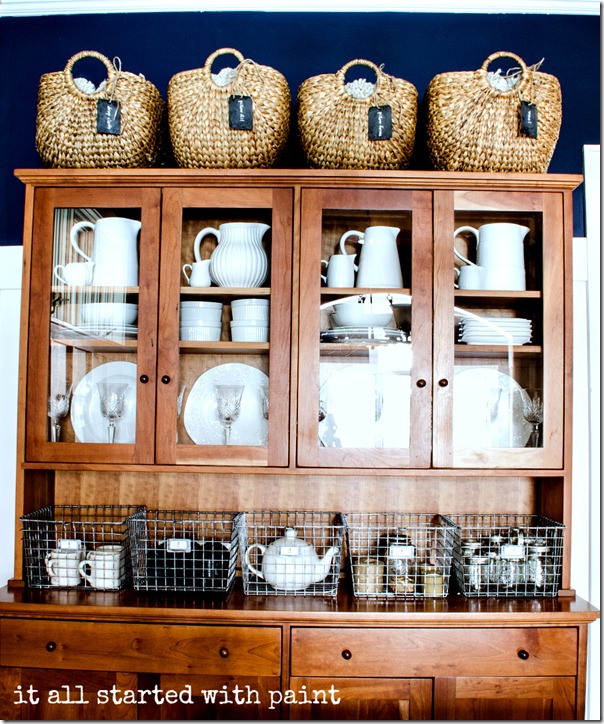 Hence the abundance of baskets up top … and the new locker baskets that I quickly DIY'd to give them a vintage look (see how here).
Now you'll need to trust me that, compared to the before, this is a dramatic change.
Oh, and that wedding china?  It's found a new home in the bottom of the china cabinet.  Behind closed doors. The jury is still out on how long it will reside there …


Want to keep up with my dining and living room remodeling projects?
It's easy. Just sign up here to get it all started with paint delivered to your email inbox:
Let's keep in touch:
* House of Hepworths * French Country Cottage * Between Naps on the Porch * Thrifty Decor Chick * Cozy Little House * Tatertots & Jello * Funky Junk Interiors    *