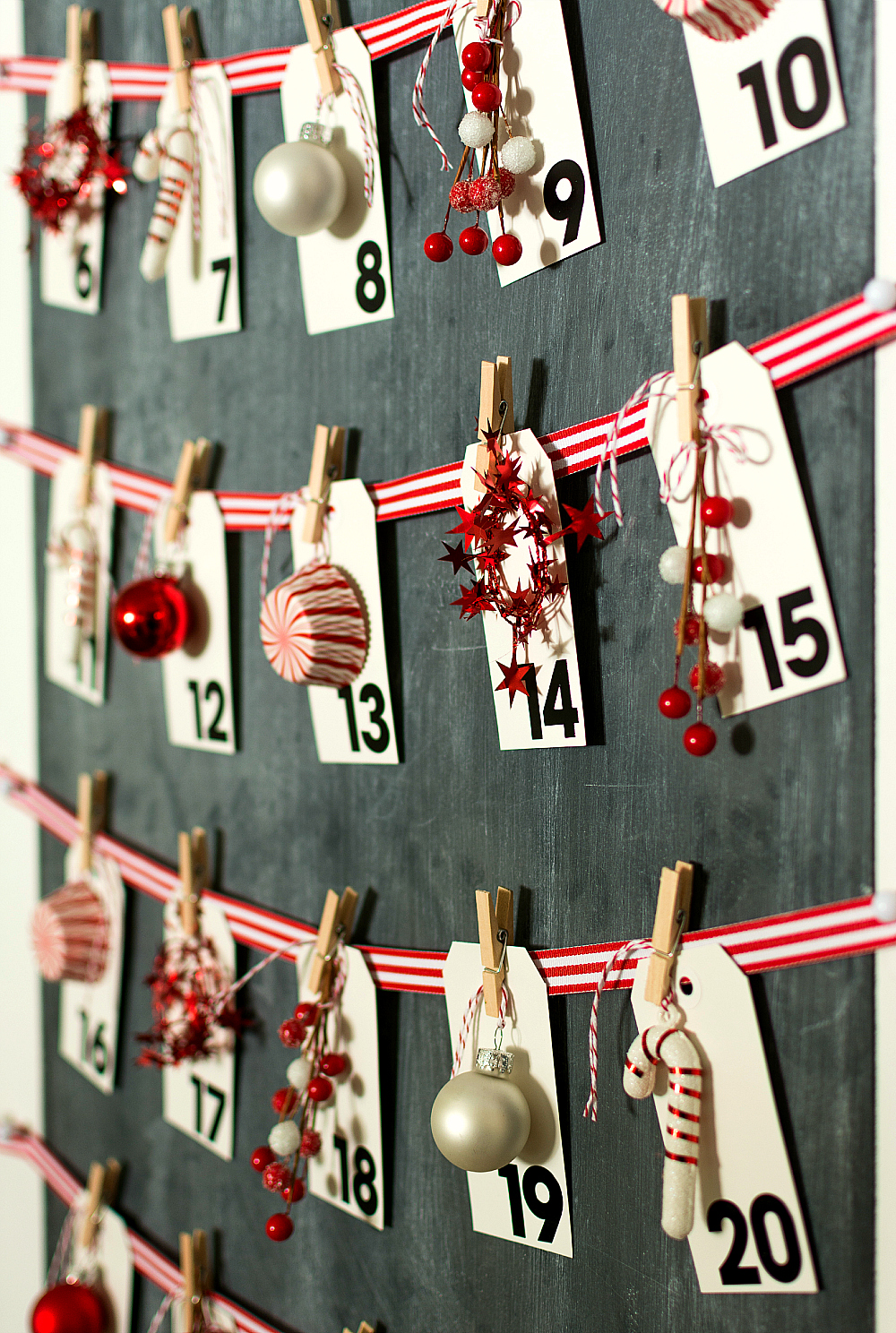 I'm calling this a Christmas advent calendar. Though, technically it's not.
Because advent calendars typically have some kind of call to action. Or some kind of treat. I think. But this calendar has neither.
I should probably just call it a Christmas countdown calendar.
Or, more accurately, the assuage my guilt Christmas countdown calendar.
You see, I've been carrying a huge burden these past few Christmases. A burden — and the subsequent guilt — that directly affects a fond Christmas memory my kids hold near and dear. A tradition I established just for them …
… and a traditional I also took away.
I know, I know. Bad mommy.
Especially since I took it away because it no longer fit my Christmas decor. It looked cheap. And cheesy.
I know, I know. Selfish mommy.
It started when the kids were toddlers and a fabric Christmas calendar I ordered from a neighbor selling wrapping paper. It had a scene with a Santa on a sled with his sack in the back. Only this sack opened and inside were various Velcro pieces that could be attached to each day on the calendar. Presents and wreaths and stockings and a few things we never really quite figured out what the were supposed to be.
And, like clockwork, on November 30th I would dig out the cheesy, cheap fabric calendar and hang it on the kitchen door.
And that's when the negotiations would begin. Who would add the first one. And what would it be. Because they wanted the Velcro items to be alternated since we had multiple of wreaths and presents and stockings and other odd things we never quite figured out what they were supposed to be.
The Christmas countdown calendar became a much anticipated post Thanksgiving tradition. Even long after the kids knew the truth about Santa.
But a few years back, I decided it looked cheap and cheesy. So it stay tucked away in a bin in the basement.
The kids were not pleased.
And I've been feeling guilty ever since. Until now …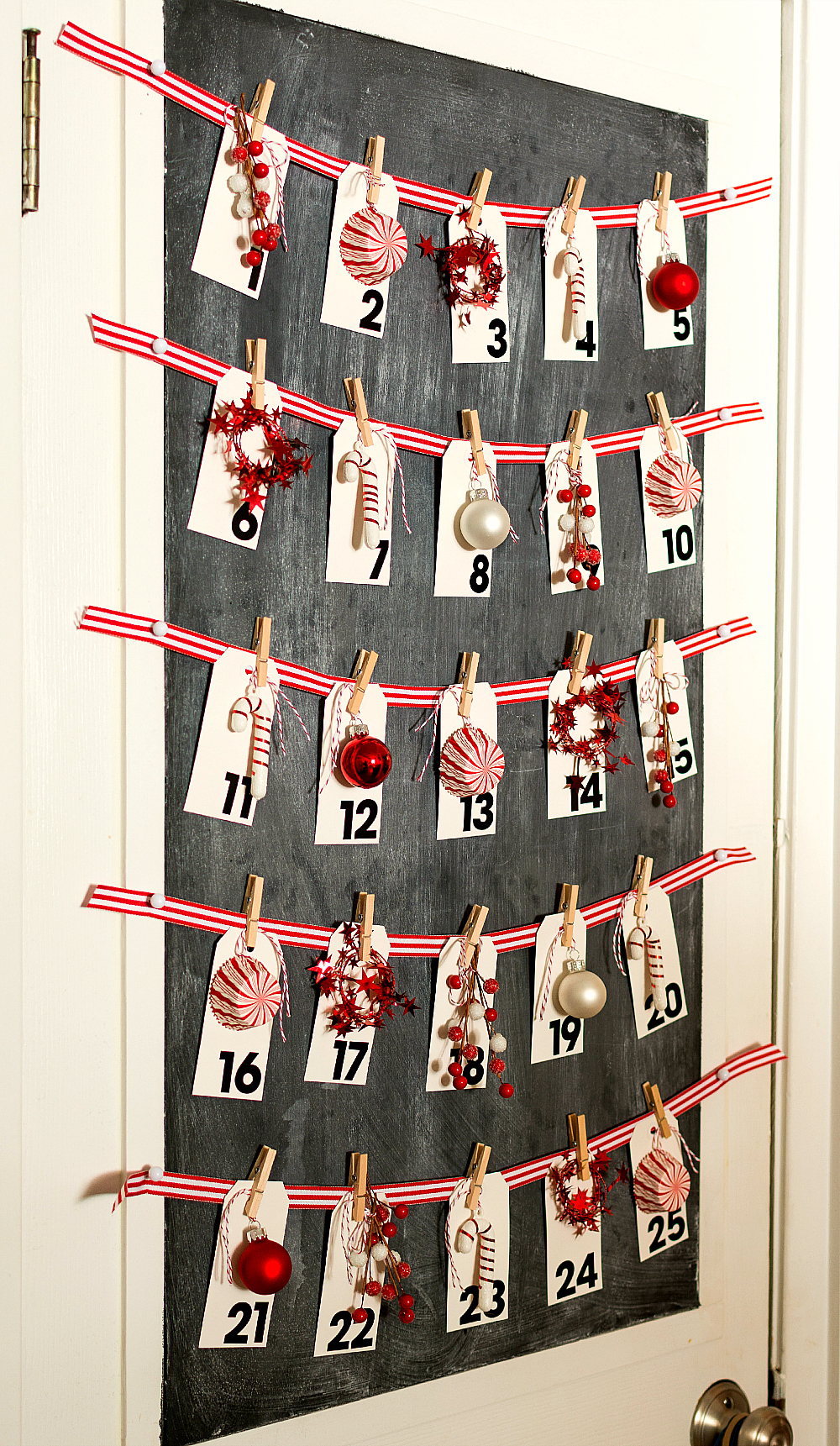 I decided to make my very own Christmas countdown calendar that matches our new red and white themed Christmas decor.
Materials*
White Shipping Tags (I ordered mine from Etsy, but this link offers some options on Amazon)
Scrapbook Vinyl Adhesive Numbers (I found mine may years ago at craft store; this links to similar ones)
Assorted Ornaments & Embellishments Found at Craft Store
*affiliate links included
I started with blank, white shipping tags ordered from Etsy. I added numbers found in the scrapbook section of the craft store.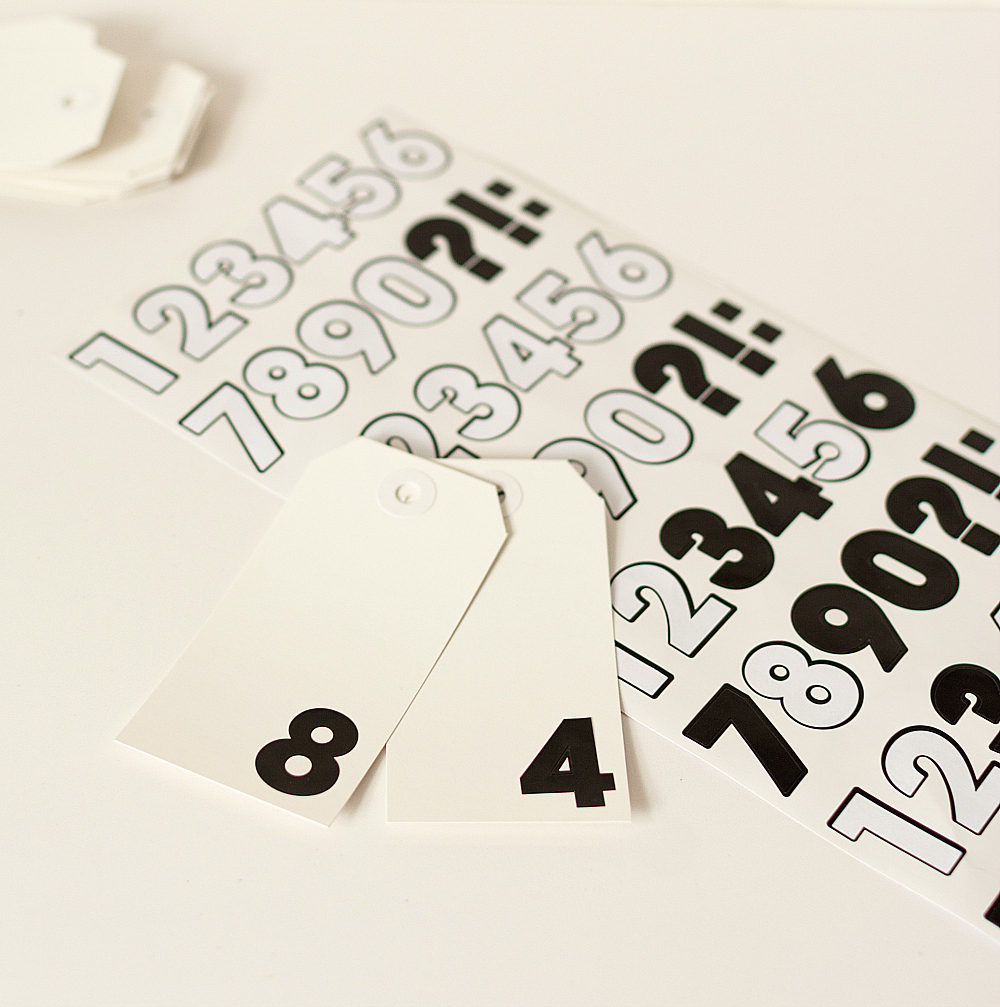 Then I gathered festive supplies to be the Christmas countdown pieces for each day of the month, starting with red and white bakers twine. Some red star wire was turned into little wreaths. Some red and white ball stems were cut into smaller pieces and tied together as sprigs with baker's twine. Mini cupcake holders look like peppermint mints (I used an embroidery needle with baker's twine to add string to hang them). And some simple ball and candy cane ornaments finished it all out. In total, I created 5 of each for the calendar …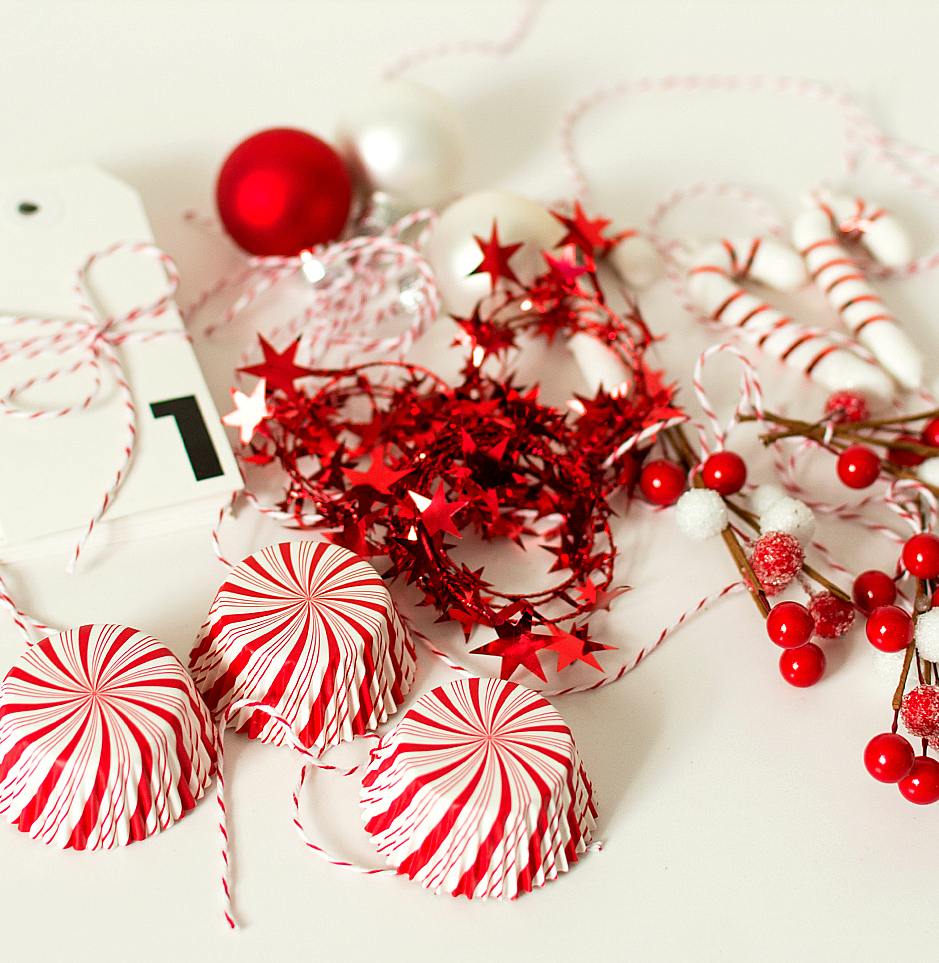 All that was left was red and white ribbon and mini clothespins to bring it all together.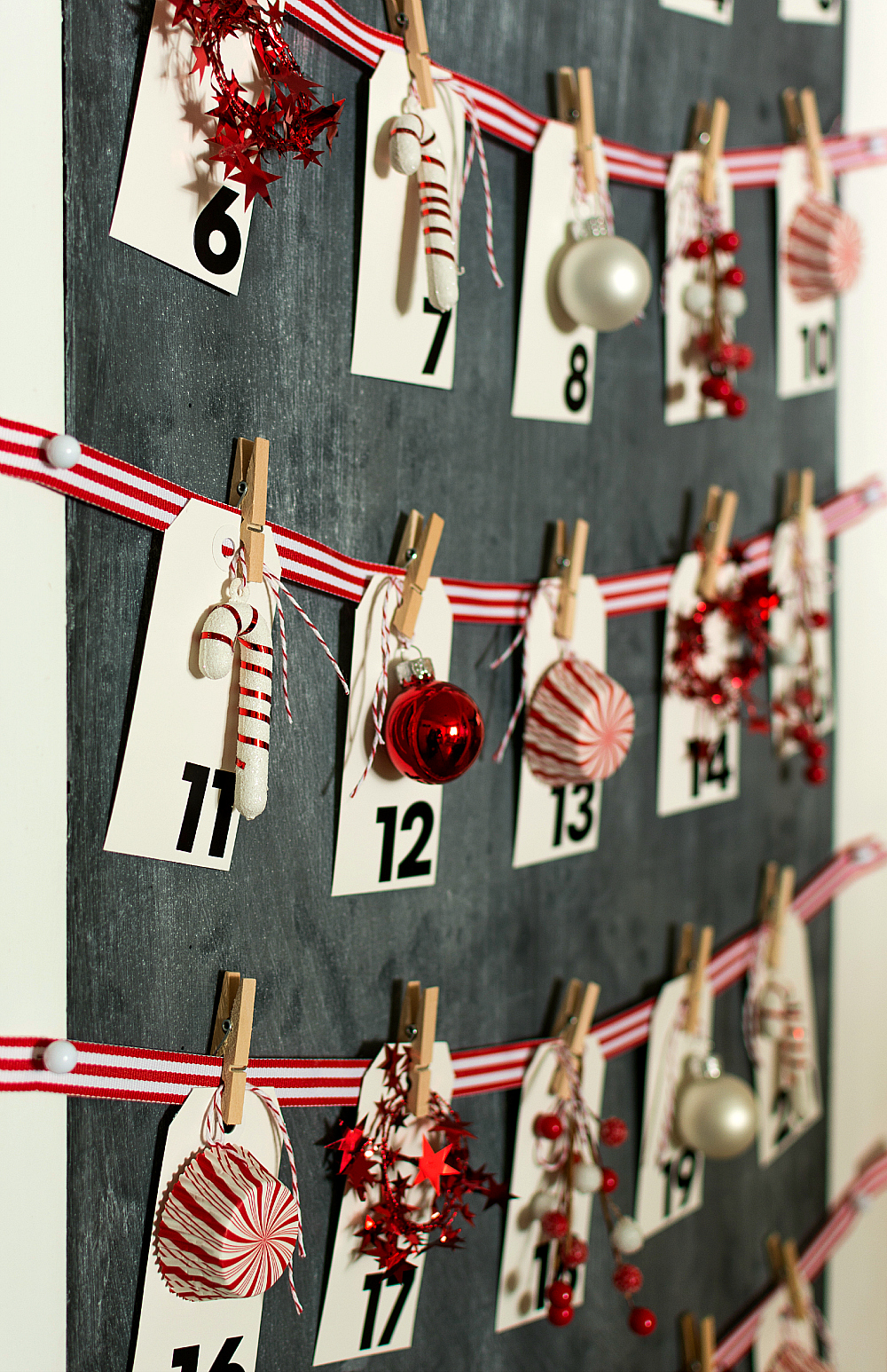 I used thumbtacks to hang five red and white ribbon strips across the door …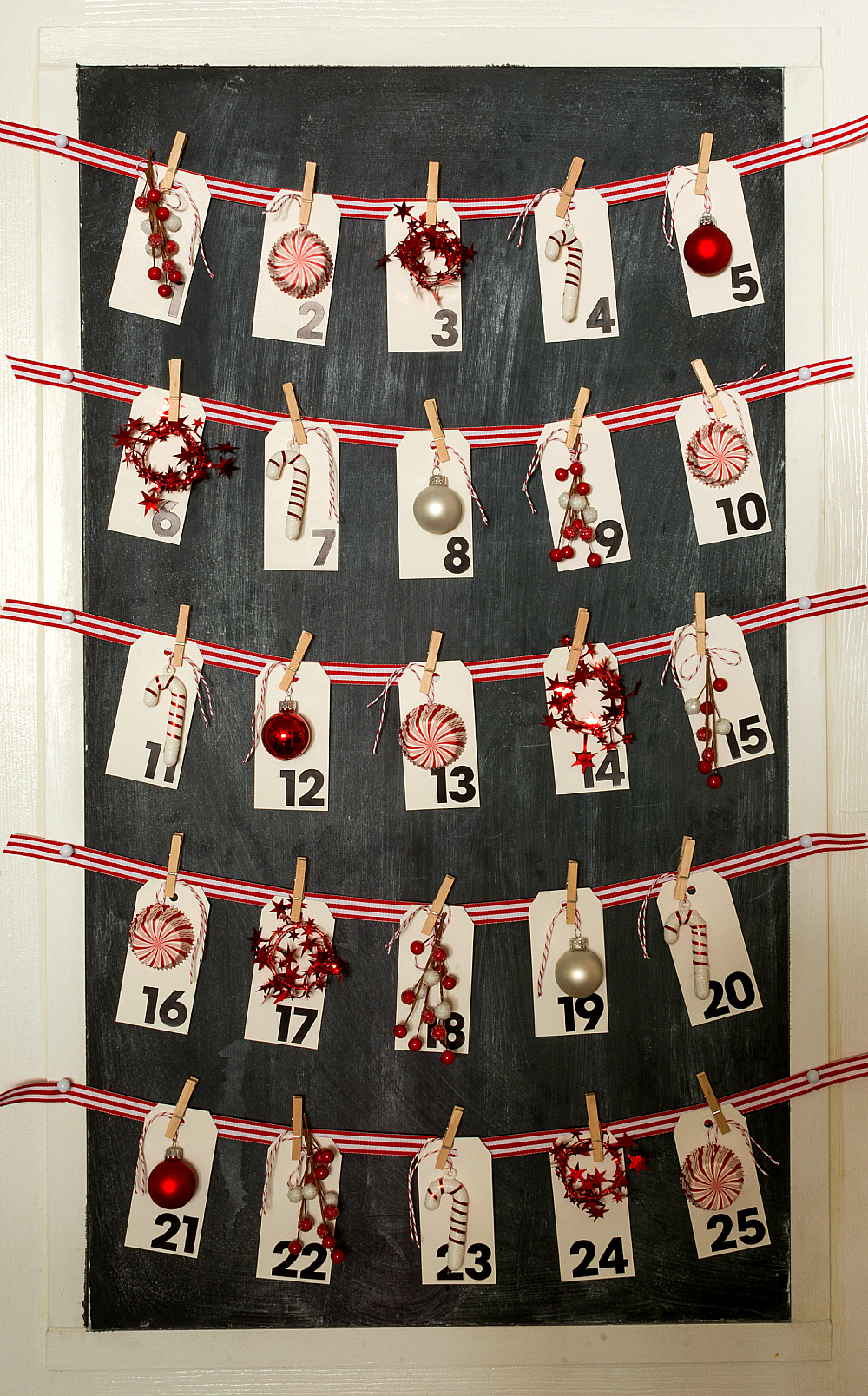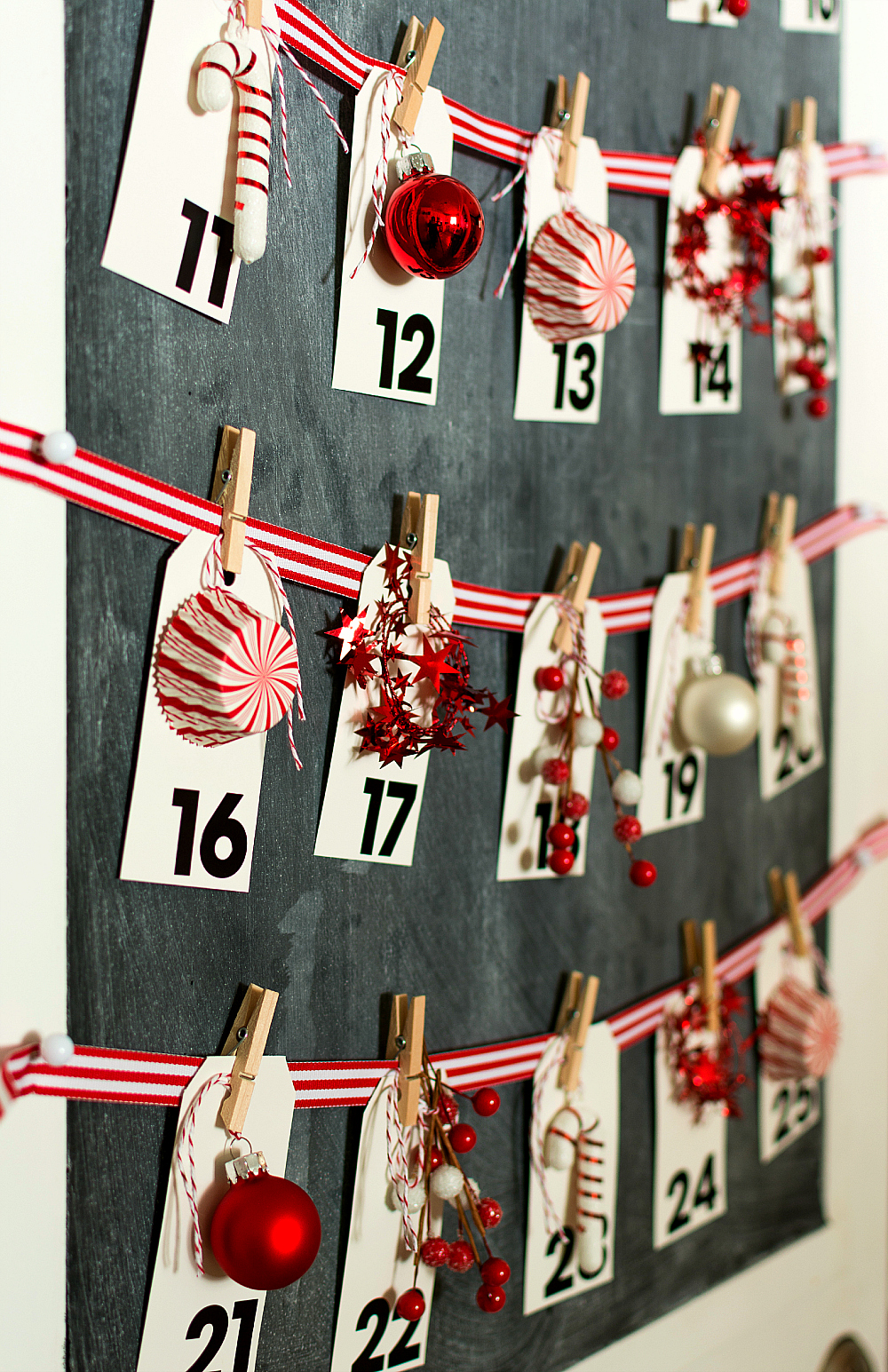 Now let's hope the kids can forgive me for all those selfish years without their cherished Christmas countdown tradition …
🙂

You Might Also Like: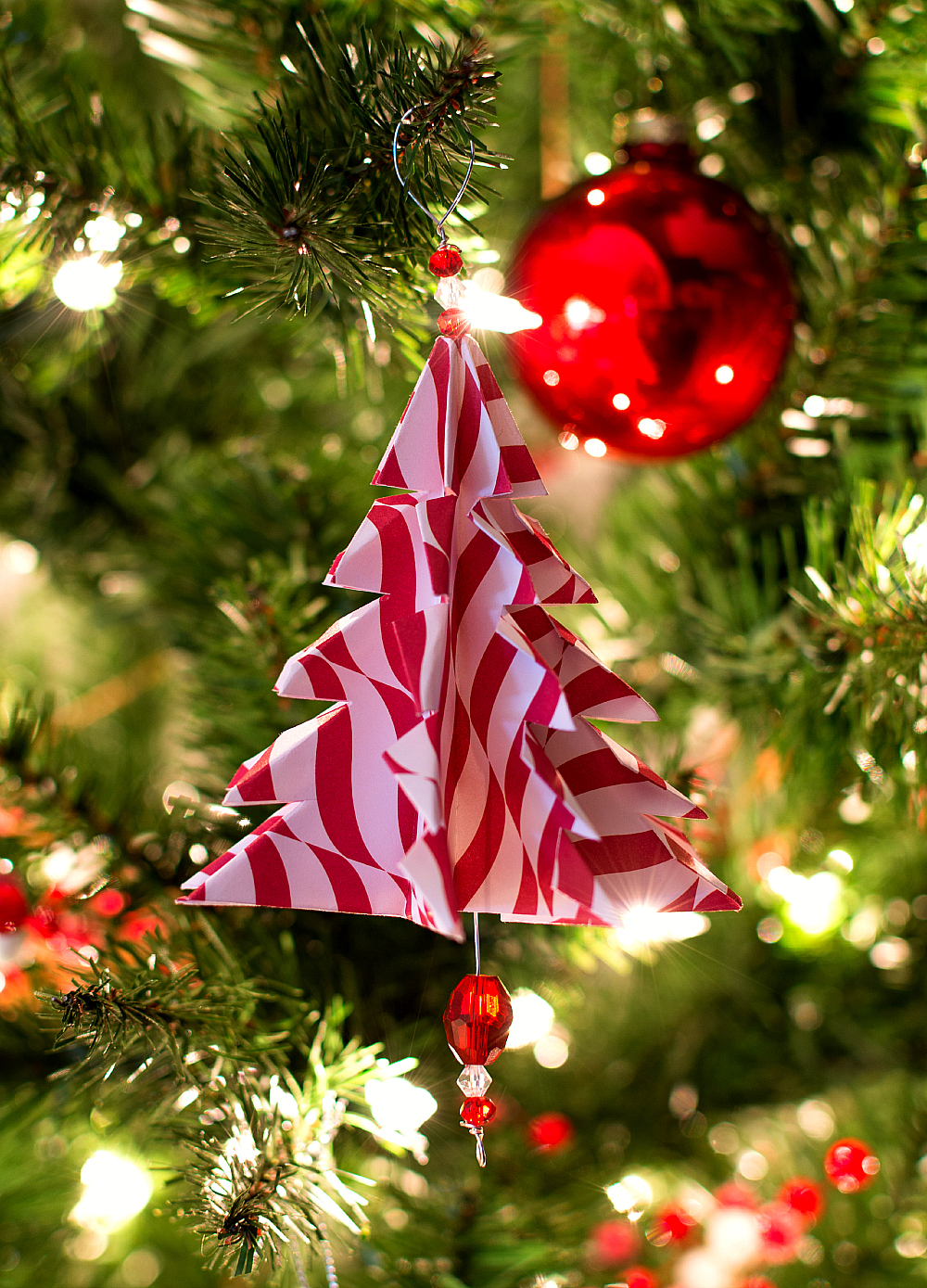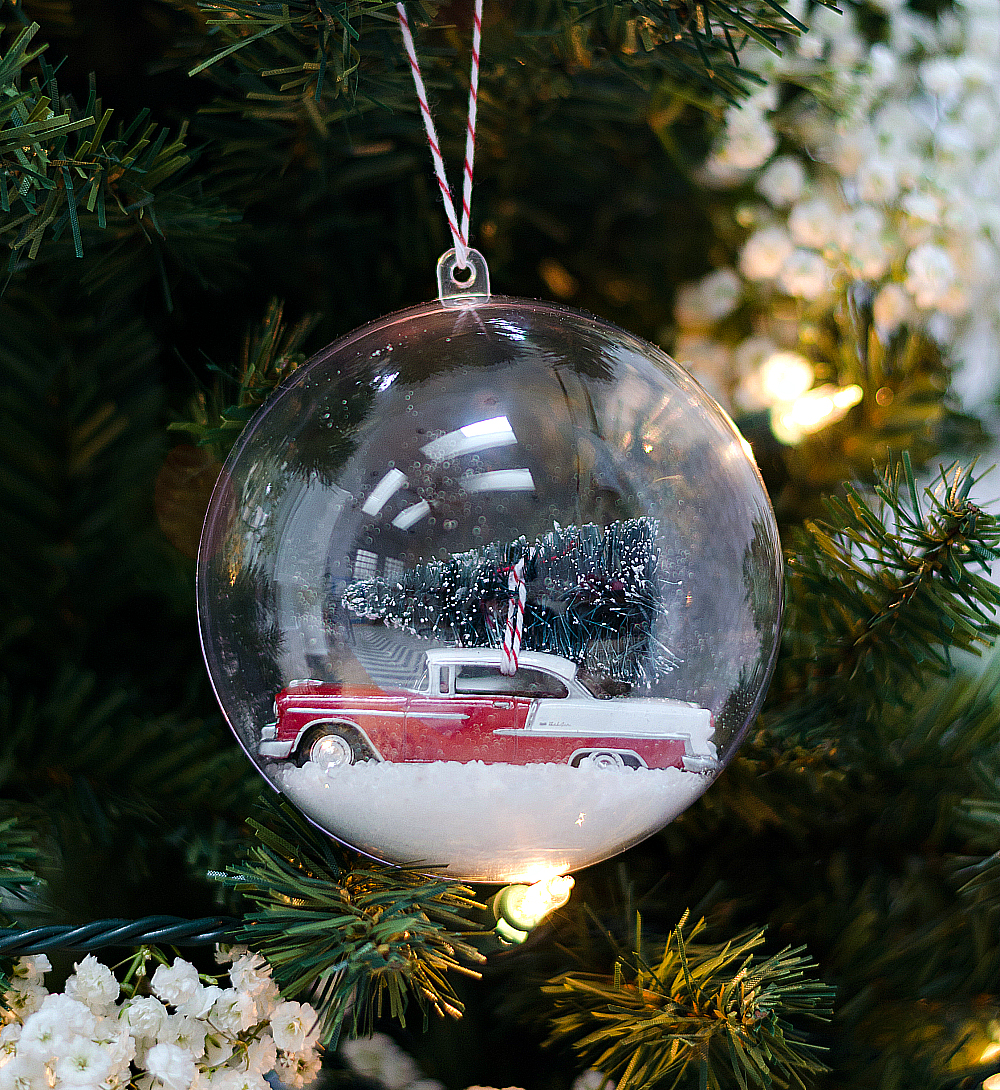 Vintage Car Snow Globe Ornament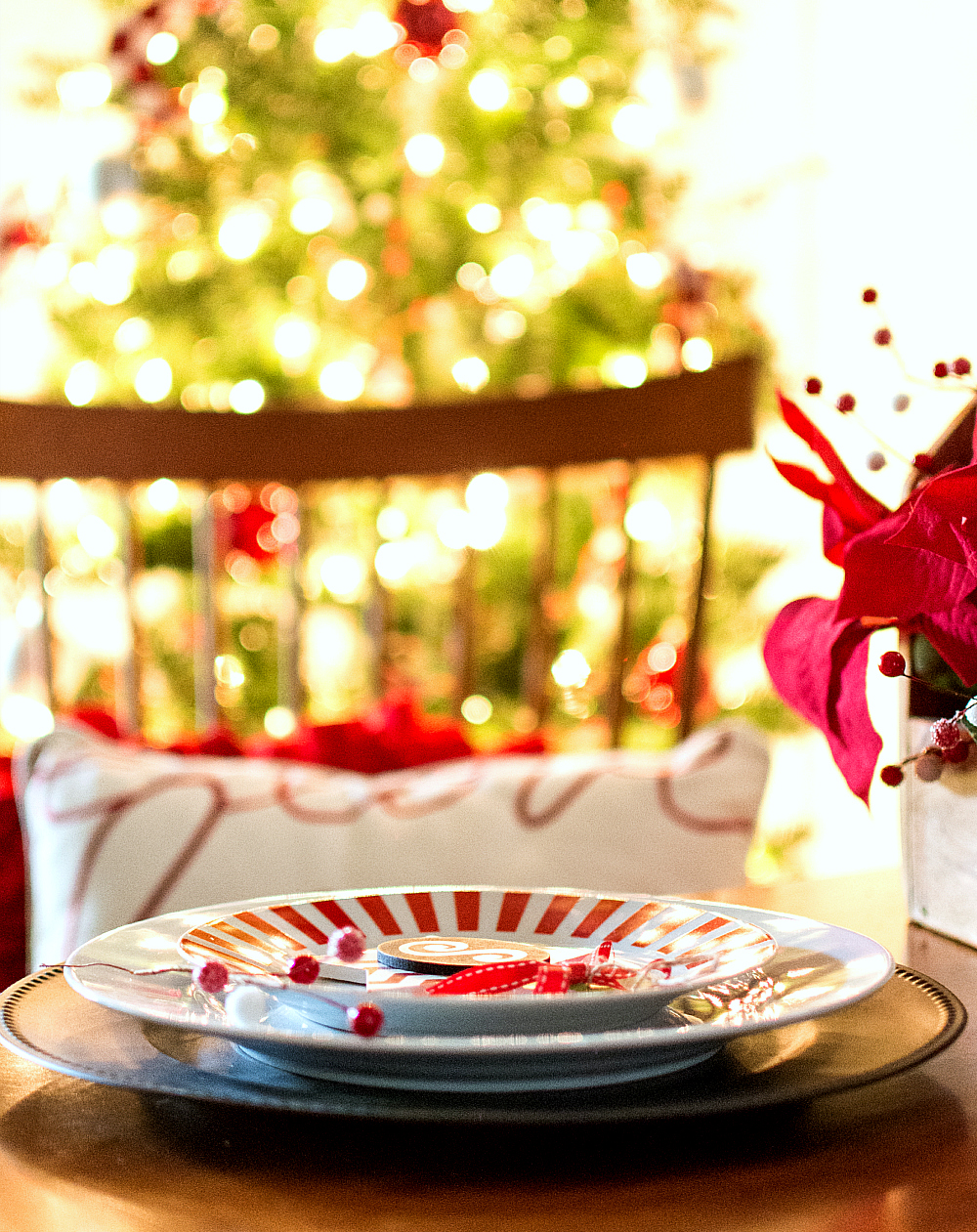 Red & White Holiday Table Setting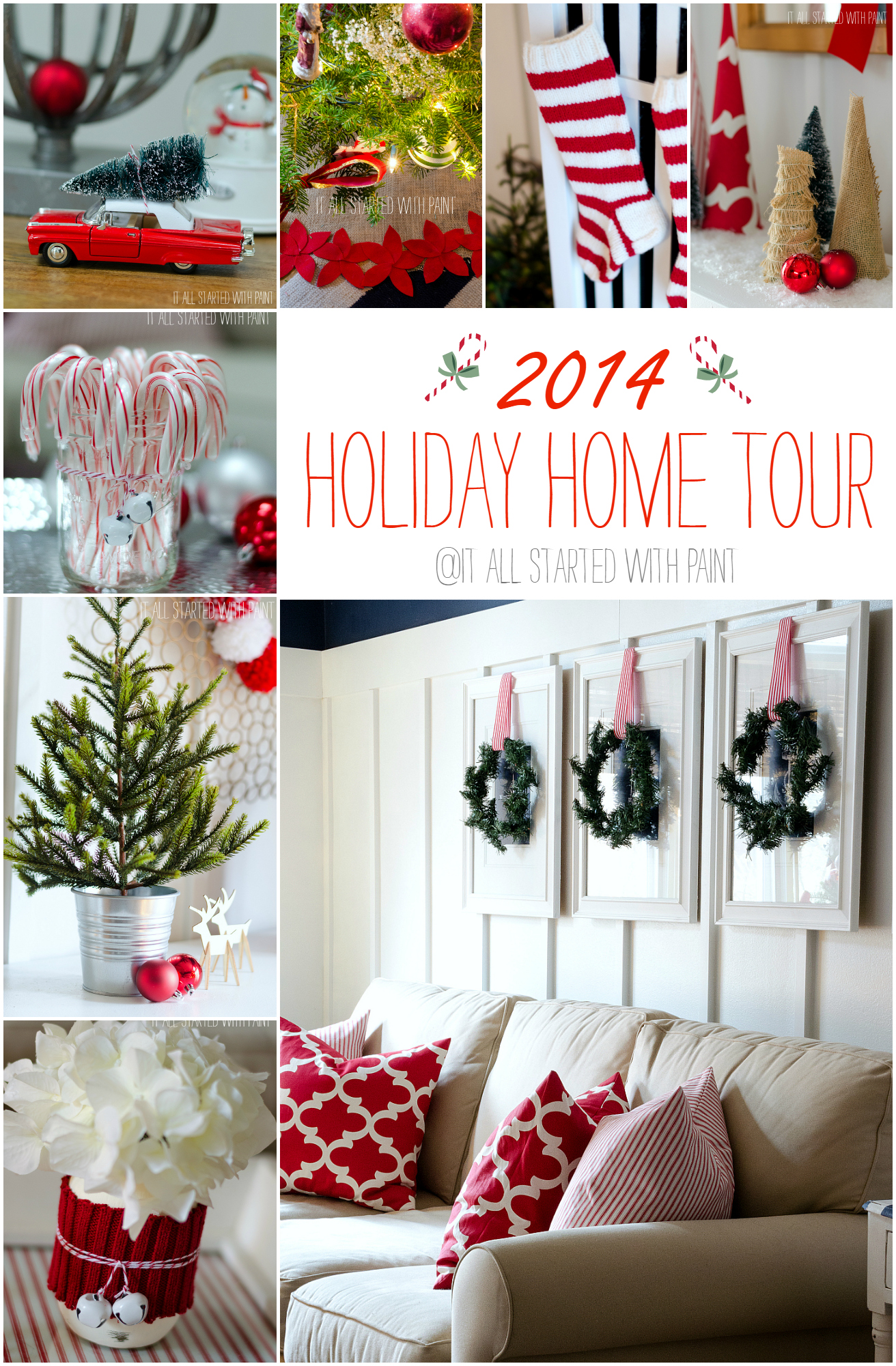 Want to keep up with my projects? Sign up to receive alerts via email:
Sharing: Link Party Palooza | A Stroll Through Life | Savvy Southern Style | Inspiration Monday |