I'm not a scary movie kind of gal.  A fact I discovered a very long time ago.  At the Friday the 13th movie.  The original.
I watched that movie through parted fingers.  And I spent the next year checking under my bed before going to sleep.
And then there was Jaws.  That was the summer of no swimming… not even in a swimming pool.  And never, ever at night.
And Aliens?  When that thing burst out of Sigourney Weaver's belly in the opening sequence?  Yeah, I should've run screaming from the theater …
For awhile there I was a scary book kind of gal.  Well, Stephen King scary.  Right up until I read The Shining while traveling on business.  Staying in strange hotel rooms.  Not a good idea.  Needless to say, the shower curtain remained firmly open.  And I slept with the lights on.  It was not a good week …
When it comes to Halloween, I side with my friend Kari in taking more of a neutral approach … versus blood and guts and gore.
Except maybe for the back yard.  By the garden gate …
The plan was to go spooky. But not scary.  Starting with those dryer vent pumpkins I made and spray painted black and white …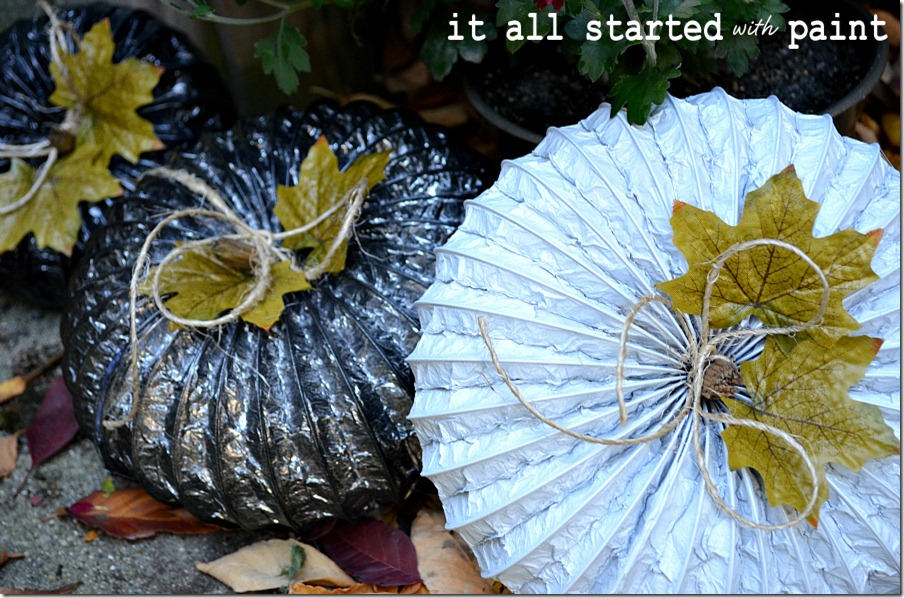 … and that were pinned here, among other places.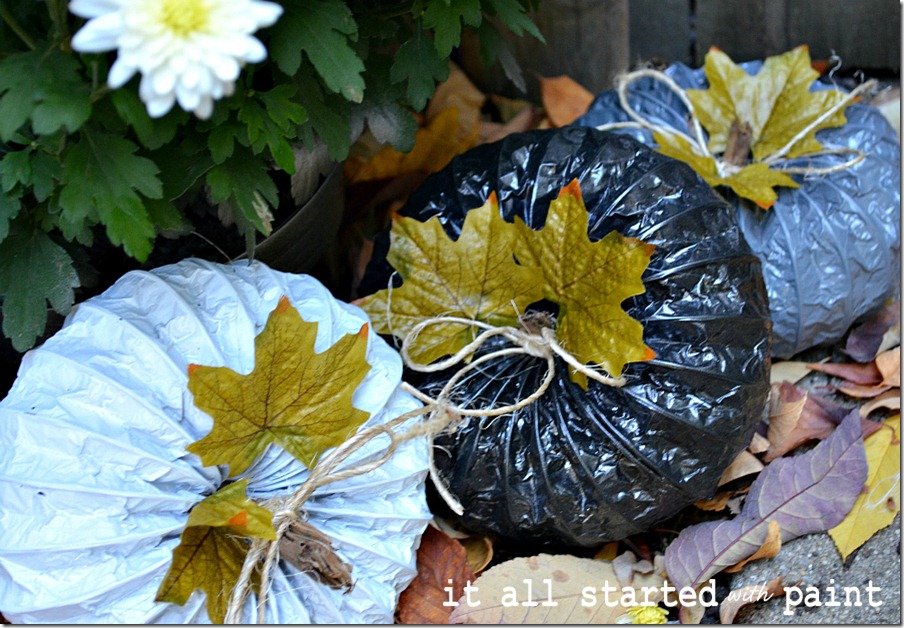 And now I'm thinking I'm off to a good spooky start …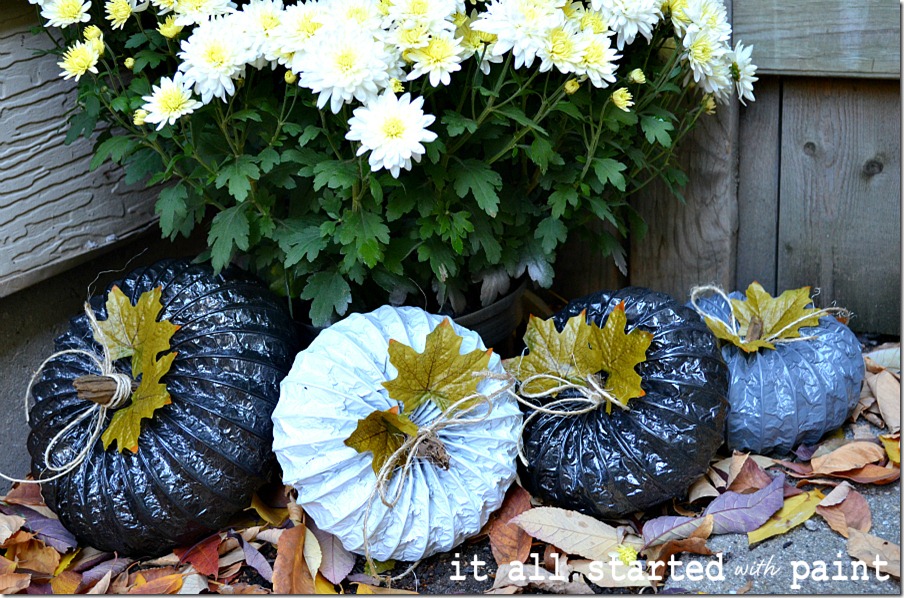 So I took our old rake …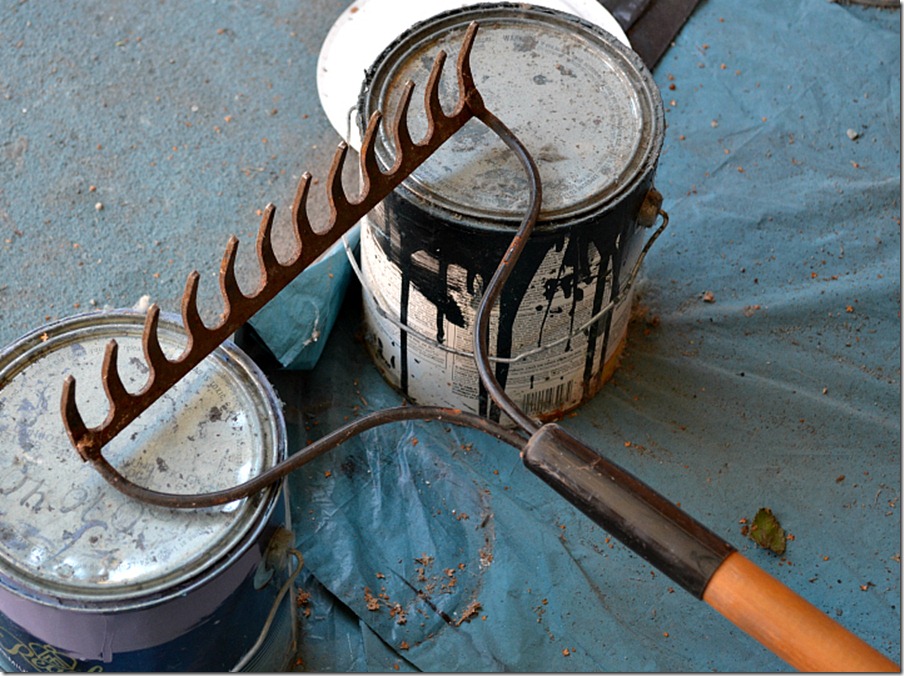 … a seriously boring and rusty old rake …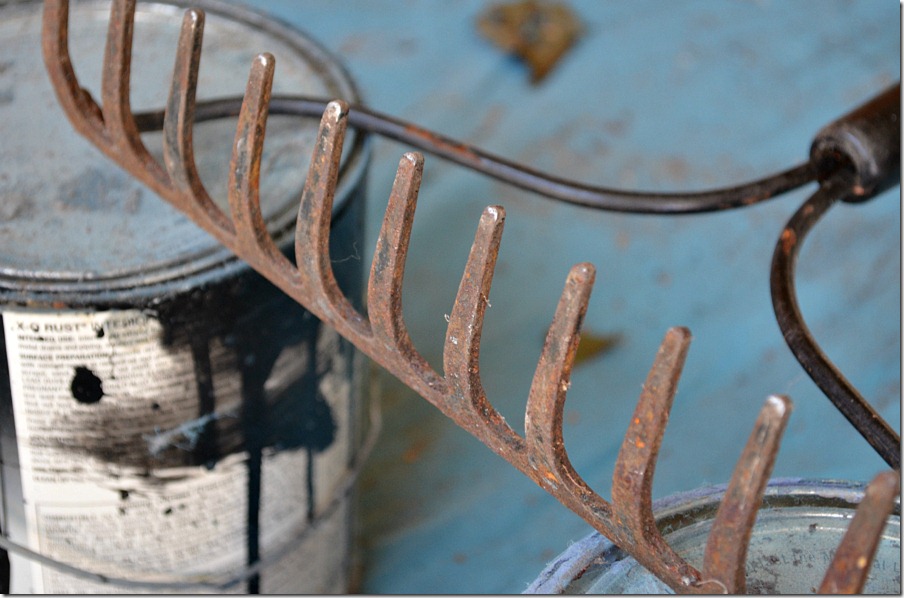 … and gave it some Krylon rust protector spray paint in glossy black.
And now I'm thinking I've got this whole spooky thing in the bag.
I mean, black and white and gray pumpkins?  And a black garden rake too …
But somewhere along the line, it took a turn for the rustic …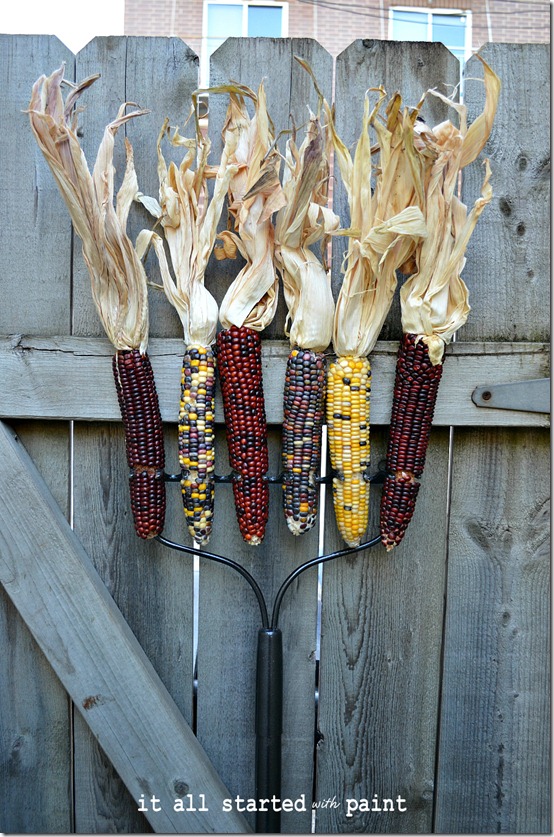 Okay, not country rustic.  But certainly urban rustic.  I'm thinking it might just be the addition of the Indian corn … because I'm smart like that …
A coat of black … or white … spray paint could probably take it from urban rustic to urban spooky.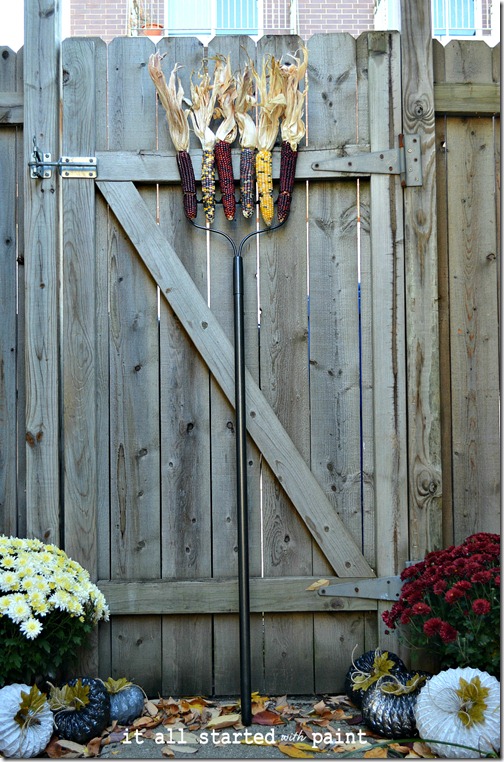 Maybe it's all for the best.  Maybe spooky would've been too scary for me …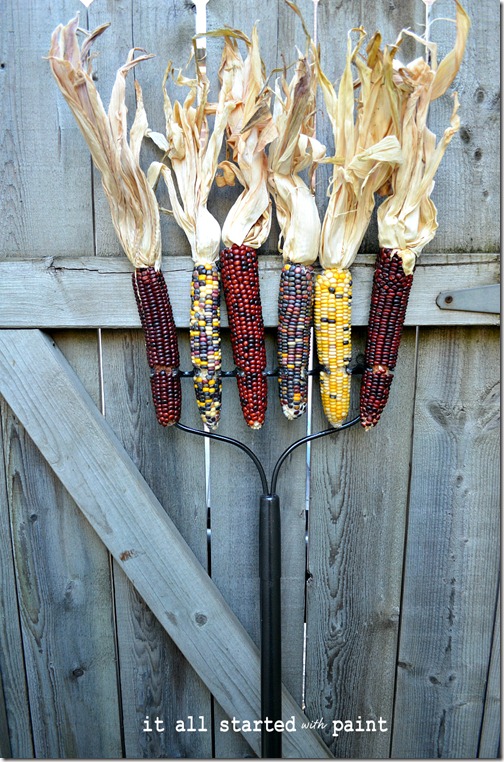 … and I just would've ended up with a fear of garden gates.

Now that I'm ready for tomorrow's spray paint link party, are you?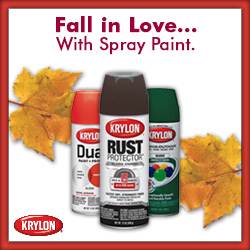 We go live at 6 AM EST … and the party will be raging on through midnight Tuesday, October 16.
And be sure to check out my spray paint party co-hosts: Kari from Thistlewood Farm, Laura from Top This Top That, and Laura from Finding Home …
When you link here, you'll automatically be linked on all four blogs …

Sharing …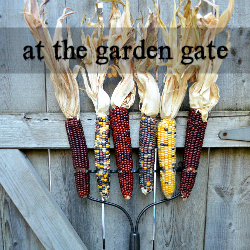 * The Shabby Creek Cottage *  No Minimalist Here *  The 36th Avenue *  Delightful Order *  House of Hepworths *  Between U and Me *  Beyond the Picket Fence * French Country Cottage * Redoux *  Common Ground * Serenity Now * Between Naps on the Porch * Today's Creative Blog *  Home Stories A 2 Z *
* Funky Junk Interiors * Under the Table & Dreaming * My Uncommon Slice of Suburbia * Tatertots & Jello *