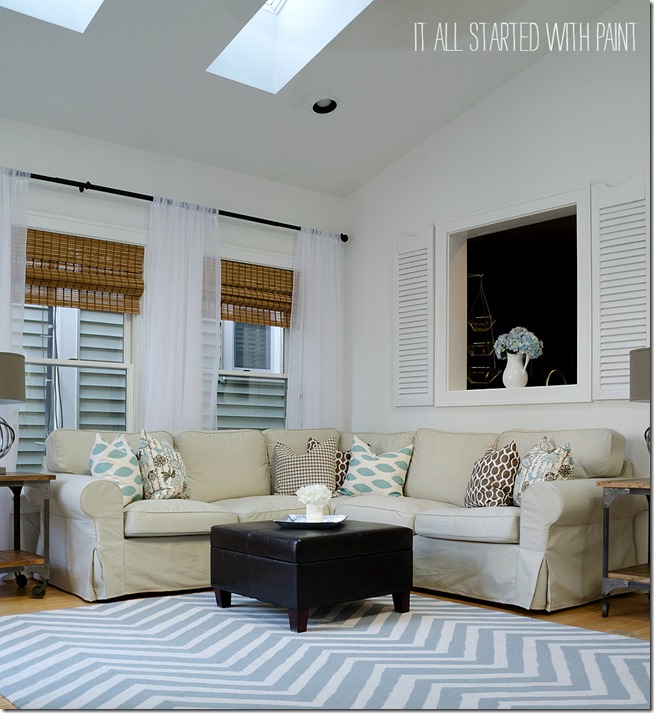 "I'm awesome."
That's the message I left for my husband at work last month after finishing up the family room remodel.
It wasn't a commentary on the room itself.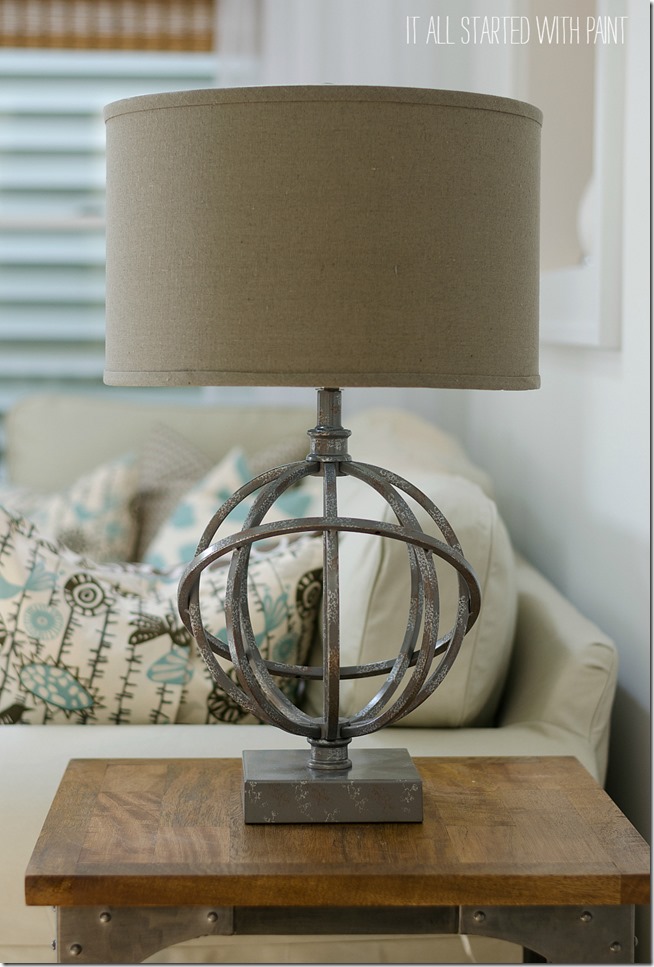 Though, I really do think it turned out pretty awesome, if I do say so myself.

It was actually a pat on my back for catching the recycling truck at the perfect time in our alley. It was a fluke, actually. I was standing at the kitchen sink, looking out to the back yard when I saw a garbage truck looming large behind my garage.
Okay, I heard it first. The roar of it's garbage truck engine and hiss of its airbrakes prompted me to look up from the dishes I was washing.
I dropped everything and ran outside — and may have left the water running – to open my garage door to reveal a heaping pile of cardboard.
And heaping doesn't even begin to describe the massive amounts of cardboard in our garage. Cardboard accumulated as part of the creation of this coastal-look family room remodel …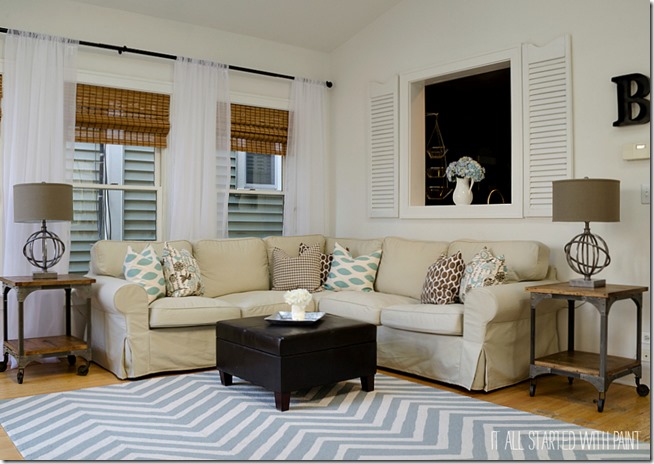 … a remodel that, by the by, was inspired by one of my favorite movie homes (and movie too), Something's Gotta Give …
and a remodel in which every single piece of furniture in this room was delivered in cardboard boxes. LARGE cardboard boxes.
I would have to say the hardest task was assembling that Ikea Ektorp sectional sofa. But it wasn't the assembly that was complicated. It was the massive cardboard boxes it came delivered in. Getting the pieces out of the cardboard, and then fighting with the cardboard to get it to lay flat. And then wresting and wrangling with that cardboard to get it out the door and into the garage.
That was the challenge.
And once we got the IKEA cardboard into the garage, along with the cardboard boxes from the table and the lamps and the unfinished and vintage crates and the oversized clock … well … it completely covered the space where my car was once parked. Too much cardboard to fit in our recycling bin. Too much cardboard to fit in the alley.
The plan was to parcel it out into the recycling bin in small doses.
Well, that was my husband's plan.
A plan that could have spanned the next six months, given the amount of cardboard our garage now housed.
My plan was to keep and eye and ear out for the recycling truck.
A plan I promptly forgot …
until I was standing at that kitchen sink and heard/saw a garbage truck looming behind my garage.
I wasn't even sure if it was the recycling truck. It was. And when I asked if they could take the heaping pile of cardboard in my garage. They said yes. And backed the truck up closer to my garage. Together we wrestled and wrangled and hauled that cardboard into the truck.
Phew.
Now, keep in mind this room is still a work in progress.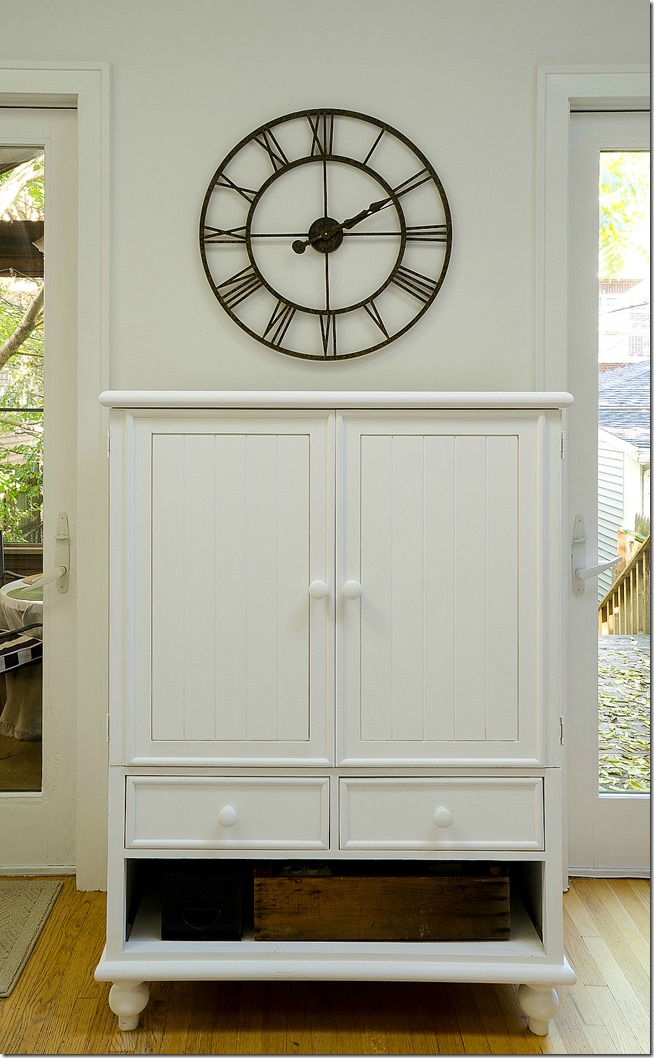 Like those new, unfinished crates need to be stained and distressed and stenciled to look old …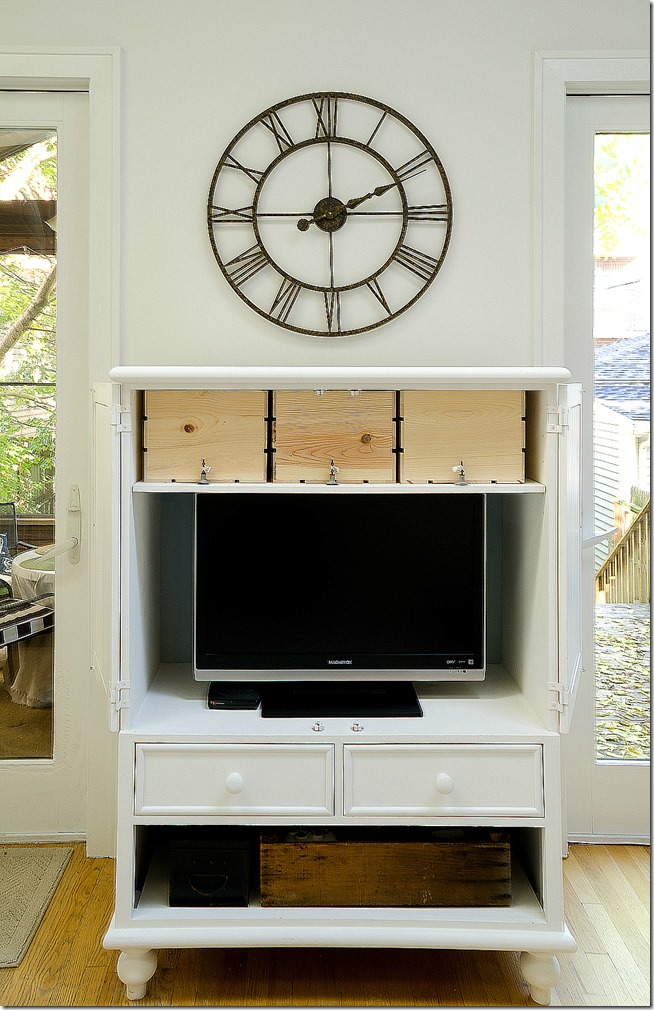 Update: You can see how I aged those crates by clicking here …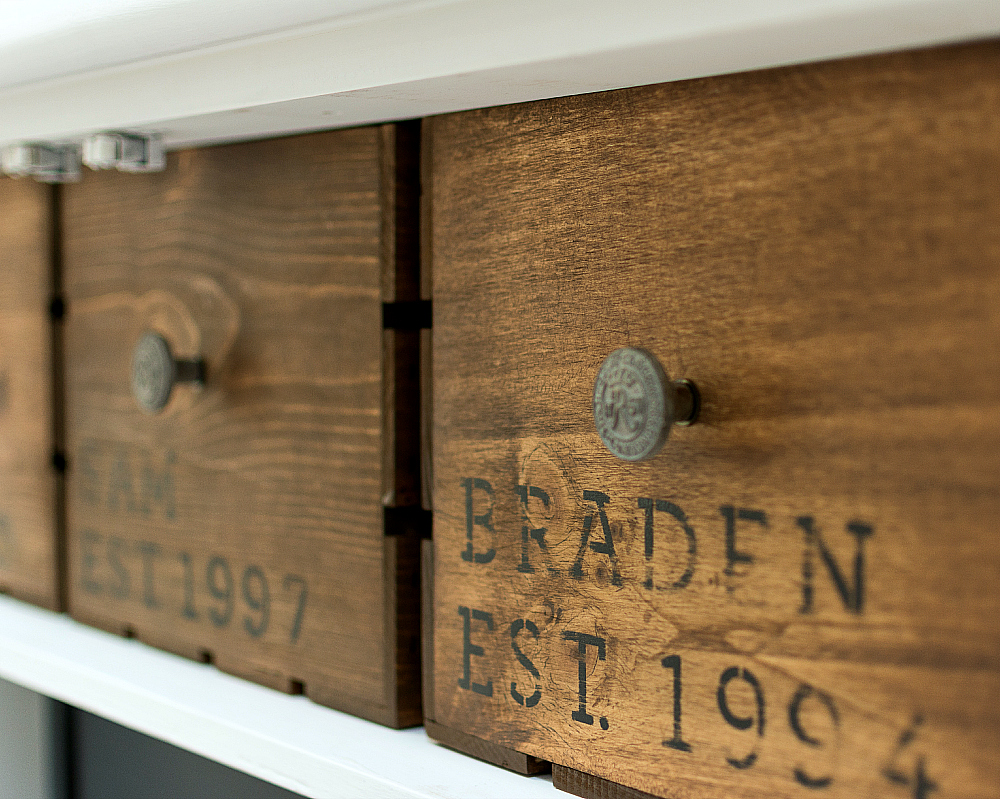 And my World Market side tables need some accessorizing to compliment my Birch Lane lamps …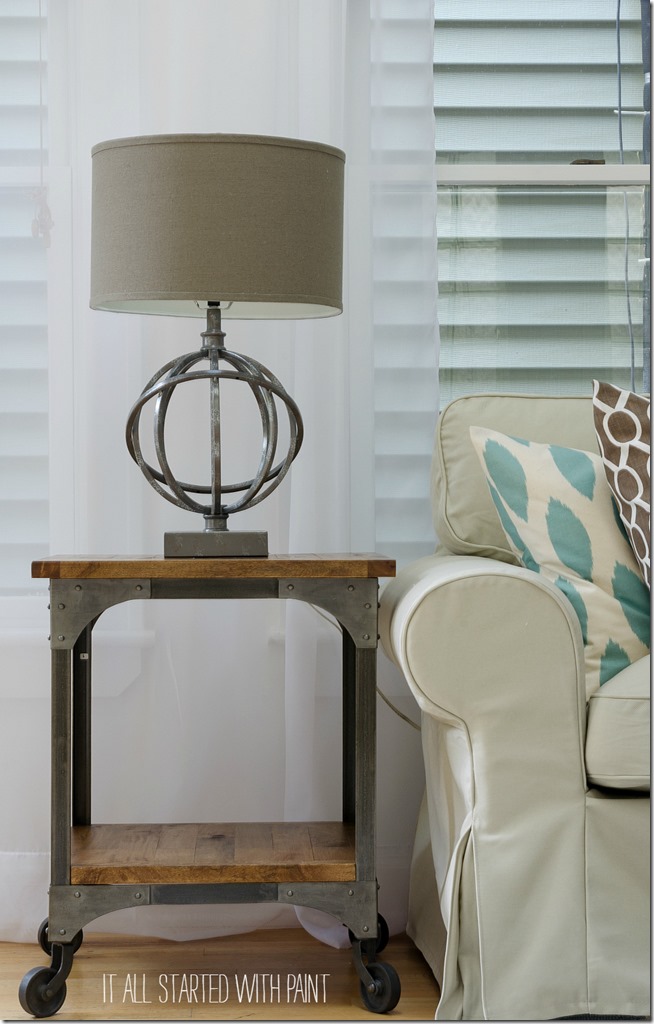 But I wanted to share the room before I dressed it up for the holidays.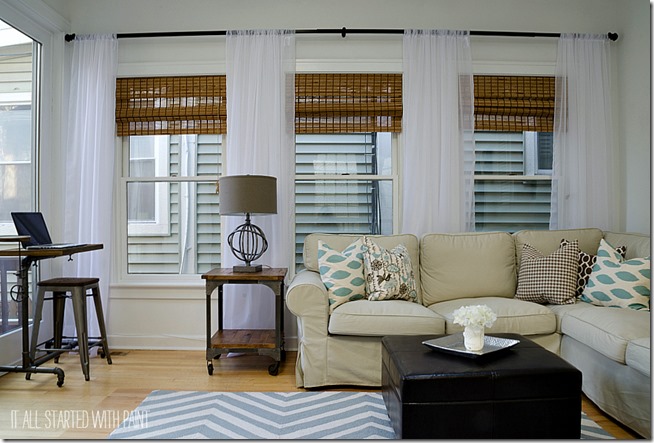 And to be honest with you, I really do think it looks awesome …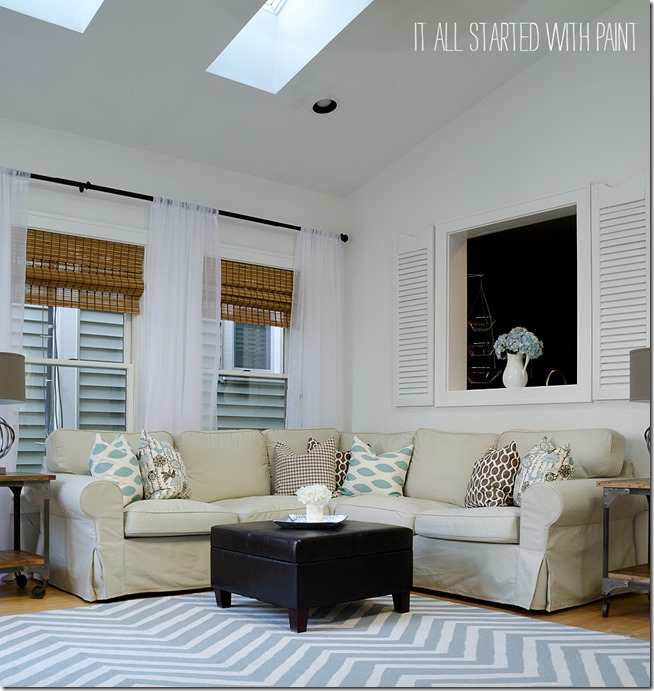 … and now my family thinks I'm awesome too!

Linda
Sources:
Lambert Table Lamps from Birch Lane | Sheer Curtain Panels from Curtainworks | Ektorp Sectional with Tygelsjo beige slipcover from Ikea | Storage Ottoman from Walmart | 30" Clock from Wayfair | Premier Prints Fabrics from OnlineFabricStore.net | Brown Houndstooth Fabric from Buyfabrics.com | Side tables from Cost Plus World Market | Laptop Desk from Cost Plus World Market | Industrial Stool from Target | Chevron Rug from RugsUSA | Television Console/Armoire from Pottery Barn (from 14 years ago) | Unfinished Wood Crates from Amazon.com | Vintage Crate from Found In Attic | Regal Select Off-the-Shelf Base White Paint in flat (walls) and semi-gloss (trim) from Benjamin Moore
You Might Also Like: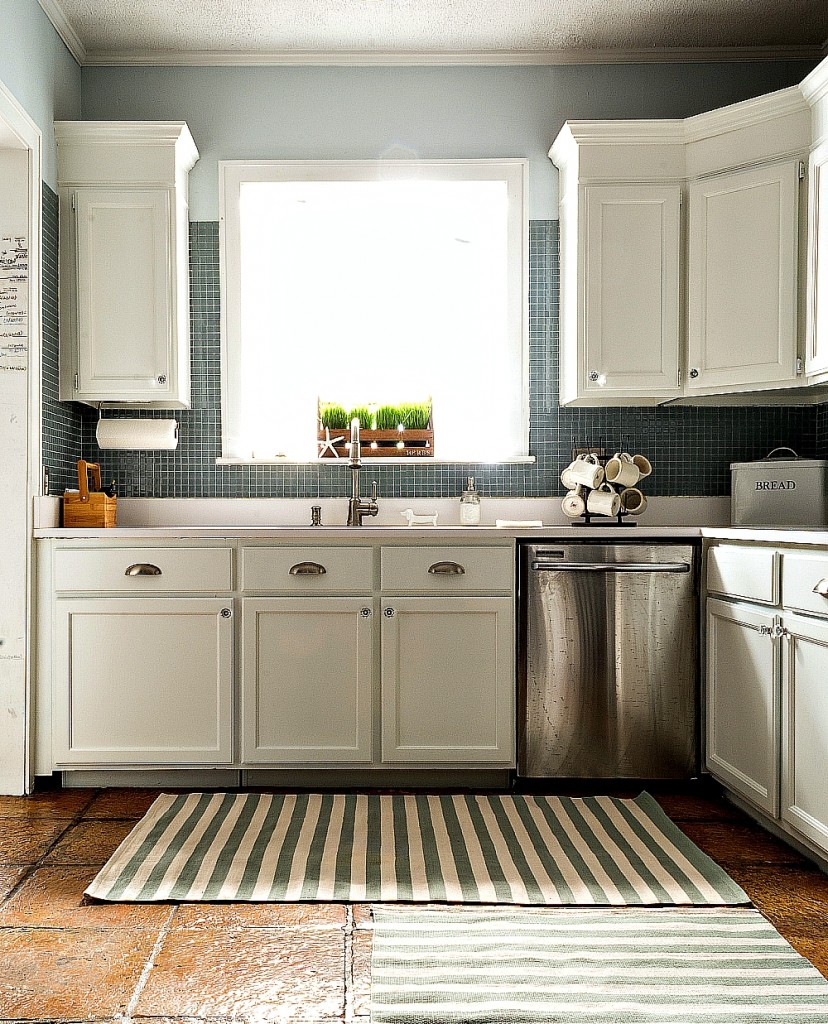 Painted Builder Grade Cabinet Kitchen Renovation