I made a very important discovery this week.
Was it earth-shattering?
Not really.
Did it rock my world?
Not quite.
Will it forever change the way I blog?
Perhaps.
You see, I discovered that just about anything looks so, soooo much cuter with a tissue paper banner hanging over it …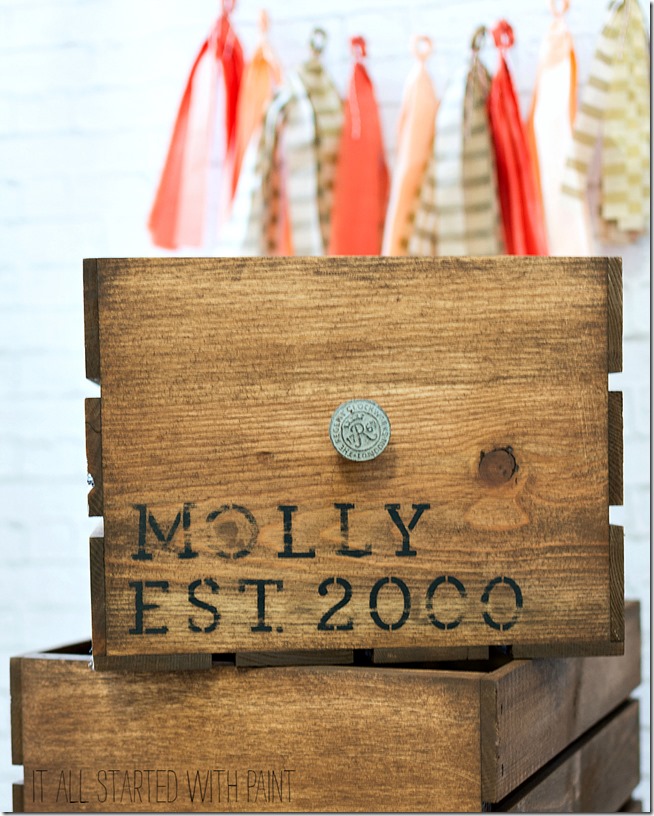 Don't you agree?
I made this banner to use for a different photo shoot for a different project.  (You can find my banner tutorial here …)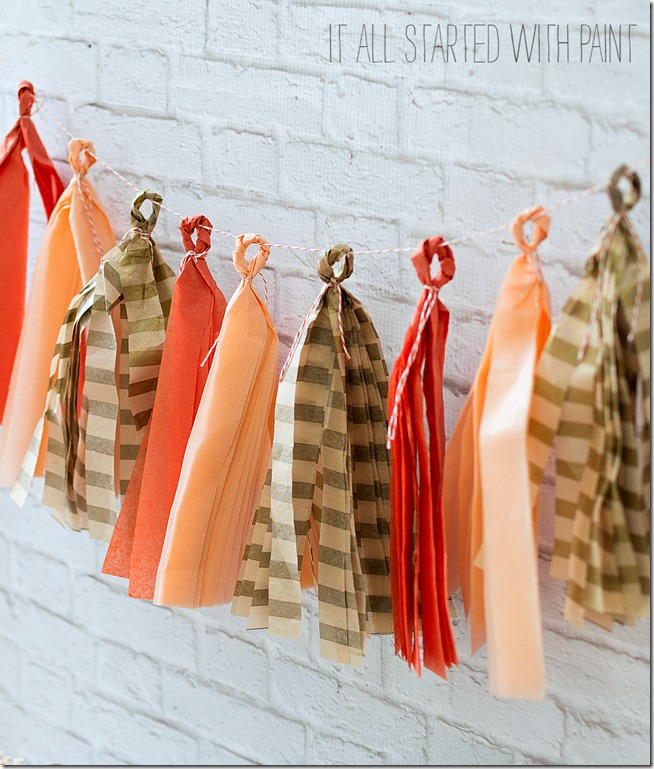 But when it was time to take pictures of my finished vintage-look-crate DIY, I thought they would look cute in the background.
And I was right …
right?
I fear I may have to style each and every project from this day forth with a tissue paper banner. Using different color tissue paper to compliment the project …
It could be my 'thing.' You know, say you're cruising Pinterest and you see a picture with a tissue paper banner in the background, you would immediately know it's mine …
… because of the soon-to-be-iconic It All Started With Paint tissue paper banner prop.
Or maybe not. Maybe it's just my thing this week …

But enough about the banner. Let's talk about what's hanging below that banner. My DIY vintage-look crates.

I started with some basic unfinished crates I found on Amazon (here). I also spotted very similar crates stocked at Michaels last week.
I started out by asking my husband to drill some holes in the front for the vintage-look knobs (found here at World Market). Then I lightly sanded around the drilled holes.
I used the Varathane Wood Stain in Early American that Rust-Oleum sent me (thanks Rust-Oleum!). It's the same stain I also used on my sawhorse desk.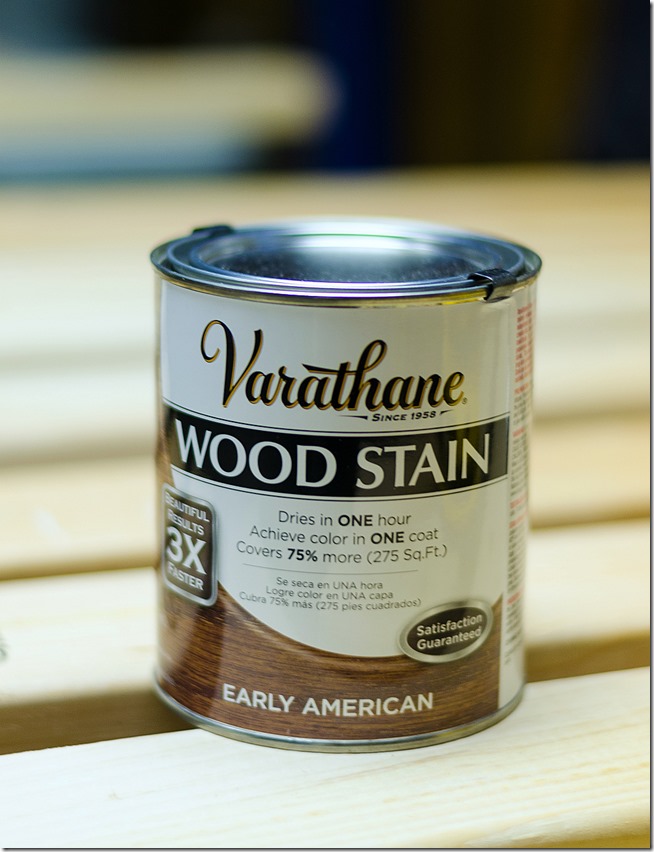 I brushed on a thick layers of stain. Let it sit for about 10-15 minutes, and then wiped it off with a clean rag.
I stained both the insides …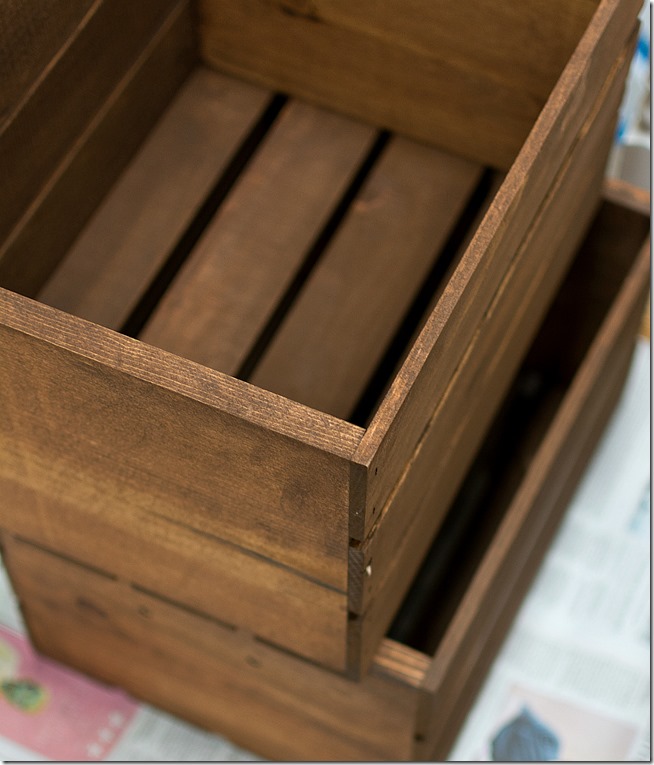 … and outsides.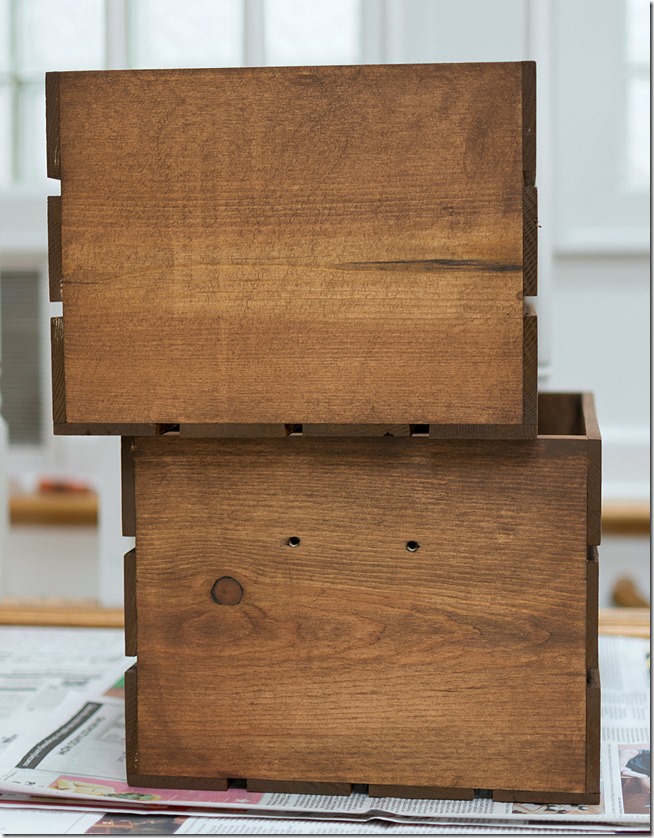 And I'll be honest, that took a while. And it was messy. Mostly because I'm a messy stainer …
Once dry, I gave them a a quick sanding. To make them look a bit aged.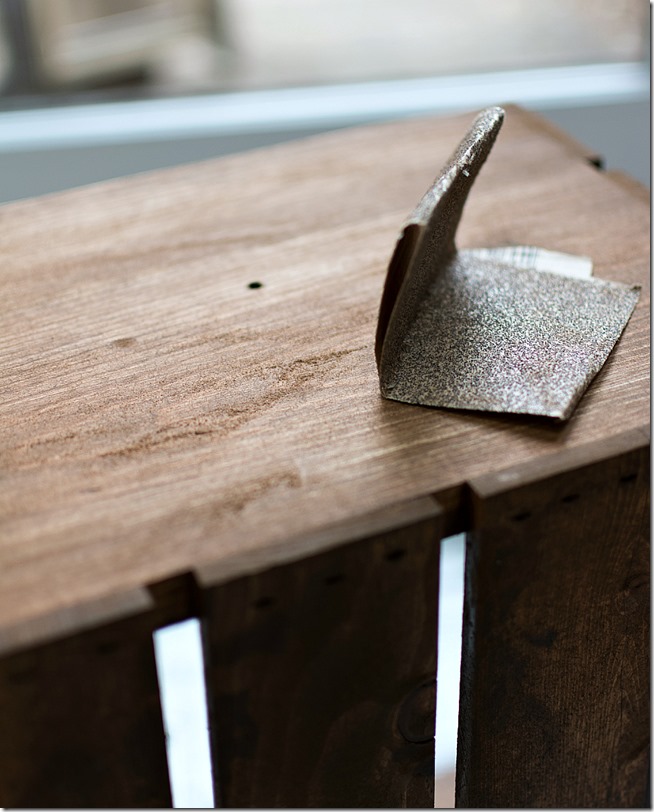 Then  it was time to stencil. I used black acrylic craft paint and Martha Stewart self-adhesive stencils I found at Michaels.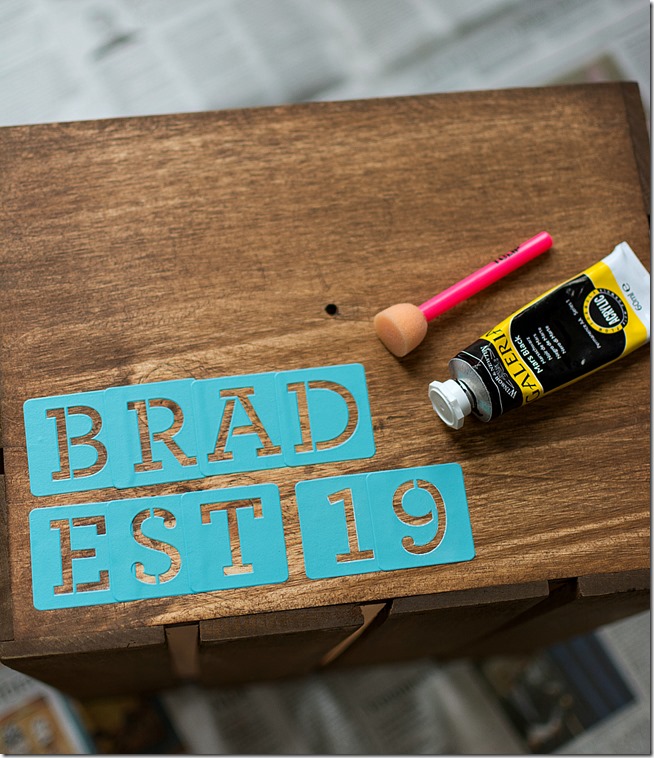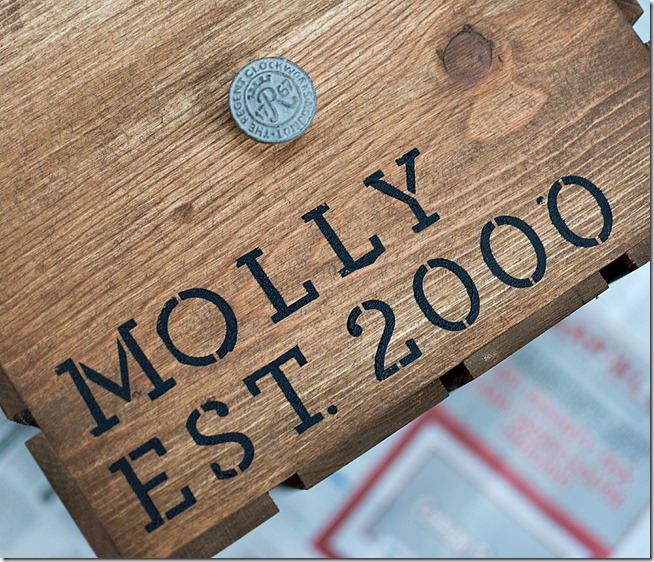 Since I wanted my crates to look like they'd been around the block a few times, I attacked the stencils with sandpaper.
But I went too far …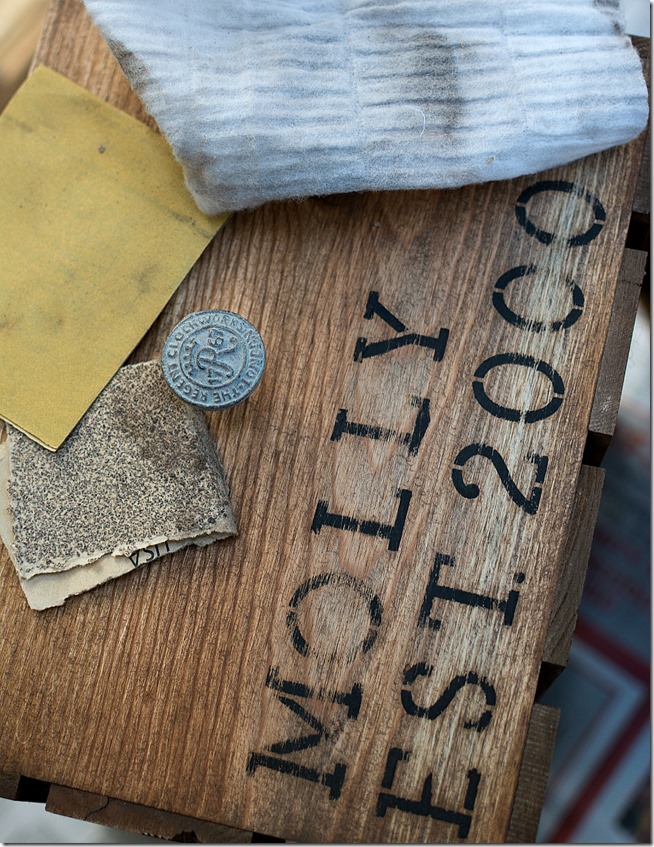 So I grabbed a clean rag and dipped it into the stain. I rubbed it on and immediately rubbed it off.
Aaahhh. So much better …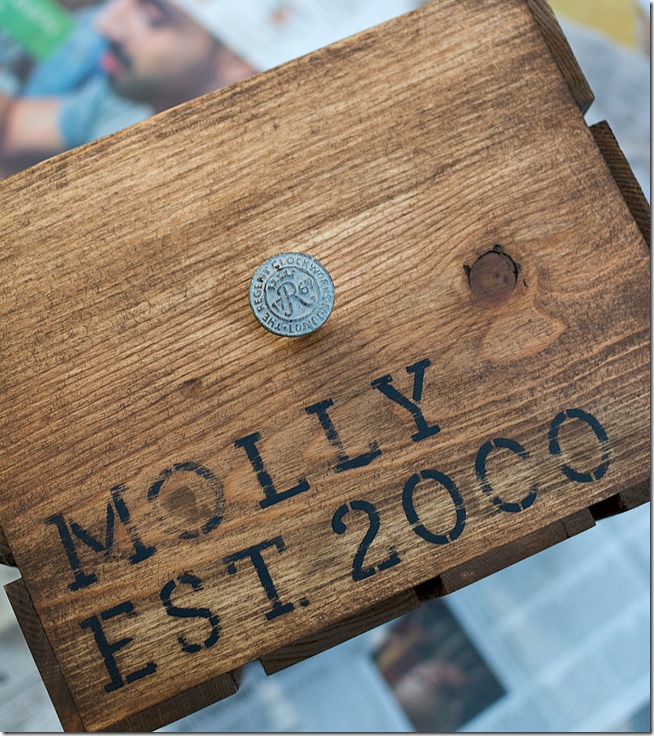 So, so much better …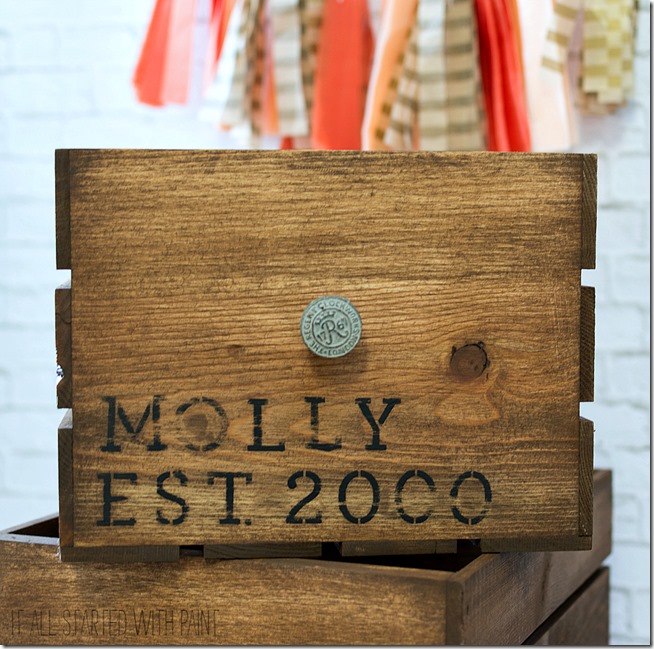 I really love how they turned out.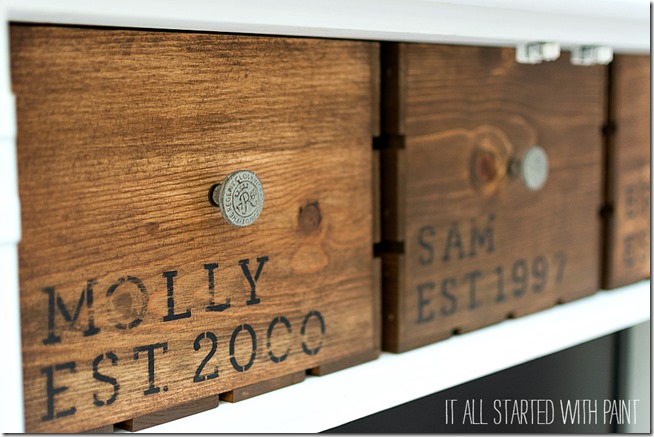 Really and truly.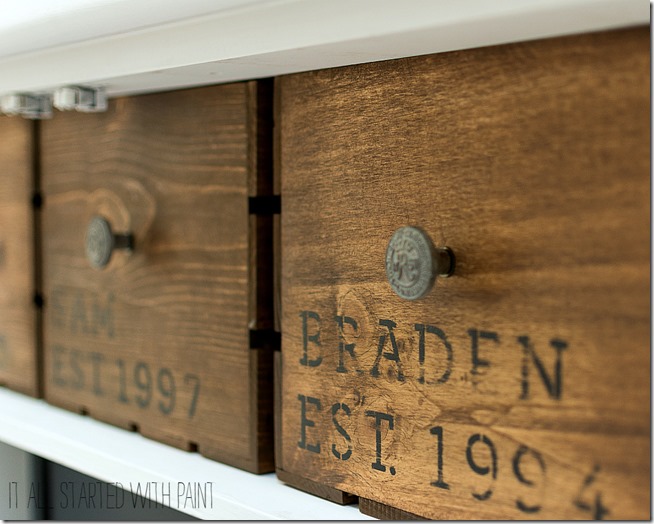 I may even love them more than those tissue paper banners.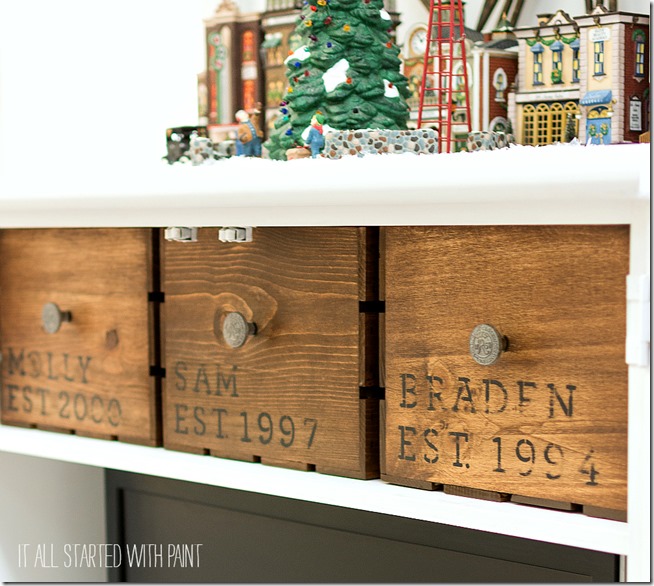 And now I have two more to make. For the Etsy shop workspace.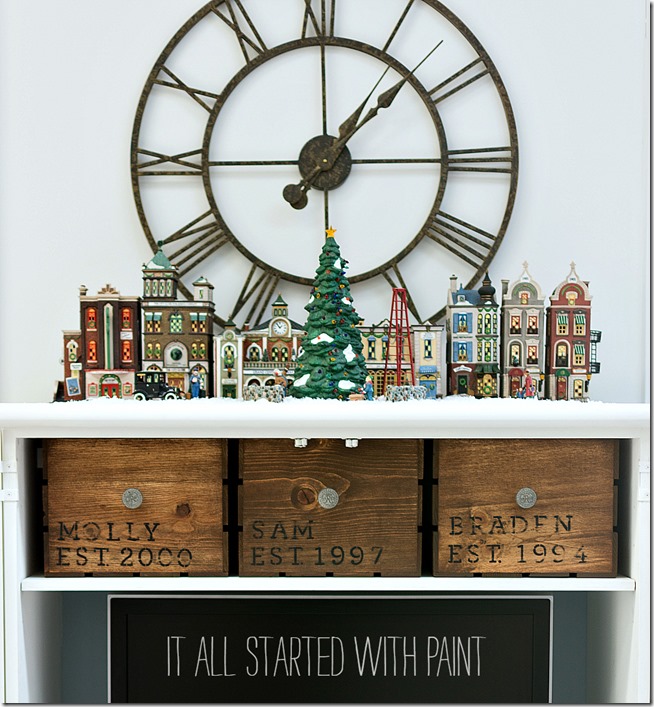 But first I have to tell those little village people that Christmas has been over for a month now and they really need to take down that tree in the town square …

Linda
You might also like …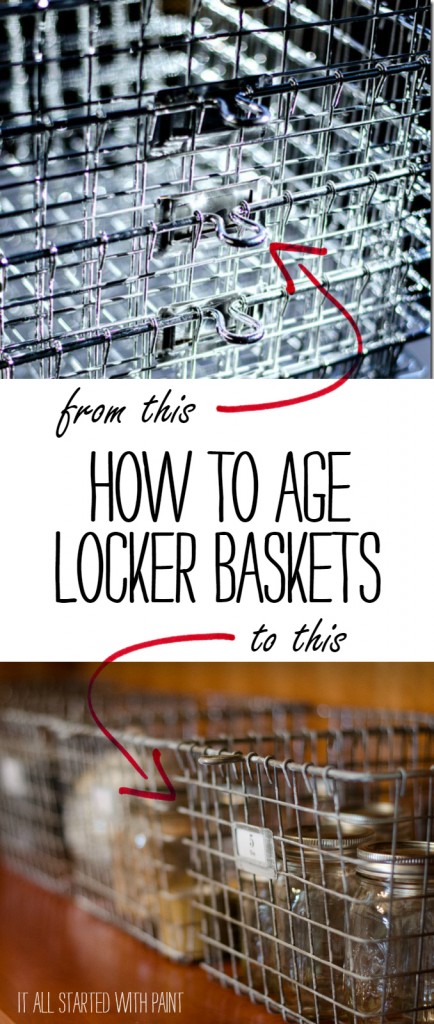 How To Age Locker Baskets (click here)

Turn New Toolbox to Vintage, Rustic Look {click here}
You can find my full gallery of Before & After projects by clicking here …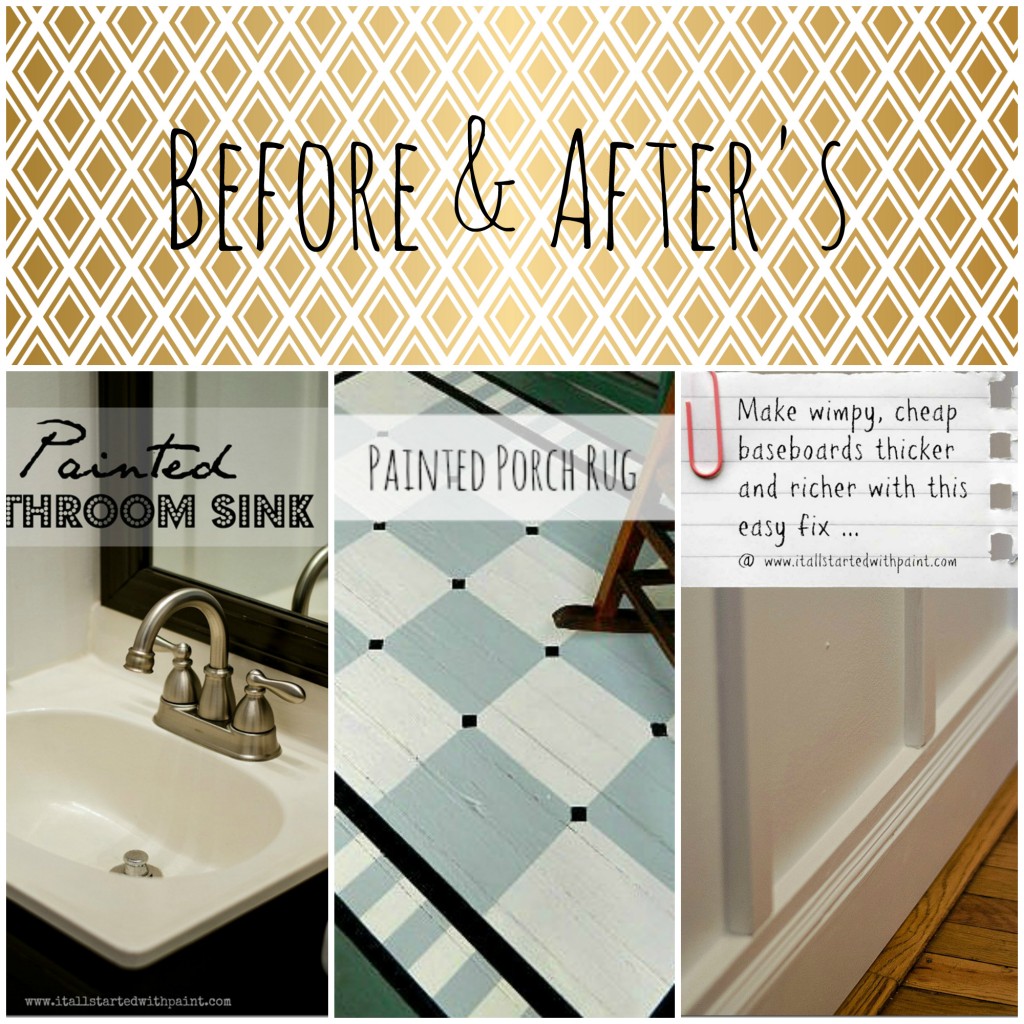 Want to keep up with my  projects? It's easy.  Sign up here to get it all started with paint delivered to your email inbox: