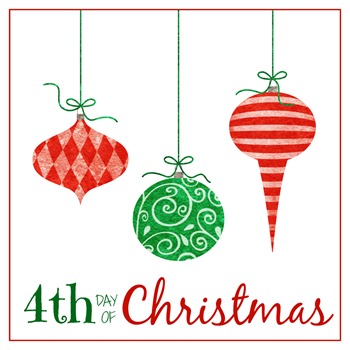 So, are you inspired yet? Motivated?
Feeling the Christmas spirit?
I've been humming Christmas carols to myself for the past two weeks as I've wrapped and glued and painted and created by my 12 Days of Christmas ornament crafts …
… and that makes it sound like I have all of my 12 ornaments done. Not exactly. Close, but no cigar.
Now I'll be honest, I was on the fence about today's ornament  idea …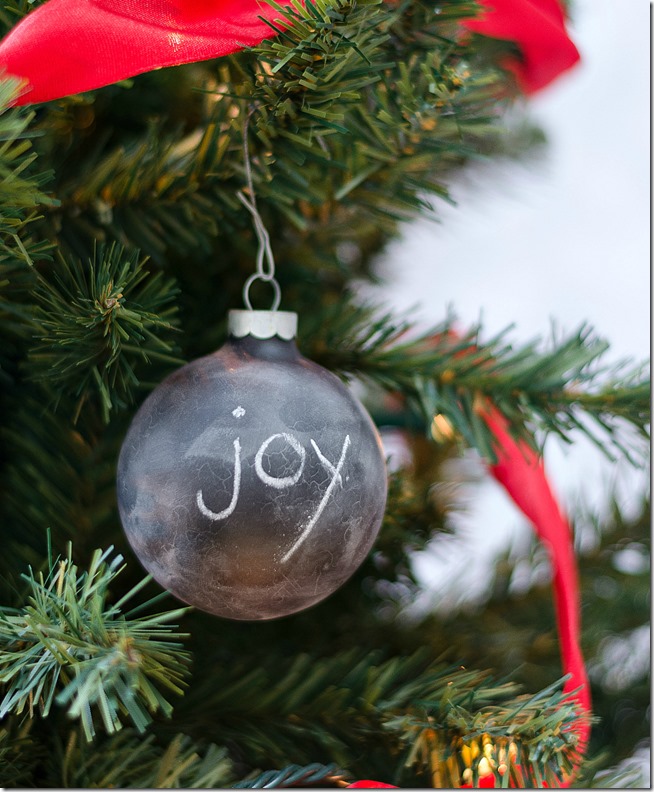 I mean, black chalkboard painted ornaments aren't exactly festive. They don't scream Christmas. Or Deck the Halls …
But before throwing in the towel (and throwing these in the trash) I decided to stage it with some more festive – and colorful — pieces.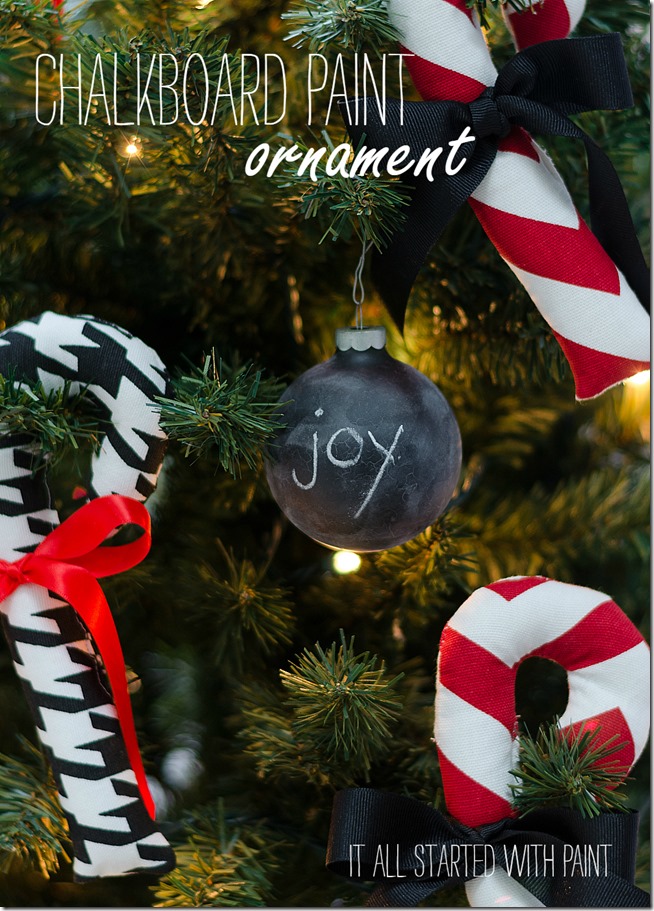 Aahhhh. Now that's more like it!
And yes, I will be sharing the tutorial for those super cute stuffed candy cane ornaments as part of this 12 Days of Christmas ornament series; you'll just have to keep checking back in for that post!

This project was pretty straight forward, starting with some very old ornaments that had seen better days.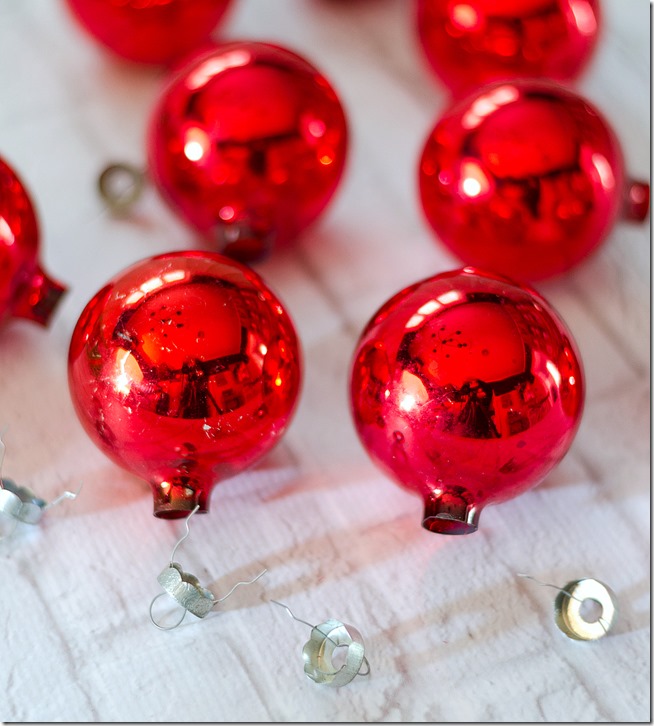 The tricky part was figuring out how to spray paint balls. In the end, I used a knife to punch some slits in an old mason jar cardboard box, stuck some pencils in the slits and balanced the ornaments on the pencils.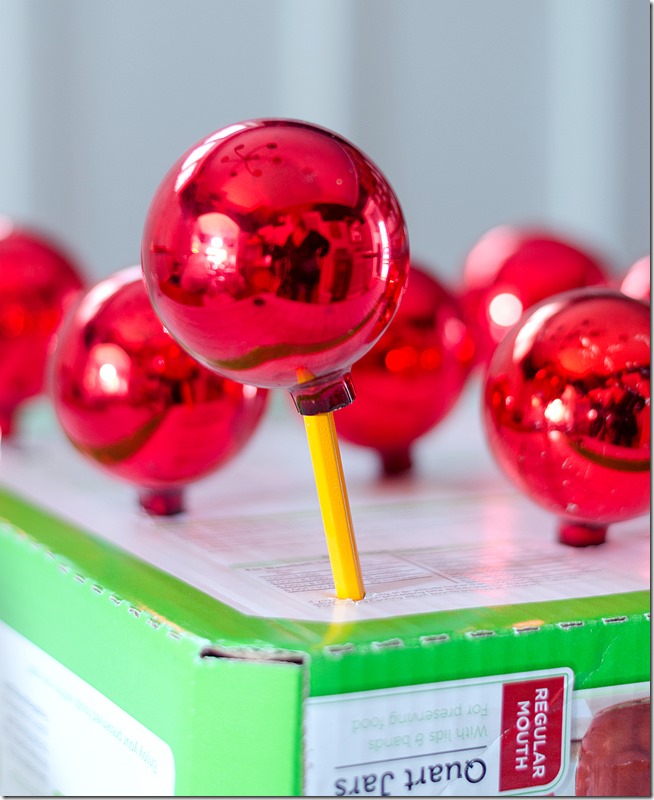 My husband deemed this idea as very clever. Thanks honey!
Next up they all got some chalkboard spray paint (which, by the way, is the greatest invention of the 21st century)…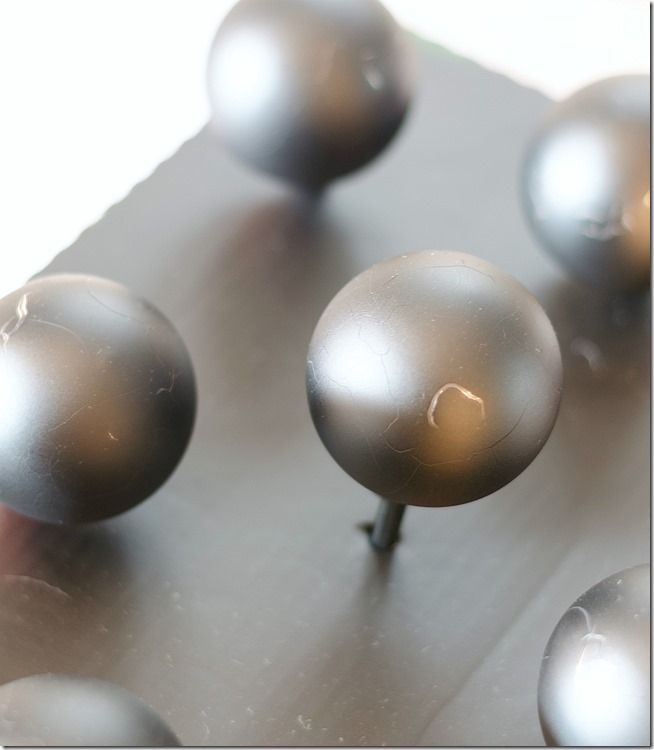 If I didn't have 11 more ornaments to create in a week's time, I would have given them all a second coat.
Then I seasoned them by rubbing them with chalk on it's side.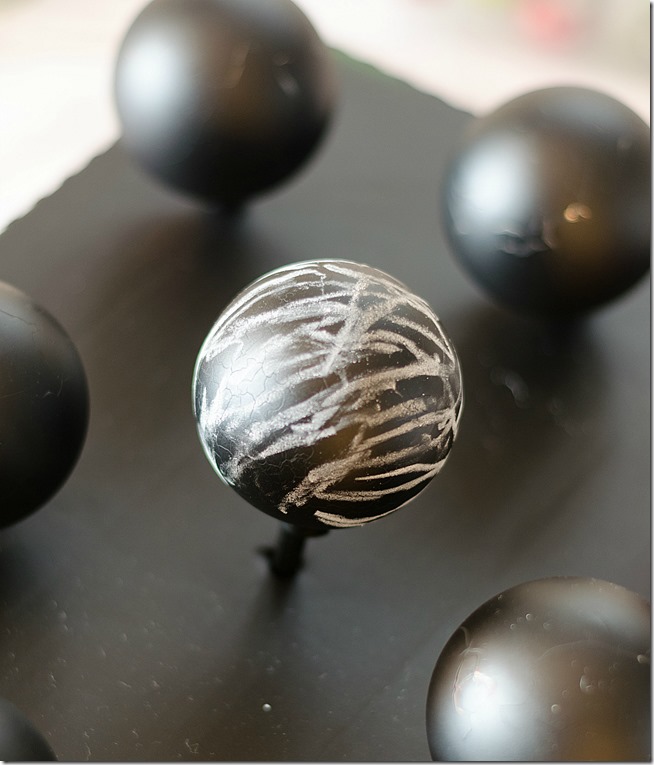 And then used my eraser on them.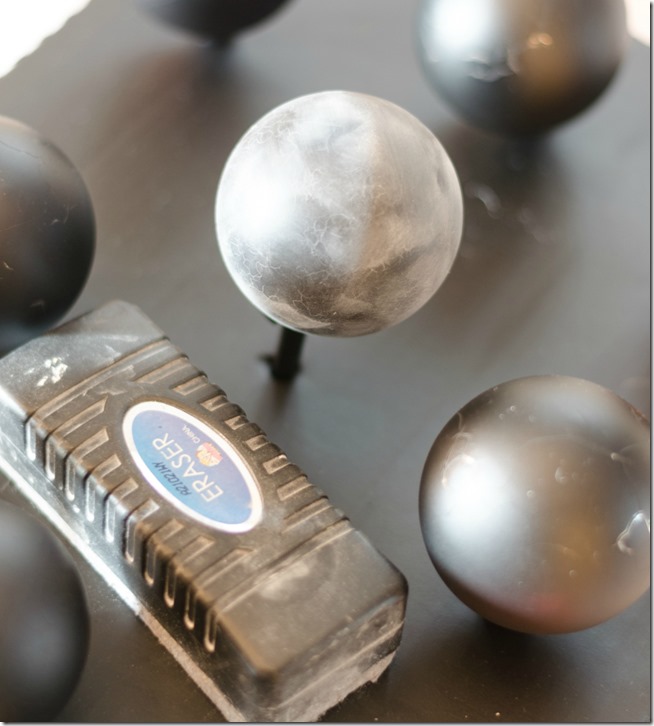 And there you have it. A joyful box of chalkboard painted ornaments.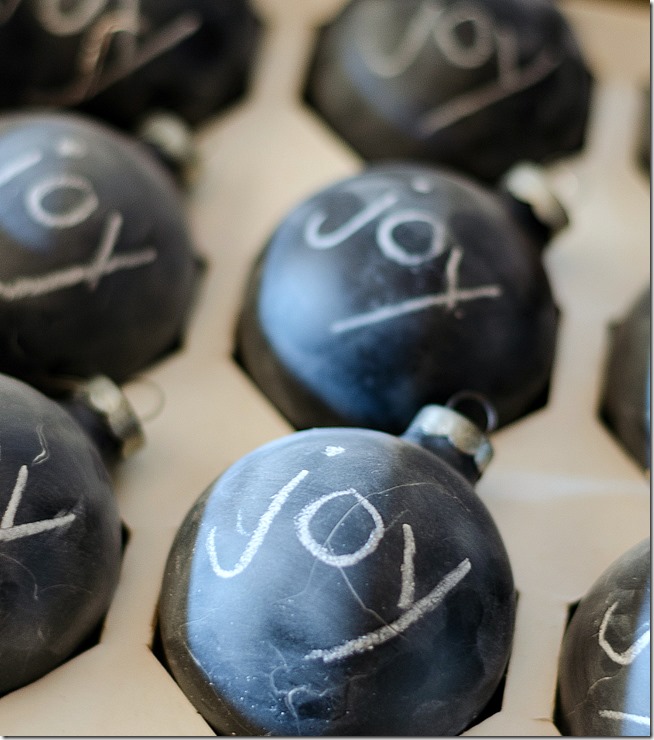 Now it's time to check out what my crazy Christmas crafting friends are up to today, this 4th day of Christmas …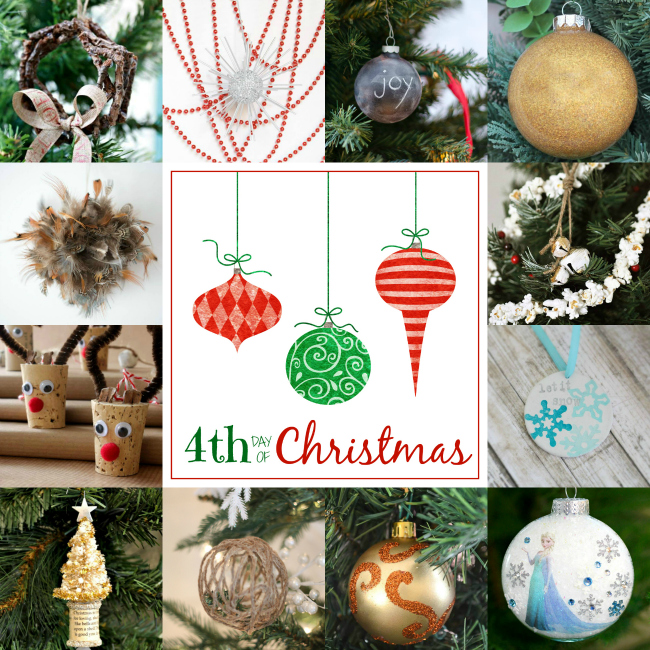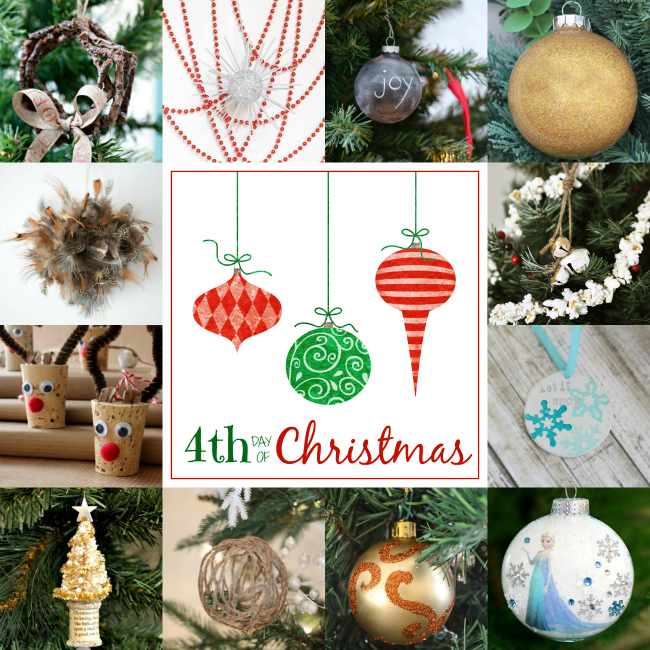 Rustic Twig Wreath Ornament  |  Mom 4 Real
Silver Starburst Ornament  |  May Richer Fuller Be
Chalkboard Paint Ornament  |  It All Started With Paint
Holographic Glittered Ornament  |  The Happier Homemaker
DIY Feather Ball  |  Bigger Than The Three of Us
Rustic Jingle Bell Ornament  |  Cherished Bliss
Wine Cork Reindeer Ornament  |  Remodelando la Casa
Clay Snowflake Ornament  |  Lovely Etc.
Vintage Style Bottle Brush Tree  |  Serendipity Refined
Jute Ball Ornament  |  Thrifty and Chic
Glitter Swirl Ornament  |  Whats Ur Home Story
Princess Elsa Ornament  |  All Things G&D
Linda
P.S. For even more holiday inspiration, you can find more handmade ornaments by clicking here …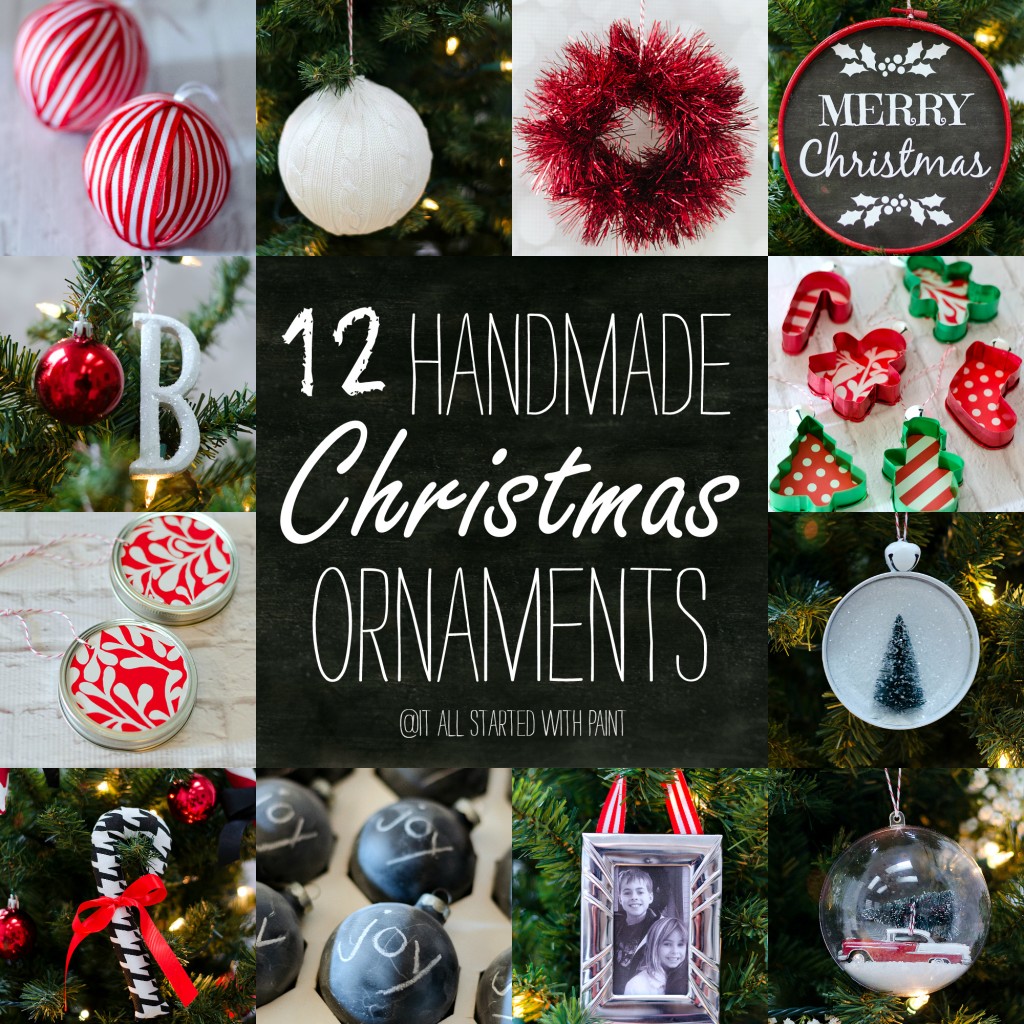 P.P.S. All 12 days – and all 144 ornaments – can be found by clicking here …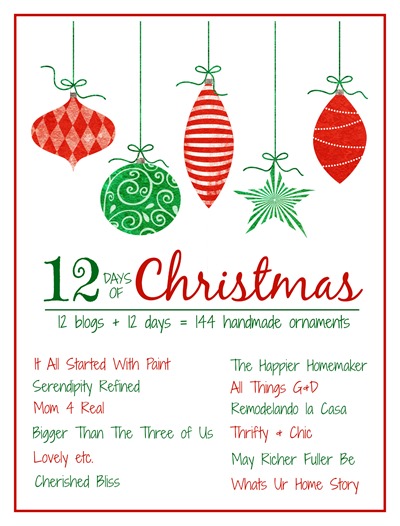 Want to keep up with my projects? It's easy. Get it all started with paint delivered to your email inbox:
* Some of the products used in this post were purchased with a gift card provided by Michaels *