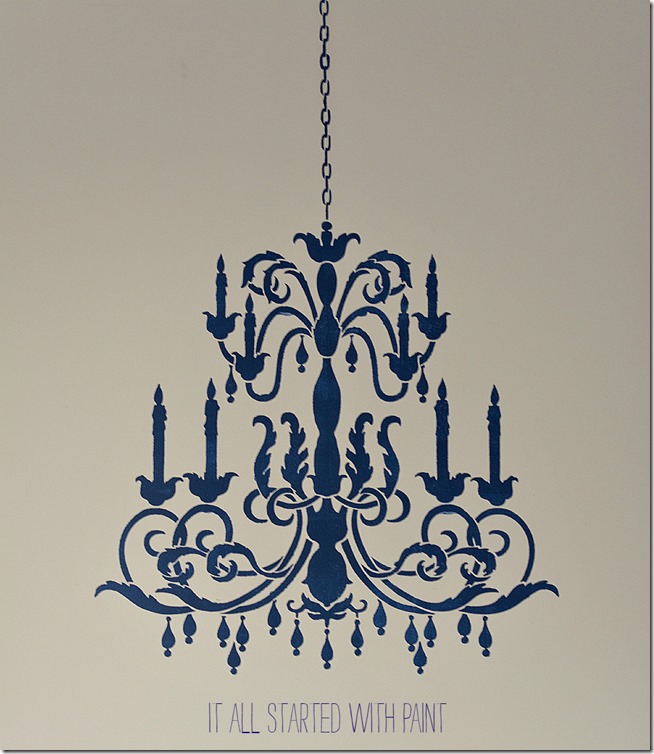 You know that "Champagne taste on a beer budget" saying? Well, my daughter and I have chandelier dreams on a …
a …
a …
hmmm …
I can't seem to come up with the beer to champagne equivalent in the realm of lighting.
Perhaps light bulb budget?
Either way, we both want a chandelier in her room. And when we make the big switcheroo and move her into her brother's larger room when he heads off to college, we will absolutely hang a chandelier.
And when I say we, I mean I will call our electrician friend.
😉
But for now, her mini room makeover needs to remain gender neutral with paint color and fixtures. So I opted for the next best thing.
A chandelier stencil.
An easy fix with a few strokes of paint when we transition from young woman to young man's room this summer.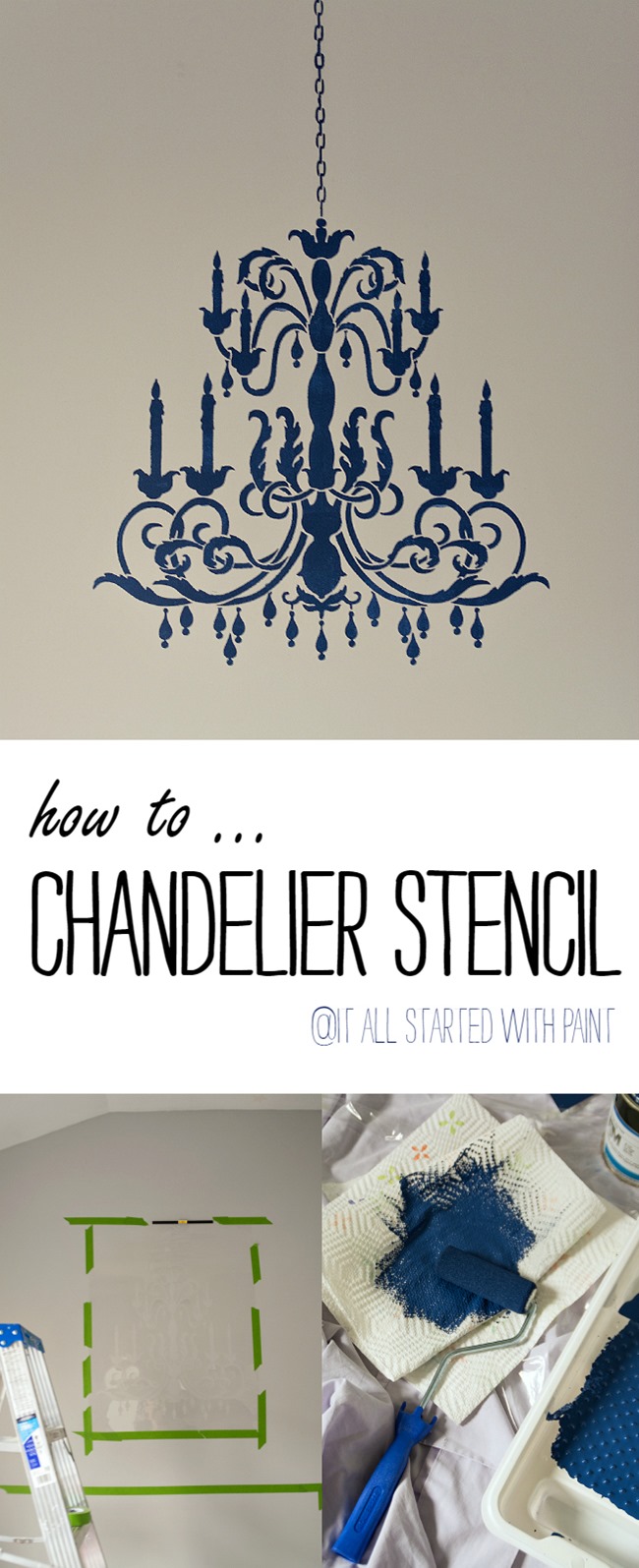 It all started with paint. Because isn't that how all great wall stencils begin? 🙂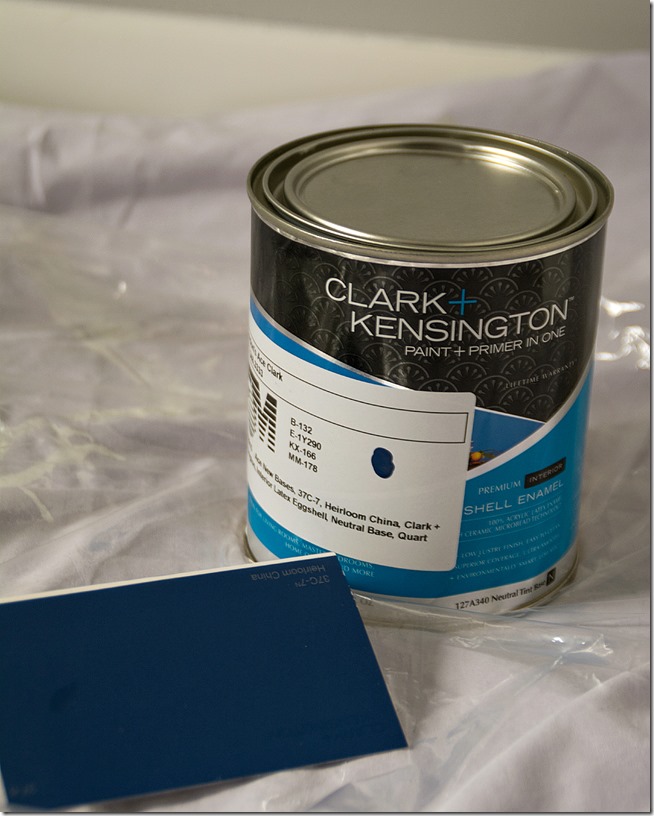 My daughter chose blue. Which surprised me. After the kitchen and living room and dining room and master bedroom redos, she started to lament that everything in our house was turning blue. But in the end, I just love the color she selected: Clark+Kensington in Heirloom China (37C-7). In Eggshell.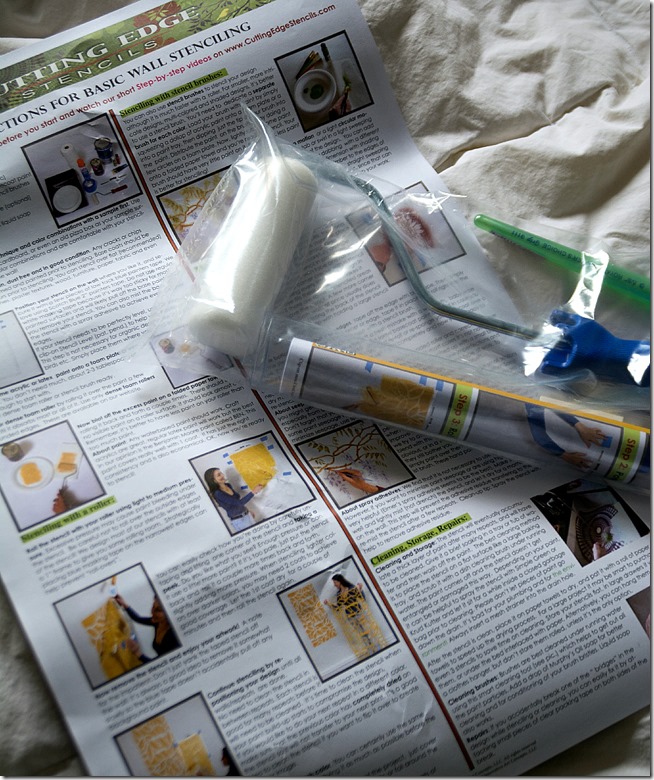 Before doing anything, I read the directions. Twice.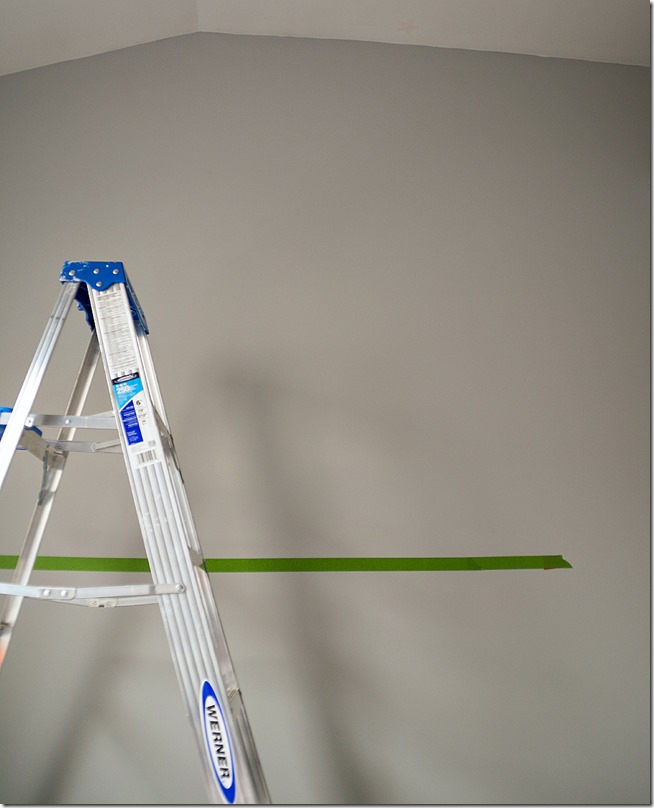 Then I created a horizontal line with painter's tape, measured up from the floor to indicate the height of her new bed frame.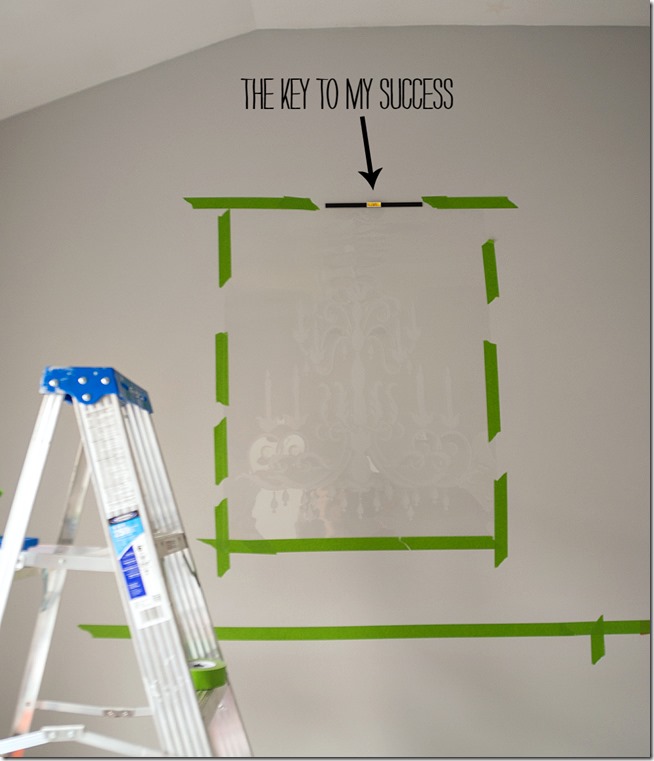 This part took me a few tries to get it just right. I'd climb up the ladder, tape the stencil on the wall, climb down the ladder, stand back to scrutinize. Then I'd decide it was too high. Too low. Too far right. Or left. And try again. And again. And again.
But the true key to my success was Cutting Edge Stencil's amazing, life-altering clip-on level.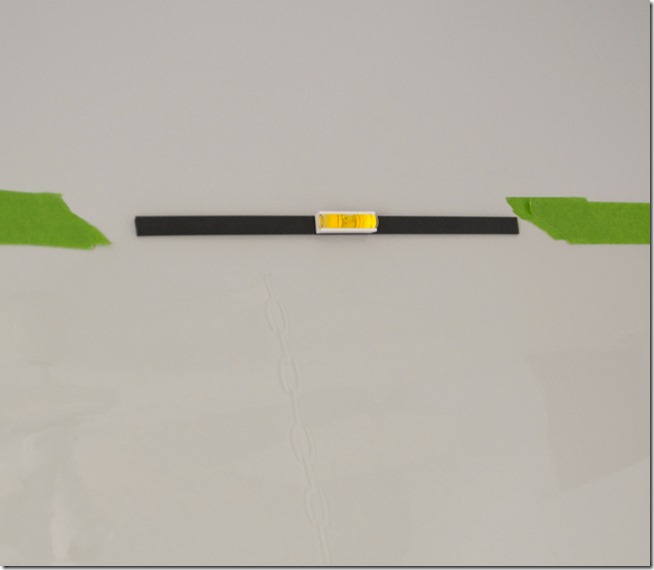 thankfully the level is not blurry in person … 😉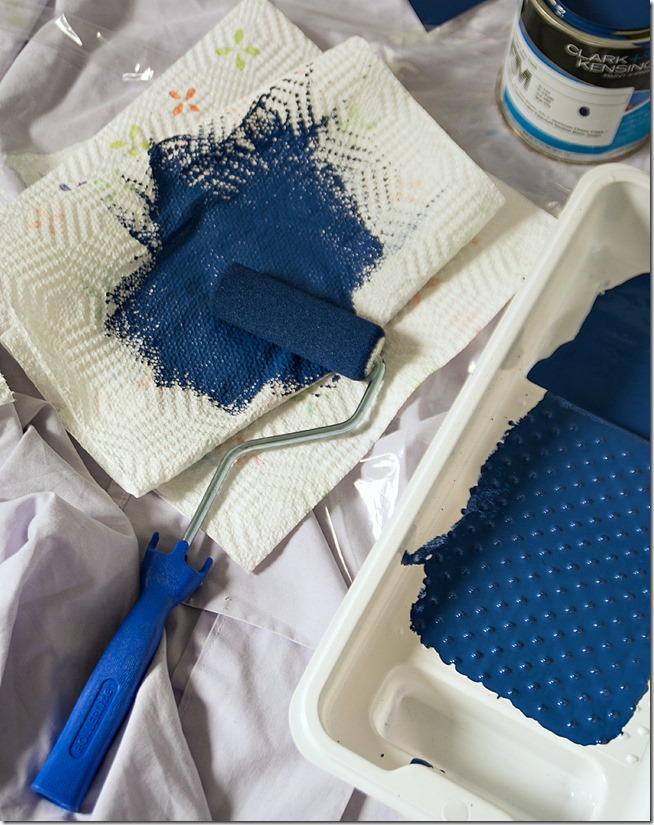 Once the stencil was taped in place, I loaded up the roller with paint. And then rolled it off on a clean paper towel.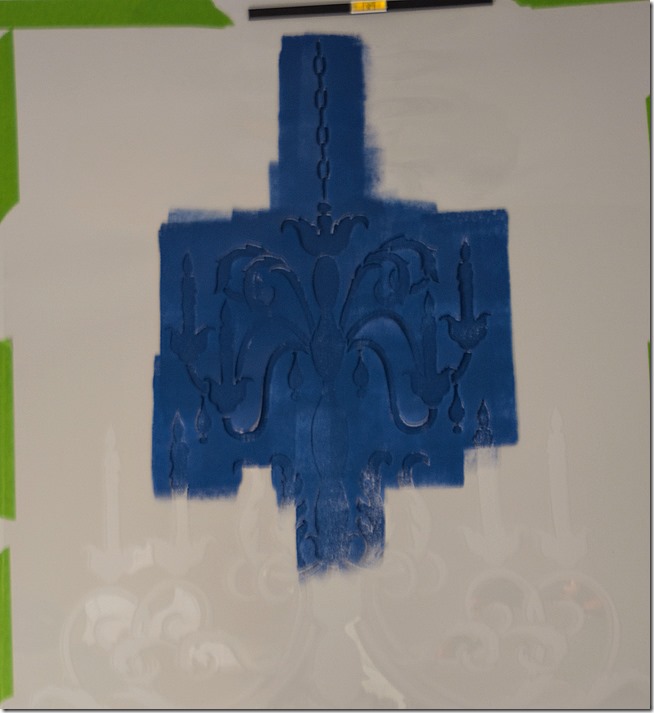 Let the fun begin!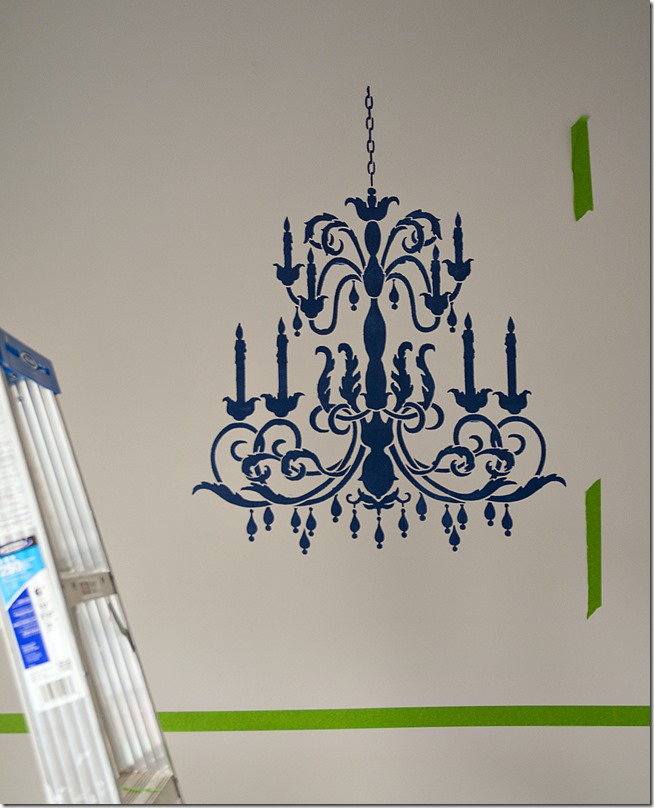 And breath. Yes, there is always the holding of the breath when removing the stencil. And while not perfect, I think it looks amazing …
… with the exception of the chain. I wanted it to go up  to the ceiling.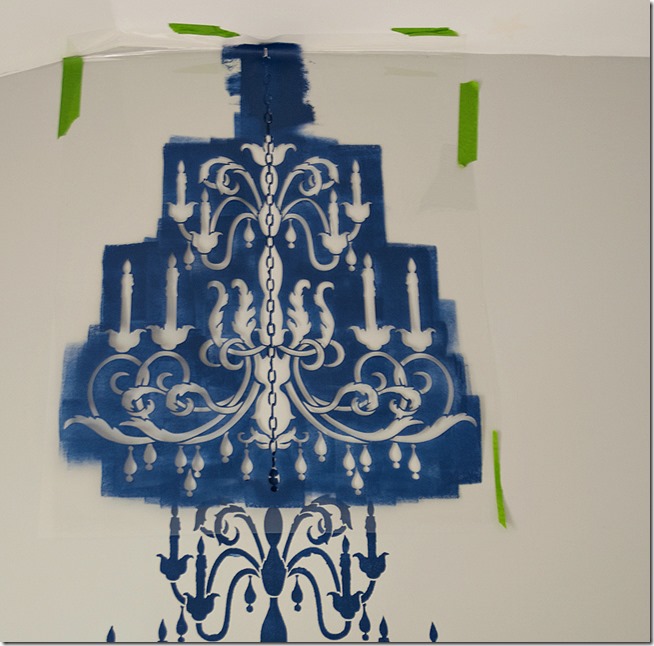 Using the stencil level (and my eyeballs), I overlapped the stencil to repeat the chain.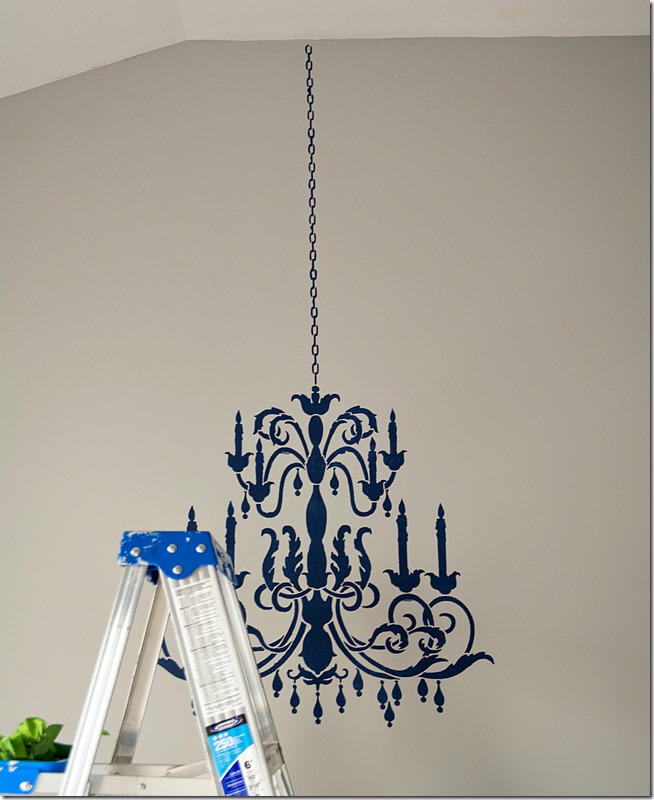 Voila!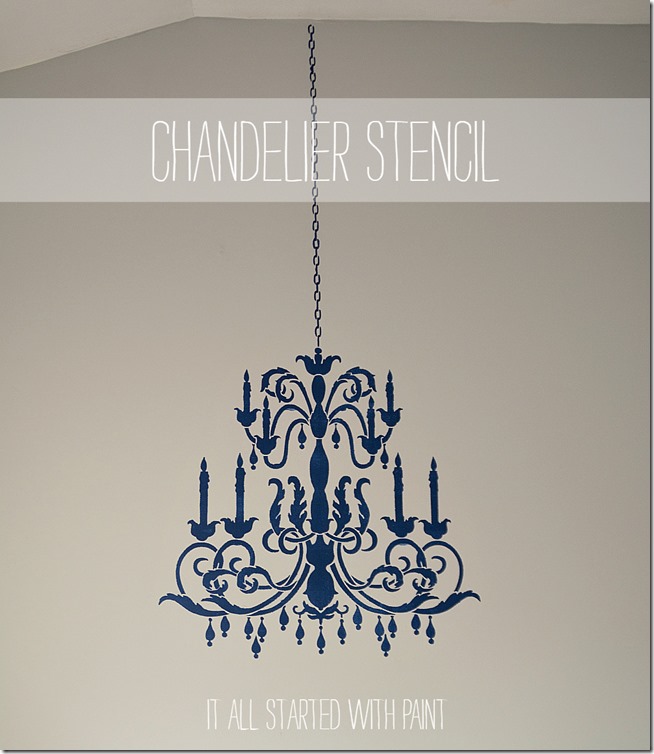 It's such a statement piece on the wall!
Chandelier dreams on a light bulb budget indeed …
Linda
I would like to thank Cutting Edge Stencils for providing me with this beautiful stencil. However, any and all opinions about the chandelier stencil and Cutting Edge Stencils and the awesome life-altering clip-on stencil level are 100% my own. Oh, and you can find the chandelier stencil by clicking here …
Sharing:
Between Naps on the Porch | Savvy Southern Style |  Link Party Palooza | The DIY Showoff | Inspiration Monday |