Christmas in the Kitchen – Mini Wreaths on Kitchen Cabinets.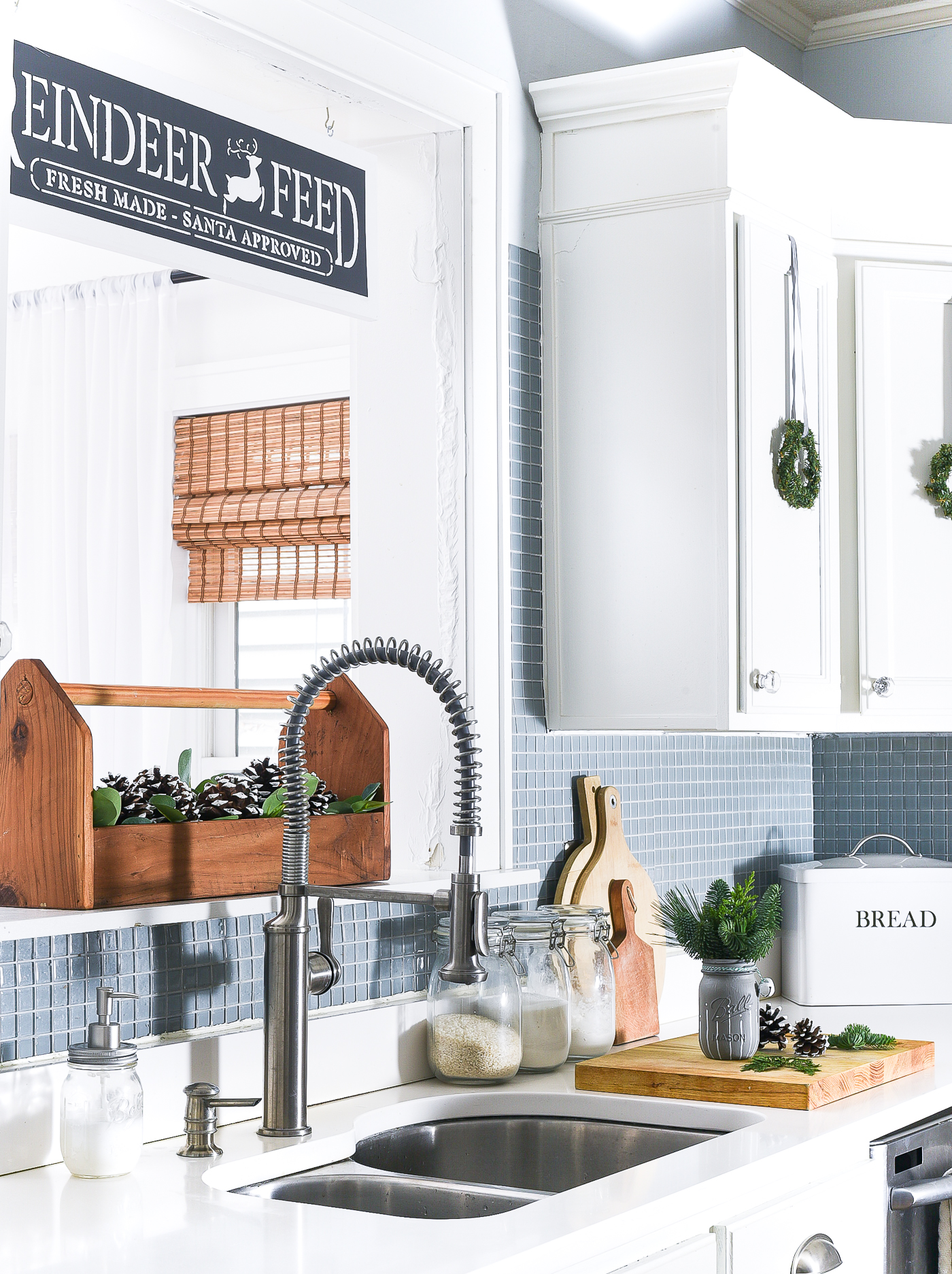 Why hello there!
If you've found yourself here from Modern Glam … and you've never been here before … let me offer you a big, hearty and holiday-worthy welcome.
Welcome!
And if didn't find yourself here from Modern Glam, then I enthusiastically encourage you to stop by and check out Ashley's amazing Scandinavian-inspired Christmas decor. Simply stunning!
Oh, and all this Christmas-touring-stuff has been organized by my friend Marty at A Stroll Thru Life. So you must, must, must give Marty a visit as well.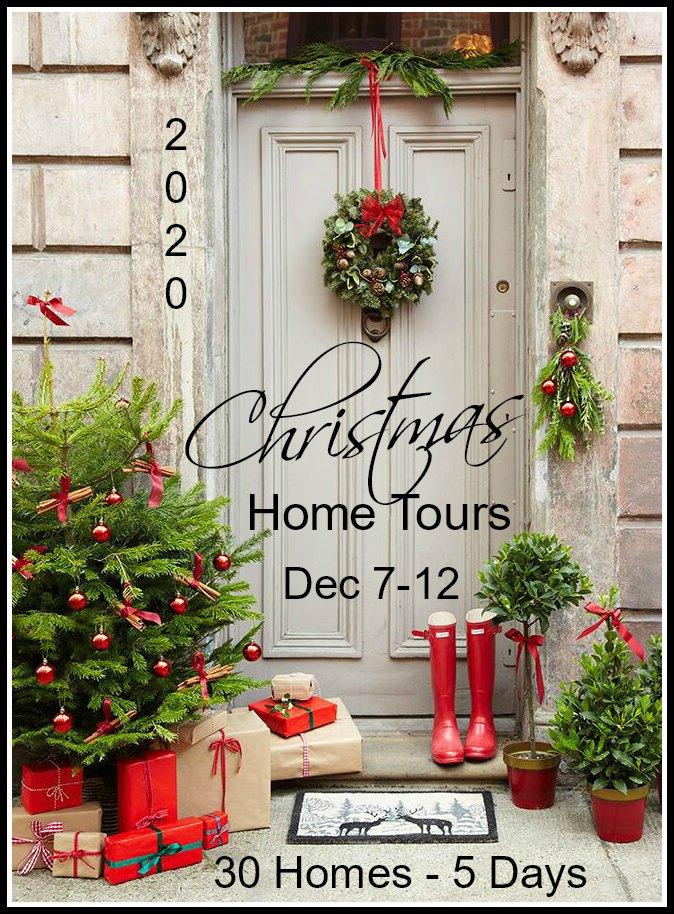 Now on to the tour ….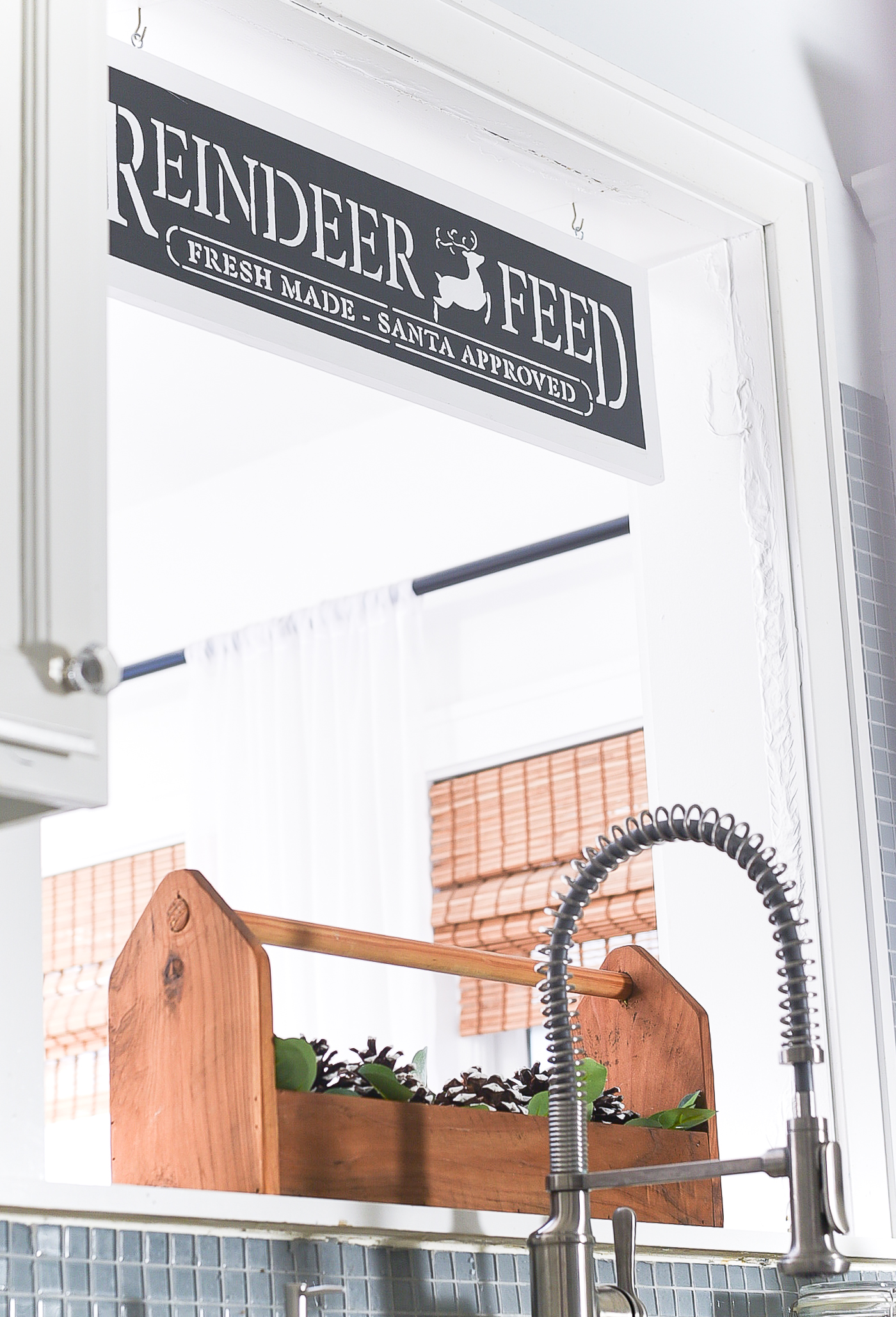 It feels like for all my seasonal home tours I've been focusing on the living room. With a little entry thrown in from season to season.
And when I say feels like, I mean I have absolutely been focusing on the living room.
It's my easy go-to … and it's typically is pretty neat and organized. Unlike (cough, cough) the kitchen. 😉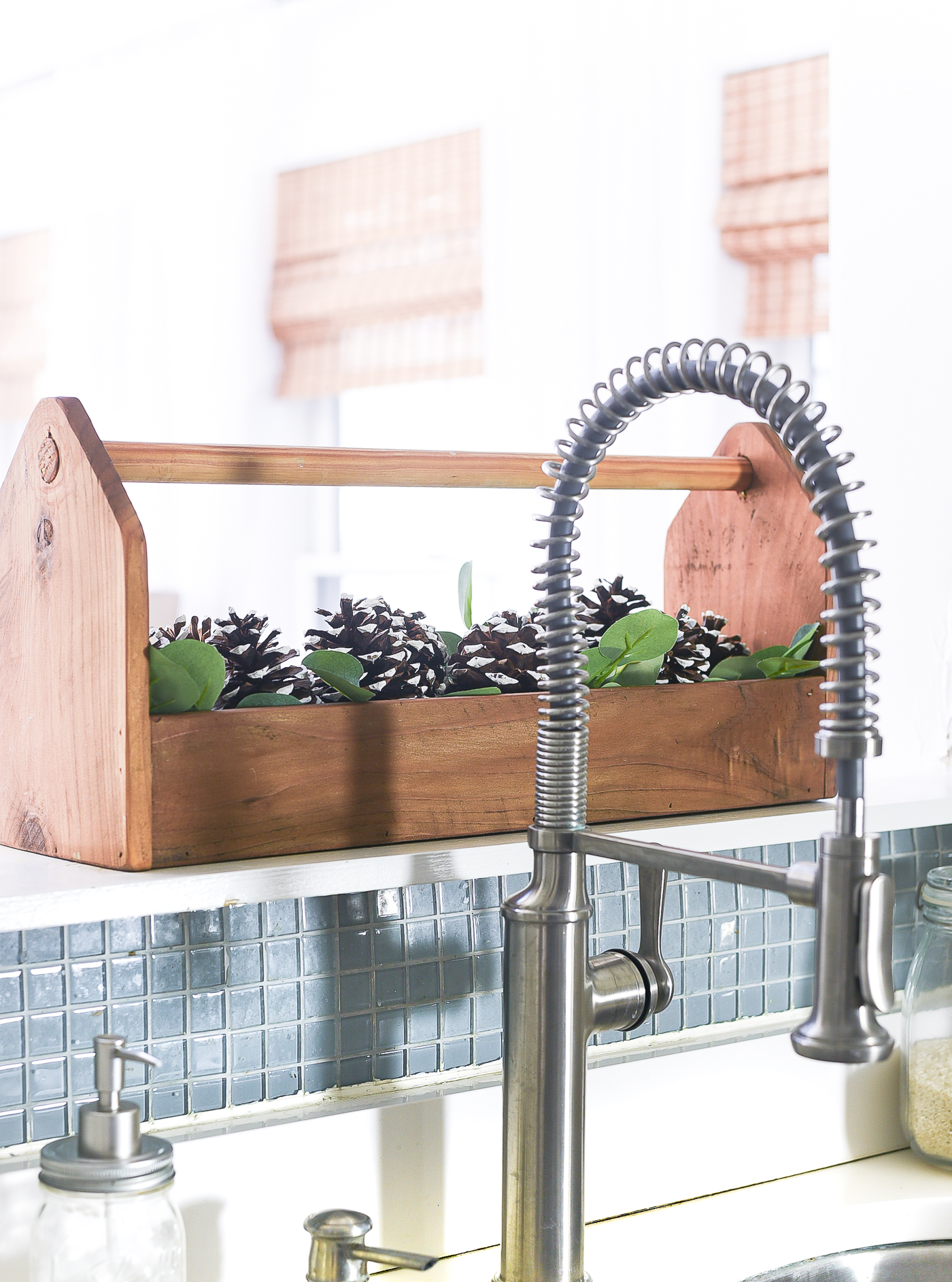 Now a blogging friend told me many years ago that her go-to Christmas decorating is just putting up a tree in every room.
Instant Christmas!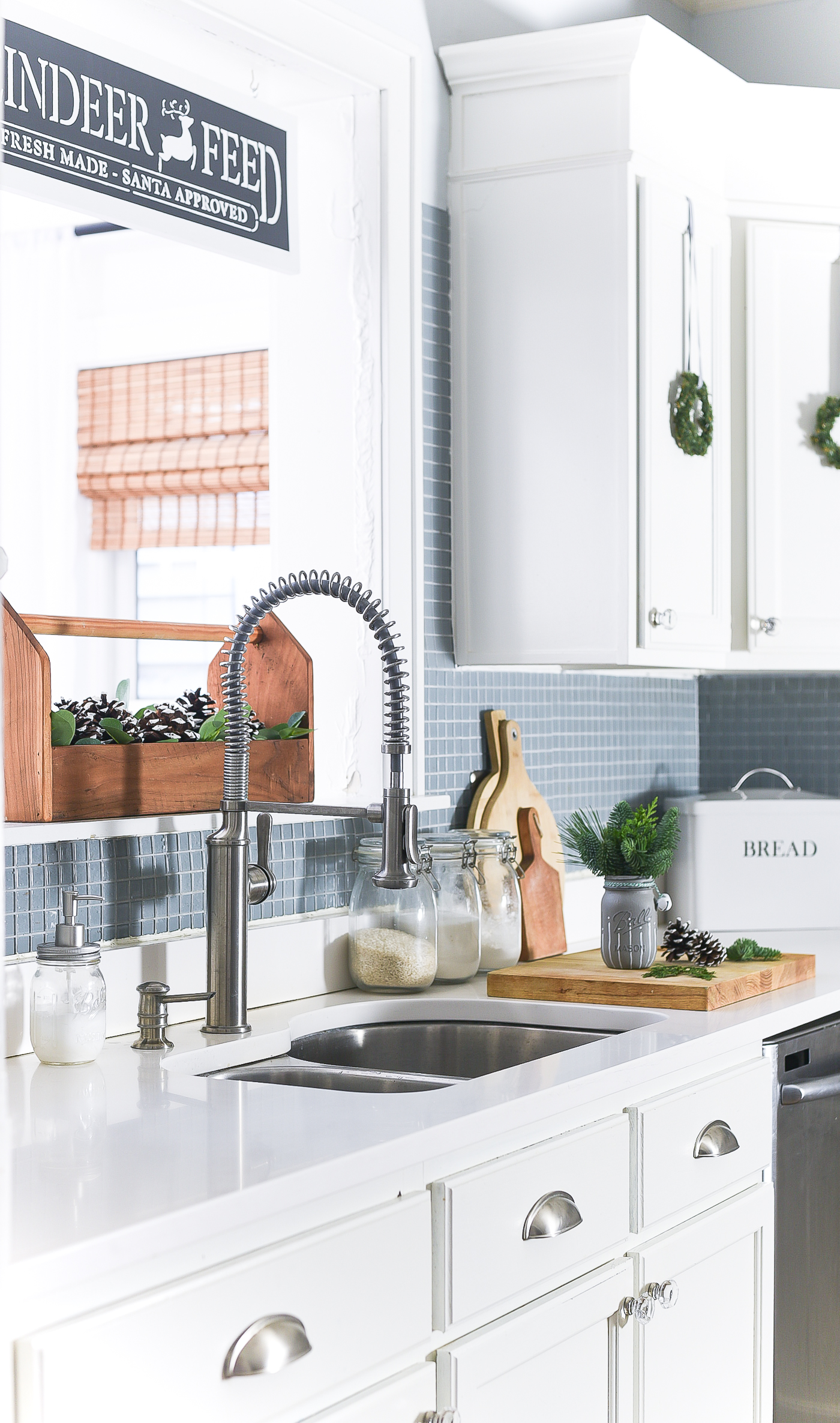 And if I had a large kitchen – or an open floor plan – I would have 100% plopped a tree in my kitchen and called a day.
But I don't.
So I resorted to my go-to Christmas decorating idea: little wreaths!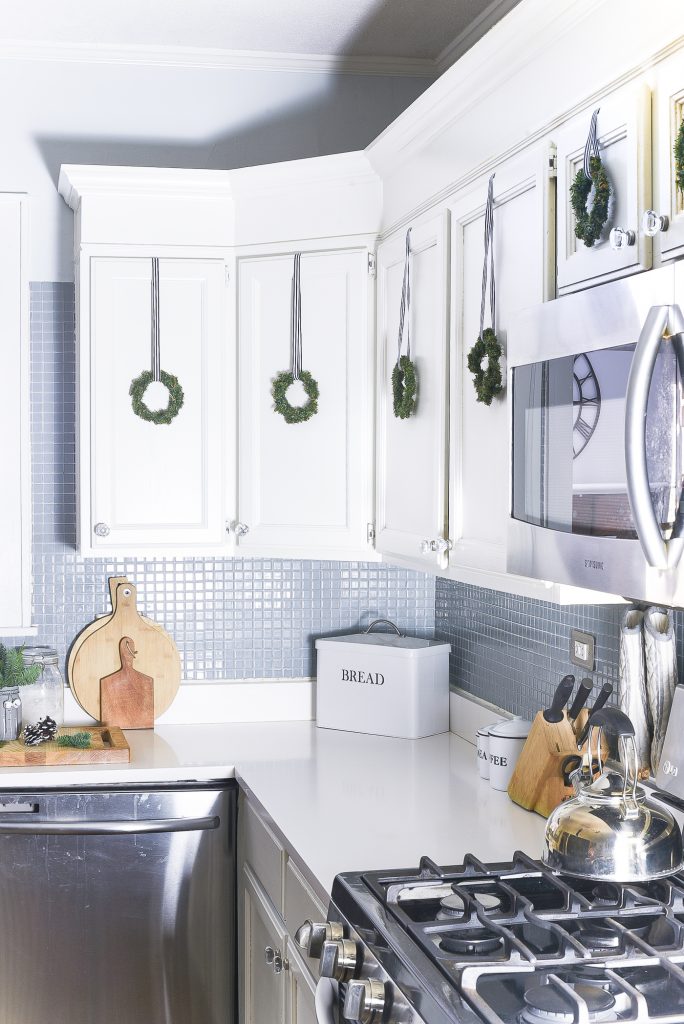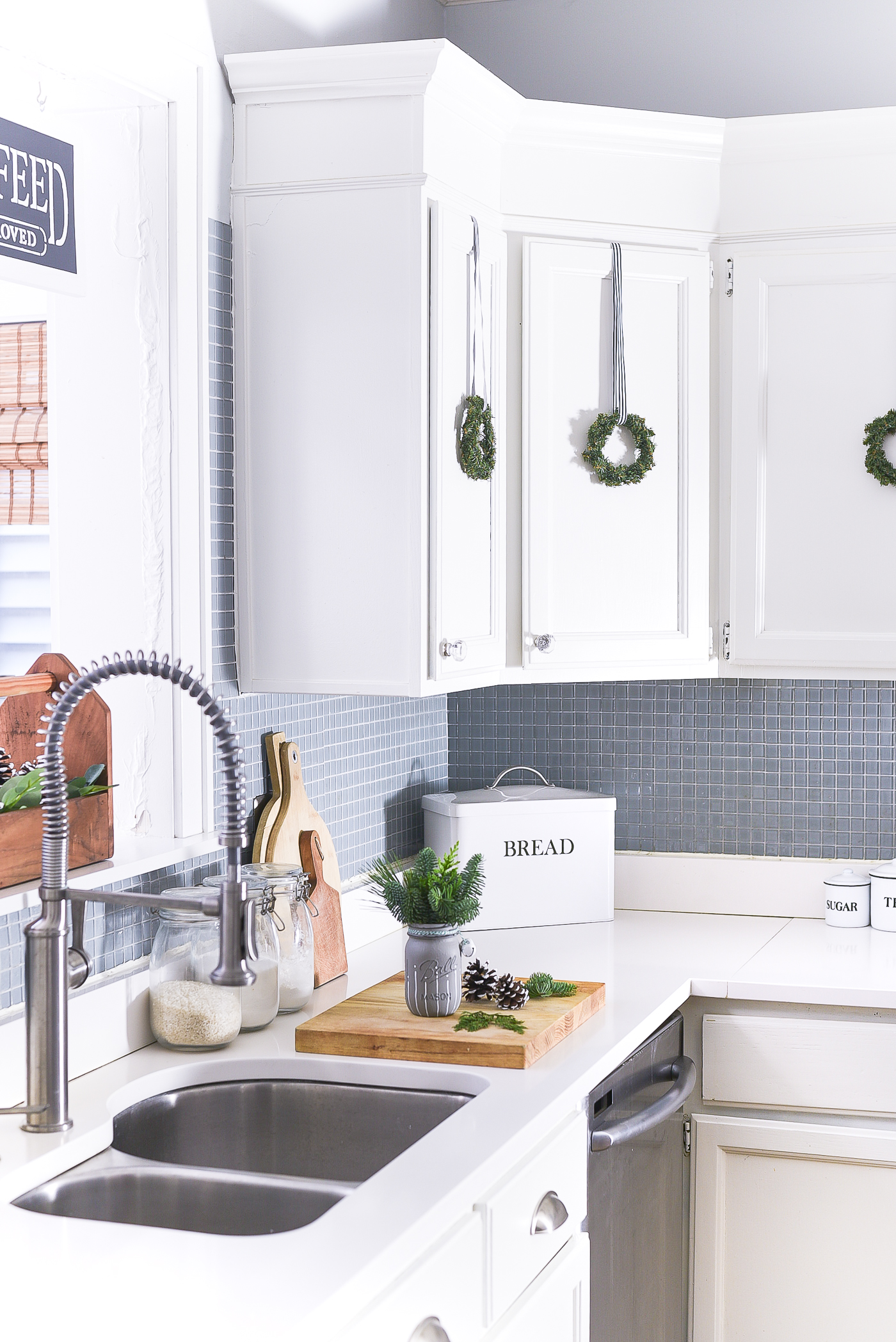 And I can say with 100% certainty that adding mini wreaths to my kitchen cabinets is 100% my idea and my idea alone (okay, maybe not alone; but it's not something I "borrowed" from Pinterest or Instagram or even a magazine).
I've been hanging these little mini wreath babies on my kitchen cabinets for over two decades.
That's right.
Long before Pinterest or Instagram … or even the internet!
Okay, maybe not the internet. But definitely before wireless internet.
MINI WREATHS: HOW TO & SOURCES
I'm frequently asked about the mini wreaths on the cabinet doors, and I shared how I hung them on this post (click here).
In terms of sources, I purchased my mini faux pine wreaths many, many years ago. But here are the details: The inner diameter measures 3″ and the outer diameter is 5″; here's a link similar ones I found on Amazon*
5″ mini faux pine wreath on Amazon (click here)
Selection of mini pine wreaths ranging from click here
Another idea is to make your own using wired faux greenery. Click here and click here for some options
Here's a few more holiday touches in my kitchen …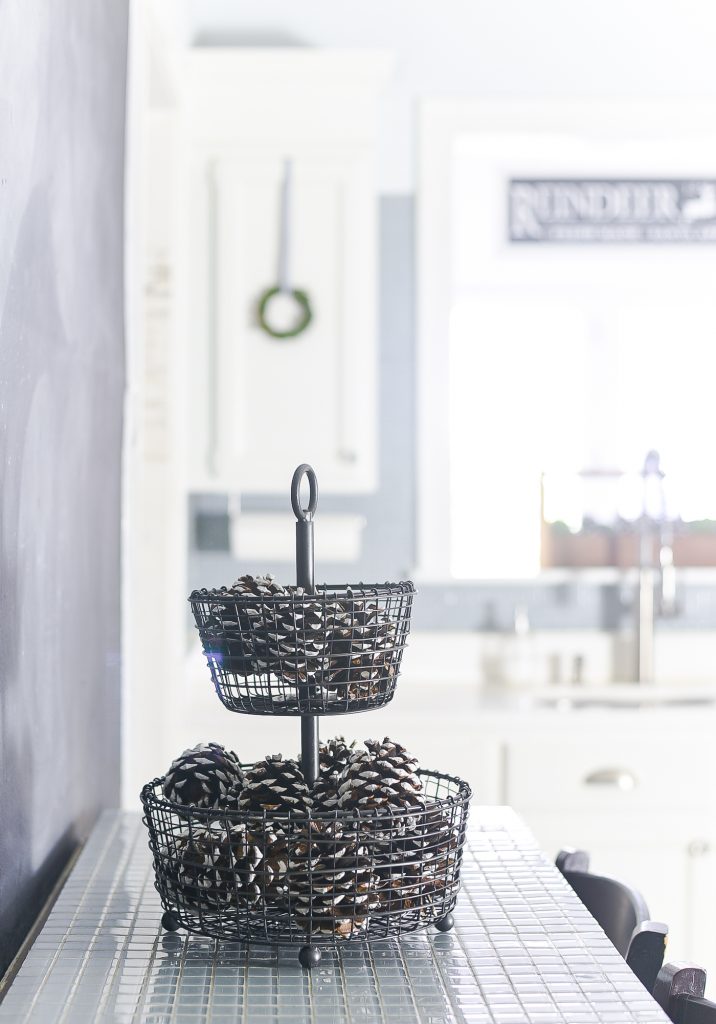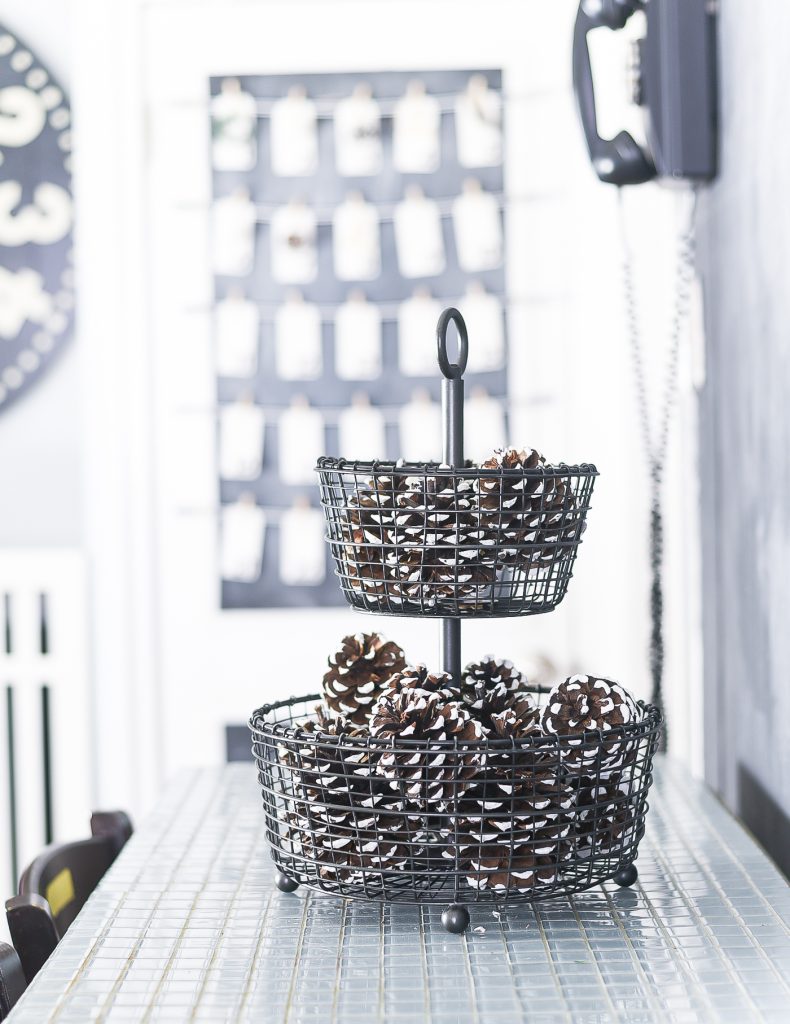 Some painted pine cones.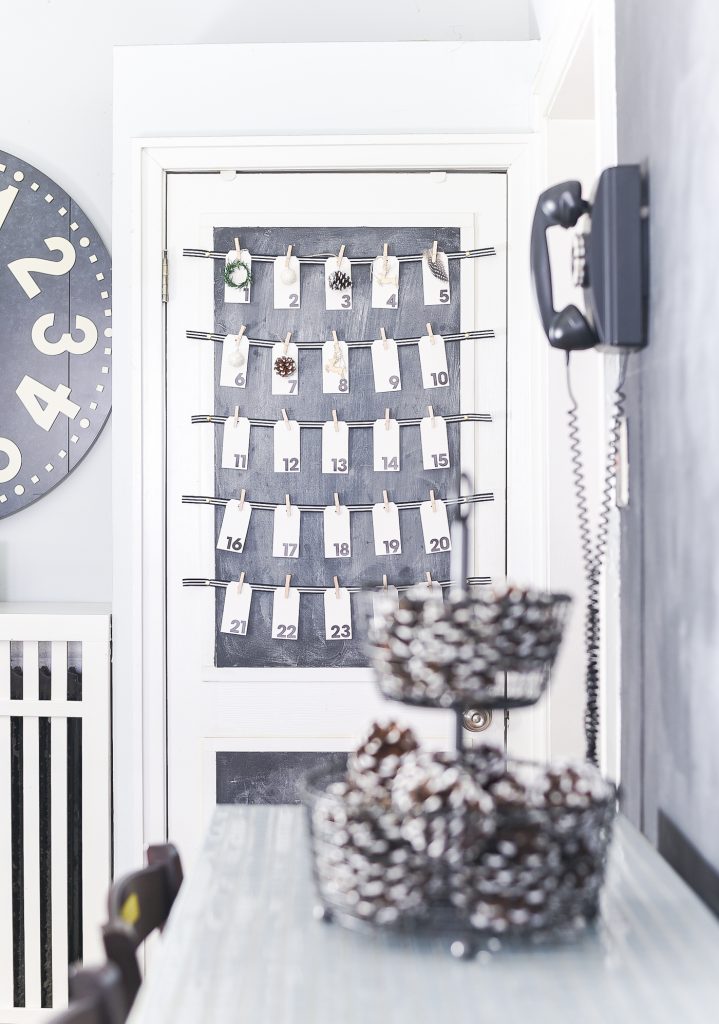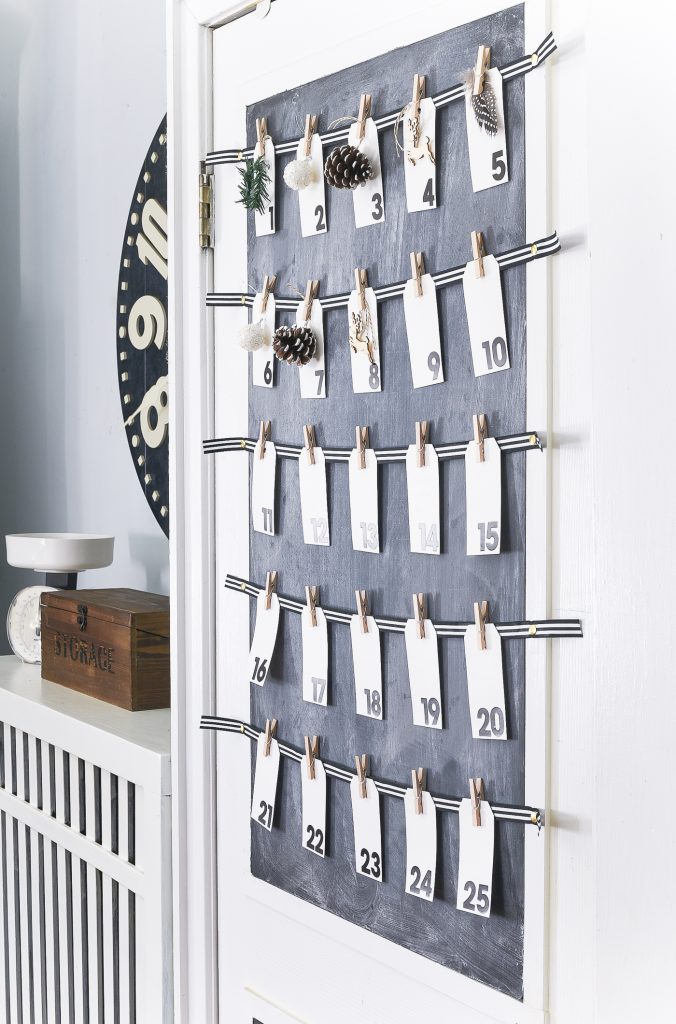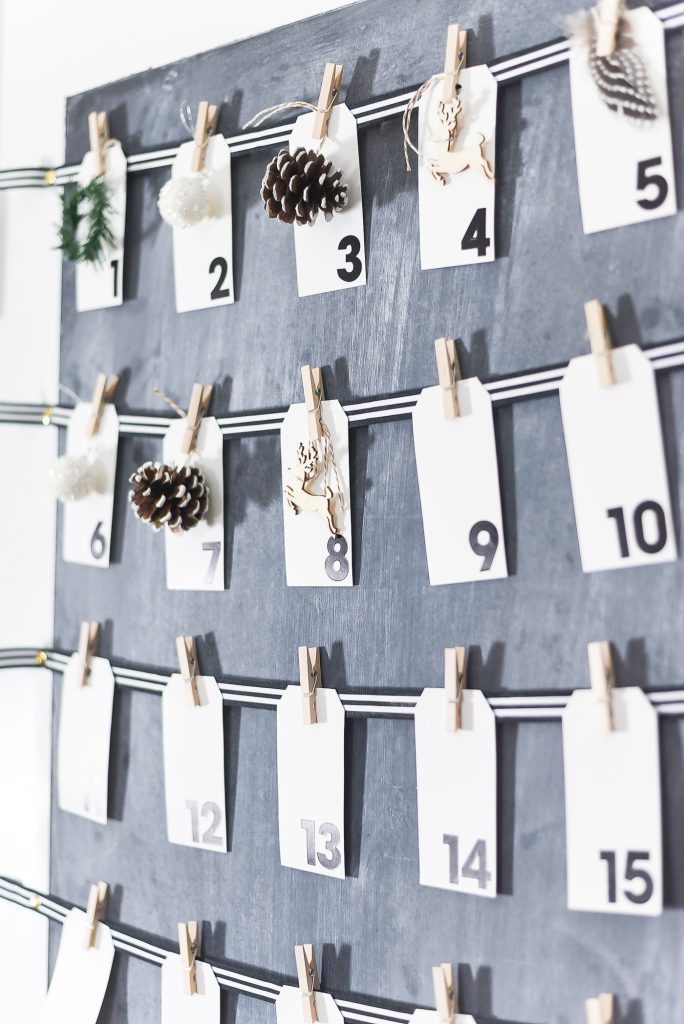 A Christmas day countdown calendar.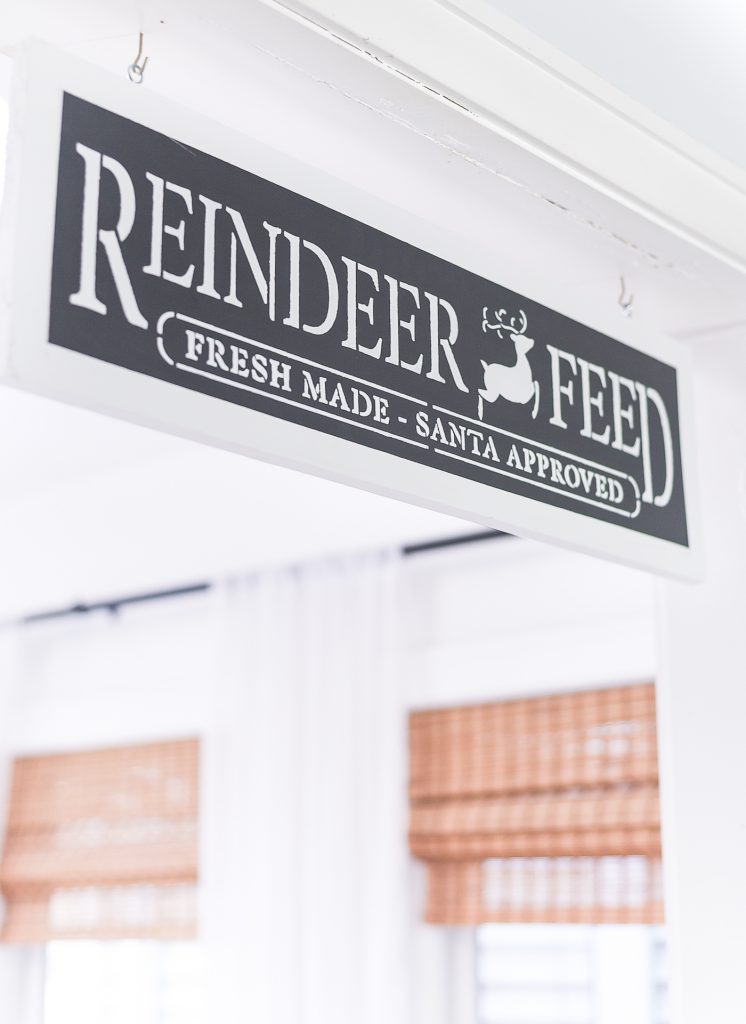 A DIY sign (I'll share a quick tutorial later this week).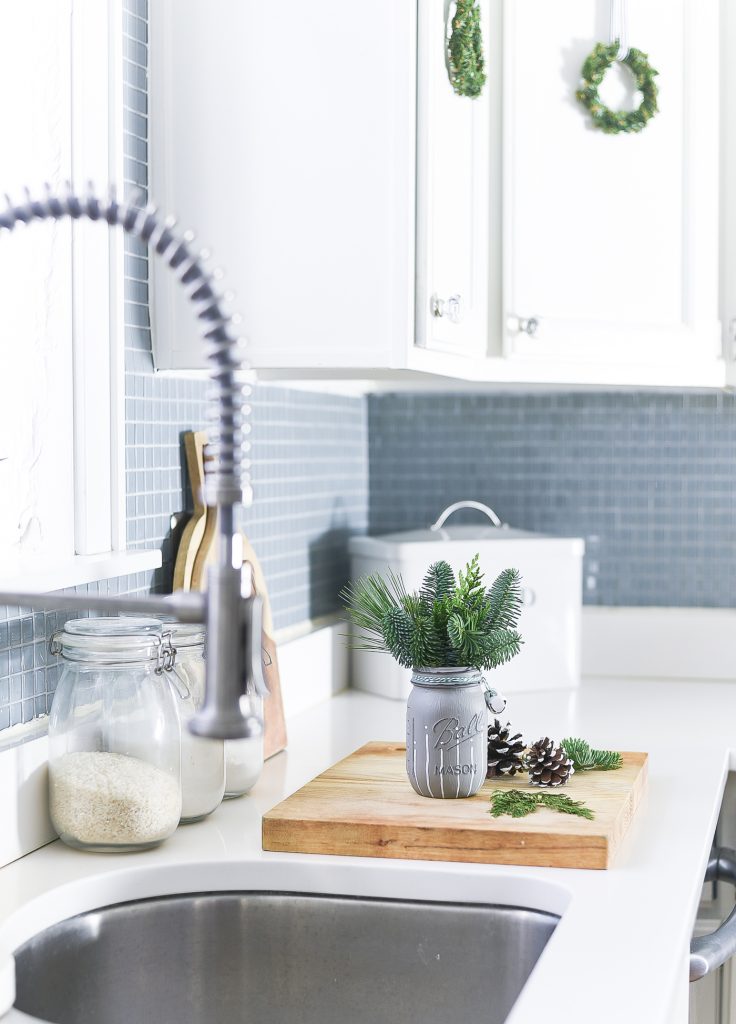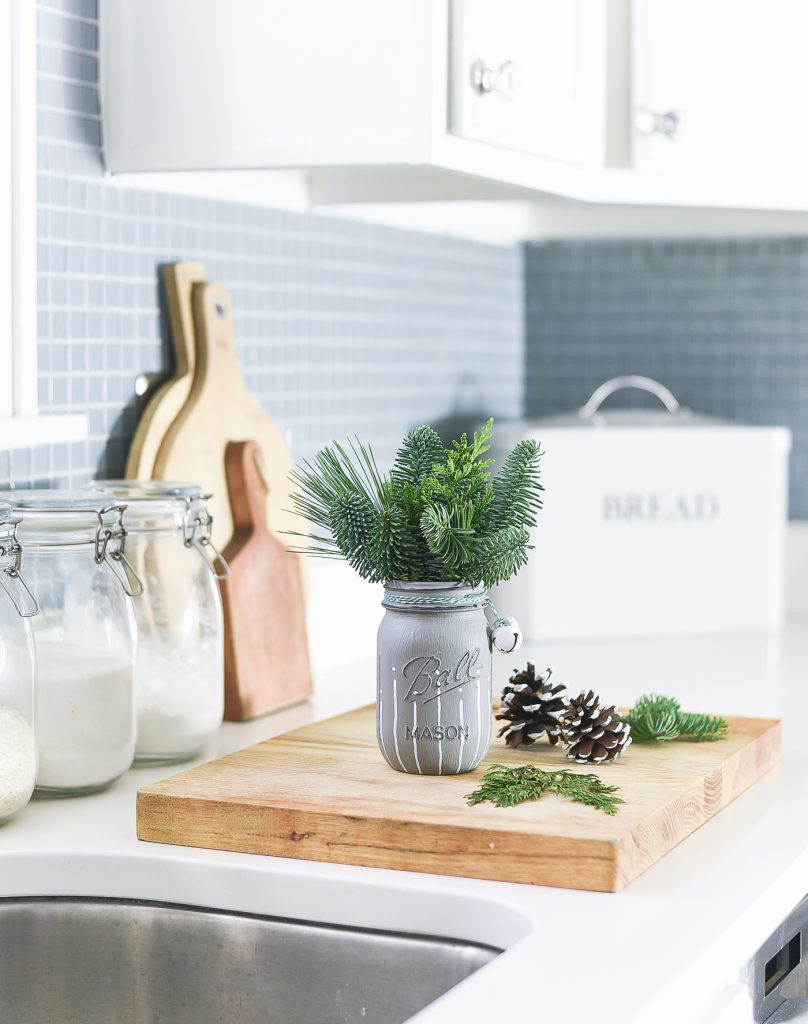 And a mason jar vase (of course!).
Up next on the Christmas home tour is my good friend (and fellow Illinoisan) Jennifer from Town and Country Living. Be sure to stop by and say hi from me!
And be sure to check back all week long for even more amazing holiday inspiration. Links are below …
2020 Tour Line-Up
Monday December 7th
A Stroll Thru Life – Worthington Court – Clean and Scentsible – StoneGable – Pink Peppermint Design – Decor To Adore
Tuesday December 8th
Modern Glam – It All Started With Paint – Town and Country Living – Hymns and Verses – Making It In The Mountains – Life On Cedar Lane
Wednesday December 9th
Designing Vibes – Inspiration For Moms – Grace In My Space – The Wood Grain Cottage – Whispering Pines Homestead – Remodelando la Casa
Thursday December 10th
CitrineLiving – Our Southern Home – Southern State Of Mind – Duke Manor Farm – White Arrows Home – Thrifty and Chic
Friday December 11th
11 Magnolia Lane – Follow The Yellow Brick Home – Delightful Order – Southern Hospitality – Cassie Bustamante