Christmas Table Setting in Gray, White, Gold – Gray and White Holiday Table Setting Idea.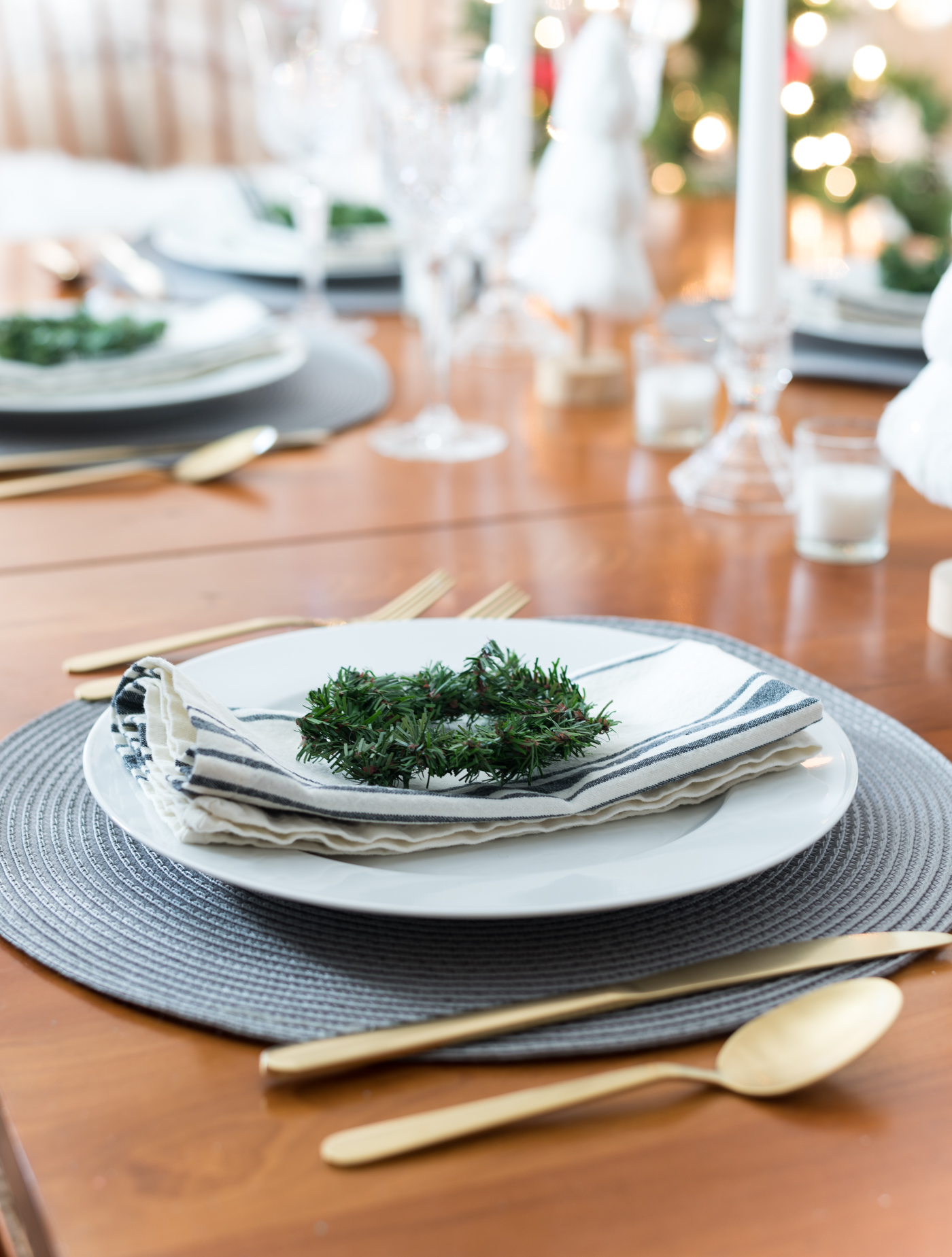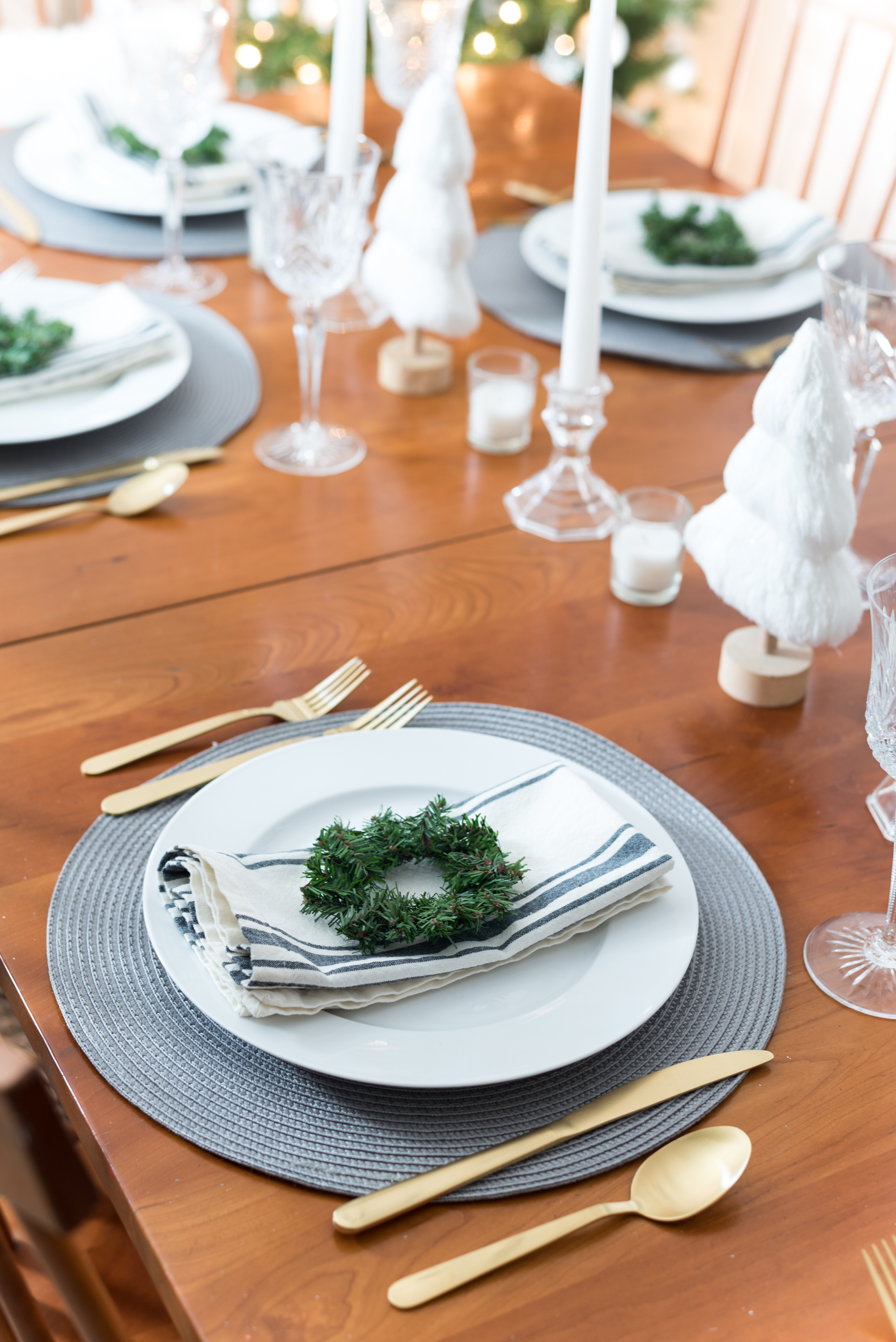 It's official. I'm an old lady.
How do I know this, you ask?
I mean, besides what I see looking back at me in the mirror. Oh, and my actual age.
I know I'm old because advertisers aren't just targeting me … they're actually reaching me.
All. Day. Long.
The find me on the Hallmark Channel. And Lifetime. As I tune in to the never ending and delightfully cheesily predictable holiday movies. Reaching out to me about Medicare Part D and products to help when I fall and can't get up.
They find me on AM talk radio in the car. Though, sometimes they are confused and think I'm an old man with a certain dysfunction (wink, wink).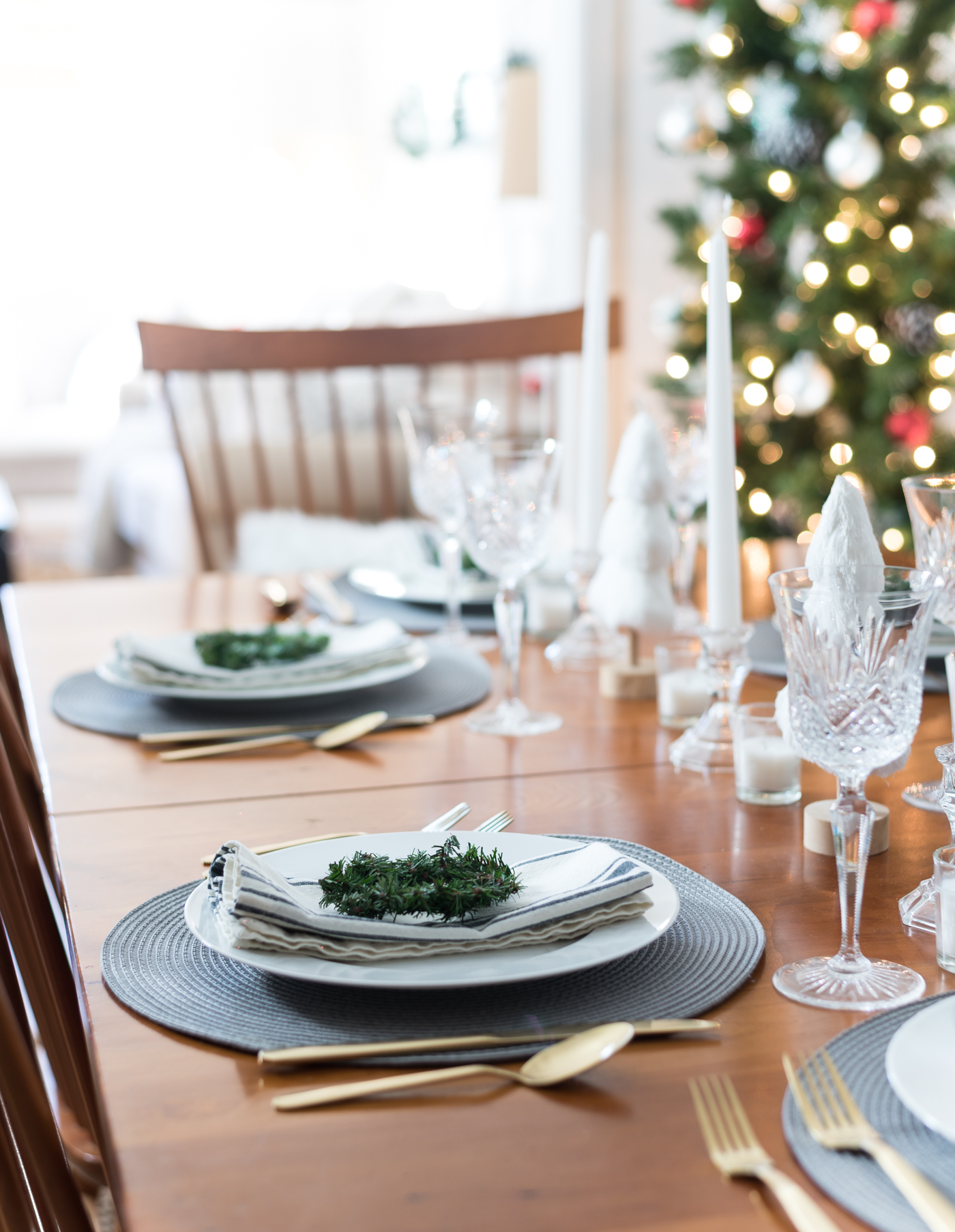 And not-to-sound-paranoid-with-a-paranoid-sounding-observation: I sometimes wonder if they're listening in on my phone and/or watching me on my laptop (I really do need to figure out how to turn off that camera). You know watching and listening as I watch Hallmark Channel movies and listen to AM talk radio. Because advertisers are always following me across the internet with pop ads for … you guessed it ... old people stuff.
And what does this all have to do with my holiday table setting … or the holidays at all?
Because at this time of year, advertisers have one more way to remind me that I'm getting old: while listening to Christmas music on the radio. There's one station here in Chicago that goes full-on 100% Christmas music in November straight through Christmas day. And when I'm not tuned in to AM talk radio (geez, I really am an old lady, aren't I?!?) I'm tuned into Christmas music.
And the ads?
You guessed it. Old people things and services.
Tis the season to be old and addled, fa la la la laaaaa, la la la la!
So to defy what the advertisers are insisting (I will fight my outer old lady to the bitter end!), I decided to go with an "Everything Old is New Again" holiday table setting …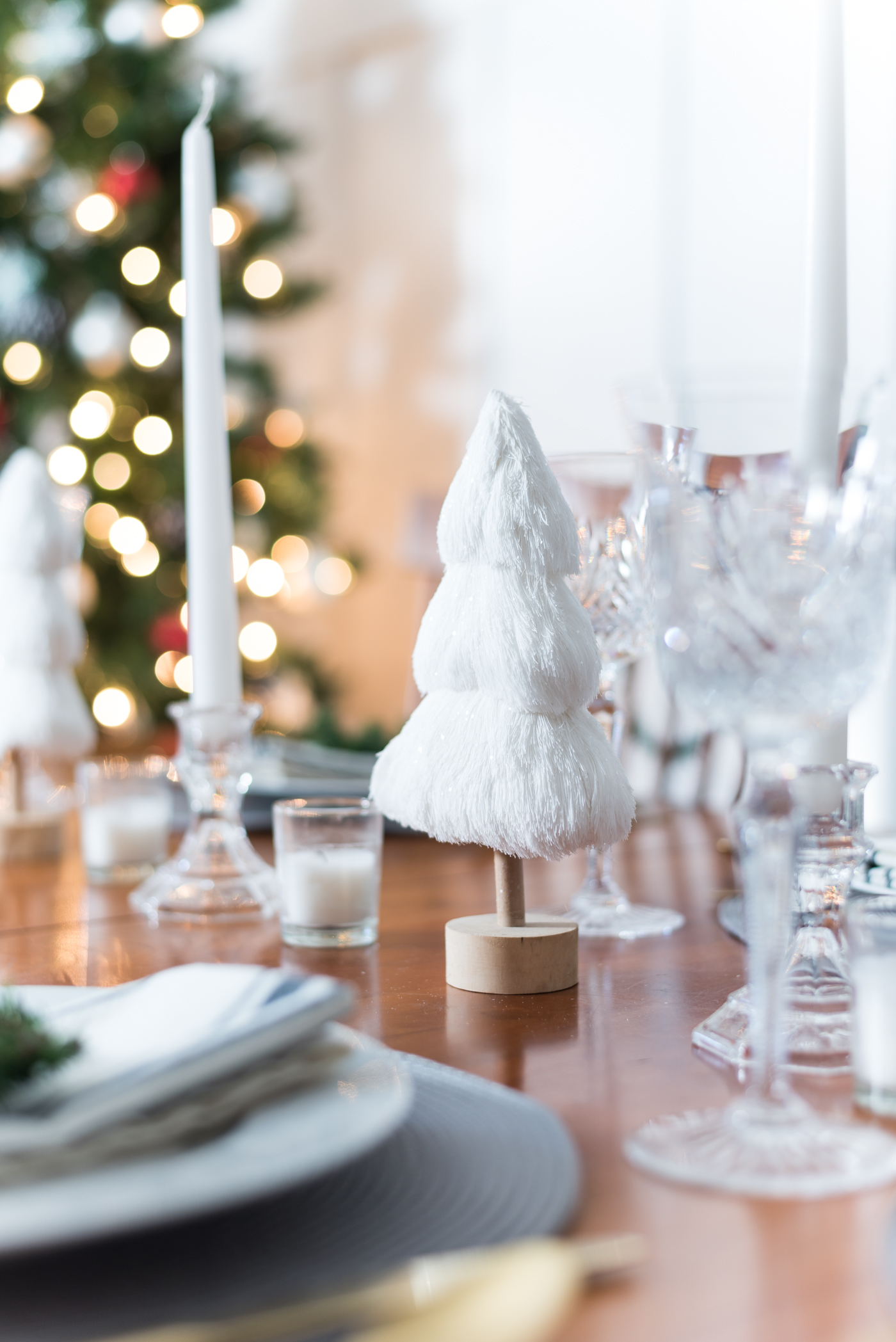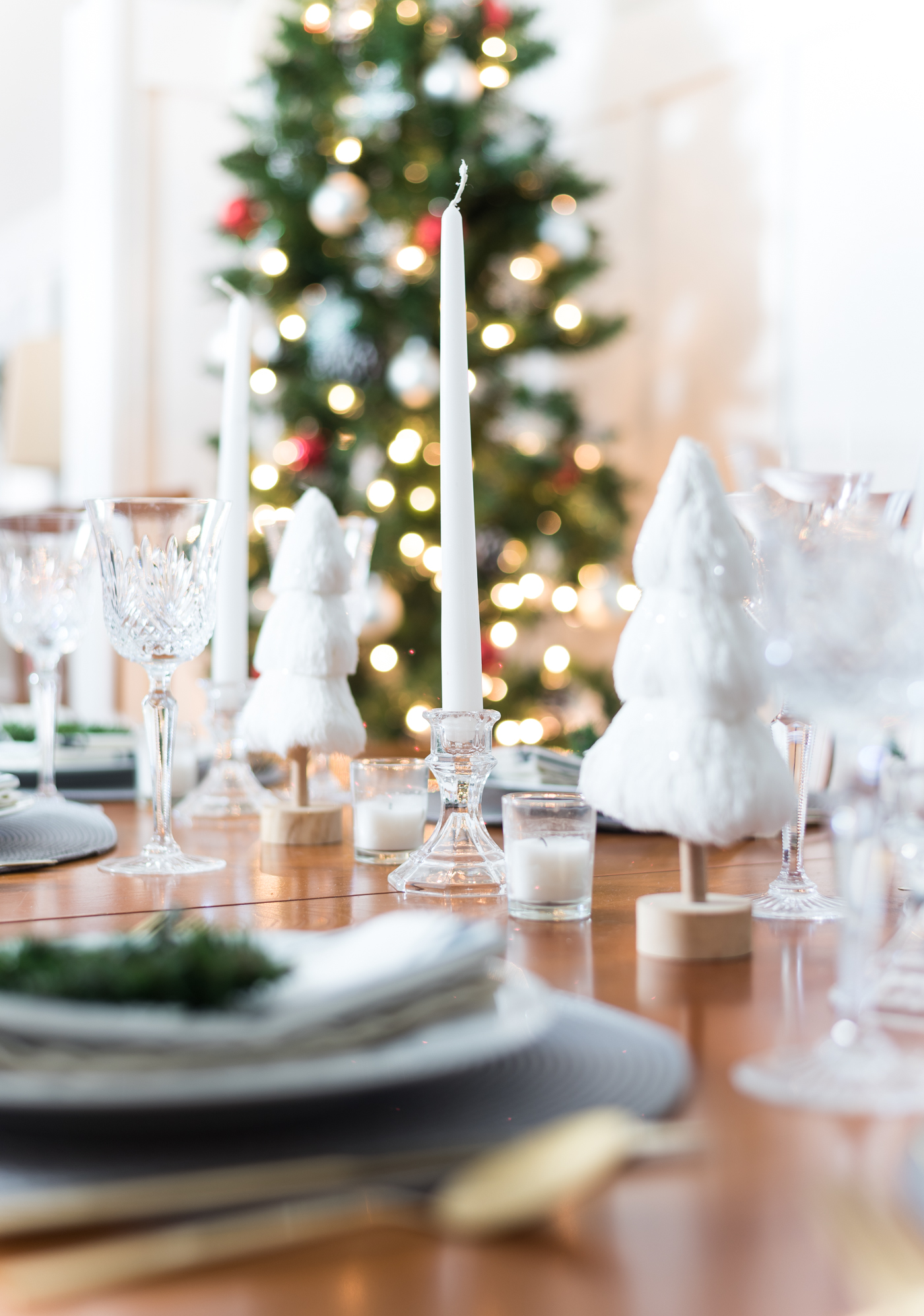 Let's start with the (faux) crystal candle holders and tapers. Old me would call them old fashioned, old lady table decor. But new/old me? New/old me calls them eclectic. Quirky. A fun mix of old with the new, sparkly white Scandinavian inspired trees.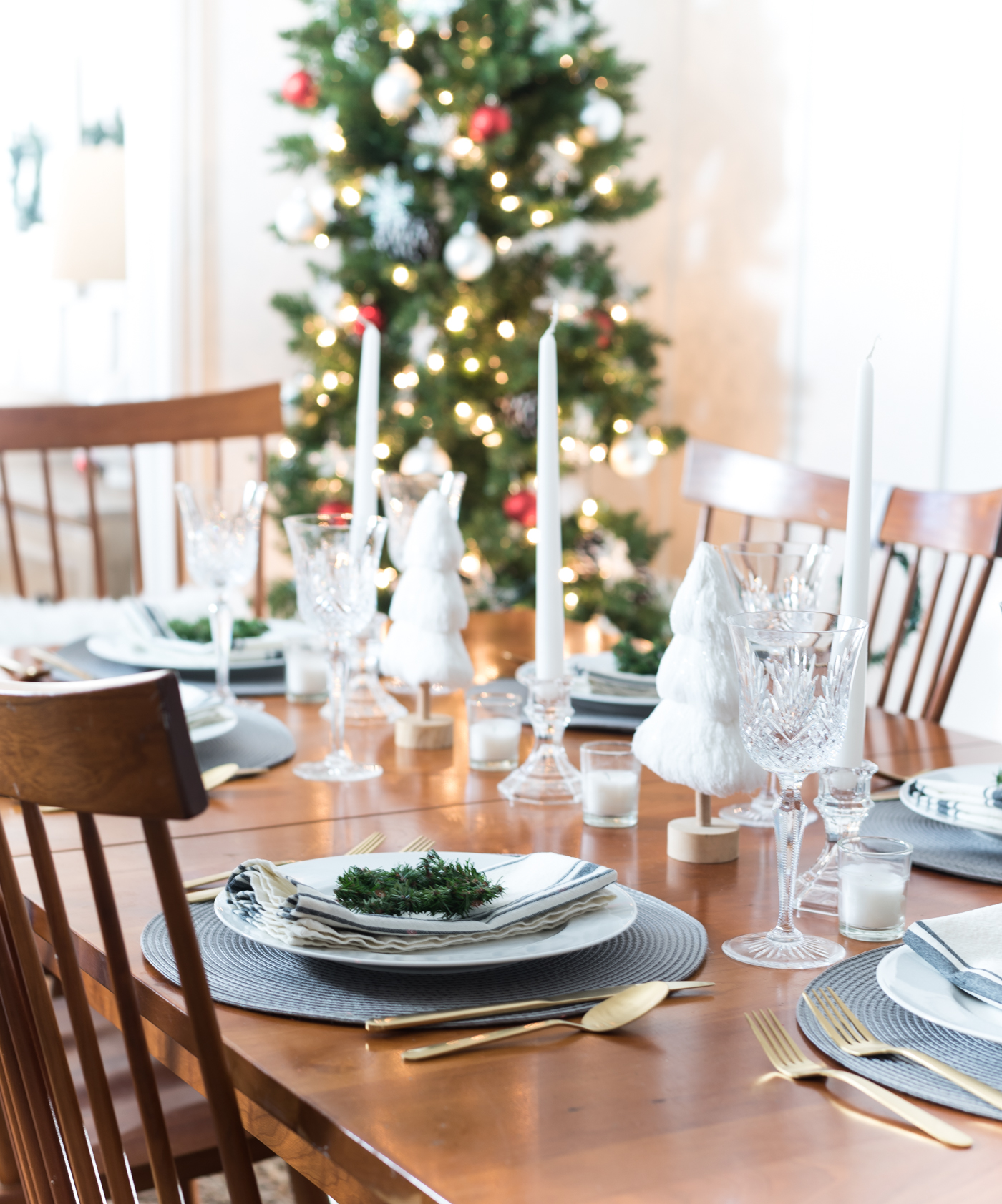 And the gold flatware (which is actually gold toned stainless I found at Target)? Old me would see them as ostentatious. Flashy. Tacky. But new/old me? New/old me sees them as glam, rich and classy …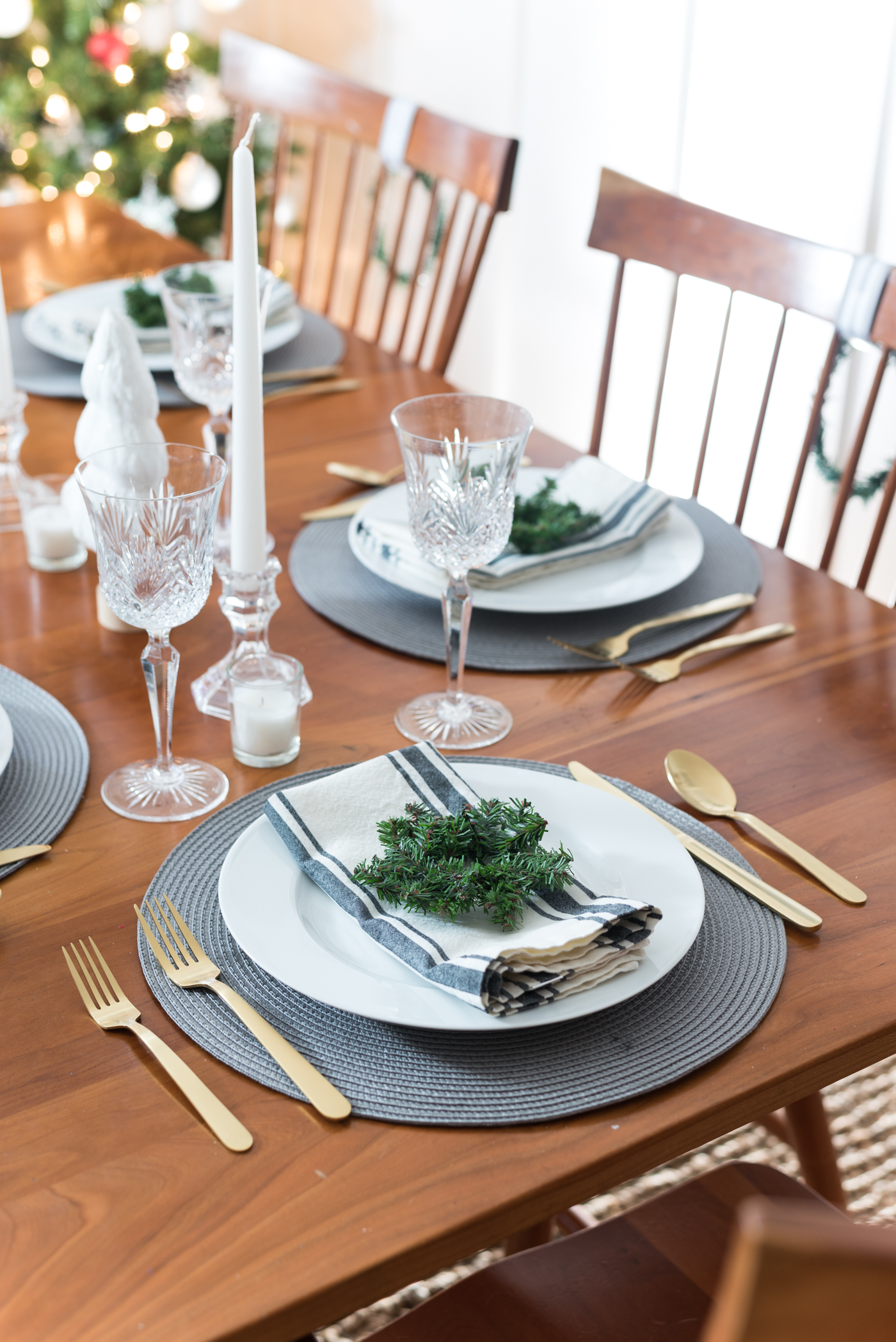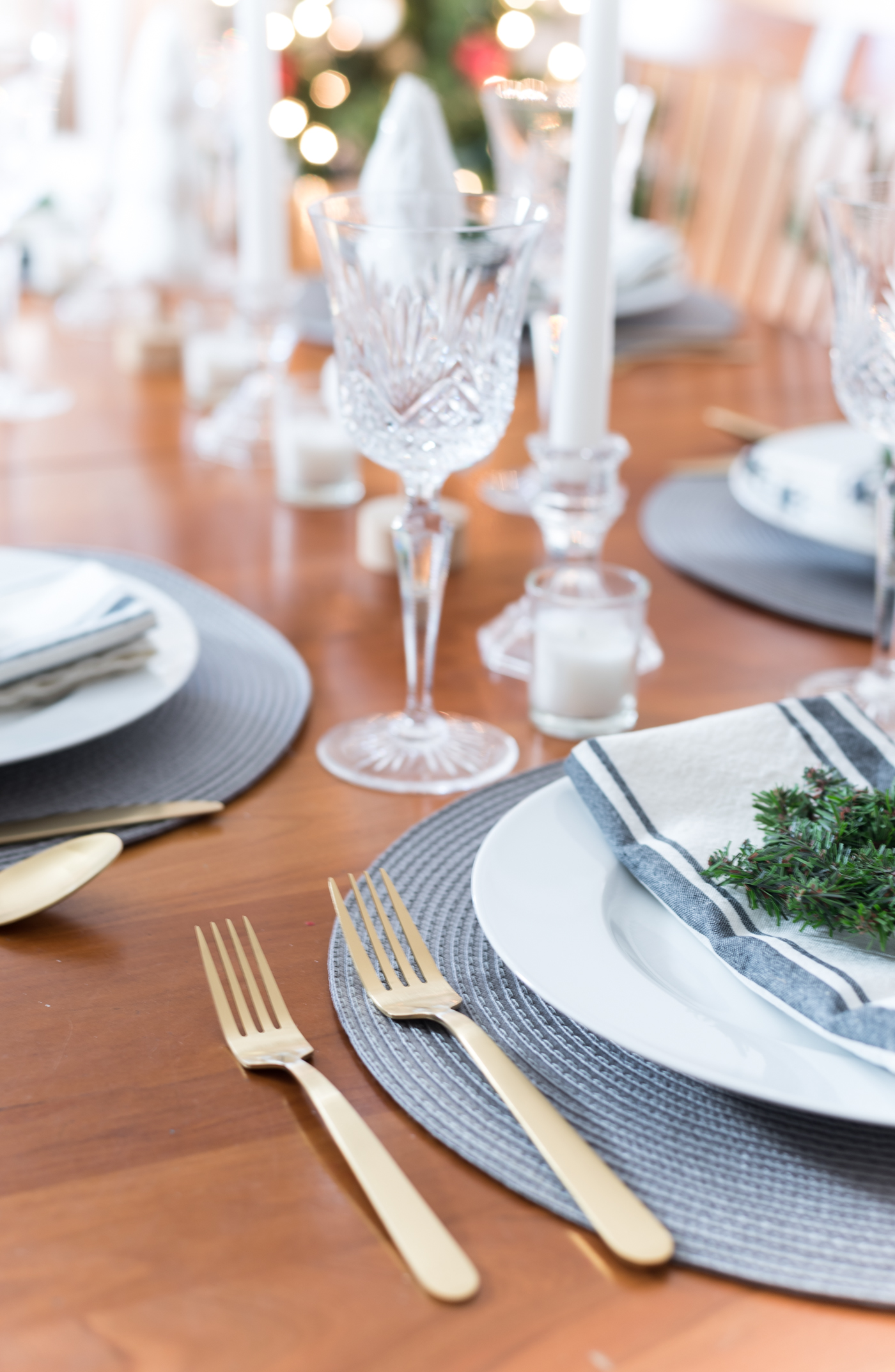 I'm liking how this whole new/old me thing works. 😉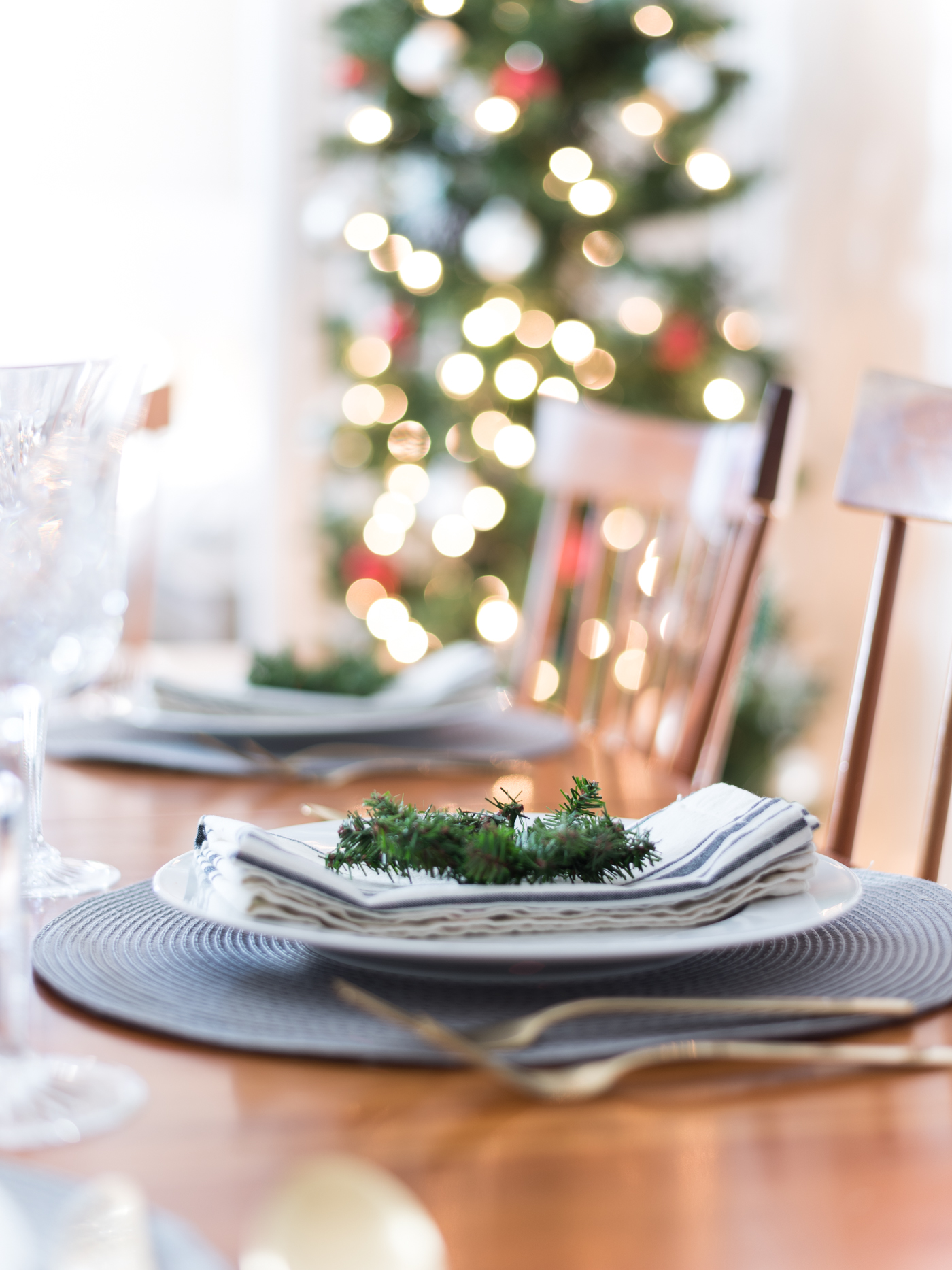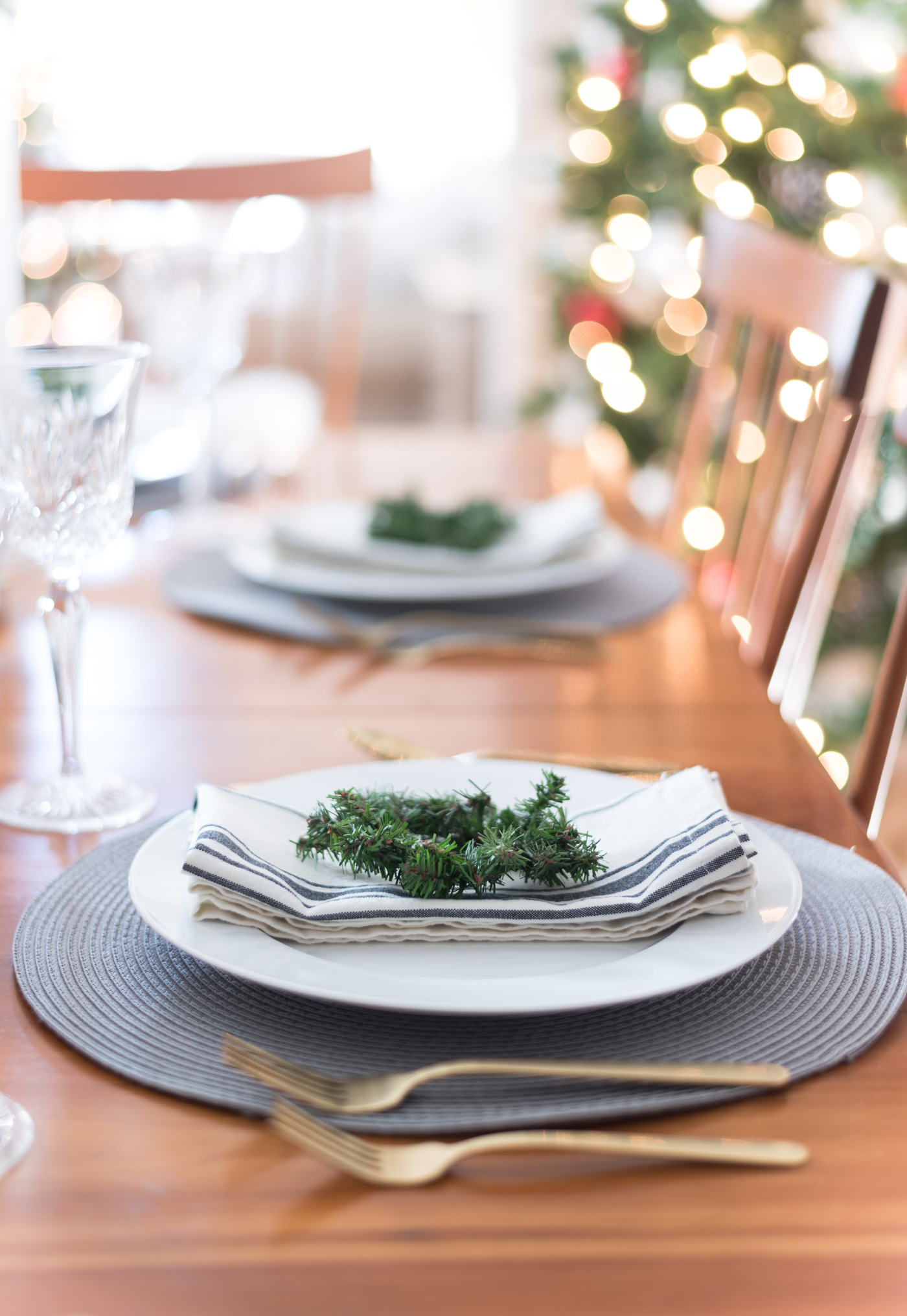 Finally, the vintage-look-French-striped napkins (found mine at World Market). Old me would've called them rags. Relegated to wiping up messes. But new/old me? New/old me calls them linens. Crisp and fresh and deserving of a pressing before use.
Yes, I did iron them.
In keeping with the everything old is new again theme, I think I'll apply it to myself. So when I look in the mirror instead of old me seeing wrinkles, new/old me will see lines of wisdom. And laughter. And smiles.
P.S. My apologies if this blog post is filled with ads for old people stuff and services. I mean, I did mention old people stuff in the copy and Google knows and documents everything. That's not paranoia. That's just fact.
Pin It!

You Might Also Like: