DIY Farmhouse Table – Built with a Drill.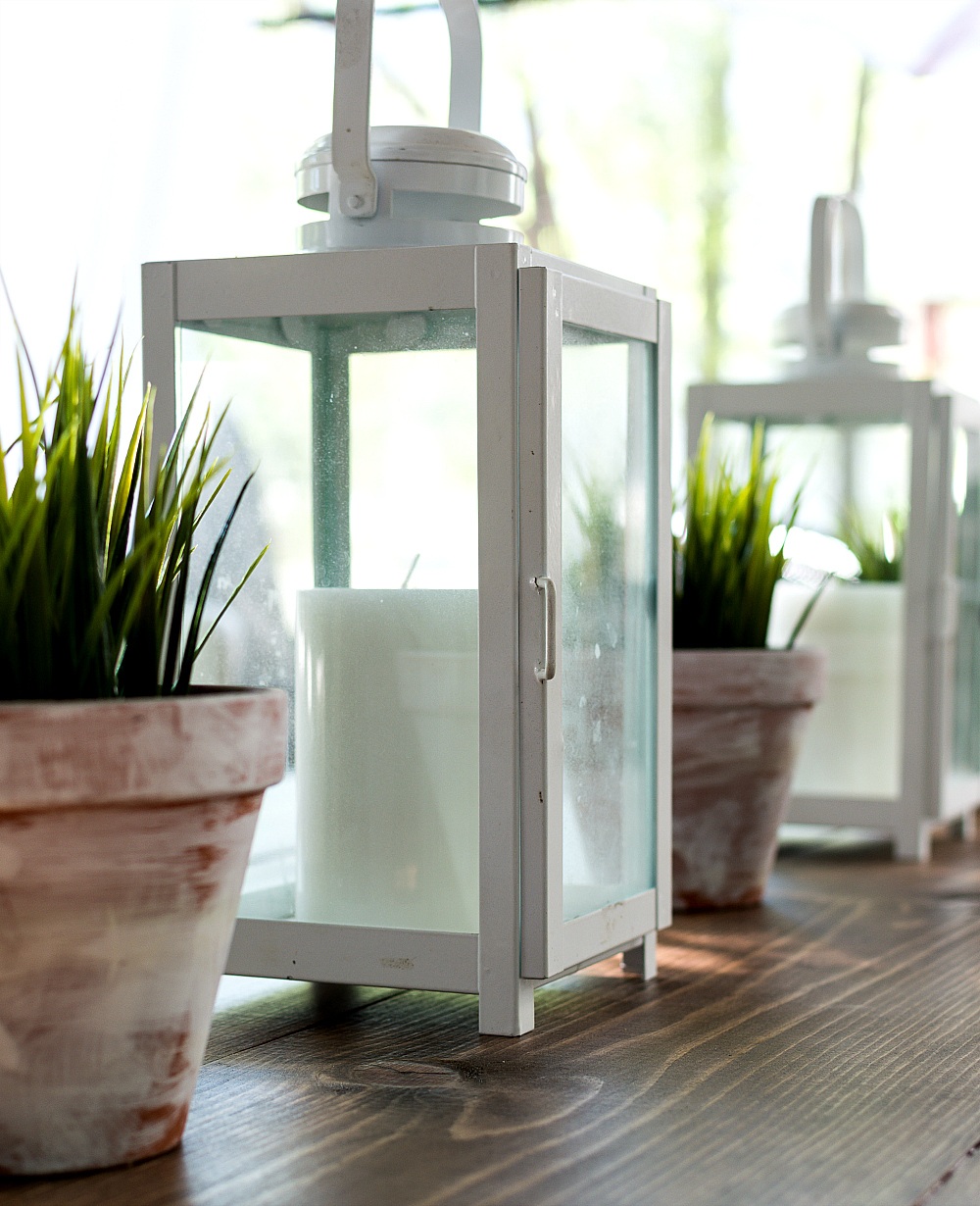 Did you see the headline up there? The one that says I built a table. I built a table. I BUILT a table. I. Built. A. Table.
Pardon my French (and screaming), but I BUILT A FRIGGIN TABLE!!!!
And can I say the more times I type the word 'built' the more it looks wrong. I seriously stopped mid-post and Google'd it to make sure it was a real word. 😉
But back to me. And my incredible, awe-inspiring TABLE BUILDING skills. If I was the kind of person who jumped up and down when excited, I would be jumping up and down. And if I was the kind of person who danced around the house when excited, I would be doing the Watusi. And Merengue.
Instead, I celebrated with a high five from Mike. And refrained from doing a post-high-five end zone dance.
Oh, and I spent the rest of the day walking around saying, I built a friggin table! 🙂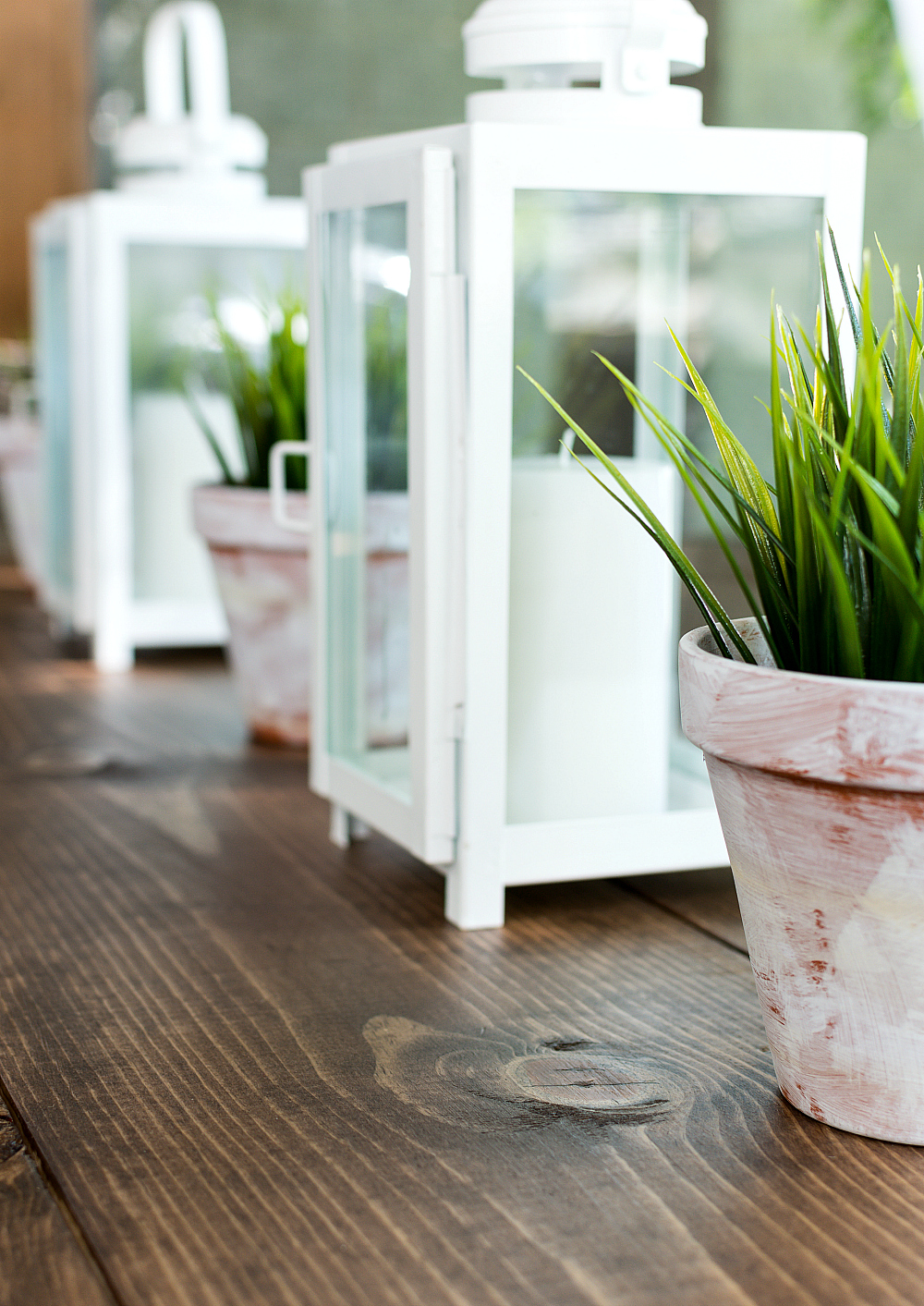 This was no small feat for me. Never in a million bazillion years would I ever think that sometime in my early 50's I would be building a DIY farmhouse table. BUILDING A FARMHOUSE TABLE, PEOPLE! ME! ALL BY MY LONESOME.
And this is where I should be sharing a tutorial on how to build a farmhouse table with only a drill. That's right. One tool. A drill! But I won't. It's not my project to share. Instead I will point you to the DIY farmhouse table tutorial I followed from Miss Mustard Seed (click here).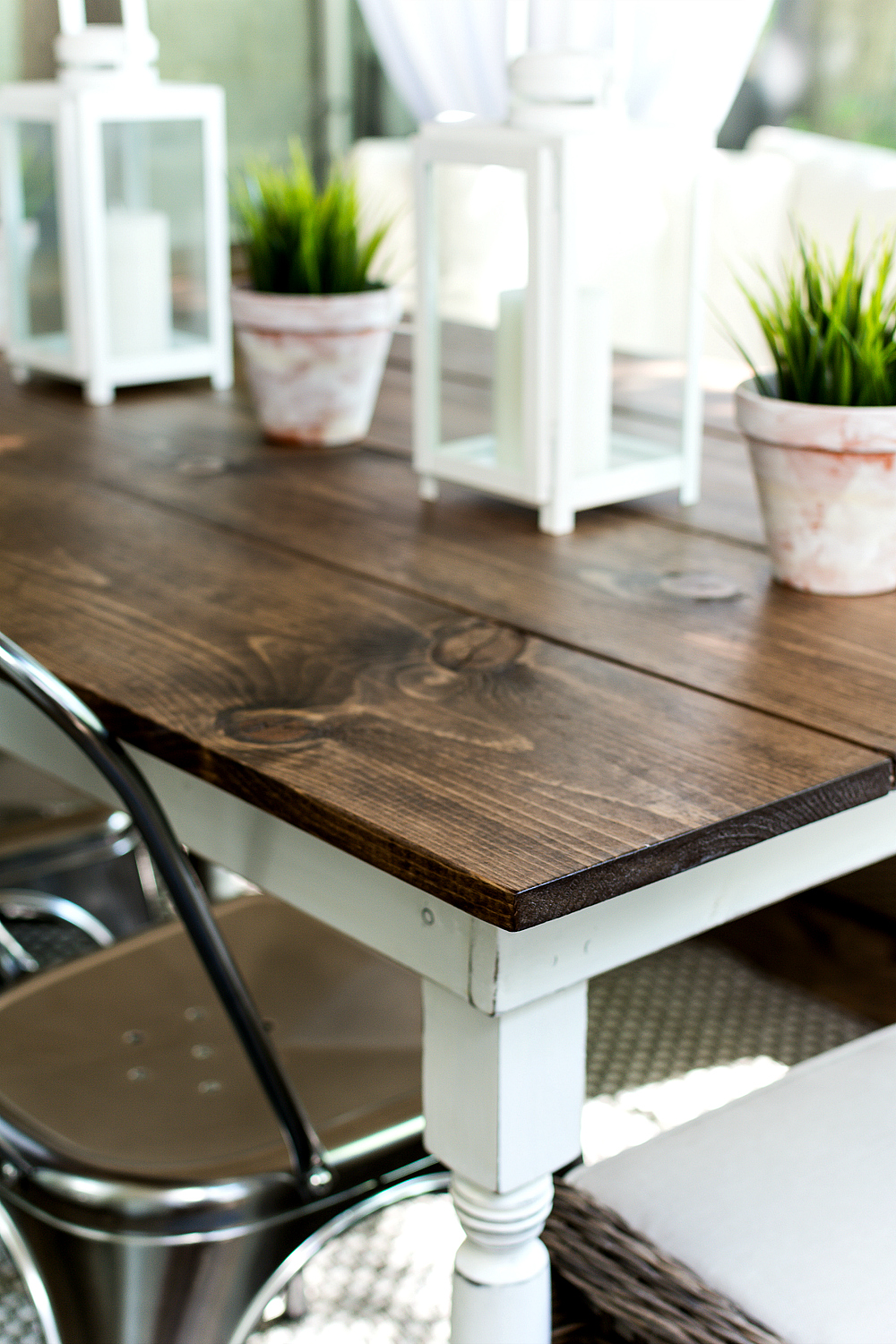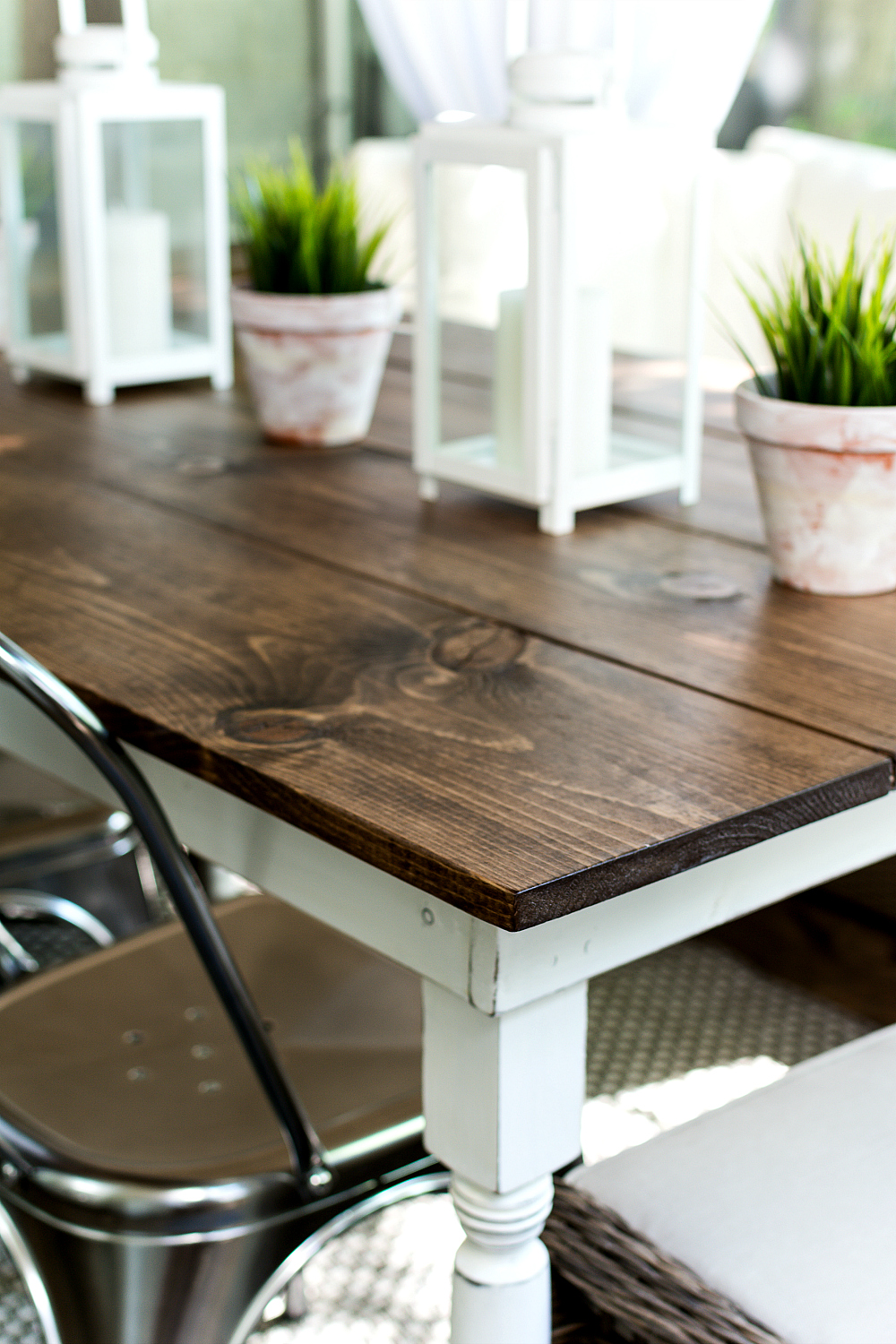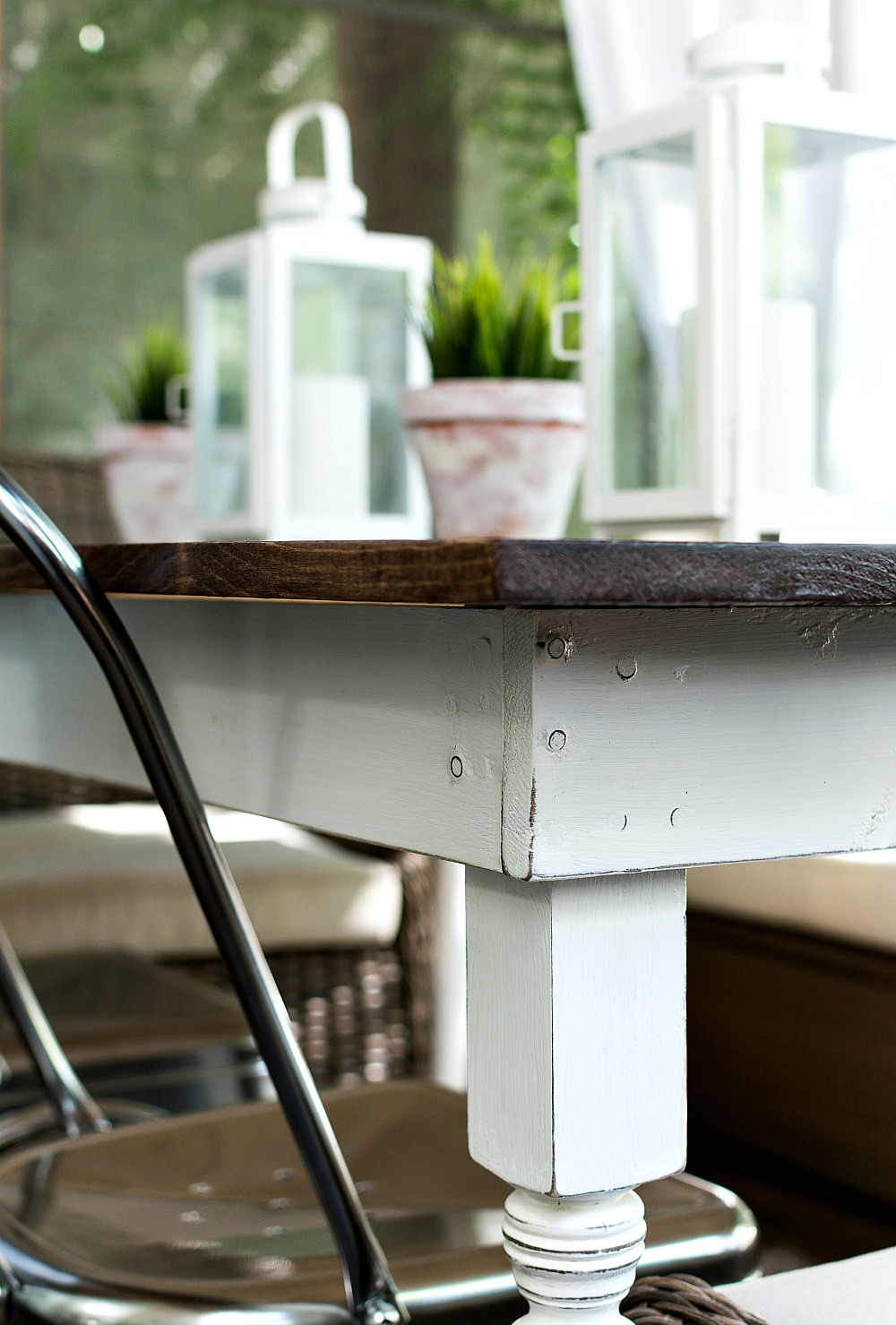 But what I will do is share some tips and lessons learned along the way. You know, when you can BUILD YOUR OWN FRIGGIN TABLE!
How to Build a DIY Farmhouse Table … With a Drill
Tips & Tricks
The road to building a farmhouse table was definitely fraught with some challenges. Like when I attached the pre-turned leg the wrong way. And had to back out eight 2″ self-drilling screws. Fun times! So I thought I'd share some key hard-earned tips and tricks with you …
Tip #1: Customize It!
This is my favorite part of the whole diy farmhouse table project. Because I had a very specific space where this table would live (the screen porch) and I had very specific dimensions for length and width for the table. Just keep in mind that you'll want about 3″ overhang of the table top from the apron pieces. For the table top, you have a choice for planks from 1 x 6, 1 x 8, 1 x 10 and 1 x 12 boards.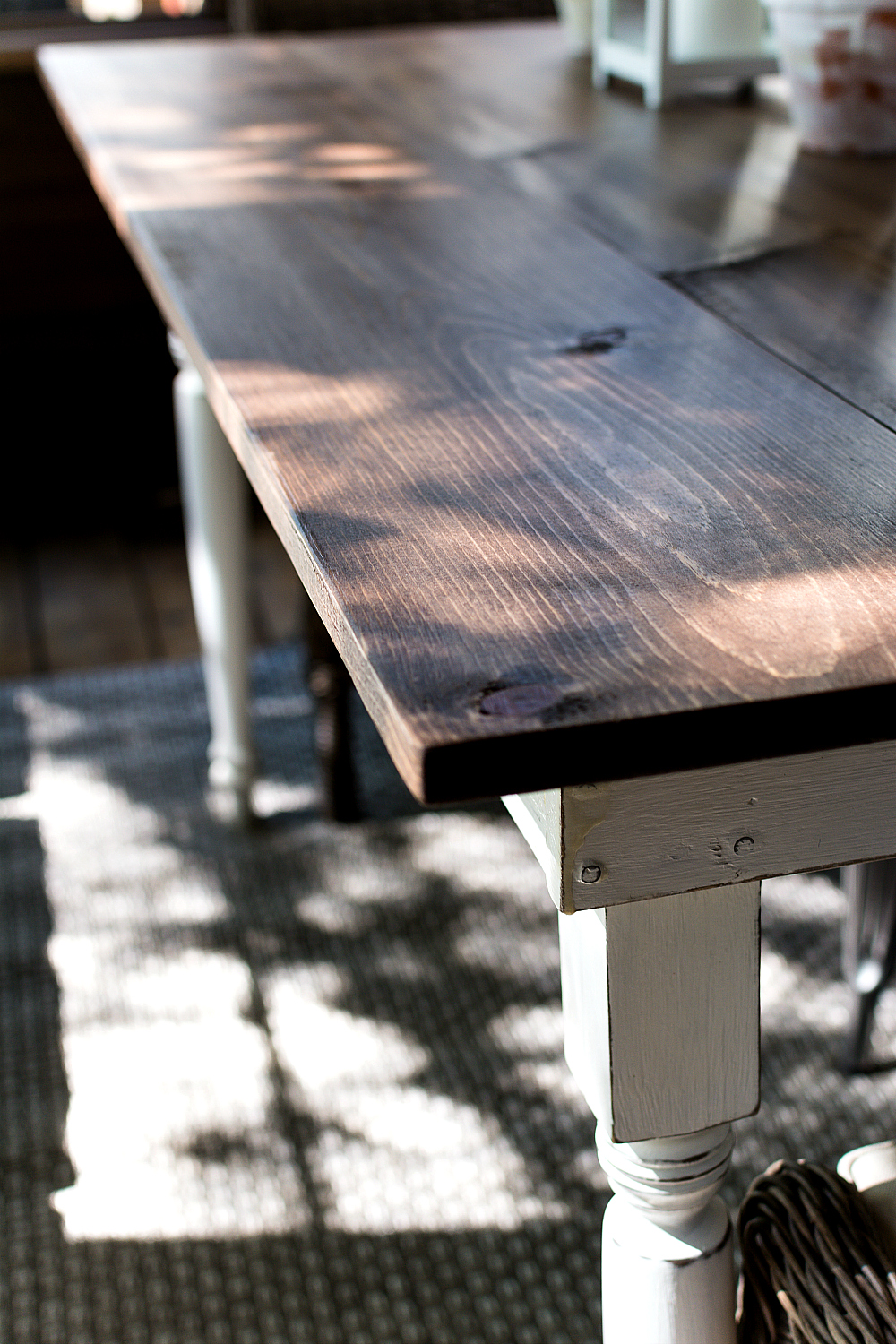 And once you have all your dimensions figured out, take them to The Home Depot and have them make all the cuts for you! My table measures 40″ x 60." For the table top, I use four 1 x 10's to create the table top.
Tip #2: Get a Good Drill
The key to the whole project is the drill. And self-drilling screws. So a cordless, powerful drill will make the project so much easier. I used my Ryobi drill (which I won through a blogger's contest) and it's my new favorite tool!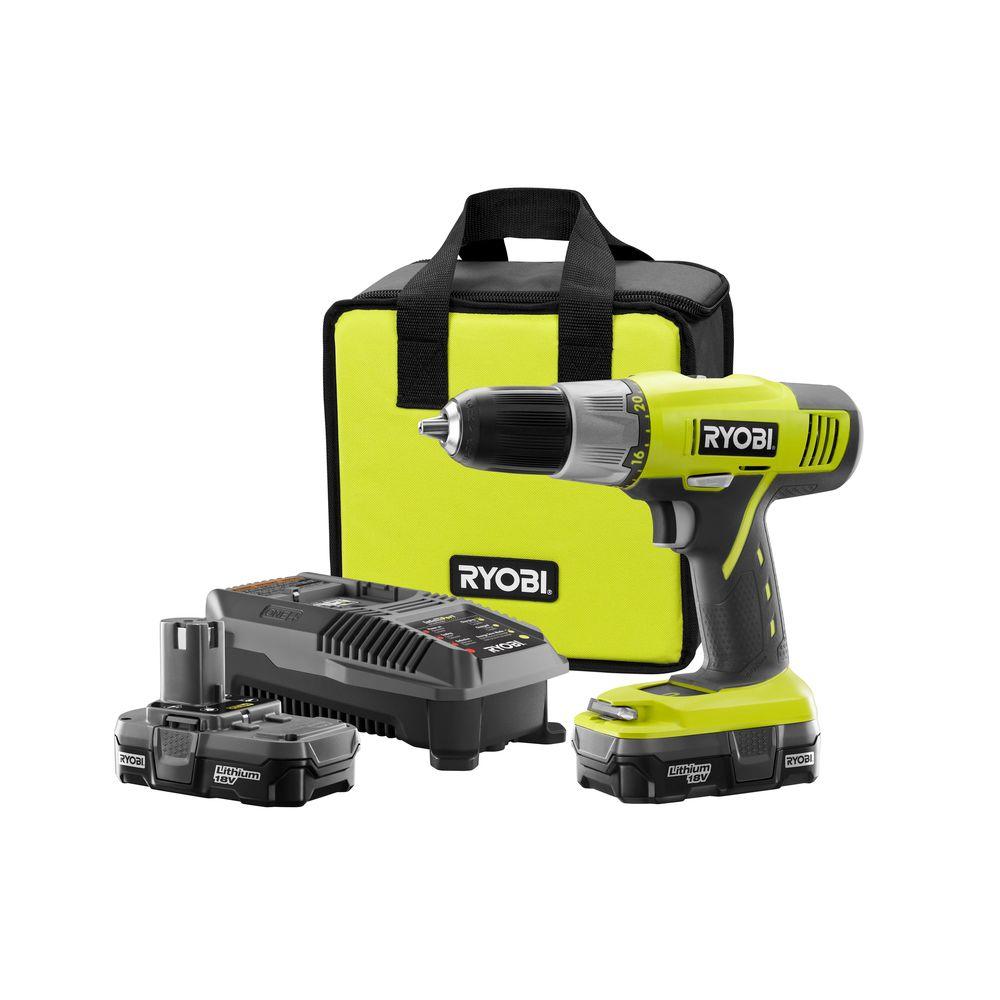 Oh, and I'm not getting paid by the folks at Ryobi to say that.
Tip #3: Get Some Good Clamps
Again, no one is paying me to endorse these clamps. But when the guy at The Home Depot was cutting my lumber and I spotted the clamps he was using, I immediately asked, "what aisle?"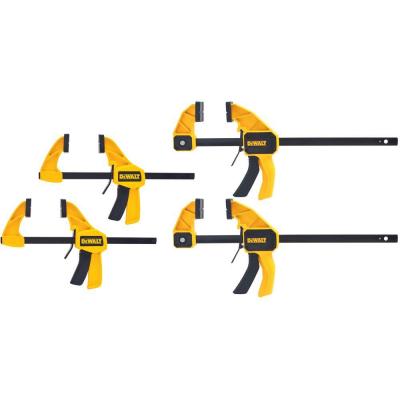 I couldn't have done this project on my own without them!
Tip #4: Drill Holes First
The self-drilling screws are great and all … right up until they aren't so great. I found them tricky when trying to attach the pre-turned legs (found at The Home Depot) to the apron. So pre-drilling the holes first made the world of difference.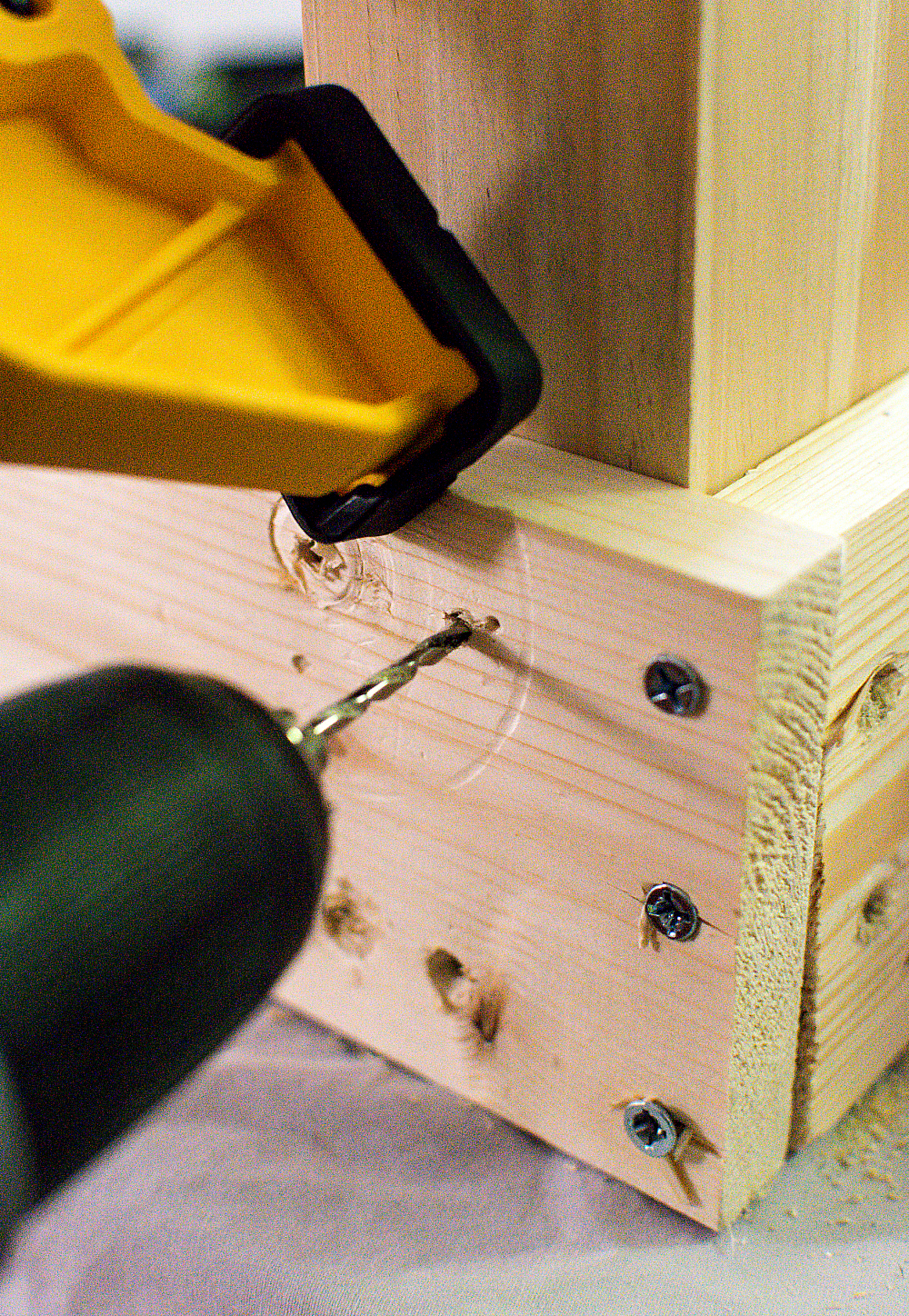 Tip #5: Removing Stripped Screws
I have a very bad habit of stripping screws and was ready to resign myself to living with a bunch of protruding screws on the apron of the table (with a warning to everyone to watch their knees when sitting) when my husband reminded me of a trick he learned from our contractor friend Ed (of Clover Building & Development).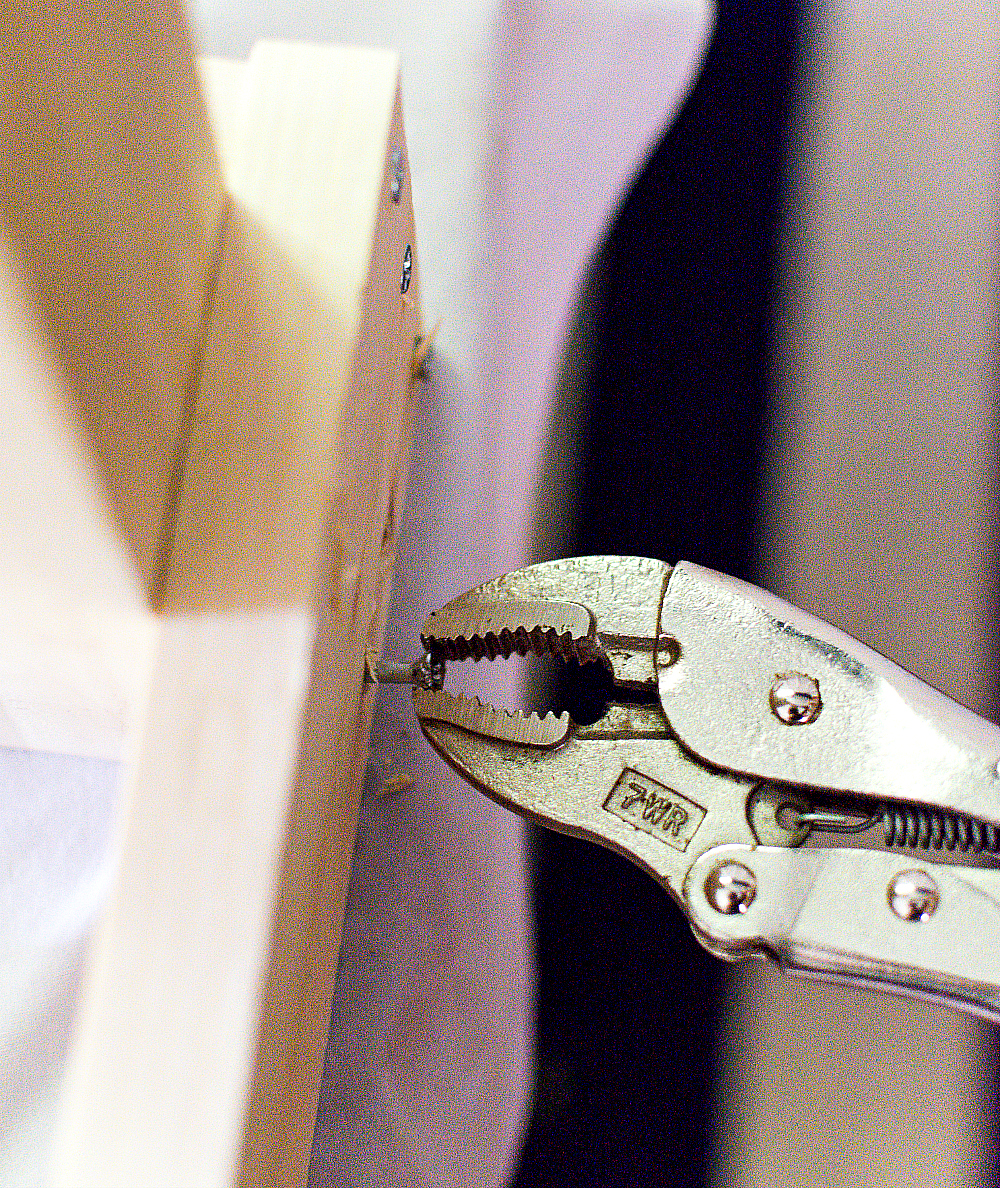 Simply clamp a vice grip onto the screw head and just left loosy it out. There's no pulling or tugging or strength needed. Just turn that vice grip over-and-over and the screw will back out. So simple!
Tip #6: Sand, Sand … and Sand Some More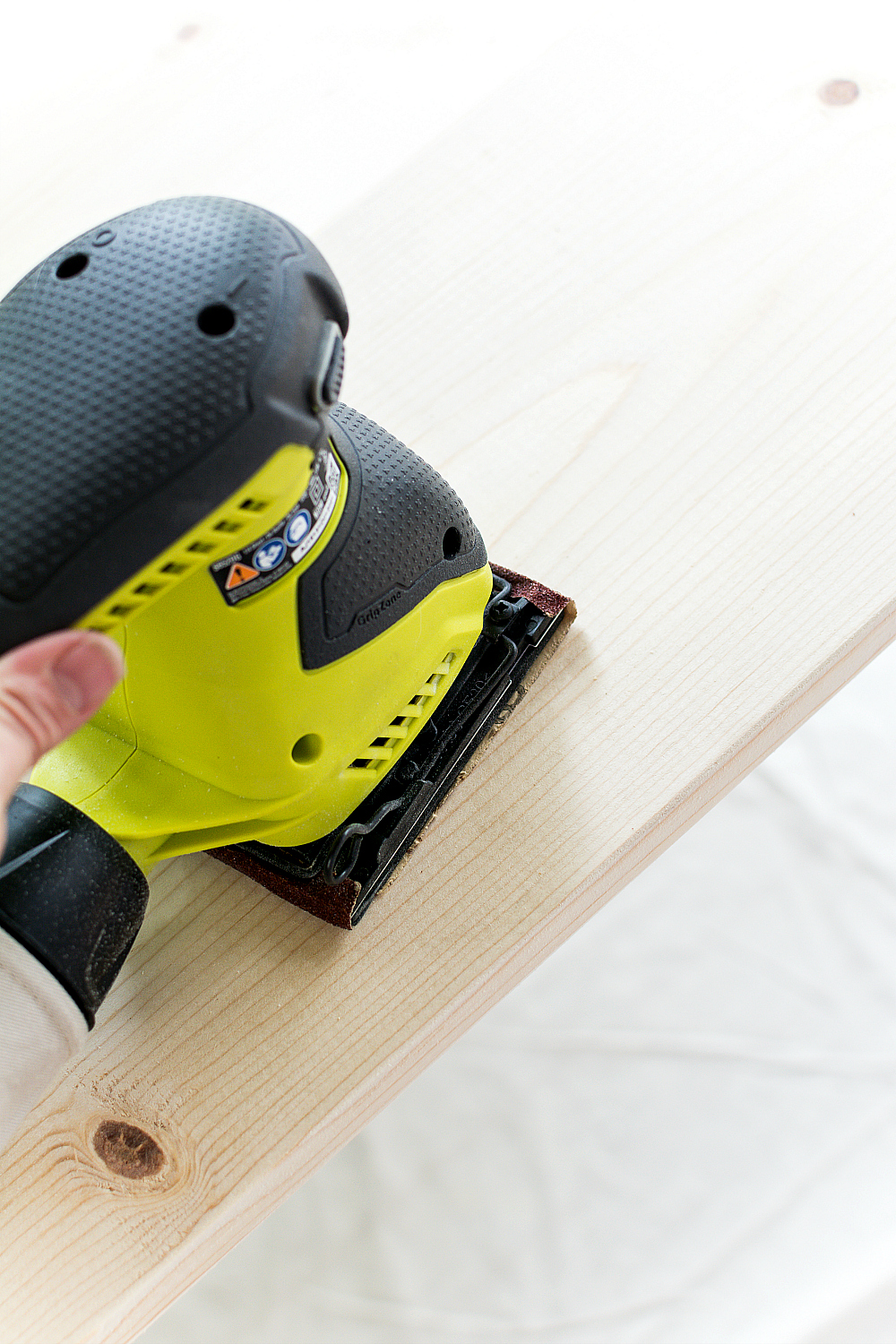 Unless you want to serve up a side of splinters with dinner, give that puppy a good sanding. Sand the top nice and smooth, focusing on any loose pieces.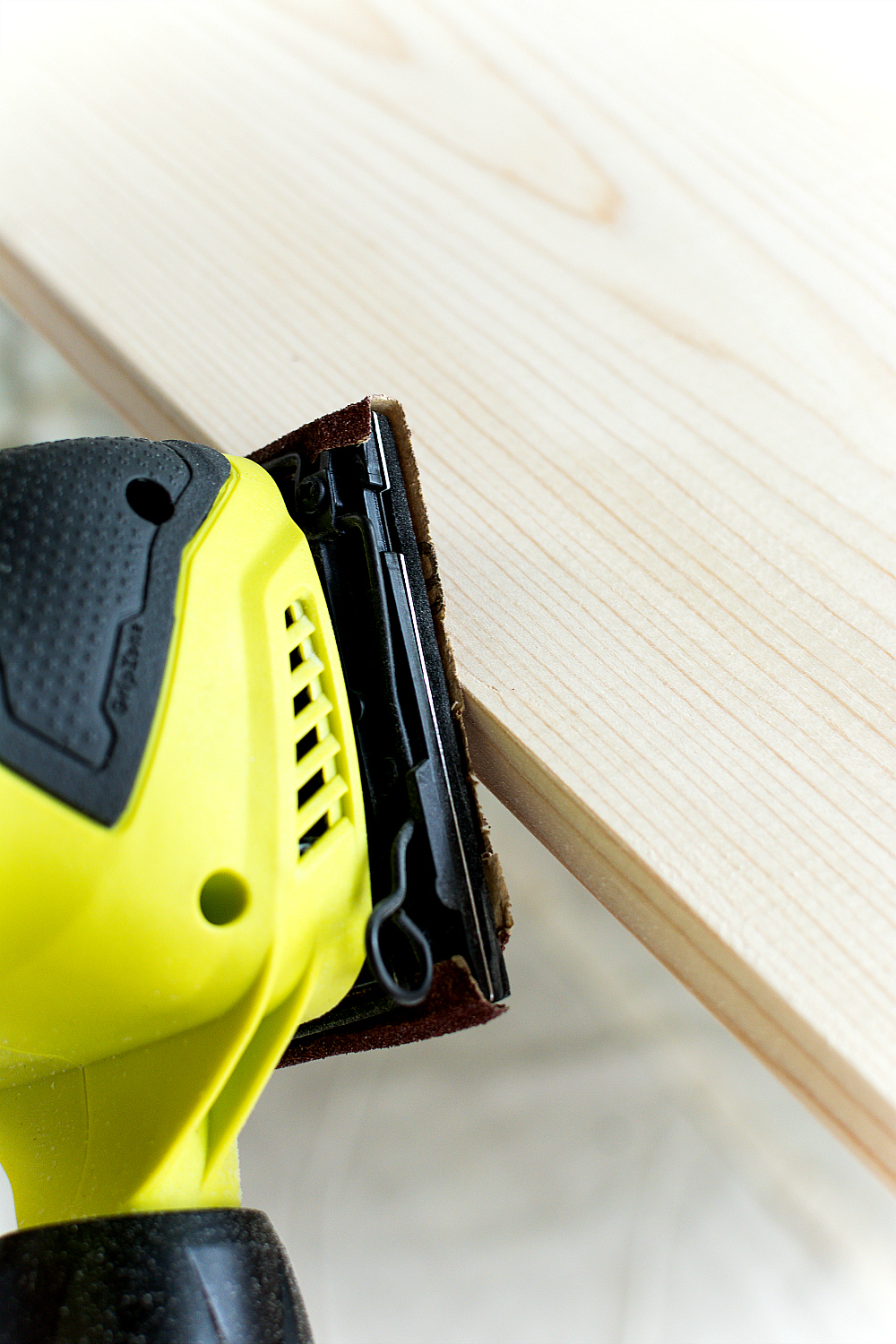 And make sure you sand along the edges really well too.
Tip #7: Test Your Stain
I was all ready to dive in and give the table a coat of stain based on the color sample from the store display … and then I thought better of that idea and tested the stain on a scrap piece of lumber. Boy and I glad I tested it first. It was toooooo dark. So back to the store went I to pick up Minwax in Special Walnut. Which I also tested on a scrap piece of lumber. Much better.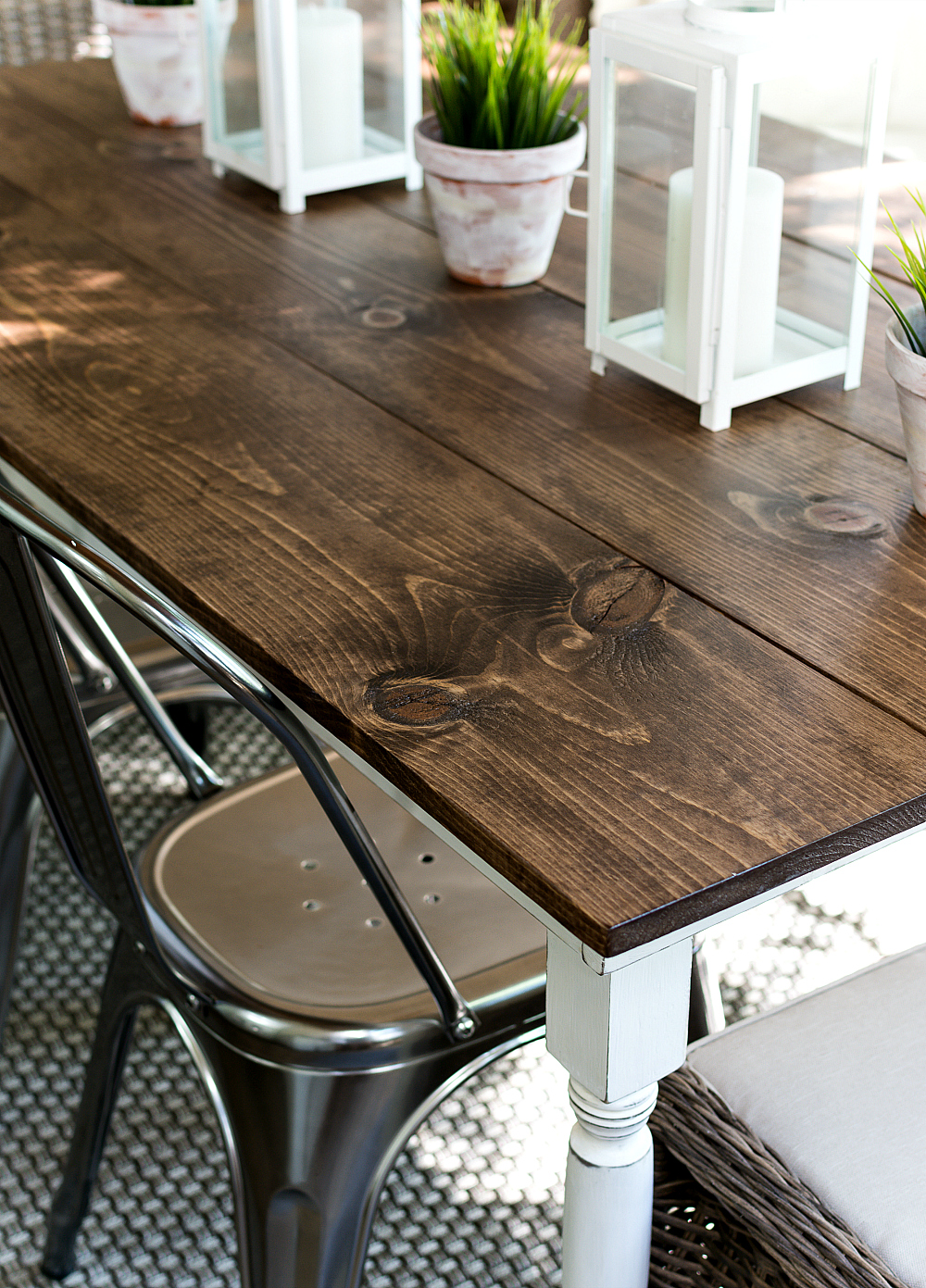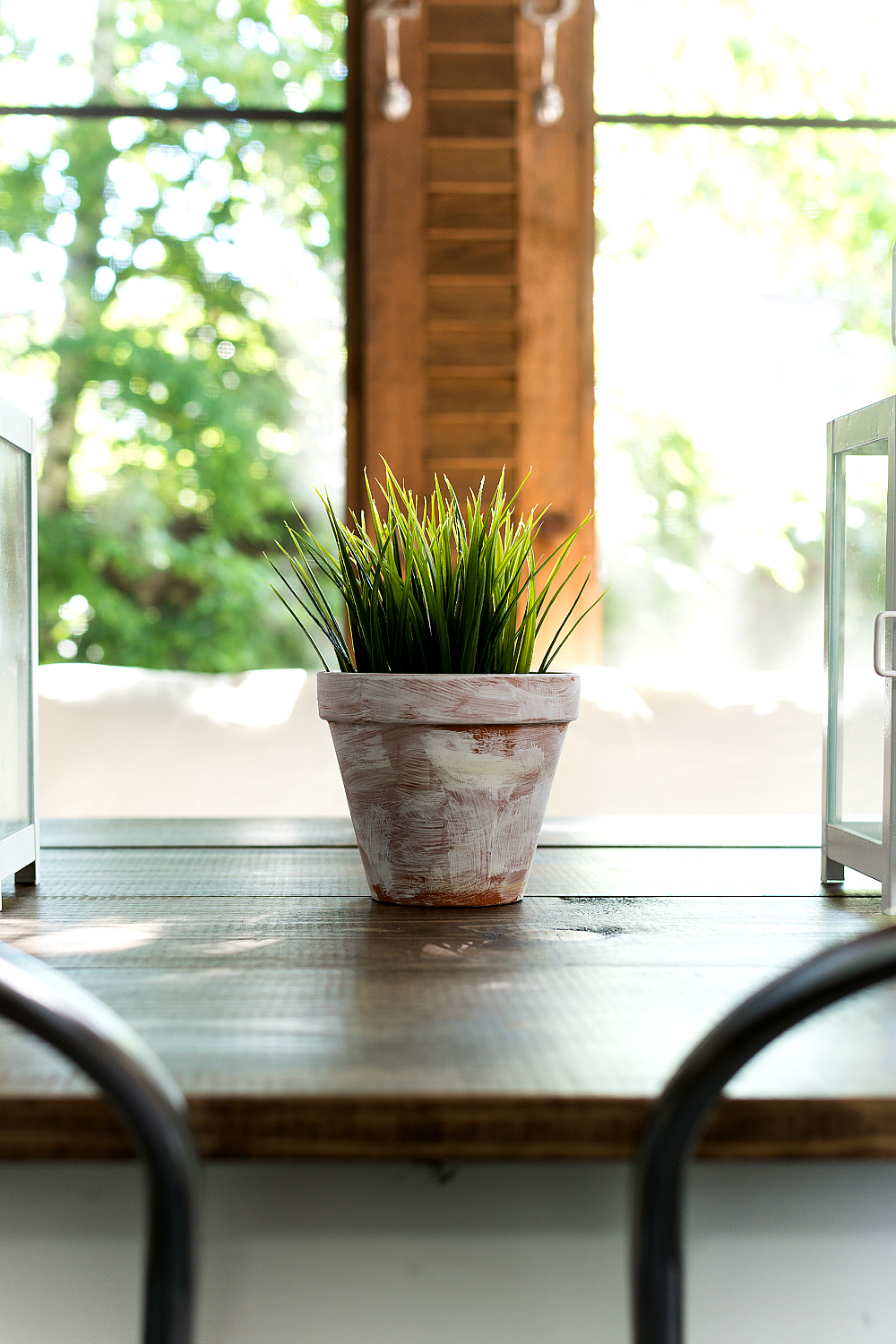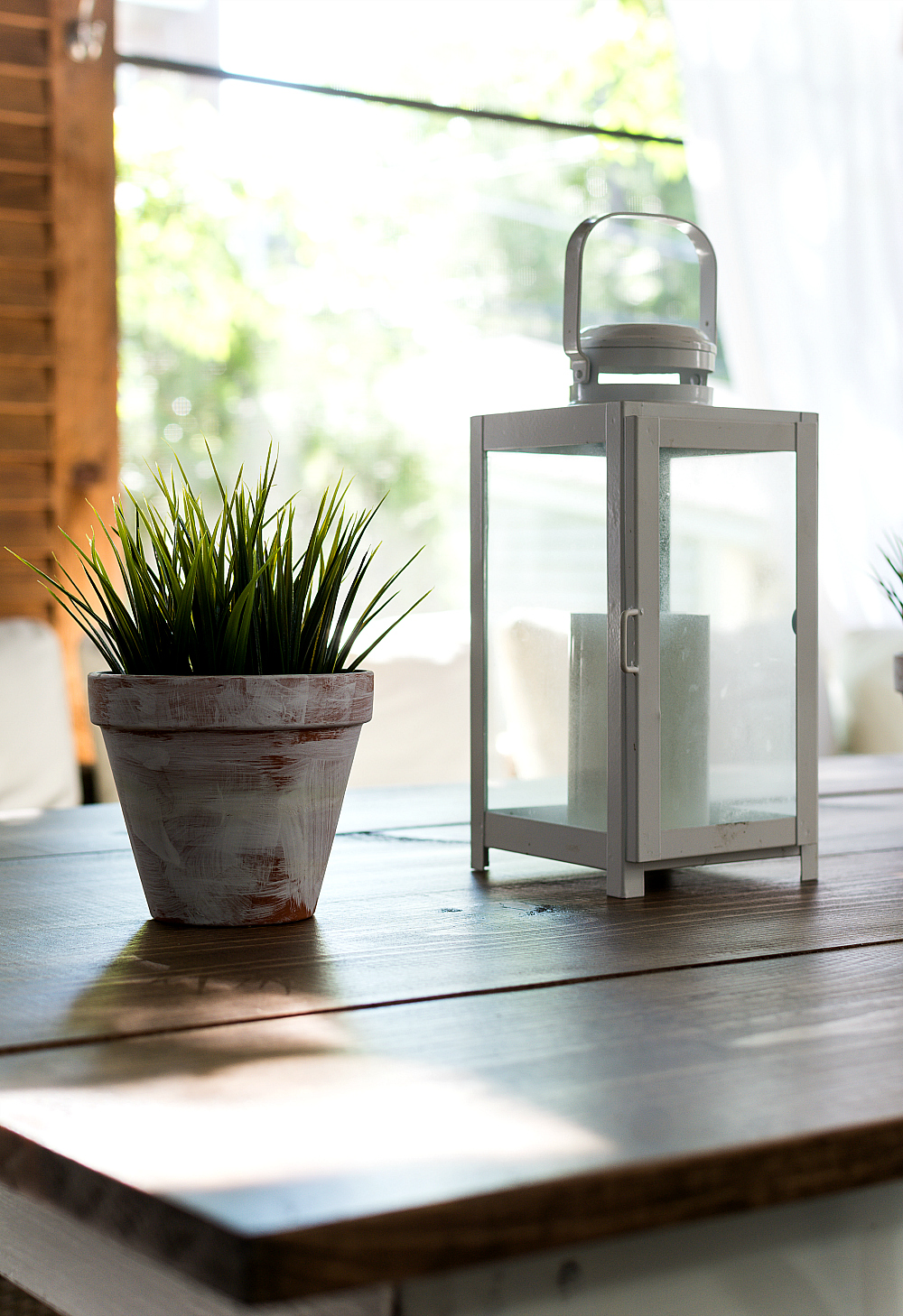 Once the stain was applied (using a rag) to the top and the legs, I decided to lighten it up with paint. I used Annie Sloan in Pure White on the apron and legs.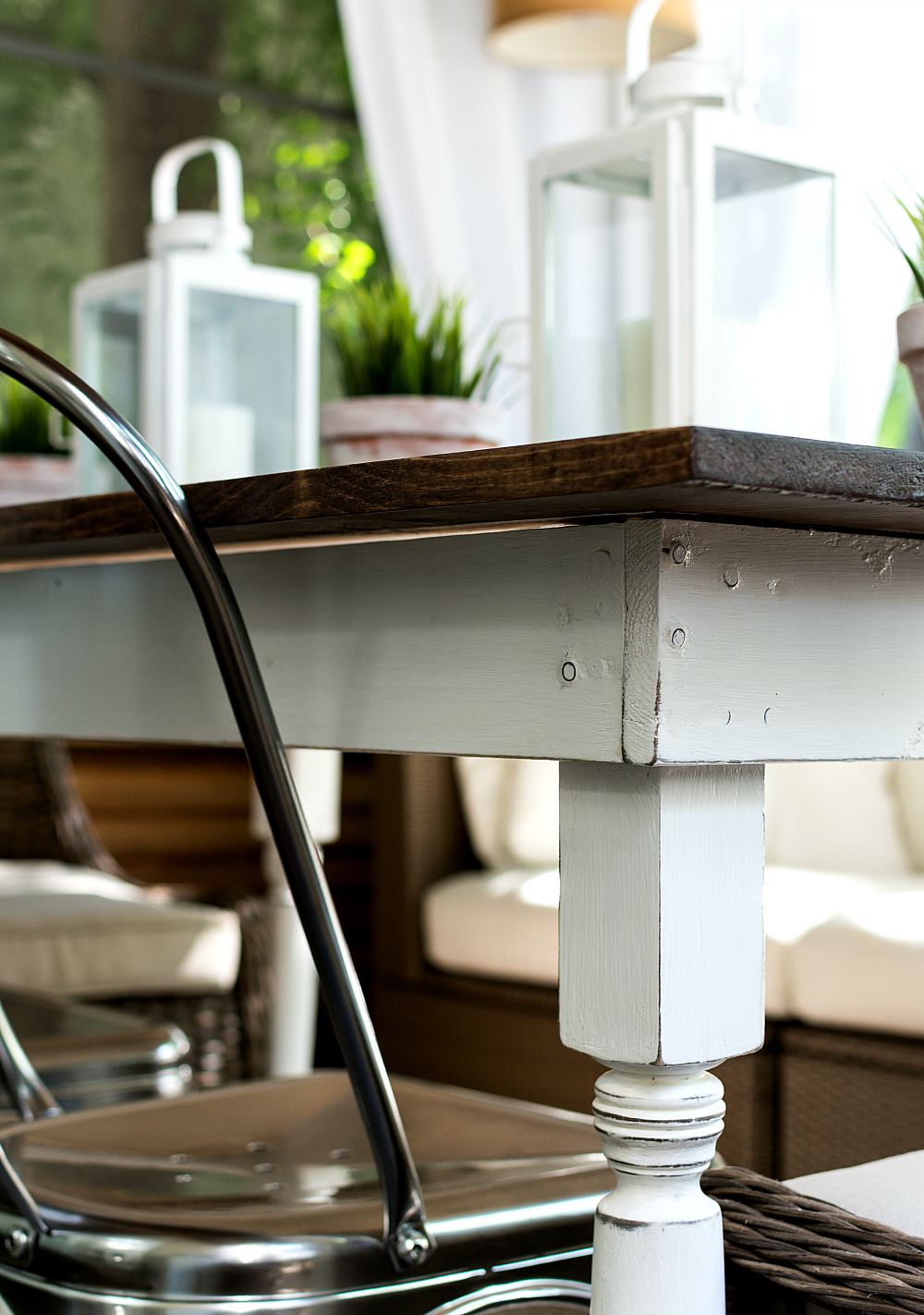 And then I gave it a quick distress with 150 grit sandpaper. The final step was a coat of triple thick Polyurethane* in satin finish.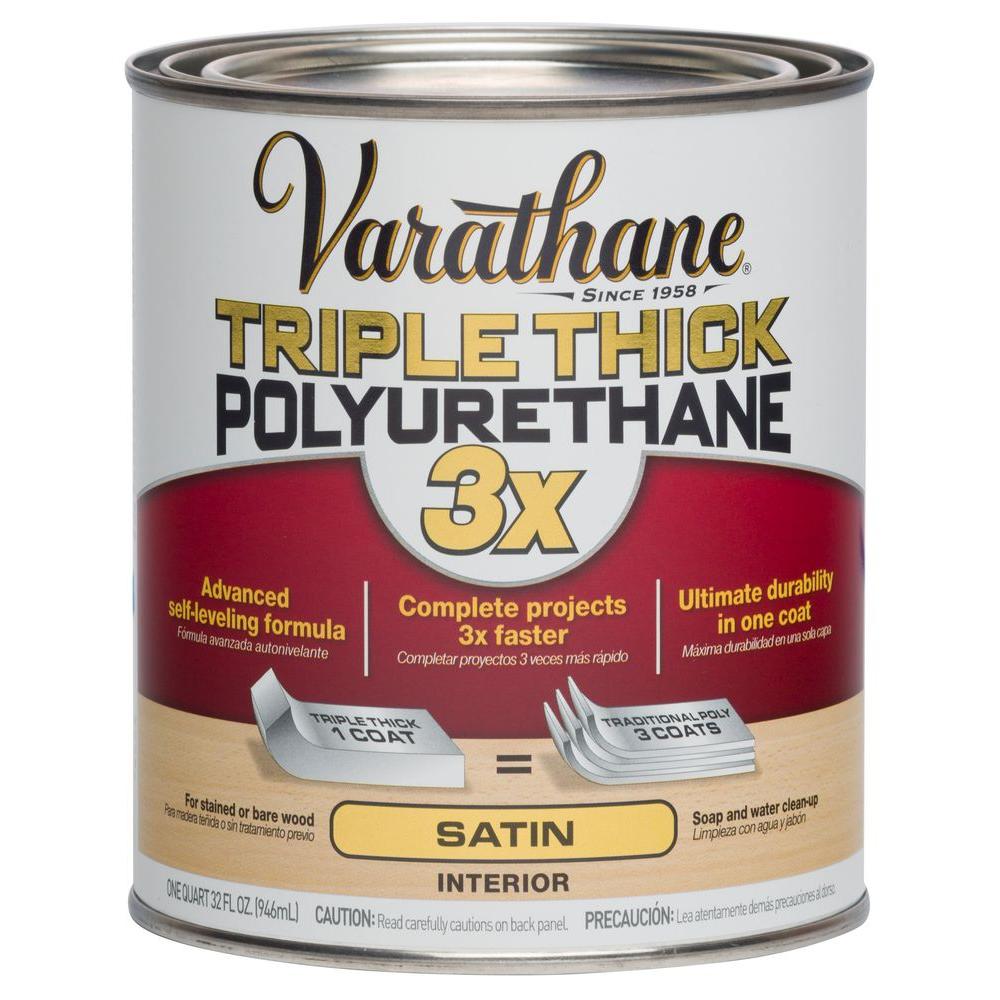 I'm so emboldened, empowered, enamored, en … en … enspired 🙂 …. by my table building skills that I'm thinking I might just build a farmhouse bench to go with my table! That's right. I'M GOING TO BUILD A FRIGGIN BENCH!
🙂
Pin It!

You Might Also Like: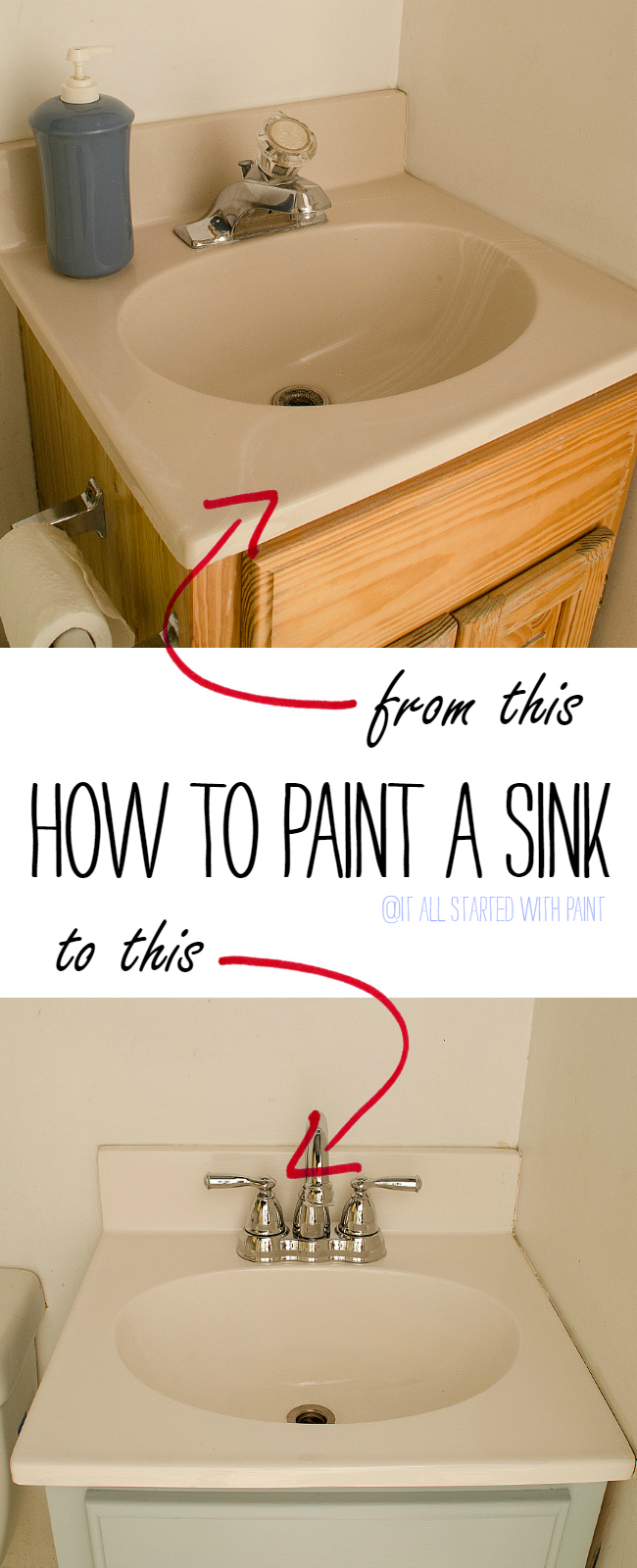 You can find even more of my DIY projects by clicking here …
*A special thanks to Rust-Oleum for providing me with the Varathane Triple Thick Polyurethane.