This post brought to you by Jamba Juice. The content and opinions expressed below are that of It All Started With Paint.
A funny thing happened on the way to the craft store …
well, not exactly funny. But I did make a wonderful …
surprising …
delicious …
and surprisingly nutritious …
discovery on the way to the craft store.
You see, my typical craft store route takes me east on Addison, right at Wrigley Field onto Clark, and then it's a straight shot down Clark. Just past Belmont.
But on this particular day, I took a different path. I was coming from the south, not the north and found myself on Belmont Avenue. As I sat idling, waiting for the light at Clark to change from red to green, I took a look around at my surroundings. The neighborhood was bustling with activity. Not surprising, since I was steps away from the Red Line L-stop.  But it wasn't until I turned to the left that I spotted it …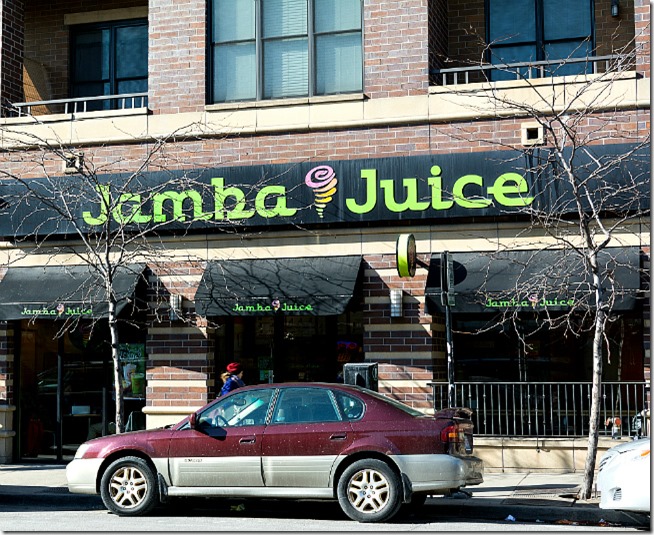 Now I'll share something personal here. My sister has been all over me about adding more 'green stuff' to my diet. She's a huge proponent. Especially after battling – and winning – her fight with cancer. I can't look at my phone or open my email or log into Facebook without finding a message with a link to an article about 'green stuff.' Adding it to food. And drinks. At one point I even purchased some dried 'green stuff' my sister recommended and experimented with adding it to a homemade smoothie recipe. And you know what?
It tasted like dirt.
But when I spotted that Jamba Juice location on Belmont Avenue in Chicago, I thought I'd make my sister proud and add some 'green stuff' to my day …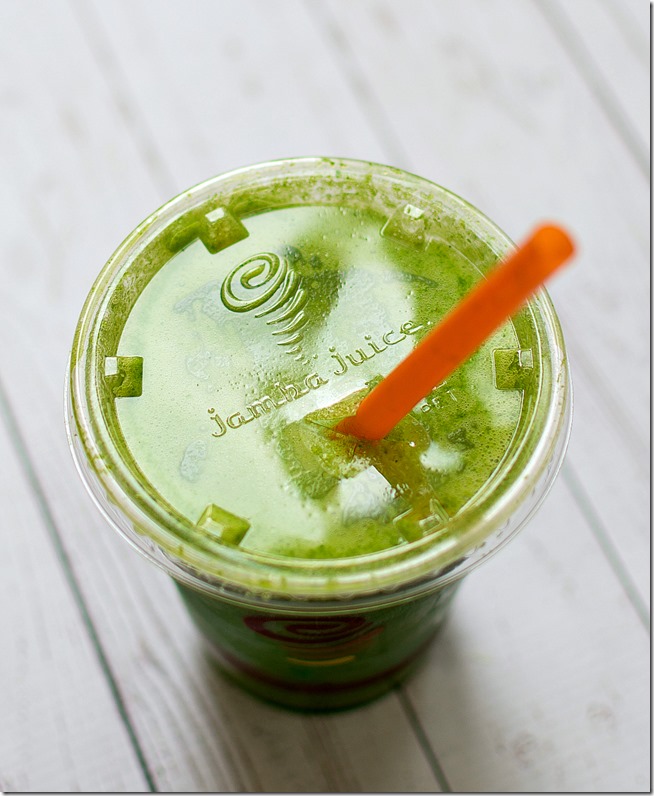 … with one of Jamba Juice's 'green'  Fresh Squeezed Juices. I chose the Kale Orange Power. It's a blend of orange juice, kale (a.k.a. 'the greens') and bananas.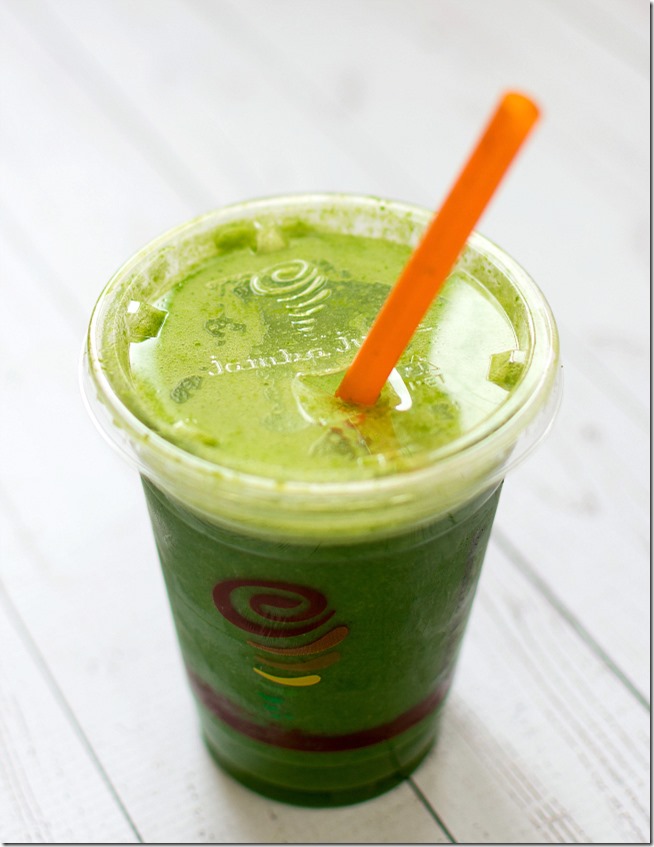 And you know what?
It definitely did not taste like dirt.
Quite the contrary. It was delicious. Lip-smacking-couldn't-drink-it-fast-enough delicious! And nutritious. Healthy-paleo-fresh-pressed-no-preservatives-100%-real-juice-goodness nutritious! And, true to its name, it gave me a much needed energy boost that had me powering through my craft store shopping.
Now, I must admit, I had a hard time picking just one juice flavor. Who could blame me? Just take a look at Jamba Juice's Fresh Squeezed Juice menu:
Tropical Greens: For a truly tropical flavor, we've combined apples, pineapples, Supergreens, and Chia seeds. This is one island that will never be deserted.
Citrus Kick: When you really want to bring up the brightness in your day, try this blend of oranges, apples, pineapples, and ginger. Just don't forget your sunglasses.
Veggie Harvest: Take some apples. Then take some carrots, and beets, and super greens and ginger. Then take a minute to drink it all down and wonder how you ever got through your day without it.
Orange Reviver: When your day feels like 5 days, revive with an Orange Reviver. We've taken oranges, apples, bananas, beets and Chia seeds and turned them into a spirit-lifting, taste bud-hugging masterpiece of mixology.
Carrot Cayenne: Carrots. Apples. Ginger. Cayenne Pepper. It's carrot with a kick, and it's going to wake up taste buds you never even knew you had.
Garden Medley: Is there such a thing as too many servings of vegetables? Not when they make up a melodious medley like this. Try one and enjoy delicious, perfectly portioned vegetables and a splash of apple, all living together in perfect harmony. Just like Mother Nature intended.
Orange Carrot Twist: The fresh, tangy brightness of the orange meets the smooth, earthy sweetness of the carrot. Some things were just meant to be.
Orange Berry Antioxidant: For juice lovers that know the more, the merrier, we've squeezed this orange and double berry masterpiece. It's The Works of Juices.
Kale Orange Power: Green means go-go-go with this delicious blend of fresh orange juice, kale and bananas. And as good source of vitamins and manganese, it's hard to stop sipping. Get ready for the perfect fuel to power through your day.
Triple Revitalizer: Do bananas have juice? Yep. But don't take our word for it, just ask the oranges and carrots in this awesome blend of potassium-loaded goodness.
Tropical Kick-Start: We took the American breakfast staple on a trip to the tropics. The result? A juice blend that will take your taste buds on vacation.
Jamba Juice wants to give you an opportunity to enjoy their Fresh Squeezed Juices with a $20 gift card giveaway. Just leave a comment telling which juice flavor you'd try. And if you're not sure if there's a Jamba Juice near you, click this link to Find Your Closest Store.
Now you'll need to excuse me.  I have to send my sister an email  … and a text … and a Facebook message … with a link to this blog post. You know, so she can see how I successfully – and deliciously — added 'green stuff' to my diet …
🙂
Linda