Welcome to the fifth and final day of Marty at A Stroll Thru Life's 2020 Fall Home Tour.
And while I'm excited for today's tours — especially with the culmination of the week at Marty's home — I'm also exhausted from all the sitting.
That's right, sitting.
And you're like LOL Linda. Exhausted from sitting?
Seriously, it was like six-to-eight hours straight (with a few bathroom and sustenance breaks) each day. Sitting. In this chair …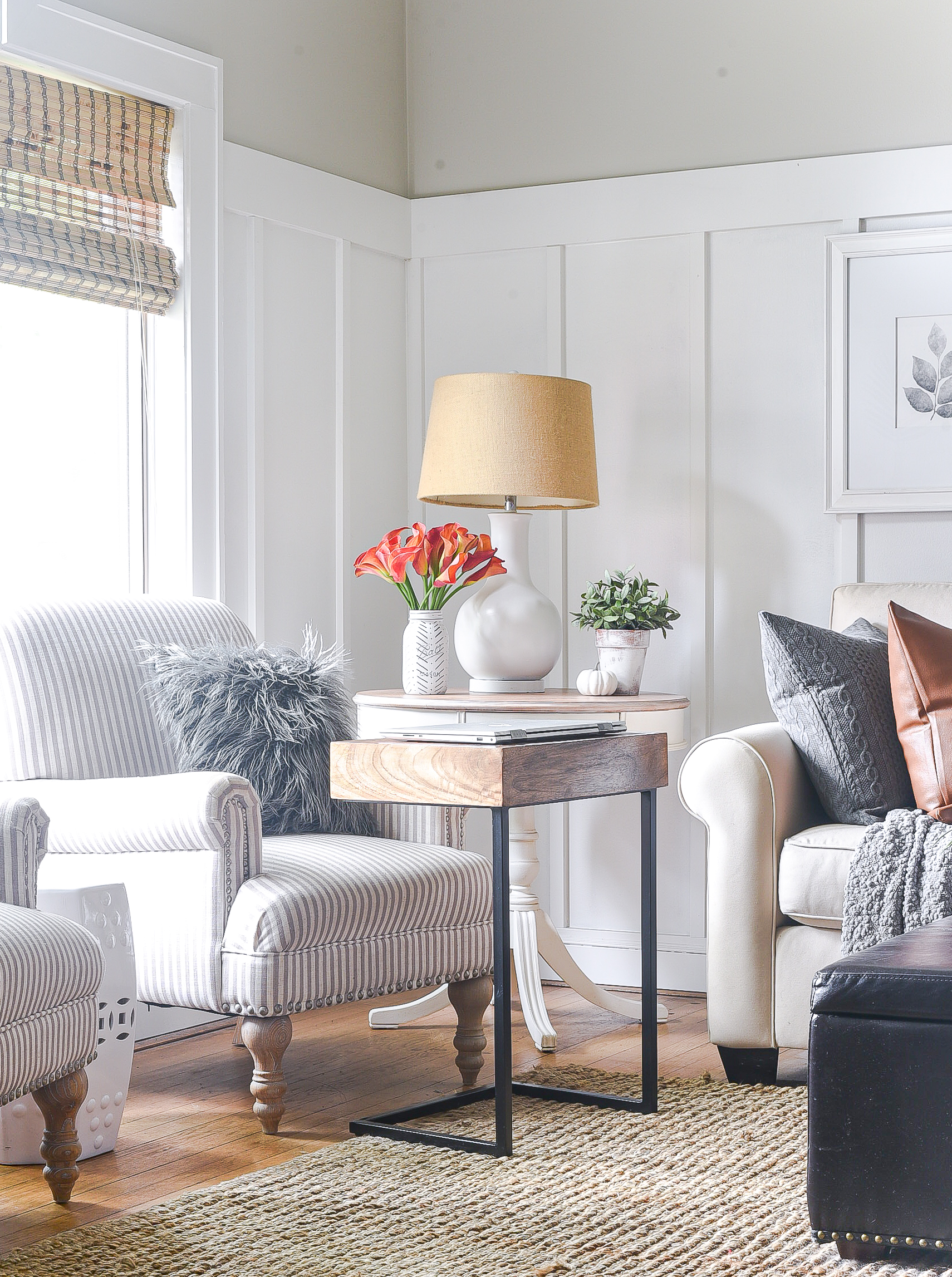 as I visited every single tour participant. And left a comment to every single tour participant. And pinned and twitted and facebooked and instagrammed every single tour participant.
Which shouldn't be exhausting at all, am-i-right? Sitting here looking at beautiful homes.
But somehow, it wiped me out.
I'm also exhausted from all the amazing eye candy this week. You may not realize this, but you expend a great deal of energy coveting others' kitchens and or living rooms and or dining rooms and or front porches and or back porches and or …
and or …
There's a reason envy is a deadly sin! 😉
But I'm absolutely looking forward to six-to-eight hours parked in my chair as I visit, pin, twit, fb and insta today's tour participants.
And on that note, on to today's fall home tours …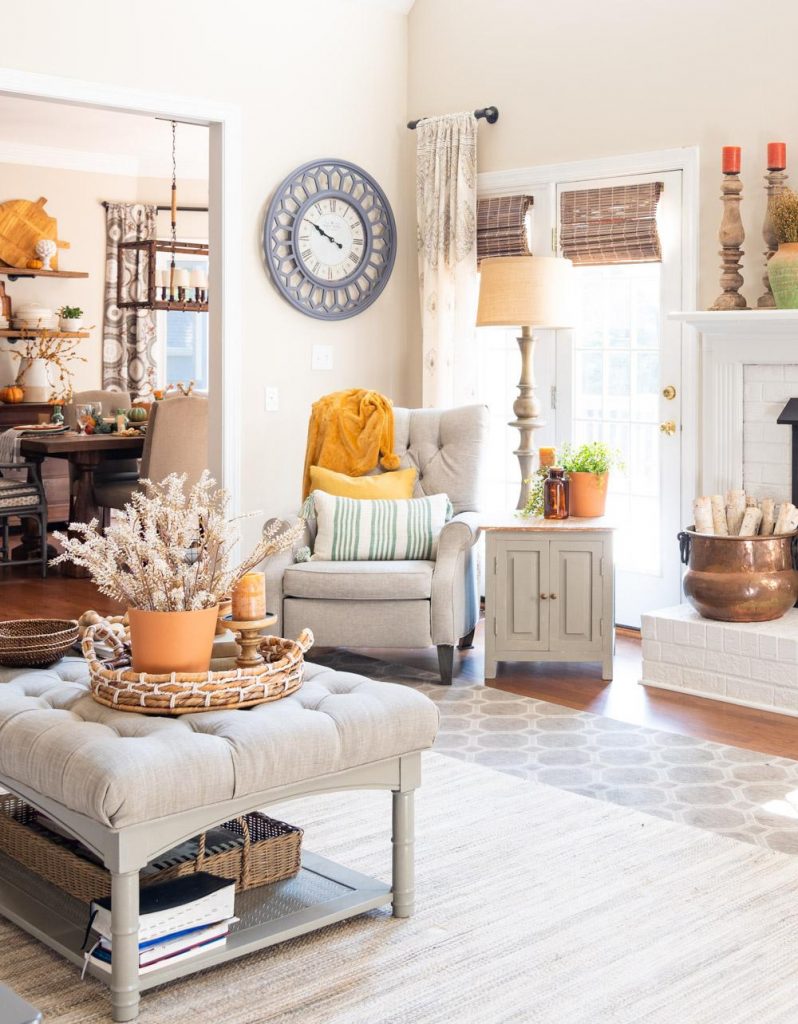 Be still my heart …
and quell my envy …
but Suzy at Worthing Court has me swooning over this room!
Her use of terracotta and burnt oranges and rusted yellows are sheer perfection. And I love how they pop off the neutral base color palette of her walls and furniture and layered rugs.
I can't wait to social share this space (as I park my butt in that chair above. My chair, that is. Not Suzy's. Though I wouldn't mind parking my butt in Suzy's chair in that beautiful room).
P.S. I met Suzy early in my blogging career at a blogger conference and she is one of the most welcoming and wonderful people I've ever met. I'm pretty sure she would insist that I park my butt in her chair. And she might even go so far as to offer to let me take it home! 🙂
You can visit Suzy's home tour at this link …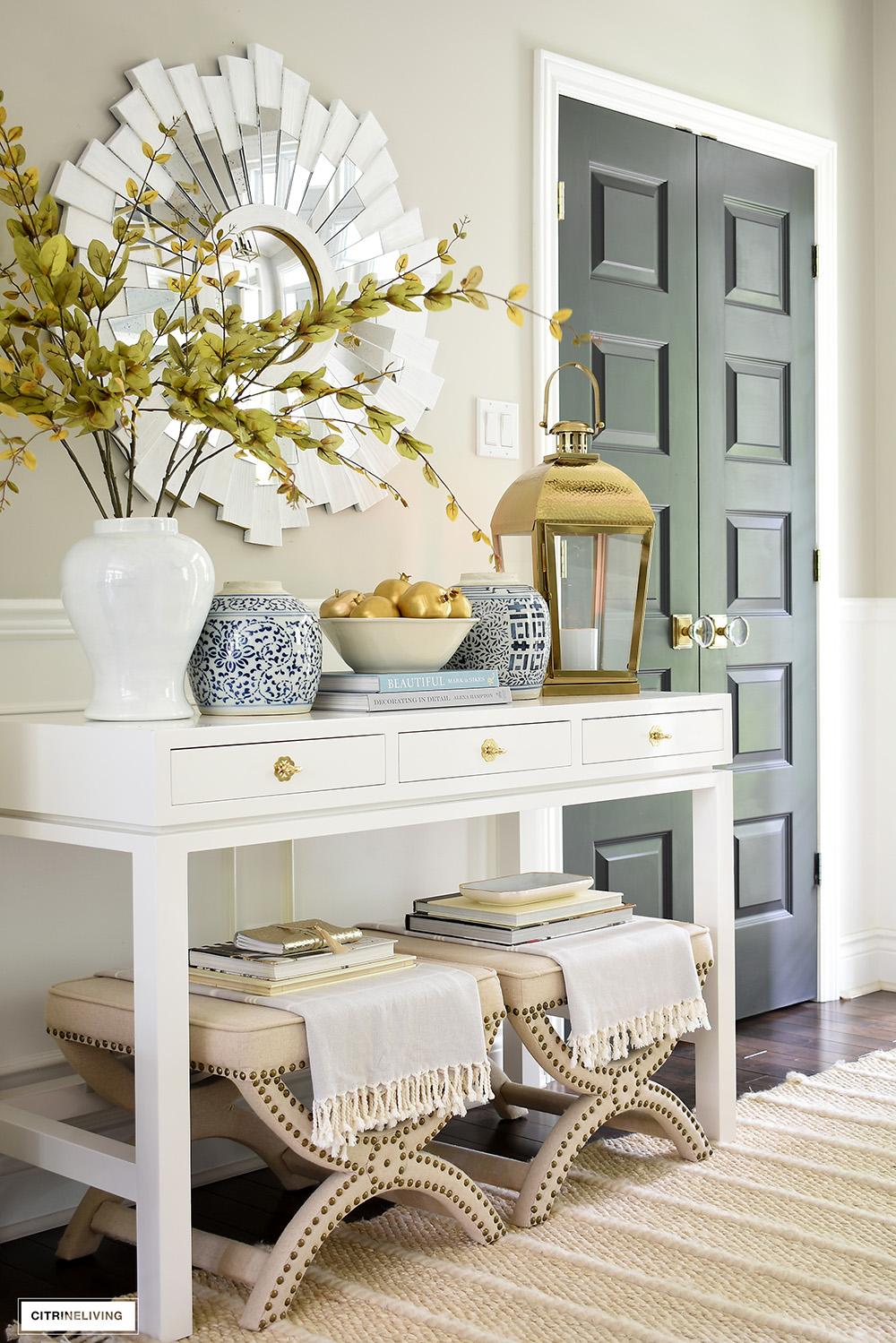 Okay, can you understand all my coveting of spaces now?
Like seriously. Tamara at Citrine Living is giving us a magazine-worthy photographic introduction to her fall home tour!
I don't even know where to start to create an entry table vignette that looks like that. Which I guess is the point of this whole fall home tour week, right?
Inspiration.
You can see Tamara's inspiring fall home tour at this link …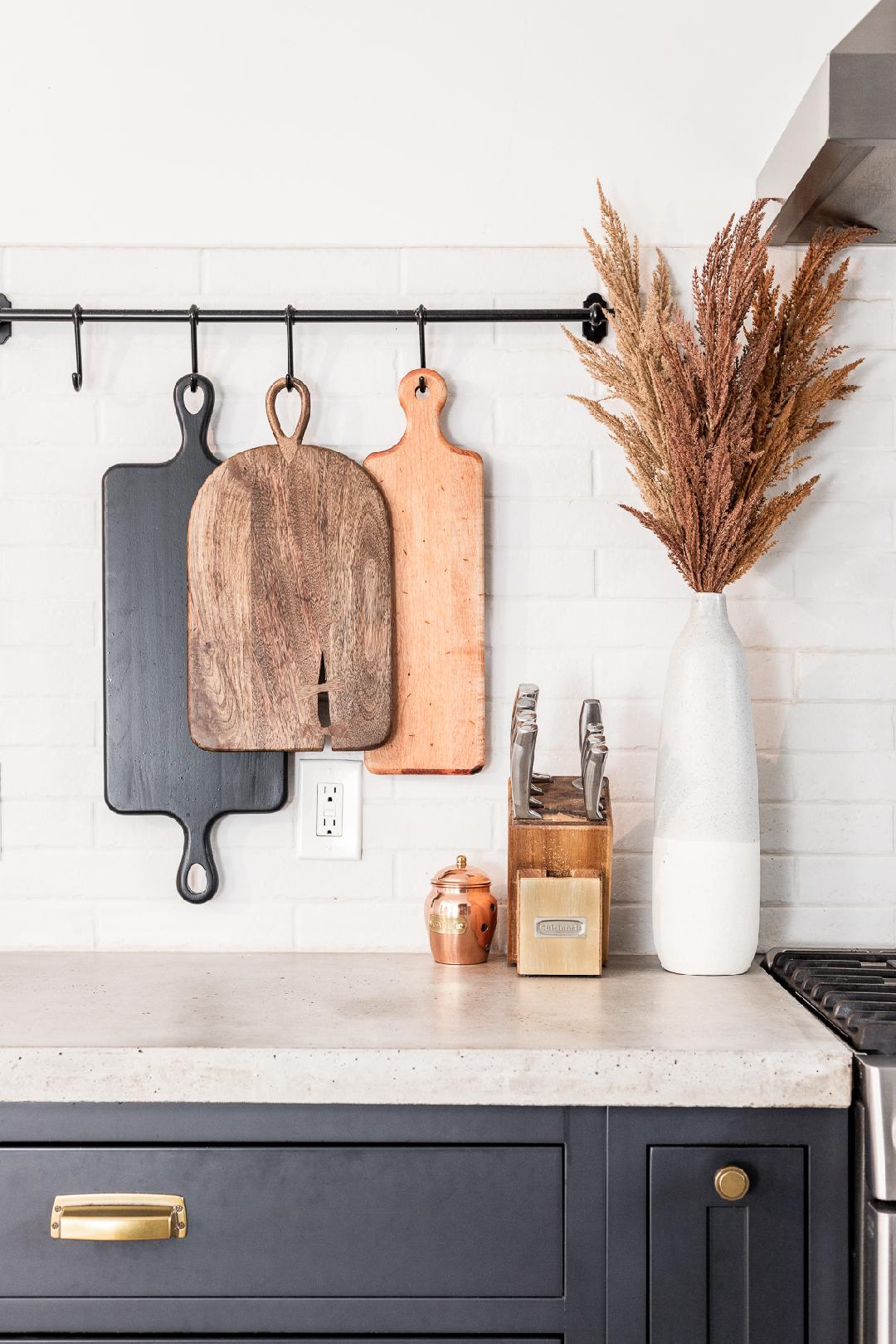 You know when they say a picture is worth a thousand words?
Well this picture from Ashley at Cherished Bliss is delivering a thousand words telling me that I am 100% going to be coveting her kitchen!
The materials! The textures! The subtle fall decor elements! The cutting boards! And those cabinet pulls!
Oh my.
You'll find Ashley's covet-worthy fall home tour at this link …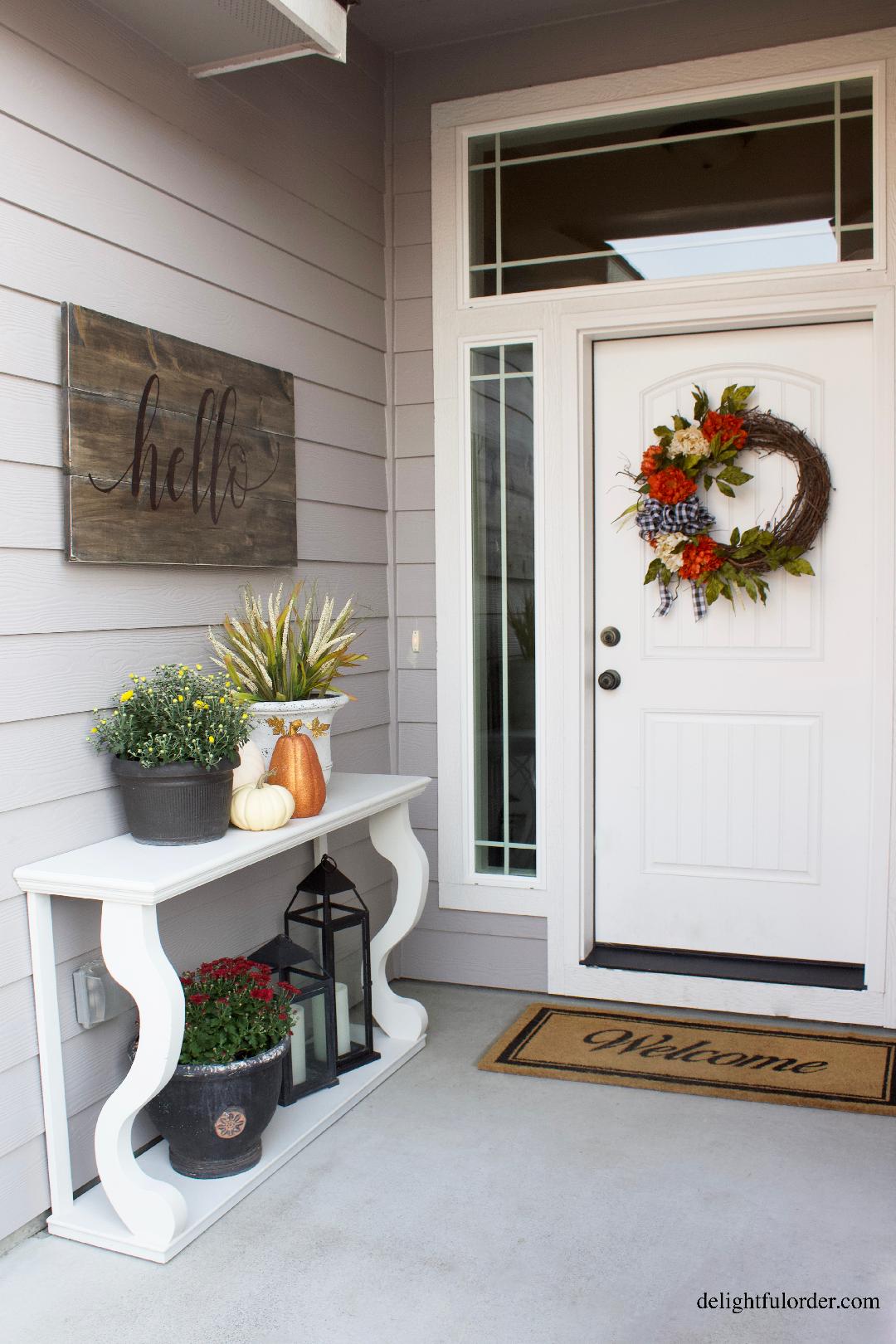 DaNita from Delightful Order is our next (and second to last) fall home tour this season.
And while I truly covet so many spaces in DaNita's lovely home, I'm truly envious (and more than a little perplexed) at how she can so masterfully juggle blogging while raising five boys.
Five boys!
I'm exhausted just thinking about it. Because all I see I my mind are all the cables and wires and monitors my one son has set up in the family room … and then multiply that by five.
Yikes!
Oh, and if she's not busy enough, DaNita also has a very successful Etsy shop that you can check out here …
To tour DaNita's (surprisingly cable-and-monitor-free) fall home click here …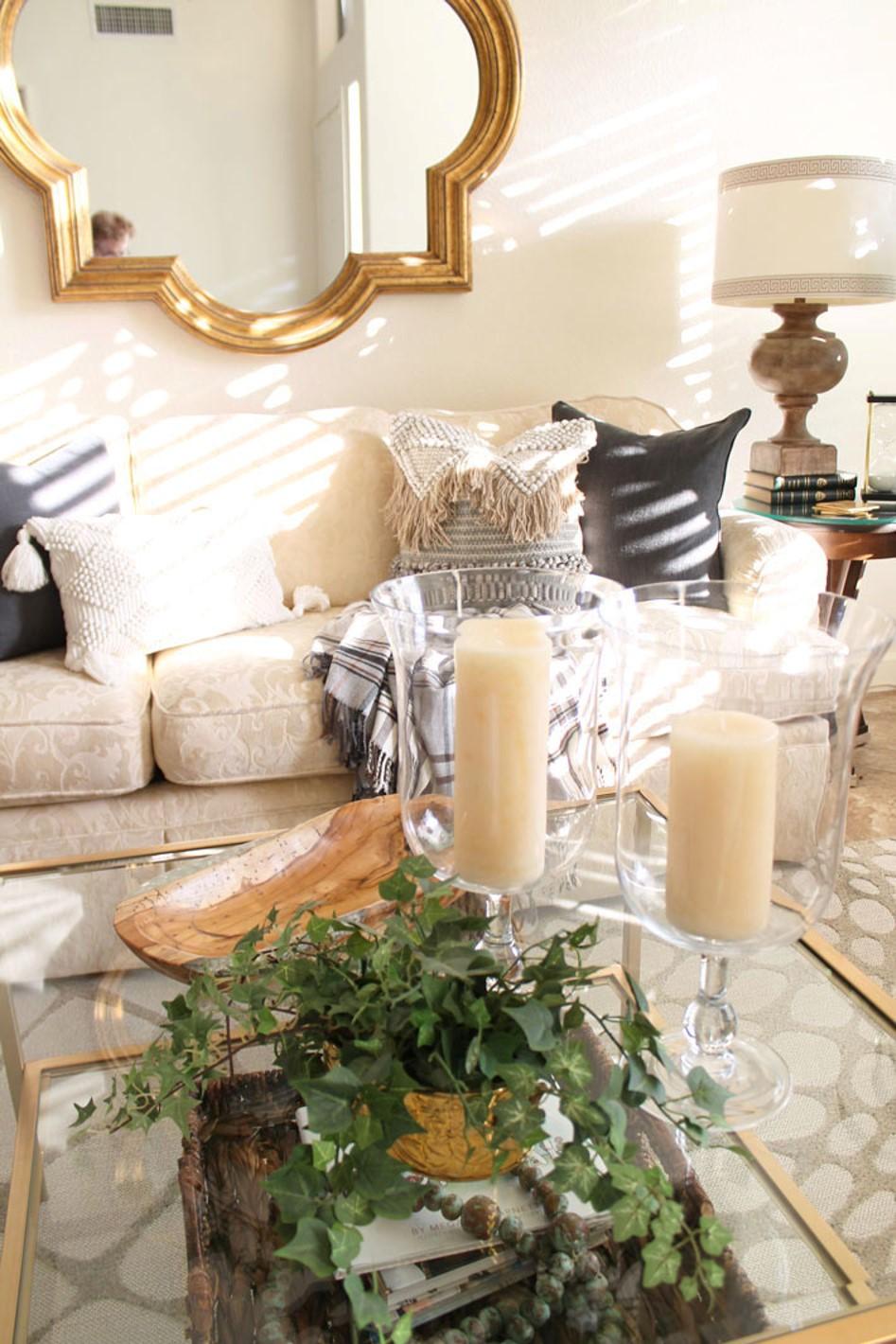 We wrap up this fabulous week of fabulous fall homes tours with the most fabulous one of all: Marty at A Stroll Thru Life.
Dear sweet Marty.
She was the first person to ever invite me to be a part of a home tour series.
Come to think of it, she's the only person to ever invite me to be a part of a home tour series! 🙂
And when she extended that invite I was (and still am) truly flattered and touched that she thought my home was worthy of a place in her seasonal home tour line-up.
Marty and her husband retired and moved into her current home — closer to the kids and grandkids — a few short years ago. Together they planned to enjoy many, many years of retirement surrounded by family as Marty decorated (and seasonally redecorated and redecorated) their home while Jim extended his green thumb to tinker out and about in the garden.
But those plans fell short when Marty's husband lost his battle with coronavirus this summer.
My heart breaks for her as she grieves and heals … and I can only ask that you'll join me in sending lots of love and hugs and prayers Marty's way.
XOXO
It was an honor and pleasure to be the caretaker of Marty's seasonal home tour series this fall. I hope you enjoyed (and endured) finding me in your inbox each day (for those who subscribe). I just want to send a huge thank you to all the bloggers who stepped up and participated this fall!
And finally … drum roll please … here's the final home on the final and fifth day of Marty's 2020 Fall Home tour … A Stroll Thru Life.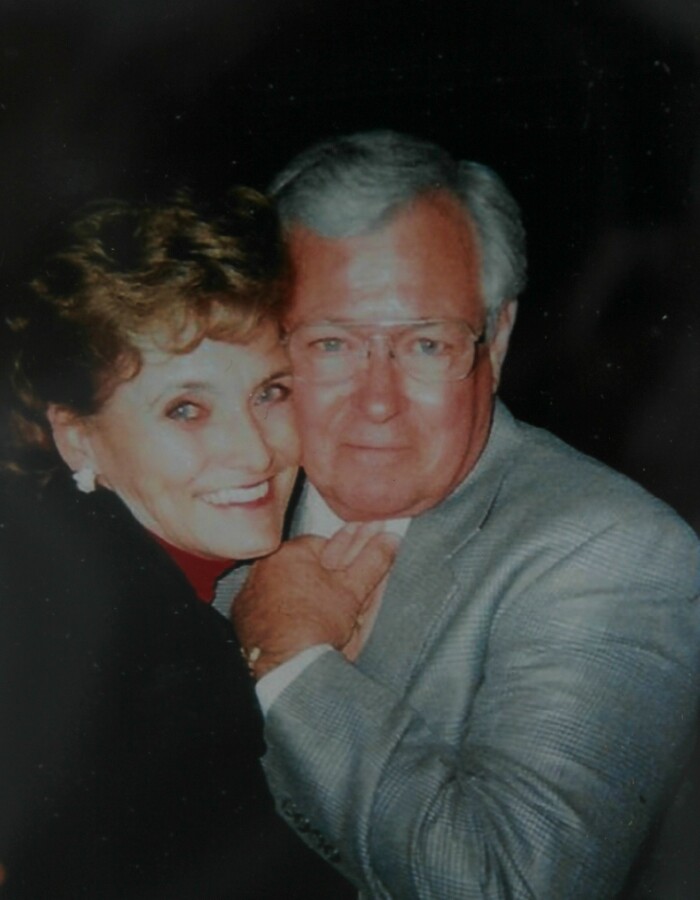 ————————————————————————————————————
Here's the full week of Fall 2020 Home Tour links:
Monday
It All Started With Paint / Inspiration for Moms / Modern Glam / Southern State of Mind / Decor to Adore / Clean and Scentsible
Tuesday
Far Above Rubies / Town and Country Living / Thrifty and Chic / StoneGable / Setting for Four / Making it in the Mountains
Wednesday
Seeking Lavender Lane / The Wood Grain Cottage / Duke Manor Farm / 11 Magnolia Lane / Life on Cedar Lane
Thursday
Thistlewood Farm / Hymns and Verses / Follow The Yellow Brick Home / Our Southern Home / Remodelando la Casa / Pink Peppermint Design
Friday
Worthing Court / CitrineLiving / Cherished Bliss / Delightful Order / A Stroll Thru Life
Pin It!