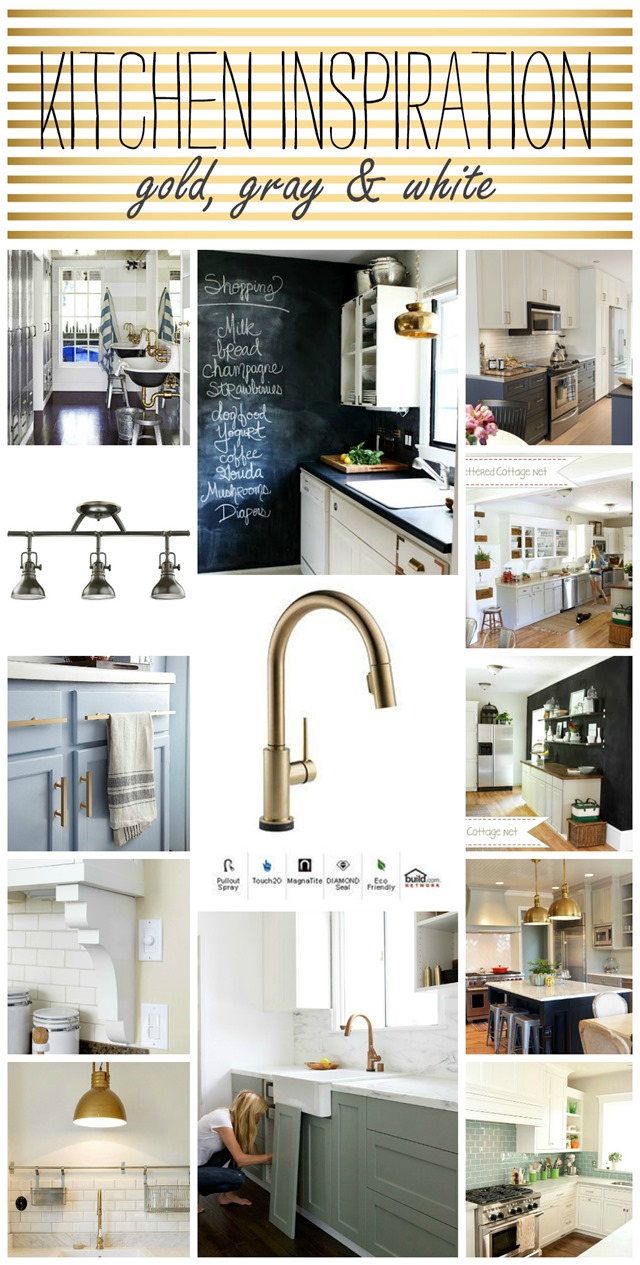 Delta Trinsic Faucet (center) // Nautical Bathroom // The Hunted Interior's Chalkboard Wall in Kitchen // White and Gray Kitchen Cabinets with Brass Pulls // The Lettered Cottage's How to Add Height to Builder Grade Cabinets // The Lettered Cottage's Chalkboard Wall in Kitchen // Life in Grace's Brass Pendant Lights // Blue-Gray Glass Backsplash Tiles at Deep Thoughts by Cynthia // Smitten Studio's Kitchen Remodel // Gold Faucet & Brass Pendant // Adding Corbels Under Cabinets // Grayish Blue Cabinets with Brass Pulls // Bronze Track Lighting Fixture
Can we file this under please don't tell my husband? At least not yet. Because this is still a few months away …
oh, who am I kidding. This is still a few seasons away …
I have a family room to paint and redecorate first. And my daughter's room needs a quick refresh with paint and bedding. So there really is no need to get my husband thinking about the kitchen.
Again.
In fact, I shouldn't be thinking about the kitchen.
Again.
But truth be told, I've been thinking about the kitchen for close to 20 years. Early on, I had dreams of a full gut remodel. Until I saw the price tag. So instead, it's been a piece meal project. With a new countertop. And painted cabinets. The latest addition was a pretty new stainless steel stove this past Spring. And I'm stashing cash away for a new refrigerator too …
… but I can't stop thinking about repainting the cabinets.
Again.
And adding some interest and height a la The Lettered Cottage. And Remodelando la Casa. And Sara's Big Idea. (But first I'll need to convince this blogging friend to help me; I fear this DIY is beyond my limited skill level!).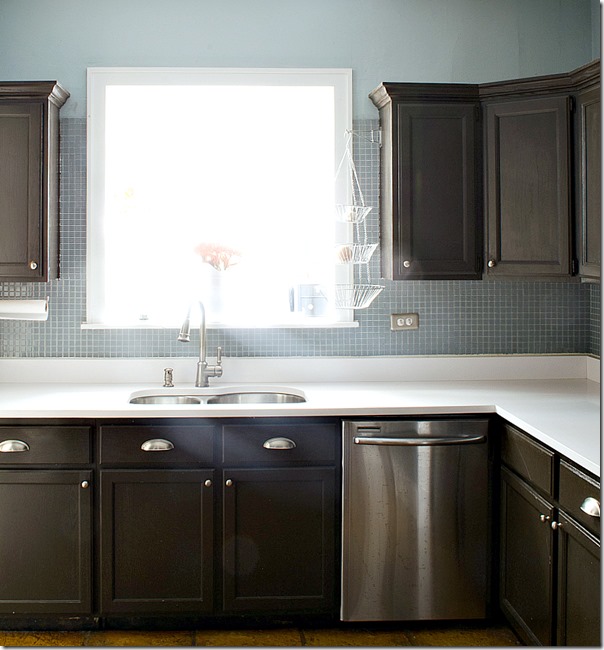 But it's really not my fault that I'm thinking about changing up the kitchen.
Again.
I blame it on the folks at Delta. You know the ones. The company that makes all those pretty faucets. The invited me, along with a group of bloggers, to visit their headquarters in Indianapolis last month …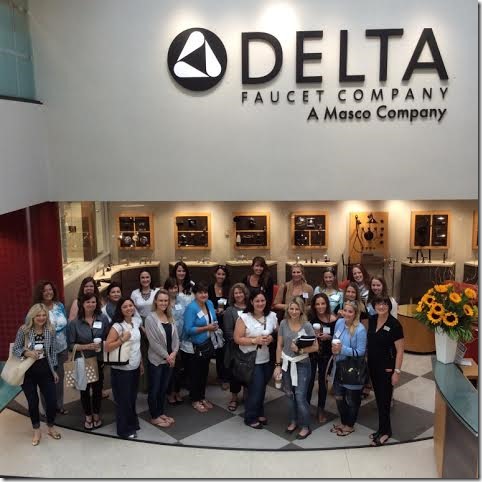 … and, yes, I was completely intimidated when I saw the blogger guest list. I was so out of my league!
Luckily, everyone was friendly and welcoming and it didn't take long for me to feel completely at ease.
The amazing team at Delta Faucets wined and dined us in style. We met their amazing designers and thought-leaders. Learned about their proprietary technology. And they even shared some top secret stuff with us …
and, no, I'm not spilling!
To top it all off, when they invited us bloggers to their two-day event, they didn't ask for anything in return. Not a blog post. Or social media shares. They just wanted to get to know us …
How cool is that!
And just when the trip couldn't have gotten any better, they pulled an Oprah …
Say what?
After sharing a top-secret new product, they told us all we would be getting one too …
I think I may have screamed!
But it didn't s top there. Nope. They told us we could all pick out a new kitchen faucet. One with their Touch2O® Technology …
I may have started to jump up and down at this point!

And I knew the faucet I wanted right away. I had been eyeing it the entire trip, even though it makes absolutely no sense in my current kitchen design…
… the Delta Trinsic Single Handle Pull-Down Kitchen Faucet Featuring Touch2O® Technology in Champagne Bronze.
Sigh.
Isn't she a beauty?
A beauty worthy of a completely redesigned kitchen? With taller cabinets. And a mix of white uppers and blue gray lowers …
and a chalkboard wall …
and some open shelving …
and brass hardware …
and …
and …
See. There I go again. Champagne dreams on a wine box budget.

Now I just need to get my DIY mojo back. The basement apocalypse has beaten me down. And a planned lamp makeover this weekend was a bust …
Sigh.
But my pretty new Delta champagne bronze faucet arrived yesterday. I'm going to take that as a sign of good things to come …

Sharing: