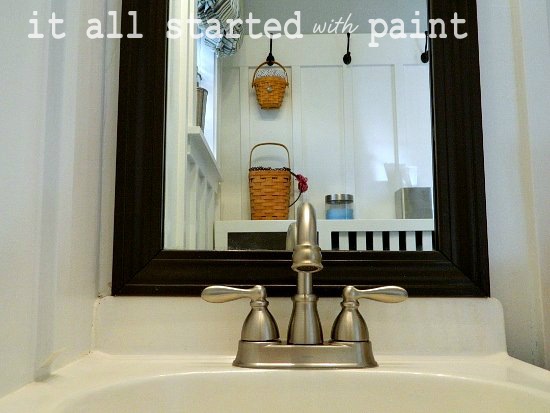 … why in the world are you so ugly?
And I'm not talking about what you're reflecting back at us …
… well, unless of course I'm standing in front of you very, very early in the morning.
But honestly, you look unfinished like this …
Naked, in fact …
And yes, it's true that you are located in a bathroom …
… a room in the house that typically does see some naked action …
… yet your nakedness was doing nothing to contribute to the aesthetic I was striving for …
So I had no choice but to pull out my miter box …
… and get busy cutting up some door casing moulding I picked up at Home Depot for just under $10.00.
The leftover casing will be used to dress up another 'naked' mirror slab in the master bedroom.
Then I gave both sides a coat or two of leftover Benjamin Moore Bittersweet Chocolate from the kitchen cabinet repainting project.
IMPORTANT TIP (you now know it's important because I capitalized and bolded and underlined the words):  But seriously, since I planned to affix the molding directly onto the mirror itself, it was imperative that the underside of that moulding is painted as well.  You see, it will reflect back into the mirror.
I made sure to dry fit the moulding before applying the adhesive.  I used Power Grab, but liquid nails would work equally as well …
And here's where you can learn from my mistakes.  I know.  So generous of me to not pretend to be perfect and all …
I put a bead of adhesive on the outer and inner edges like so …
… and here's my mistake that you will now learn from …
If you will be gluing the moulding directly onto the mirror like I did … then you SHOULD NOT PUT ADHESIVE ON THE INSIDE EDGE LIKE I'M SHOWING YOU UP THERE.  IT WILL REFLECT BACK INTO THE MIRROR ….
… AND I'M SORRY FOR SHOUTING …
But unless you want to end up with this mess …
… and this mess …
… reflecting back at you day in and day out and multiple times each day (remember that this is the most visited room in our house) …
… I suggest you heed my hard-earned advice.
Luckily, I used the Power Grab product that dried clear.  That is, it finally dried clear after an excruciatingly long 48 hours.
So, I started with the bottom piece first and taped it in place before moving on to the sides and, lastly, the top …
In the next step I should be showing you how I caulked the corners and touched up with paint …
But I didn't have any paint to touch it up with …
… so I skipped the whole caulking step.
You see, I left it outside.  For many, many months …
… in the hard, cold, and unforgiving Chicago winter …
Thankfully I painted the moulding trim when I painted the base cabinet before winter settled in …
… and I'll fess up here that that painted mirror trim hung around the house (okay, taped to the mirror with painter's tape) for month after month after month …
And since I have no intention of purchasing another gallon of that pricey BM oil-based  Alkyd paint …
… I've convinced myself that I like the way it looks as is …
…  all dressed up with a bit of door casing.
No touch up needed.
If you want to see more of the teeny tiny powder remodel, click here for the before and after …
… and click here for the lowdown on how I painted my sink …