Turns out the living room caught wind of my plans to remodel the dining room.  And let me tell you, she was none too happy to be left out.
She also pointed out that the living and dining spaces really are one.  Separated by an arch …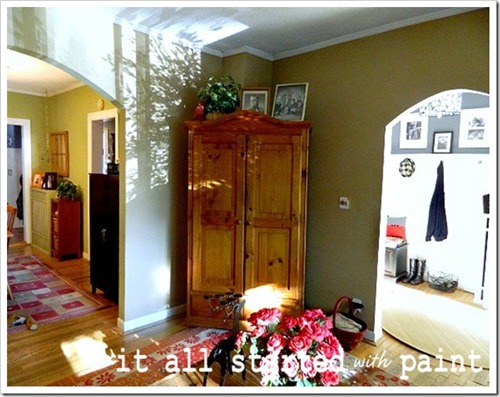 And that the planned crisp white board and batten with navy paint up top and that amazing striped rug and those orange and turquoise accents in the dining rom will seriously clash with her circa 2000 Pottery Barn reds and browns and magentas.  And I have to admit, she has a valid point.  Made a compelling argument.
So it looks like the living room is getting an overhaul as well …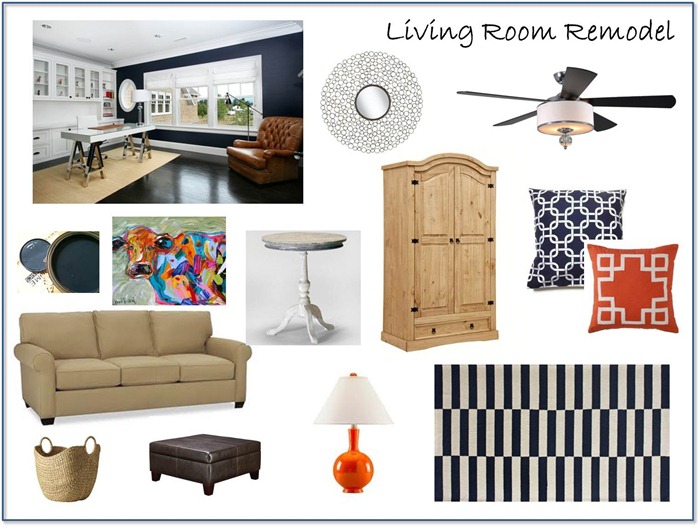 Links for all products can be found here …
And while the plan looks pretty well put together, there are a few pressing items I'm hoping to get some help with.  Take the couch.
Please.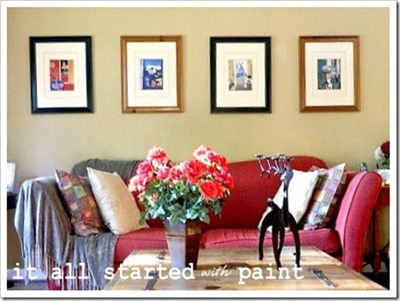 Yes.  The old red couch has got to go.  She didn't cost much and served her purpose.  But decorating around a red couch is challenging.  So I'm going neutral.  The only question:  Should I go with the pricier Potter Barn version on the inspiration board or go with the much more affordable BH&G slipcover version …
Pros:  Slipcover can be washed – oh, and there is a whopping $500 difference between this couch and the Pottery Barn couch
Cons:  Will the slip cover always look wrinkled and sloppy?  I'm not going for shabby chic … much more fitted and tailored.
Oh, and to make both the living and dining room projects all that much more complicated and time consuming, I'm toying with white washing the floors …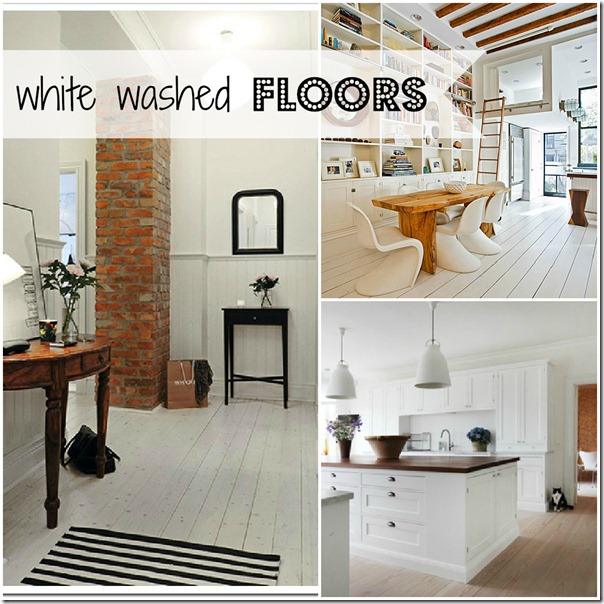 The major obstacle – aside from the dog – is convincing my husband that this will in no way be time consuming or disruptive …

Hey, a girl can dream, can't she?
This added room redo might mean I'll be blogging light over the next few weeks … with the plan to come back strong with some amazing room reveals and tons of DIY projects.

Get my posts delivered directly to your email box:





Sharing:
* Funky Junk Interiors *  Between Naps on the Porch *  Savvy Southern Style *