This is a sponsored post written by me on behalf of Adaptil® for IZEA. All opinions are 100% mine.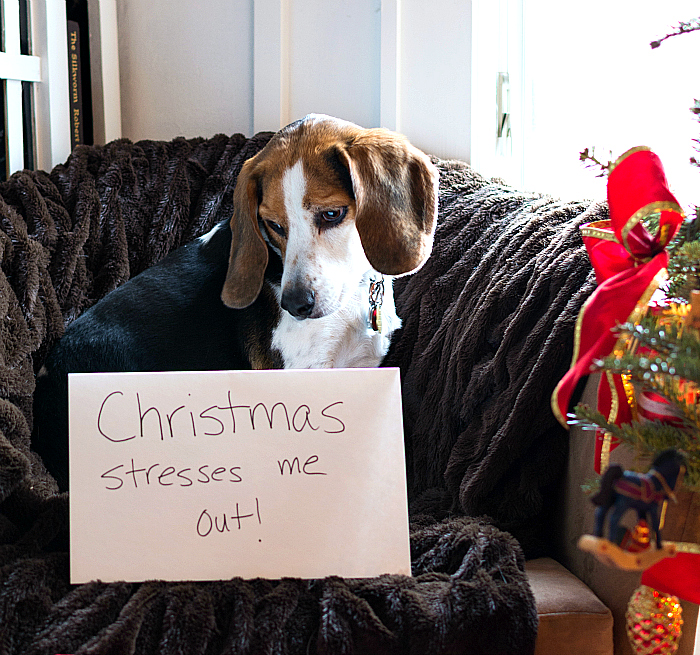 Nature versus nurture.
That's the ongoing discussion we have around here about Ernie the rescue beagle.
You see, we got him from the shelter when he was one year old. Skinny and sad and stressed. And it's the stressed part we continue to wonder about. Was it a natural trait he was born with …
or was it a nurtured condition as part of the environment he lived in during his first year of life?
We hate to think that Ernie was treated unfairly. I suspect he spent a lot of time crated and alone.   Which makes me sad.   And even after the six years he's lived here … getting lots of love and pets and walks and crate-free time on the furniture … I fear he fears we will leave him at the shelter one day.
It should also come as no surprised that this nature versus nurture rescue pup gets even more stressed during the holidays ….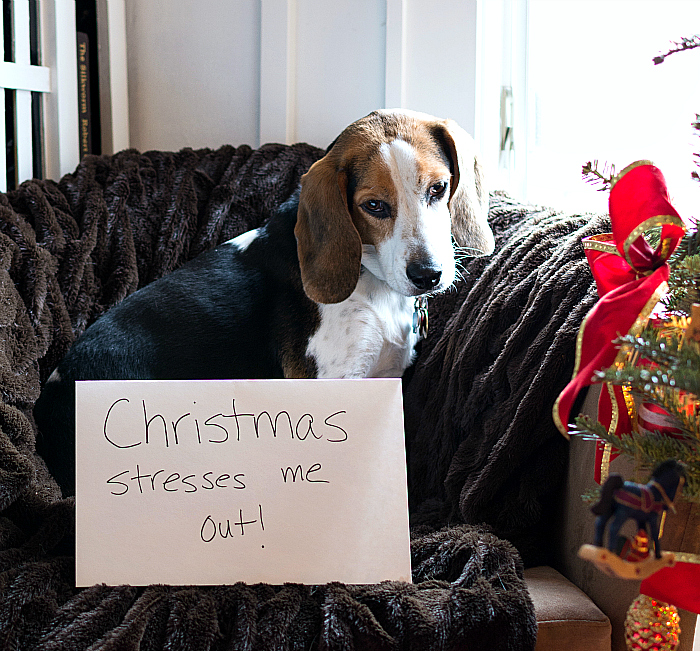 Ernie doesn't deal with change very well. Especially when it displaces him. And when an ornament falls off the tree he practically jumps out of his skin!   Then there's all the boxes and wrapping paper and bows and plastic bags from shopping trips (he's especially scared of plastic bags) …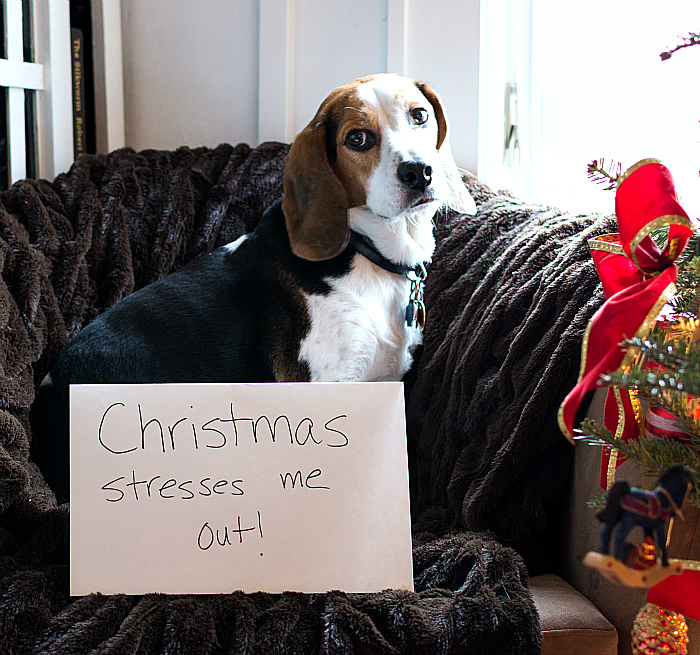 And you know what stresses Ernie even more than the holidays? When I put a sign on his chair and point the camera his way. 🙂
Sorry Ernie!
So when the folks at Adaptil® asked if I'd like to try out their pet stress relief products, I jumped at the chance.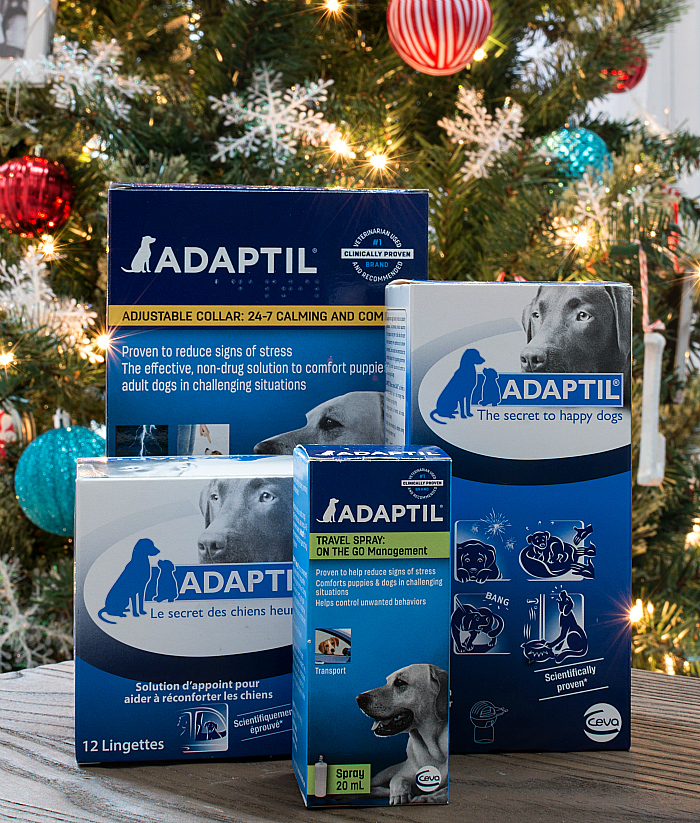 These products, which come in various forms including a collar, wipes, a spray, and a diffuser, are not a drug. They replicate pheromones, which are naturally produced by mother dogs after giving birth. It's a familiar scent that helps dogs and puppies feel calm and secure. In fact, most pet clinics use Adaptil® products in their exam rooms (who knew?).
I started with the adjustable collar that's activated by a dog's body heat. This collar can stay on 24/7 and will work for one month.   They also sent a stuffed blanket dog that I used the wipes on ….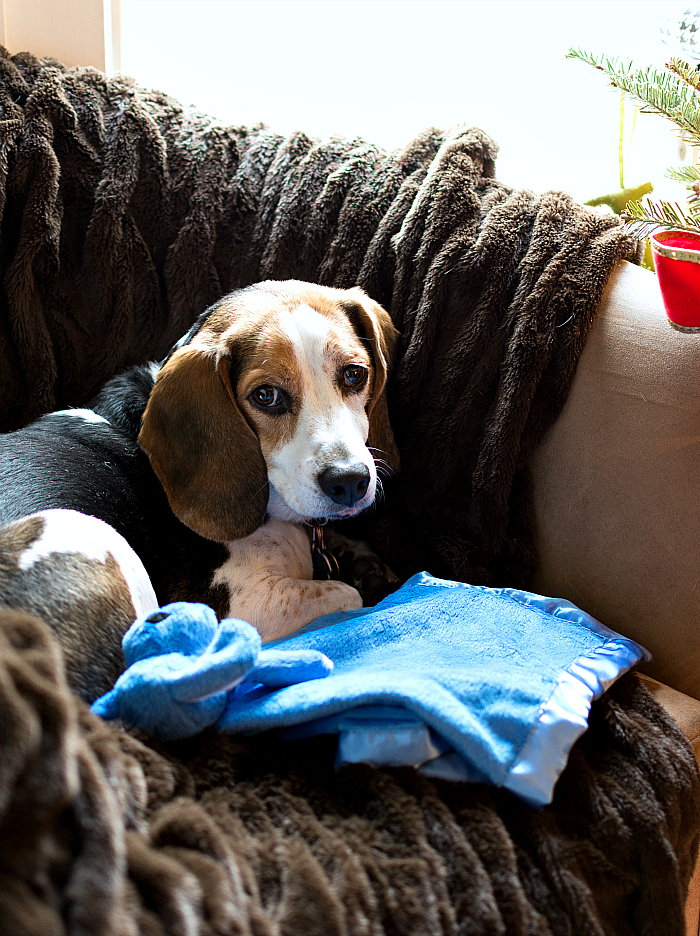 Ernie was unsure at first …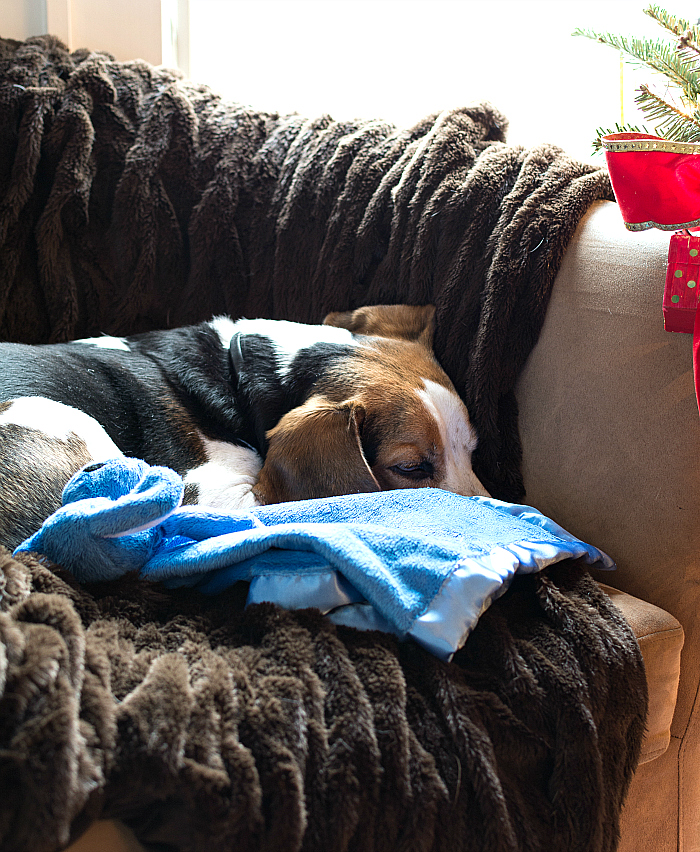 But seems to have warmed up to the little guy (though he did gnaw on that puppy blanket later in the day).
I'm most interested in how the diffuser will work on Christmas day. Ernie spends a large portion of the day alone when we head out to the suburbs for Christmas dinner and I know it really causes him a great deal of stress. I suspect he stares out the window much of the day, willing our car to drive down the street. Jumping at ever horn honking and door slamming …
poor Ernie …
so I'm hopeful Adaptil® can help with his nurtured Christmas day stresses. Though I'm doubtful it will help with his unreasonable fear of plastic bags …
🙂 Happy Holidays!
To Find out more about Adaptil® check them out on Facebook