Numbered Steps – Easy Way to Add Number to Stairs.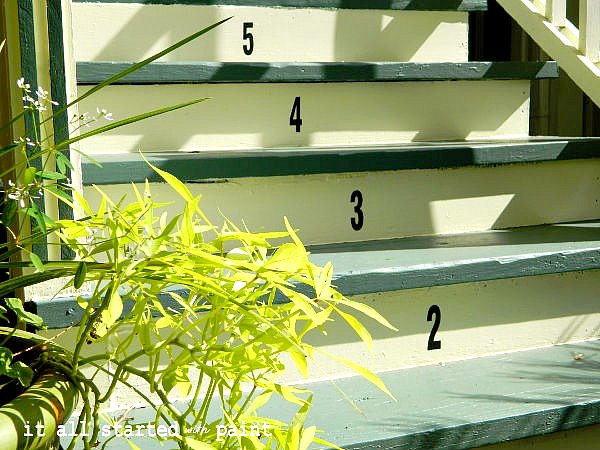 I'm addicted to numbering things in my house. There are numbers in my powder room …
… but was worried it would look too busy.
H o w e v e r . . . the freshly painted front porch steps offered the perfect canvas or numbered steps. Hmmm …
Numbered Steps How To
I scoured multiple craft stores in search of a stencil, but couldn't find a font I liked in the size I wanted. That may have turned out for the best because I'm not a "stenciler" and there was a good chance it would have turned out sloppy.
Then it dawned on me that vinyl house numbers could work. They're made to withstand the outdoor elements, right? And if the harsh Chicago winter gets the best of one (or more) of them, they're cheap and easy to replace. The package of 3" Hillman vinyl letters & numbers — I picked mine up at Menard's — contained multiples of each letter/number for just under $5.00.
The best part: this project is quick and easy. All I did was find the center point of each step, peeled off the number, affixed lightly at first so I could re-adjust as needed, and then firmly pressed into place. Five dollars and fifteen minutes later: Voila!
Pin It!