Shamrock Mason Jars – St. Patrick's Day Craft Ideas.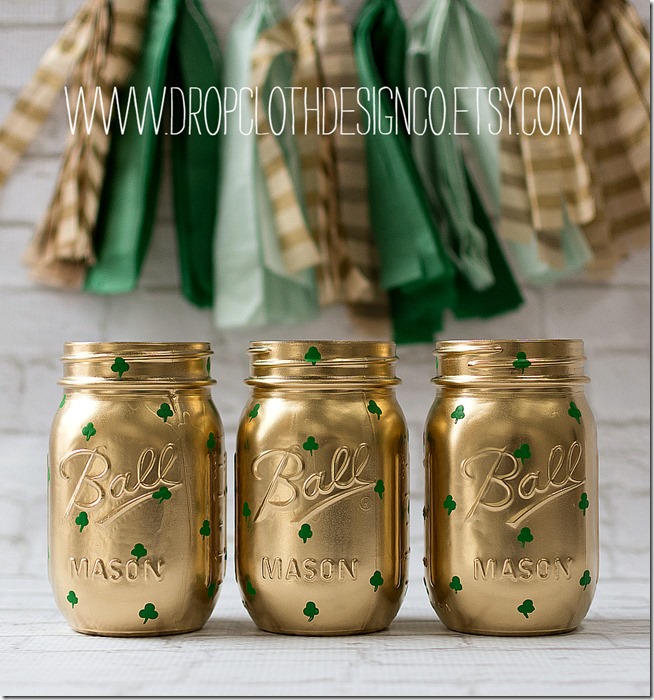 *** the shamrock mason jar tutorial can be found by clicking here ***
Oddly nice.
That's the response I received on my Mason Jar Crafts Love Facebook fan page when I posted these shamrock mason jars.
Exactly what I hoped for.
😉
Oh well. To each his own. Luckily others have responded more favorably. I've sold one of each set on Etsy (here and here) and have a potential custom request for 25. I've also posted a detailed tutorial on how to make these shamrock mason jars on the other blog, Mason Jar Crafts Love. Just click here …
Oddly nice indeed!
I can't believe today marks 4 years since I quit smoking. I'll be honest, I still miss is sometimes. Okay, all the time. I swear if I'm still alive at 80 I'm taking up smoking again …
This week has been all about 50 Shades of Gray. And now I can't help but wonder if I should read the book? Should I see he movie? Should I read the book first and then see the movie? Any and all advice is greatly appreciated!
And now for some things that caught my eye recently …
This is the cutest thing ever. Guaranteed smiles. Just click here …
Boosh!
That's my mind exploding. Find out why here …
Grab a box of tissues before reading this (here). It really spoke to me. I've been referencing it frequently as I help my daughter navigate her teens.
Just because I love every and anything Harry Potter, I was so excited when JK Rowling answered some questions bandied about on Tumblr and Twitter (as an aside, if JK Rowling responded to a tweet of mine, I would drop dead from sheer excitement!). If you, like me, have lingering questions about Harry Potter, just click here …
Finally, some may be offended to be called cheap. Me? I'm honored (click here) …
Happy Valentine's Day everyone! Here's hoping your day was filled with love. Mine was filled with a lovely trip to Ikea with my lovely daughter …
🙂
Linda
You Might Also Like: