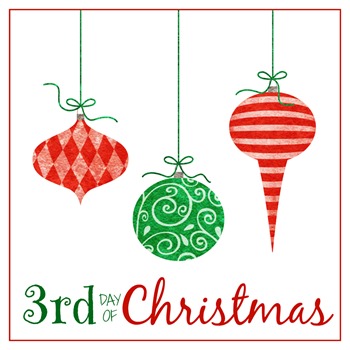 Here we are on the 3rd Day of the 12 Days of Christmas event. And no, I'm not pulling my hair out.
Yet.
My sanity is still intact.
Thus far.
But creating and posting for 12 consecutive days in a row is a new one for me. So rest assured, there's still plenty of time for me to crack.

My 3rd Day of Christmas ornament is this …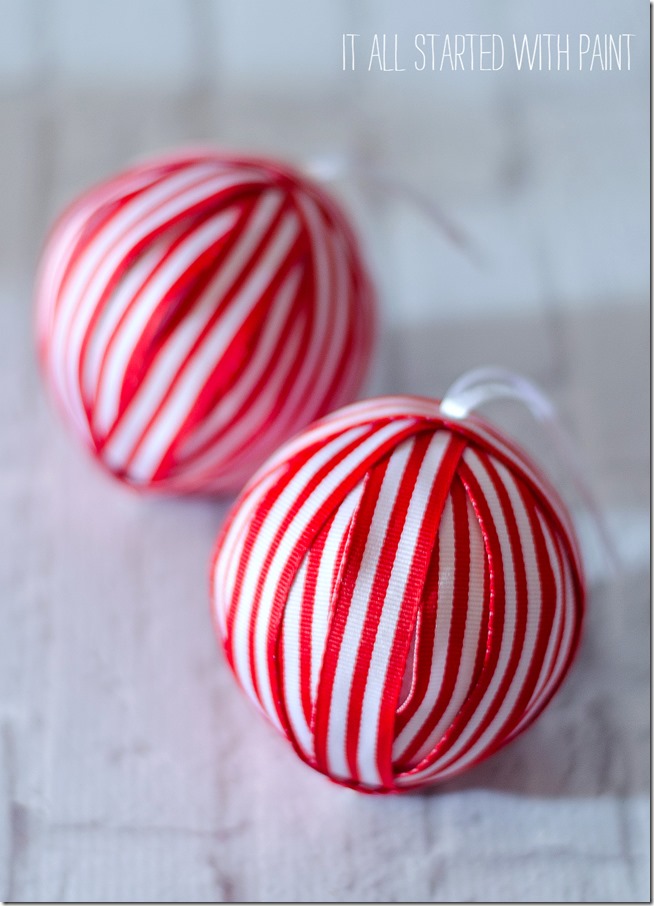 … a red & white ribbon ornament. Using a Styrofoam ball.
The Styrofoam ball came from Michaels. Easy enough. But the ribbon?
Well, that's another story.
A story that started with this image. Those red and white knit stockings set my heart a pitter patter. The next thing I knew, I was ignoring my to do list and spending hours on end Google searching all things red and white striped …
And when I landed on this Etsy shop, I scooped up some of that 5/8 inch red-and-white striped ribbon.  Red-and-white striped ribbons which, as it turned out, became the perfect material for my ribbon wrapped Styrofoam Christmas balls.
How to Make Ribbon Wrapped Christmas Balls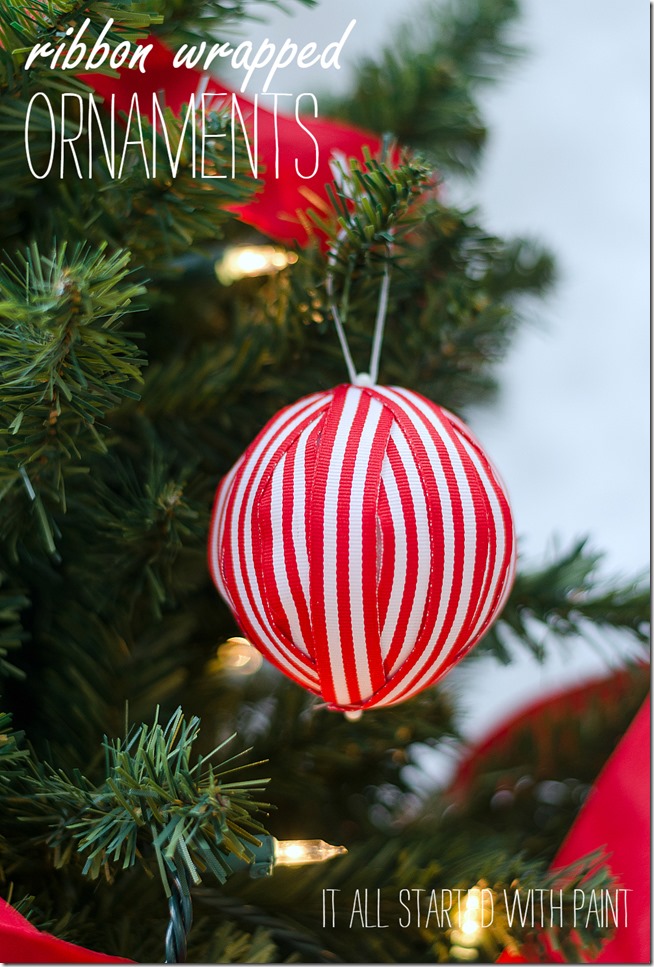 I started with my materials …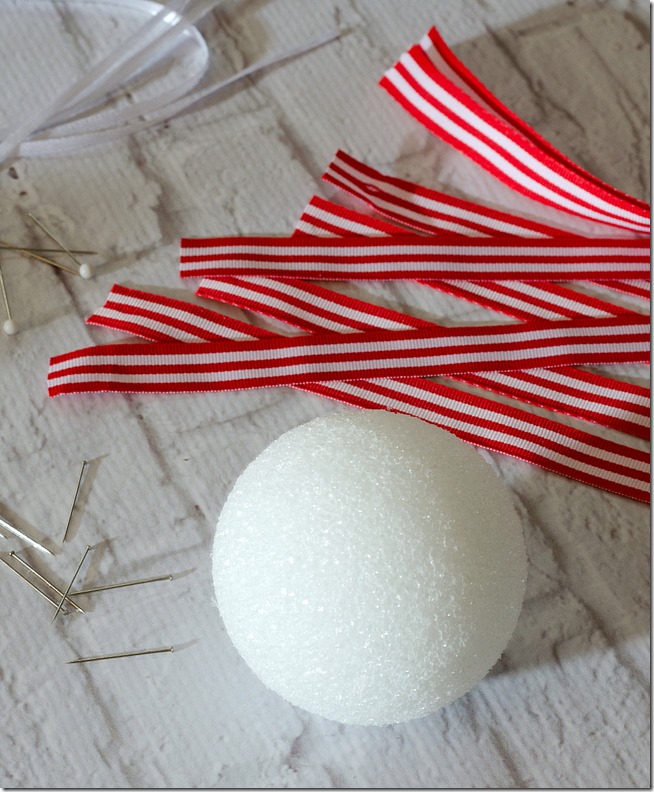 Styrofoam ball. Flat tip pins. White ball-tipped pins. Thin white ribbon. Red and white striped 5/8 inch ribbon.
Check.
I cut the ribbon so it fits around the ball, adding a 1/4" to 1/2" overlap.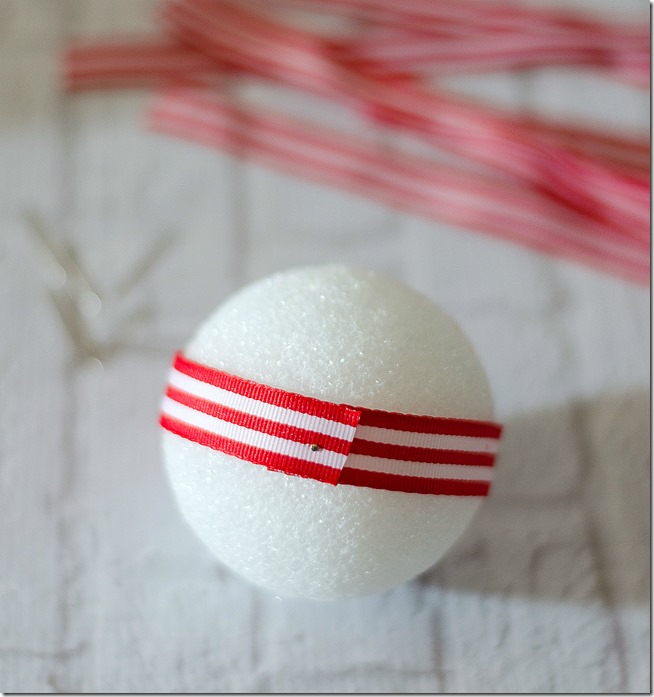 And take that first piece of ribbon and wrap it around the Styrofoam ball. Attach where ribbon overlaps with a flat tip pin.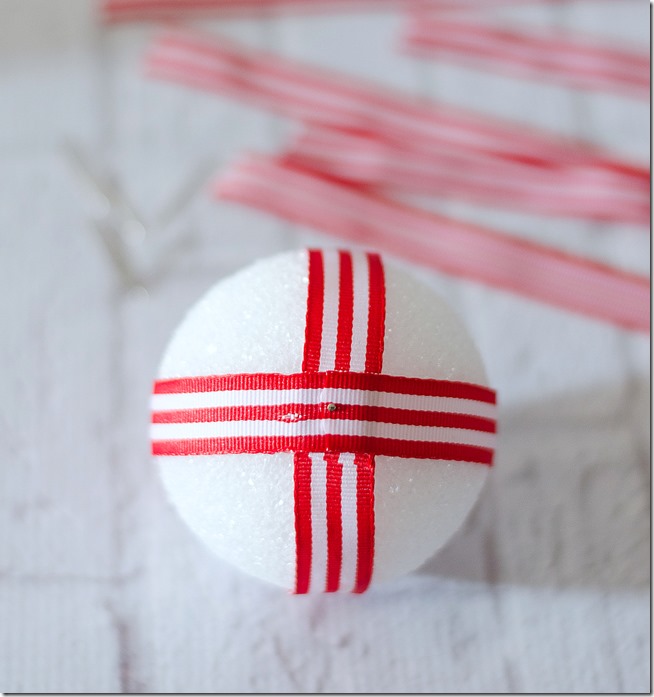 Take the next piece of ribbon, wrap around the ball and attached with another pin.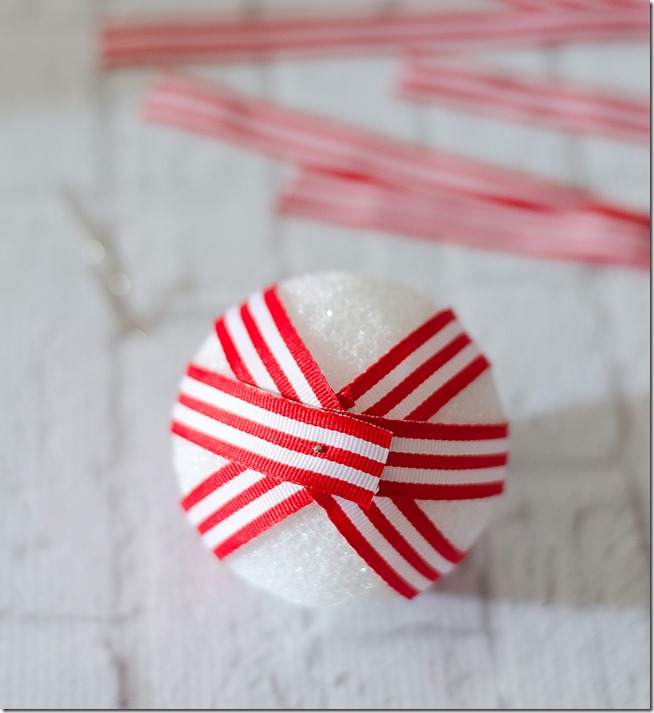 Continue wrapping ball with ribbon and affixing with pins.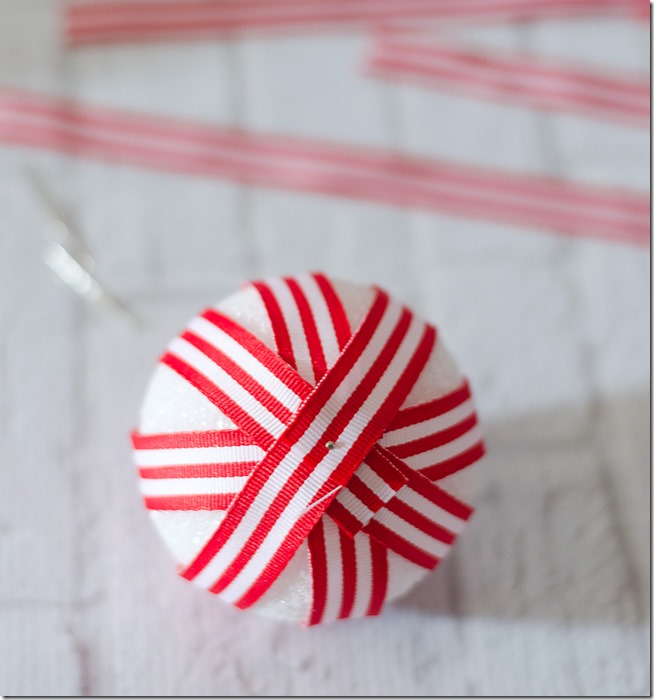 Again.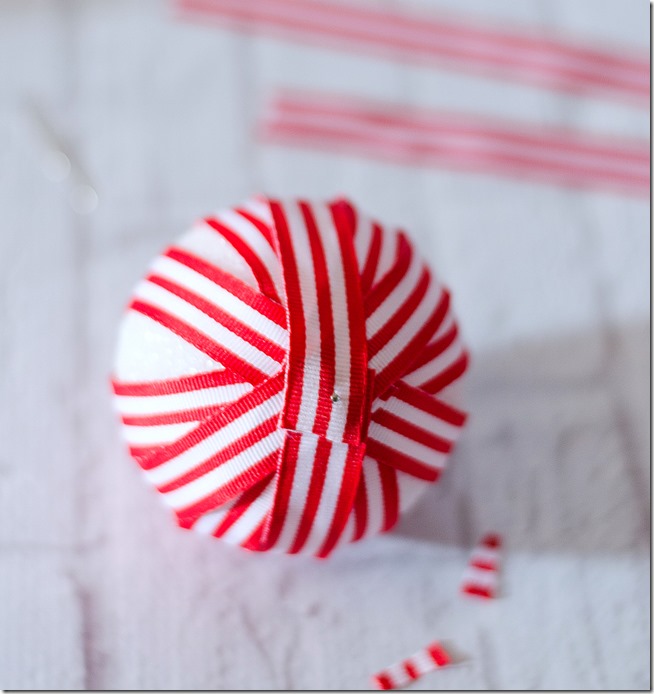 And again. Just keep filling in blank spaces.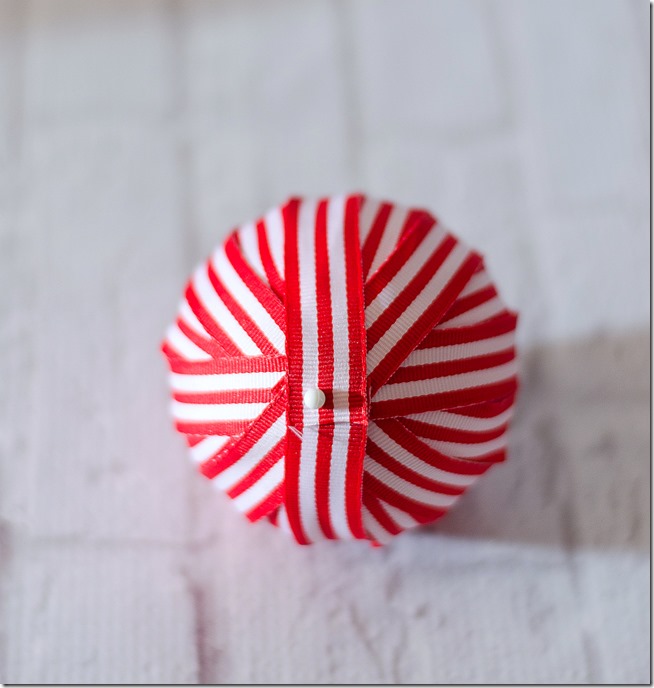 Affix the final piece with a pin with a white ball on the end to finish it off.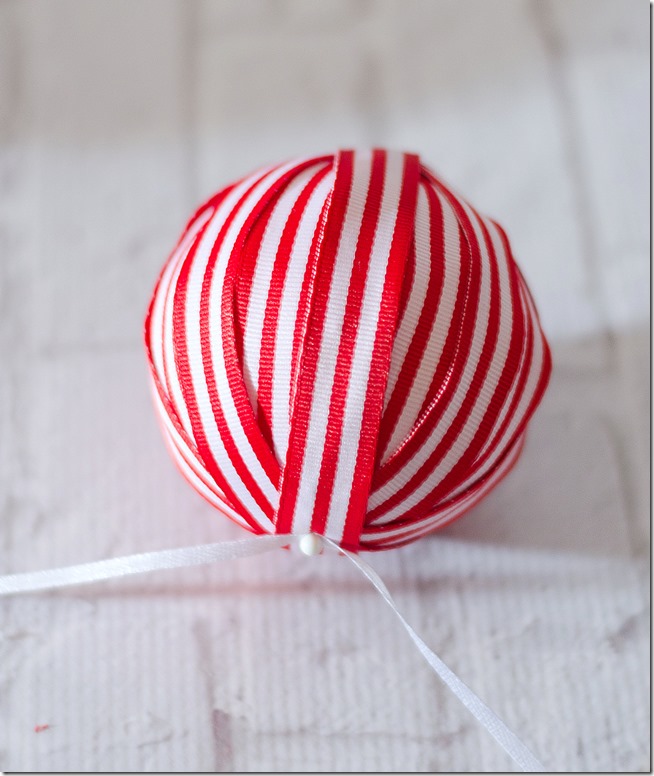 On the other end of the ball, use another white ball tipped pin to affix a piece of white ribbon.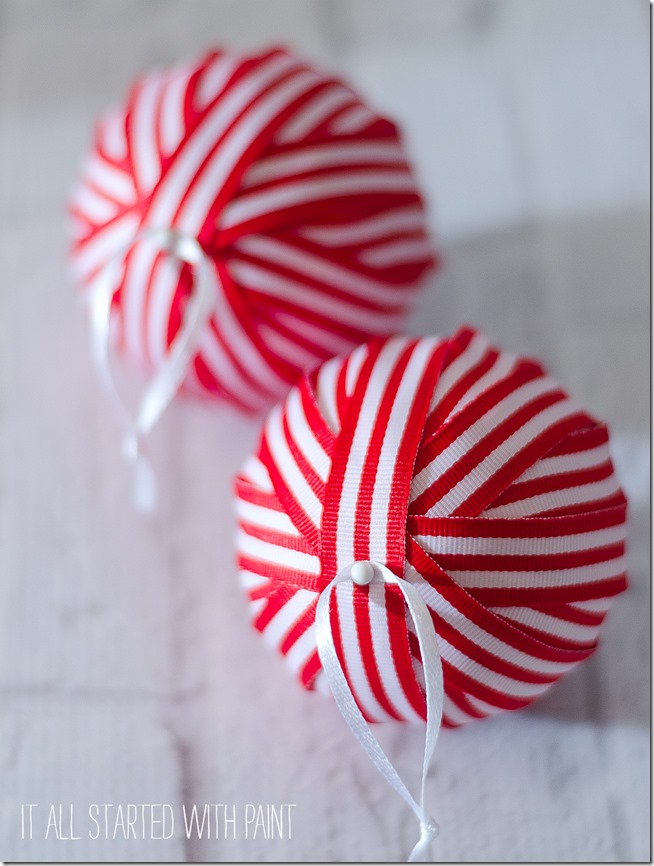 Tie off ends to hang.
Voila!

Now it's time to check out my 12 Days of Christmas cohorts 3rd Day ornament creations (and you may notice that I'm not the only one drawn to the red and white theme this year) …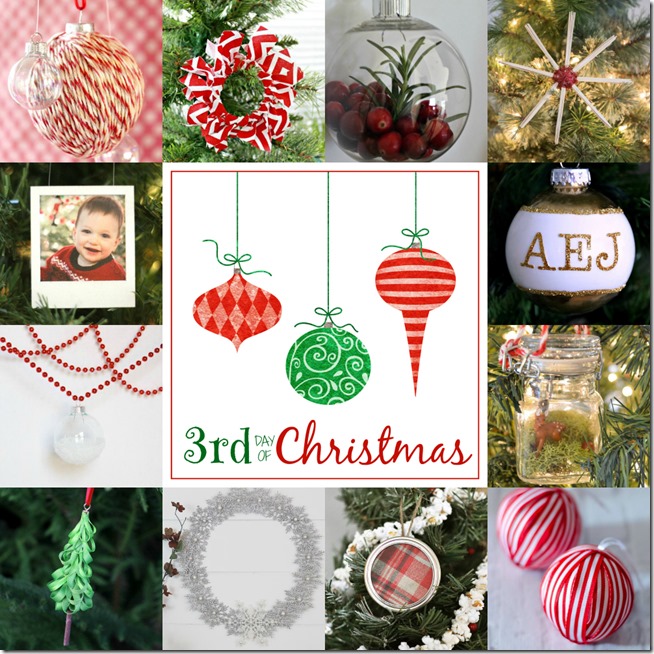 Yarn Ball Ornament by Remodelando la Casa
Mason Jar Ring Fabric Ornament by Mom 4 Real
Cranberry Rosemary Glass Ornament by The Happier Homemaker
DIY Wire Star Ornament by Bigger Than The Three Of Us
DIY Polaroid Photo Ornament by Lovely Etc.
Glitter Monogram Glass Ball by Serendipity Refine
"Snow" Dipped Glass Ball Ornament by May Richer Fuller Be
Terrarium Ornament by Whats Ur Home Story
Ribbon & Stick Christmas Tree Ornament by All Things G&D
Snowflake Christmas Wreath by Thrifty and Chic
Plaid Mason Jar Lid Ornament by Cherished Bliss
Red & White Ribbon Wrapped Ornaments by It All Started With Paint
Linda
P.S. For even more holiday inspiration, you can find more handmade ornaments by clicking here …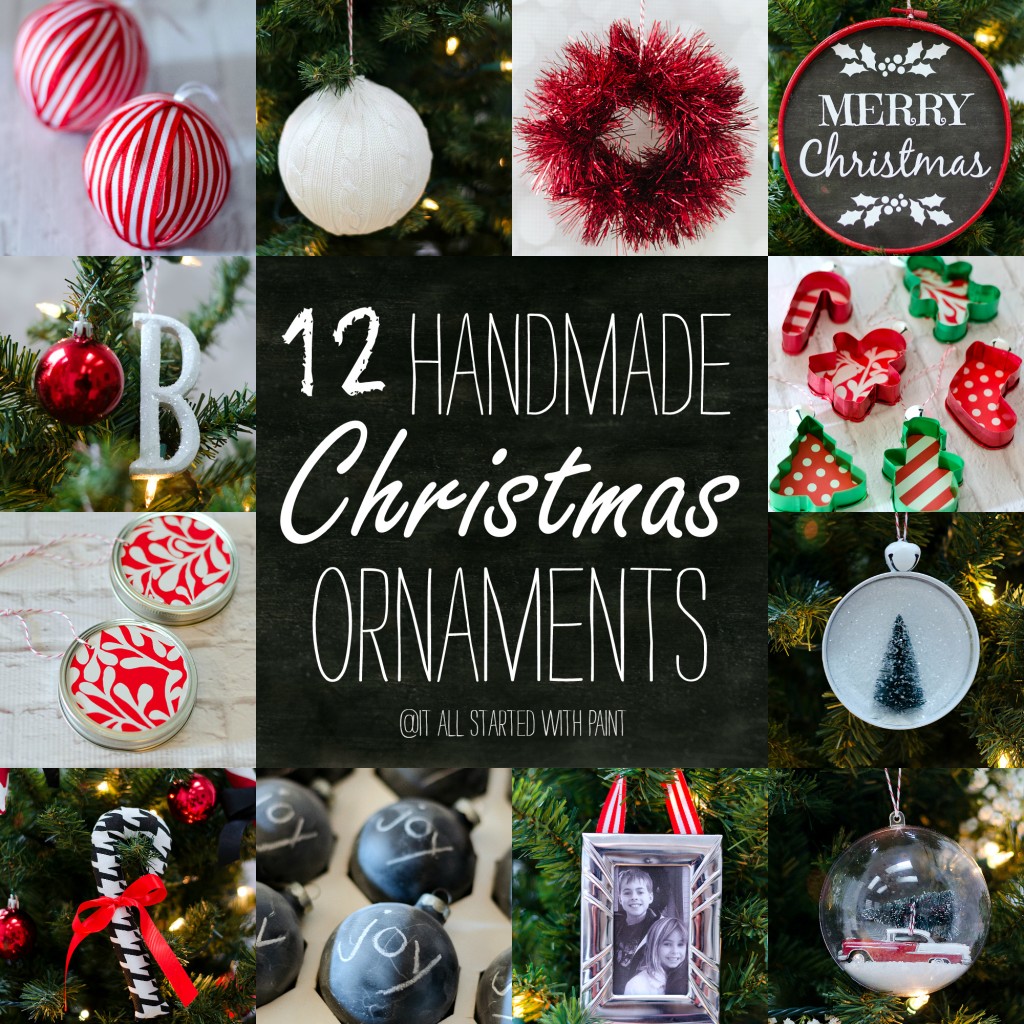 P.P.S. All 12 days – and all 144 ornaments – can be found by clicking here …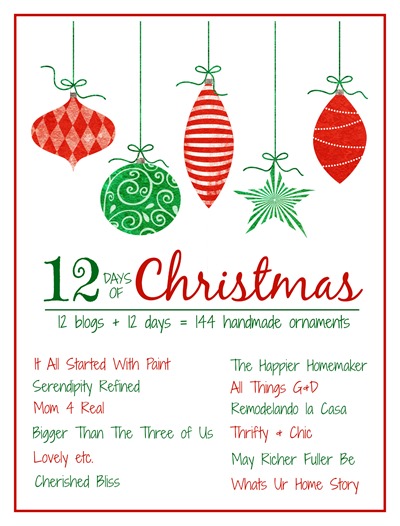 Want to keep up with my projects? It's easy. Get it all started with paint delivered to your email inbox:
* Some of the products used in this post were purchased with a gift card provided by Michaels *