Have you ever been flipping through a magazine or a catalogue — or reading a blog — and come across an idea that strikes you right away.  And not just because it's striking.  But because you can envision it in your very own home.  It suits your style.  Your taste. Your vision.
And then – here's the capper – you realize this idea is something you can do right away. Right now. Because you have everything you need on hand:
Ugly, formerly-brassy-gold-then-painted-silver-by-you wall sconces (but you never fully embraced the silver paint).  Check.
Spray paint in a cheery shade of blue.  Check.
Painter's tape.  Check.
The only catch is the spray paint-wall sconce conundrum.  Because you have no intention of taking down the sconces.  You don't mess with electricity in your 100+ year old home. And you don't want to pay an electrician to take them down/hang them up again. So you decide to paint them in place. You spray some spray paint onto a brush on plastic plate outside, and run inside to paint the sconce.  Back.  And forth. Again.  And again.  You partially finish one of the two sconces before deciding this technique isn't working.  The spray paint is all drippy at first.  And then it dries too quickly.  The foam brush is getting stiff.
So you stop.  You know, so you can regroup …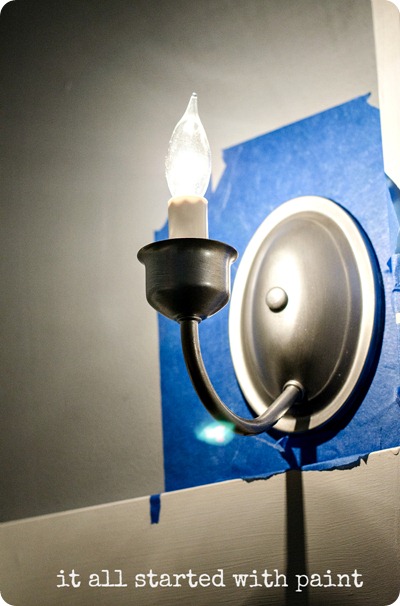 … and then nothing.  A weeks passes. Then two. Three. Four. Five. At which point in time you finally realize you can no longer live with blue painter's tape on the walls.  It mocks you.  A constant, daily, hourly reminder of your inability to follow through on this project.
So at the five week mark, you pick a gloomy, gray, unseasonably warm winter day to put the proverbial nails in this project's coffin.  Only this time you dismiss the foam brush/plastic plate method.  You tape some plastic to the walls and you go for it.  You spray paint those sconces in place.  Right there.  On the wall.  Inside the house.
Now, I don't recommend this approach.  Luckily it was an unseasonably warm day so I could open the back door for ventilation.  But I won't lie.  I am feeling a bit  light-headed as I type this …
I'll also need to attend to a little bit of touch-up on the door moulding.  But that's okay.  Because the painter's tape is gone.  And now I'm greeted daily, hourly by my new-to-me cheery blue sconces.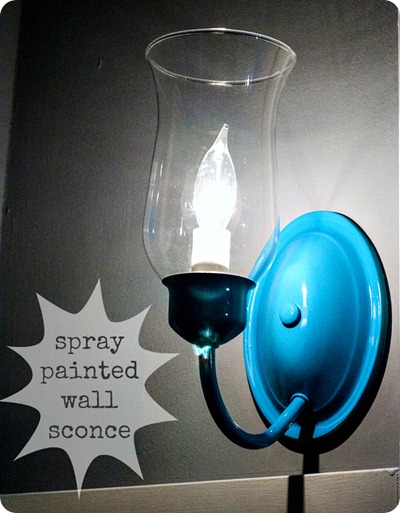 Striking. Check.

 Get my posts by email:





Sharing: