This is a sponsored post written by me on behalf of Kalaty Rug. All opinions are 100% mine.

There is an alternative title for this blog. Perhaps, dare I say, a more appropriate title…
It All Started With Rugs

I'm a bit obsessed with rugs. I'll spend hours upon hours perusing them online. I design entire rooms around a rug. Pulling colors. Setting themes. In fact, my favorite thing about having hard wood floors is how fabulous they look with an area rug covering them …
and centering a room.
So when the folks at Kalaty.com asked if I wanted to check out their fall rug collection online, pick out some favorites and then put together some room inspiration boards featuring said favorites, I was all over it!
Now, keep in mind that I am not a decorator. I'm just like you. A home décor lover. Albeit, a home décor lover with a bit of a rug obsession …
😉
I started with the Southwestern collection. There were so many amazing and colorful options, but I was immediately drawn to natural wool pile design …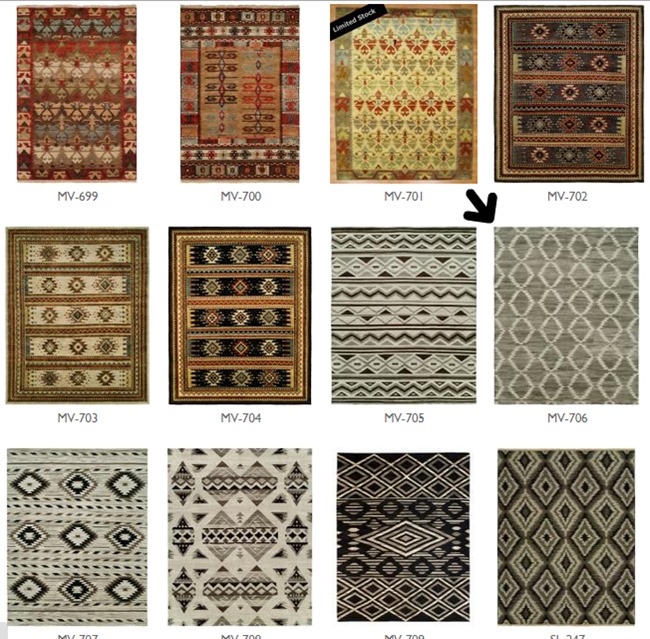 and what a fabulous backdrop it would create for a nice well-worn brown leather sofa. And cowhide ottoman. And bull's head skull.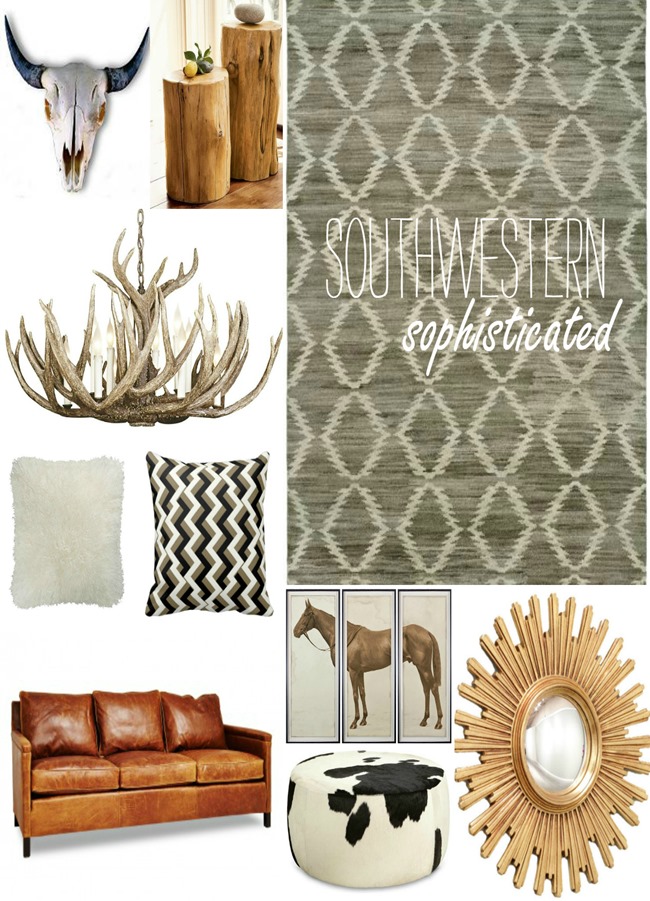 *** click here for image sources ***
And did you check out that amazing antler chandelier? And the framed horse art?
Swoon.
I could comfortably live in that room and pretend like I'm a bona fide sophisticated cowgirl!

Next up was the Contemporary collection.  True to form, I was drawn to the navy and white design …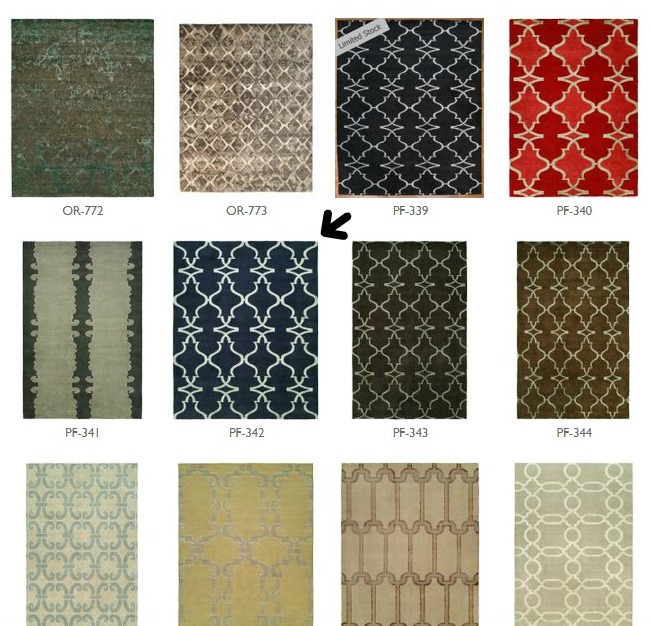 And then I had some fun glamming up a bedroom concept featuring a huge crystal chandelier and oversized mirrors and mirrored furniture …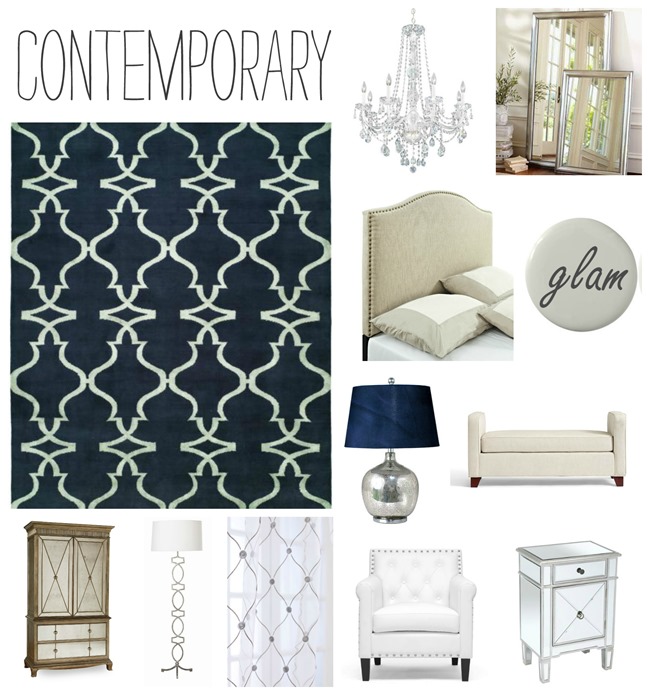 *** click here for image sources ***
I can just image the soft pile underfoot on a cold Chicago winter morning. Now I just need to convince Mike that this bedroom design is not at all girly.
😉
Finally, I checked out the IKAT collection. I immediately loved the possibility of this colorful design …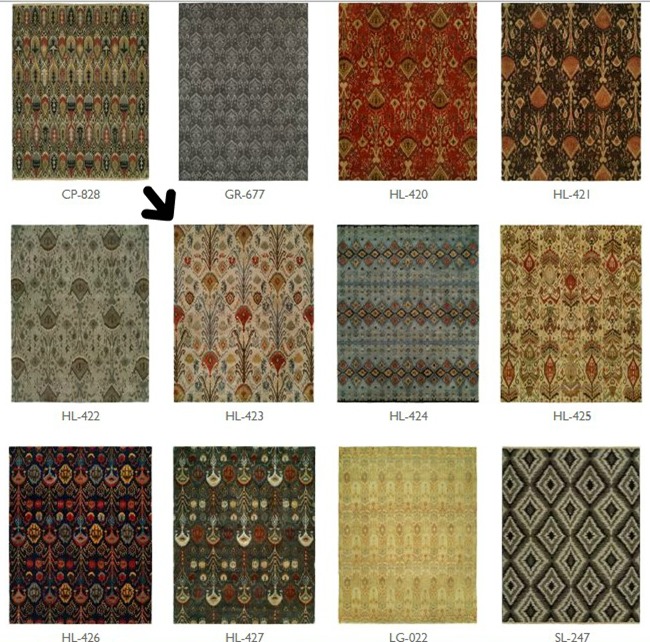 and I envisioned a modern take on Moroccan design that mixes together farmhouse and industrial touches …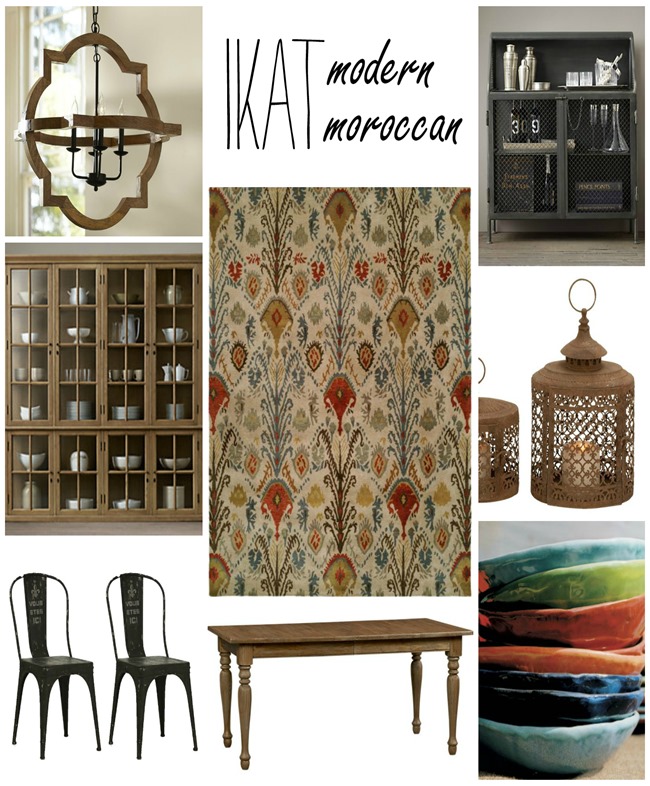 *** click here for image sources ***
What I love best is you can change things up with colorful accessories to match each season. Rusts and oranges for fall, cool blues for winter, and greens and muted yellows for spring and summer.
And now the very kind folks at Kalaty Rug want to give you a chance to win a 4×6 Kalaty Rug of your own valued at $1,000; and you have multiple chances to enter, starting with this Rafflecopter entry …
You can also earn additional entries by doing one or more of the following …
Visit the Kalaty Rug website (kalaty.com/rebate) and enter your email for a mail in rebate form (and even if you don't win, you can still use the rebate for a discount on a new Kalaty Rug)
Enter up to 3 valid, additional email addresses for the Mail-In Rebate, to count as 4 total contest entries
Leave a comment here with the nearest Kalaty Rug dealer (found by going to http://www.kalaty.com/find-a-dealer.htm)
Leave a comment on the Kalaty Rug Facebook with the nearest Kalaty Rug dealer (found by going to http://www.kalaty.com/find-a-dealer.htm)
Good luck!
Linda
P.S. Kalaty Rug Corporation is a family business that has been setting the gold standard for area rugs for generations. Highly respected for its superior quality handcrafted rugs, the company has built a reputation for its ability to combine color and design to create a broad range of area rugs that portray "Tradition for Today." Their selection of rugs designs are all hand made (and mostly hand-knotted). You can find a Kalaty dealer near you by clicking here …
P.P.S. You can also connect with Kalaty on Kalaty's Facebook page, Kalaty's Pinterest, and Kalaty's Twitter