I'm done.
D – O – N – E …
… done.
With a capital d. Or is it D?
Either way, it was just about a year ago that I first started plotting my teen son's room remodel. Pulling inspiration and storing them on my hard drive …

… this was in my pre-Pinterest days.
Somewhere along the way (after two laptop crashes) I'm left with very few 'before' pictures of his previously primary colored room …
But I do have a ton of 'afters' … and did I just hear cheers? Or maybe jeers?
When I asked my son what he wanted, his only request was orange. Its been his all-time favorite color for as long as he could say the word (and perhaps it's because I dressed him in orange when we went to the park so I could spot him right away …)
But there was no way I was going 360 floor-to-ceiling orange. That seemed overwhelming. And bright. And not at all restful. And bedrooms should be restful first and foremost …
… and that whole 'accent wall' idea of orange seemed so yesterday. At least that's what Nate says …
So I dreamed a dream that paired orange with gray and black and white.
The middle band is chalkboard paint, framed out with custom moulding that my husband and I attached using my trusty miter box and brad nail gun.
My son and my husband have named the Ikea Malm bed "the Hugh Hefner bed" …
… and not because my 14 year old 'has game' – yuck – but because it sits so low on the ground. Almost water-bed-like-ish …
I poured so much of myself into this project. Like these "high/low" drop cloth drapes I made back in August (see how I made them here)…
… they make my heart go pitter patter …
I mean seriously. Seriously? I am pleased as punch with the way they turned out! Exclamation point worthy pleased! Spiked punch worthy punched!
The top band is a yard of pricier home décor fabric trimmed out with orange ribbon attached to less-than-a-dollar-a-yard drop cloth material …
And then there's the monogrammed "s" pillow I made …
It's not perfect. The transfer messed up. But I don't care. It was made with love …
And this comic book page number art? I'm thinking I may just spark a new blogland trend here with this here project ….
… and rest assured (for my male readers), no real comic books were harmed in the making of these – a thought that horrified my son. I just color copied a few Archie pages …
I framed pictures of downtown Chicago that Sam took on the day before his first day of high school …
… and the day before my 14-year-old Sam took the "El" – or is it "L" — to school ALL BY HIMSELF for the very first time …
And, yeah, that was a bit of a harrowing day for mom and dad …
All the frames in the room were 50% off at Michaels; I'm a sucker for a sale sticker …
See those shelves in the next picture with the trophies on them? I purchased them 15 years ago. When I was six months pregnant with the very young man who lives in this room. But we never, ever hung them up …
… they just sat stacked upside down on top of that custom radiator cover and displayed those trophies …
Of course the bottle cap drawer pull dresser I imperfectly refinished here found its way into the room …
I love this poster I picked up at a Chicago craft fair back in the fall …
… it's cover art of a super underground, super cool, super young and hip Chicago e-zine that I'm too old to read or understand or subscribe to …
And Ernie the Beagle loves that little fuzzy throw rug I found at Ikea …
… it's exactly his length and sausage-like width.
Oh, and don't forget to look up. Otherwise you might miss the ceiling fan that I gave a major makeover complete with that washi tape I pinned here and wrote about here …
So stick a fork in it.
Please.
Seriously.
It's finally done …
… a 'mere' 8 months later than originally planned.
Why can't real life be like a 30-minute HGTV makeover show?
Update: The paint colors are Benjamin Moore Pike's Peak Gray, Dutch Boy Frivolous Berry, and Rust-oleum Chalkboard Paint in black.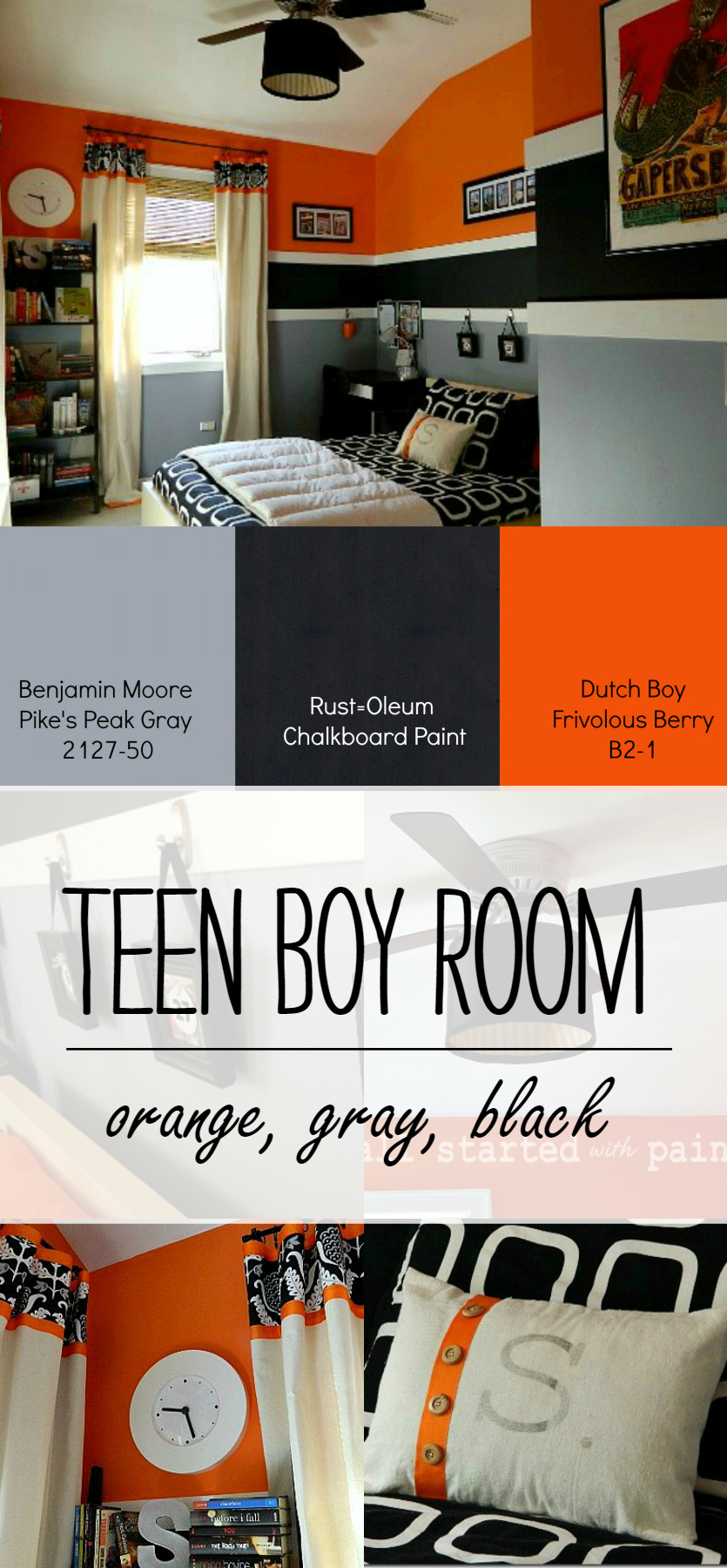 You Might Also Like …