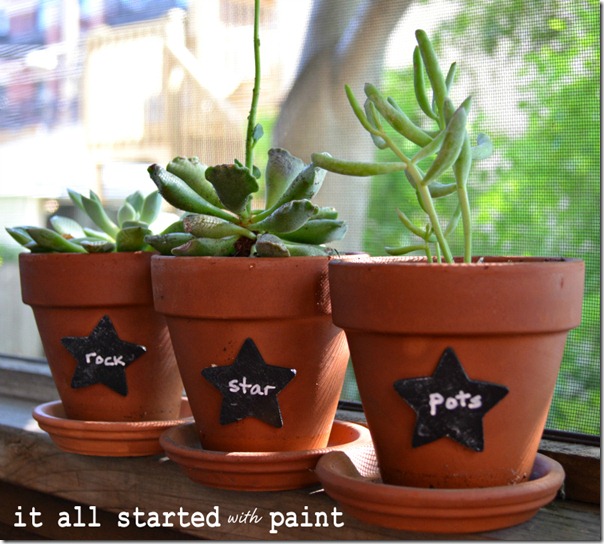 I have a theory.
It's a theory that makes absolutely no sense.
A theory with no rhyme.
No reason.
And even worse, no sense of rhythm.
A tone-deaf theory, if you will …
… just like me.  I'm seriously tone deaf.  You will never hear me sing.  Not a single note.  My poor lullaby-deprived children …
But I digress.  Back to my no-rhyme-no-reason-no-rhythm-tone-deaf theory …
You see, I decided that if I made some super simple star plant markers …
… using some wooden stars and chalkboard paint …
… and attached them using glue dots to some terracotta pots …
… and then planted some indestructible (that's what I hear) succulents in those chalkboard painted rock star marker pots …
… and then gave them some words of encouragement using a chalk paint marker …
… to, you know, to boost their little plant confidence …
… that they won't end up looking like this …
…  in a week or two.
This no-rhyme-no-reason-no-rhythm-tone-deaf-theory it's a cinch project is brought to you by my it's a cinch crafting buddies …
… so be sure to check out the easy peasy projects they've whipped up this month.
P.S.  I'm not turning my back on that plant in the middle …
… there's something ominous about that tentacle.
Let's keep in touch …