Mason Jar Sewing Kit How To Make Tutorial.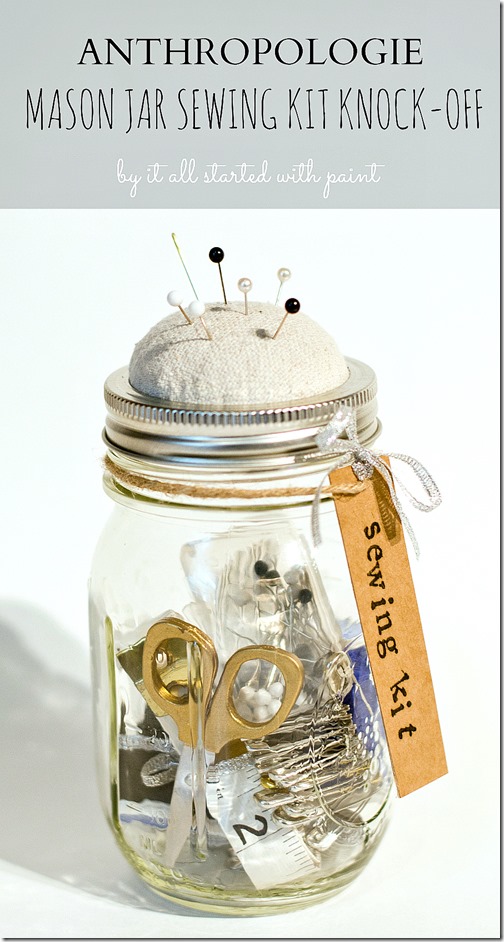 I have to admit the whole mason jar allure eluded me at first.
Yes, yes, I know that statement is enough to get me kicked out of the diy-ers club. In fact, I think I hear the blogging police banging on my front door, threatening to disconnect my internet connection and confiscate my Adobe Lightroom photo editing software …
But that all changed last summer. It was a day like any other day. I was strolling through the Target, in search of a new tea kettle. That's when I spotted them. At the end cap. A 12-pack of Ball mason jars for just $9.99. I scooped them up. I put them in my trunk. And that's where they remained for months on end …
I did break them out for a fall votive project. And then again when I was trying out a blue tint recipe using Mod Podge and food coloring.
And now that "heavy lifting" is forbidden for the next 6-8 weeks — per my rock star hand surgeon's orders – I thought it might be time to put that 12-pack of Ball mason jars to the test …
… you know, with 6-8 weeks of mason jar projects.
First up is a knock-off of Anthropologie's Mason Jar Sewing Kit …
The Anthropologie version retailed for $45.00.
Huh?
Not quite sure how that added up. My version cost me $0.
Perhaps those gold tipped scissors in the Anthropologie version are made of 14K gold? Mine were originally bright orange plastic that I gave a few coats of gold metallic paint.
Maybe the Anthropologie thimble was forged from platinum? Mine was cheap and plastic and painted with silver paint.
Are the safety pins sterling? The tape measure leather? The push pins topped with pearls and onyx? Could the Anthropologie pin cushion be made of the finest silk?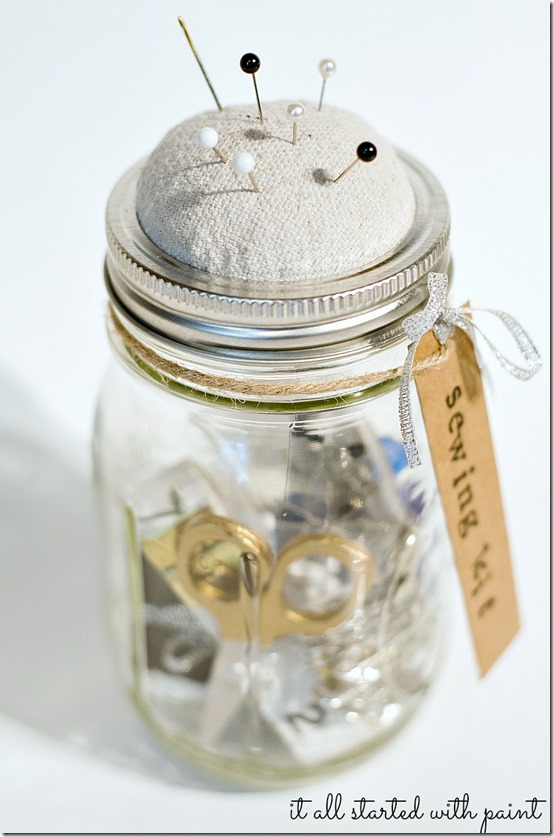 Mine was crafted from a drop cloth scrap. A bit of batting gave it some cushion and it was all secured in place with some help from the hot glue gun …
How to Make An Anthropologie Knock-Off Mason Jar Sewing Kit
Materials*
Pint Size Regular Mouth Mason Jar
Canvas Drop Cloth (or scrap fabric of your choice)
Dollar Store Mini Sewing Kit
Hot Glue Gun
*some affiliate links included.

… and feel free to glue yours down much neater than mine!
And at $45 a pop, I can't help but wonder how many – if any – mason jar sewing kits Anthropologie sold before they discontinued this product line. Especially since it's so easy to make your own …
PIN IT!

You Might Also Like …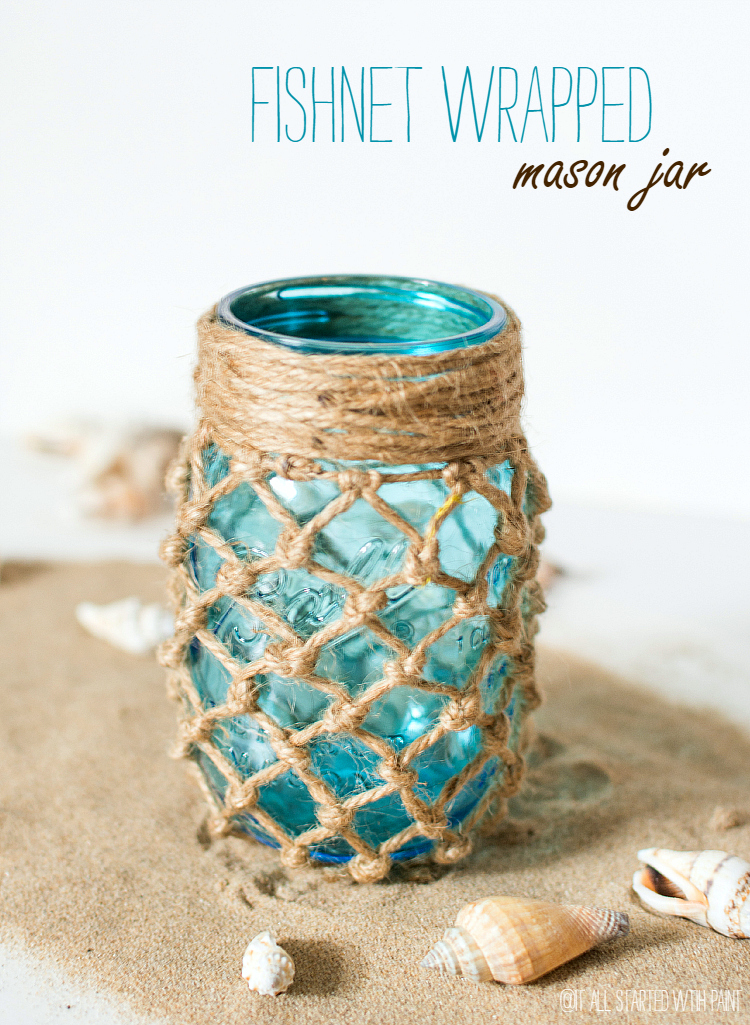 Fishnet Wrapped Mason Jar (click here)

How To Paint & Distress Mason Jars (click here)
For even more mason jar ideas, check out my full gallery by clicking here …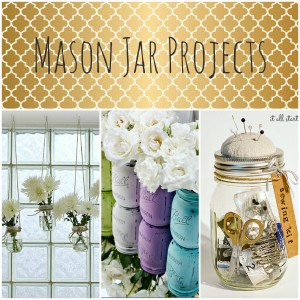 And here …