Board and Batten Tutorial: How To Install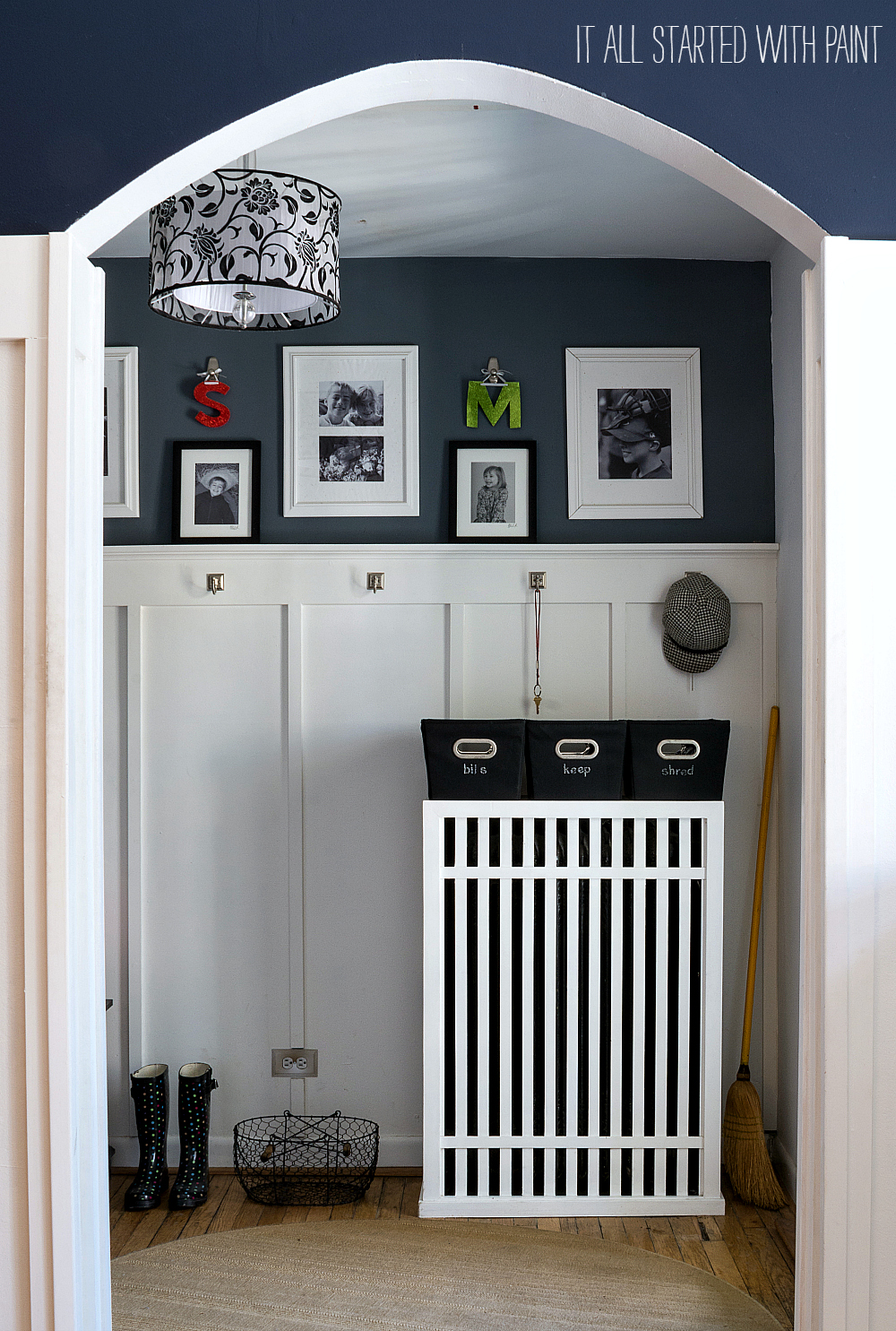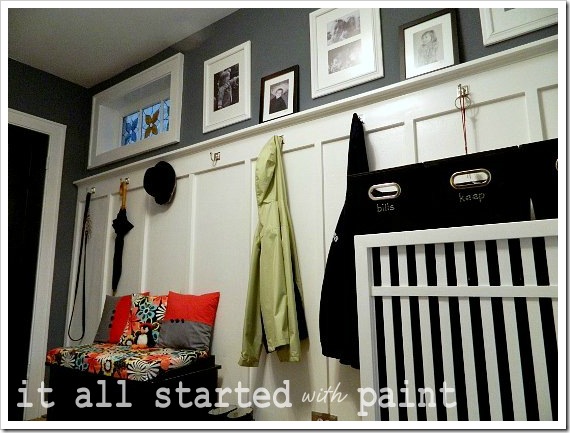 I've gone a bit batty for board and batten …
… truth be told, I've really gone much, much more batty than a mere 'bit' for this amazing board and batten wall treatment. And, yes, I'm late to this particular home diy party. What else is new?
I love this wall treatment so much that after my husband and I installed it in the entry (you can see the amazing before and after here) — by hand with old fashioned hammers and nails — I ran out to Home Depot and purchased a nail gun of my very own. Because I will be installing more board and batten …
EVERYWHERE …
I love how it looks like it's been here forever.
And I love how the board and batten wall treatment is the perfect backdrop for my other love … hooks.
How To Install Board and Batten Wall Treatment
Now on to the promised board and batten tutorial (though, quite honestly, you can't swing a proverbial dead cat in the diy blogworld without hitting a board & batten tutorial). The key to making the process run smoothly …
… and not freak out my husband who is not a diy handy dude (though he does wash a mean load of laundry) …
… was advance prep and planning.
I started here at Centsational Girl's tutorial and then followed all of the links she included in her post.
Unlike Centsational Girl, I decided against trying to install panels on the wall. My walls are smooth drywall so I just nailed the vertical and horizontal boards to the wall, caulked like a crazy woman, and painted it all a high gloss white. In the end, you can't tell the difference.
I started by determining how high on the wall I wanted the molding to be … but I had to work around this odd little window …
So I grabbed some painter's tape and a level and starting taping out a pattern that looked pleasing to the eye. In the end, I took the board and batten molding about 2/3rd's of the way up the wall, with the vertical 'battens' approximately 16 inches apart. I fudged here and there to make it fit. I leveled the horizontal and vertical taped lines as I went.

Then I painted it out with primer and removed the tape … and was left with a template of where to place the boards …
I measured all the vertical and horizontal lines once, twice … and then once and twice again … and jotted down all my measurements.
Then (this is a very important step ladies) I took a shower, styled my hair, put on make up, rummaged through my wardrobe for something without paint and glue stains, grabbed my list of measurements, and went to the lumber yard at Menards. A gentleman who worked there very kindly made all my cuts for me … and didn't charge me a cent 😉
I use primed mdf … I'm all for cutting out a few steps of sanding and priming. Here are the materials I used:
1 x 6 Primed MDF for horizontal top board
1 x 2 Primed MDF for vertical slats
1 x 3 Primed MDF for shelf; cove molding to finish off underneath the shelf.
… a box of 2 1/2" hardened trim nails …

… yea, that stuff is never coming off …
… and grabbed this $15 miter box on my way out.

My lumber came in just under $40.00.
Plan A included borrowing my next door neighbor's nail gun. No such luck. He couldn't find it.
Plan B included a skeptical husband, two hammers, and a box of nails.
If you, too, will be employing this low-tech board and batten installation technique, may I recommend that you hammer the nails partially into the boards first before attempting to put them on the wall. Then you don't have to worry about holding the board and holding the nail and holding the hammer and holding the level …
… see how this could be problematic?
Oh and don't do this step on your hardwood floors because sometimes you … or your husband … may get a bit overenthusiastic and hammer that nail right through that board and make a few nail holes in the hardwood. 😉
Before any hammering of nails, I did a quick dry fit …our 115 year old home is neither level nor square … and then numbered the wall and the boards so I would know which ones went where.
I also used a stud finder to try to find studs, but since (a) my house is old and (b) this is an exterior wall, I was finding studs all over the place. I marked them out as best I could.
Finally, some people remove and replace their baseboards with a 1 x 4 so that the "batten" of the board and batten will sit flush on top of it.
I didn't bother. And it doesn't bother me … not one bit.

One final step: We slathered liquid nails on the back of each board before nailing to the walls. Did I mention that these boards will never, ever be removed from the walls without causing serious damage?
After three hours of leveling and banging and leveling and banging …. and on and on … all was attached. My husband countersunk the nail holes and I followed behind with spackle.
Then the caulking began. This is a long and messy process … but so worth the end results!
Three coats of semi-gloss BM Bright White later, we added hooks, mail sorter bins and a few accessories …
This is officially my favorite room in the house. Now if I could just figure out how to fit our bed in here …
PIN IT!
Board and Batten Tutorial
You Might Also Like: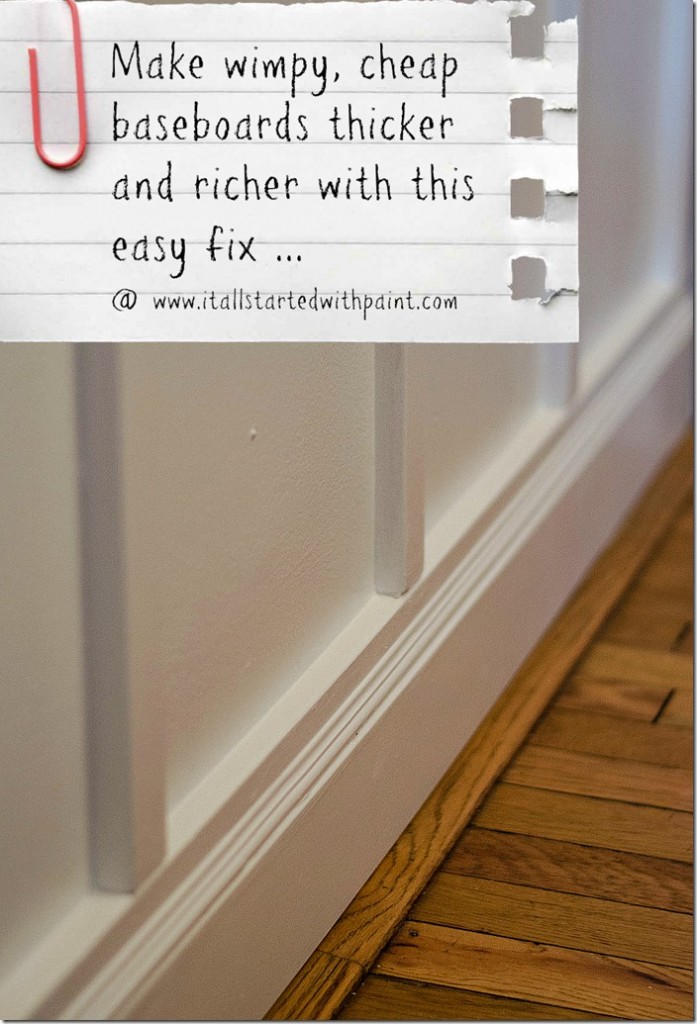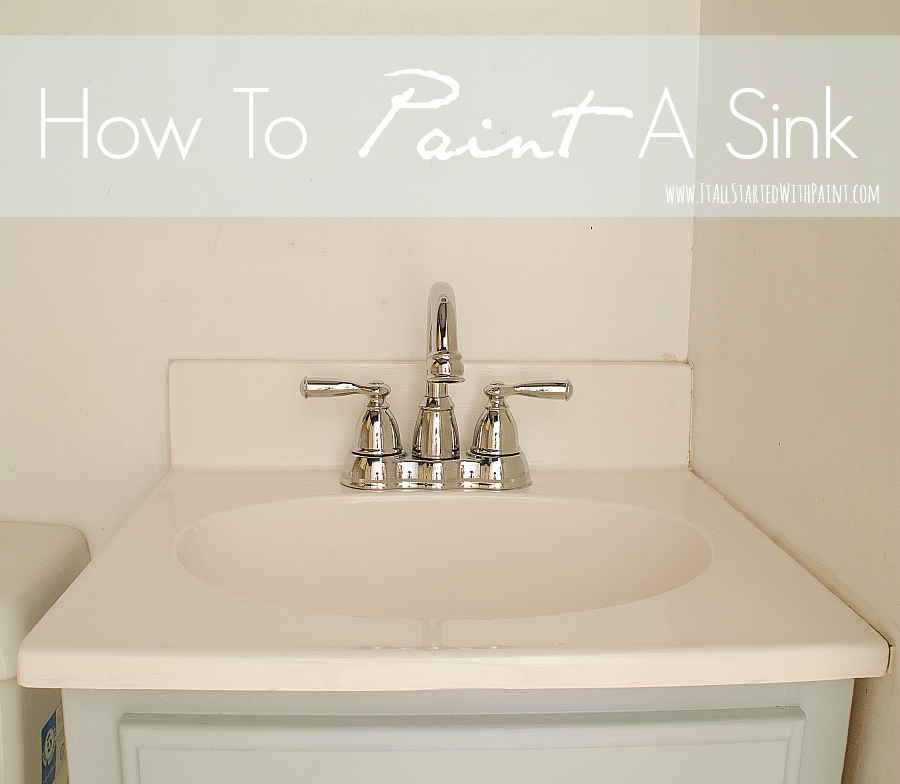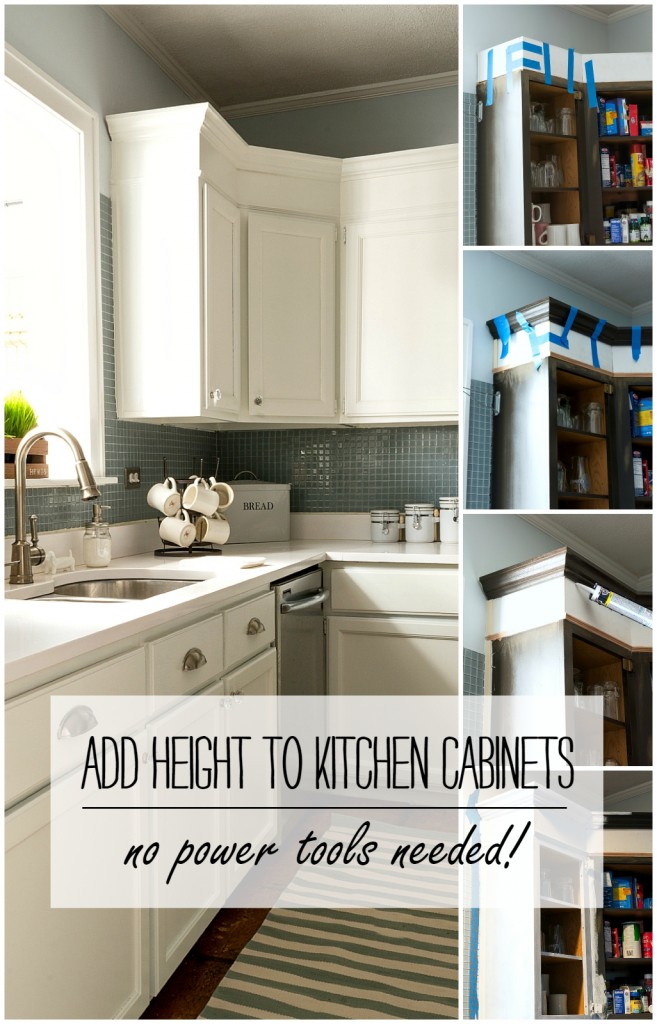 How To Add Height To Kitchen Cabinets