This is a Sponsored post written by me and brought to you by BMO Harris Bank N.A. Member of FDIC. All opinions are 100% mine.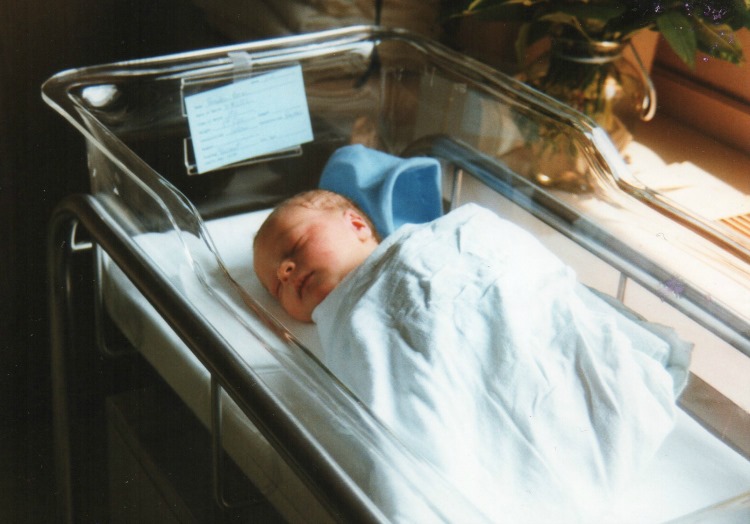 My kid's baby books are empty.
… filled with blank page after blank page …
They mock me. They taunt me. They shame me as they wag their empty pages in my face.
There are no sweet little ink pressed footprints. There are no records of first words. Or first steps. Or first teeth.  Or first haircuts.
There are no pictures organized by month documenting their first year of life. And potty training trials and tribulations are nothing but a distant, fading memory.
Sigh.
I wish I had a blog when my kids were born. Only thing, my first child was born close to 17 years ago. At that time, Al Gore was still perfecting the internet.
😉
If I had a blog back then, well, I would have documented their lives. And I would have brought you all along for the ride …
I would have shared tales of how our hefty mortgage emboldened us into thinking it was time to start a family. With great trepidation. Mixed with equal parts indescribable excitement. We had a house, after all. With three bedrooms. We had stable jobs with generous health insurance plans. So why not throw caution to the wind …
and take our chances.
I would have shared the whole pregnancy test story. The stopping at the pharmacy on the way home from work. And the wait. The excruciating wait. When it felt like time came to a screeching halt.
And then … somewhere in the distance the timer rang … and we paused. Hearts racing. We shared knowing glances. Filled with excitement … and fear … about what we would find when we opened that bathroom door.
Pure joy.
And then I would have treated you to nine months of nesting and nervousness. Nursery decorating. Fabric swatches. Color choices. And horrifying passages from "What To Expect When You're Expecting."
Oh, and then I would  have capture, for posterity, the whole 20-hours-of-labor birth story.  Which, somehow, I forget all about just three years later. When we decided to have a second baby. And then I would have started the story all over again. But it would have been completely different. And new. Just like each child is different. With their own distinct personalities …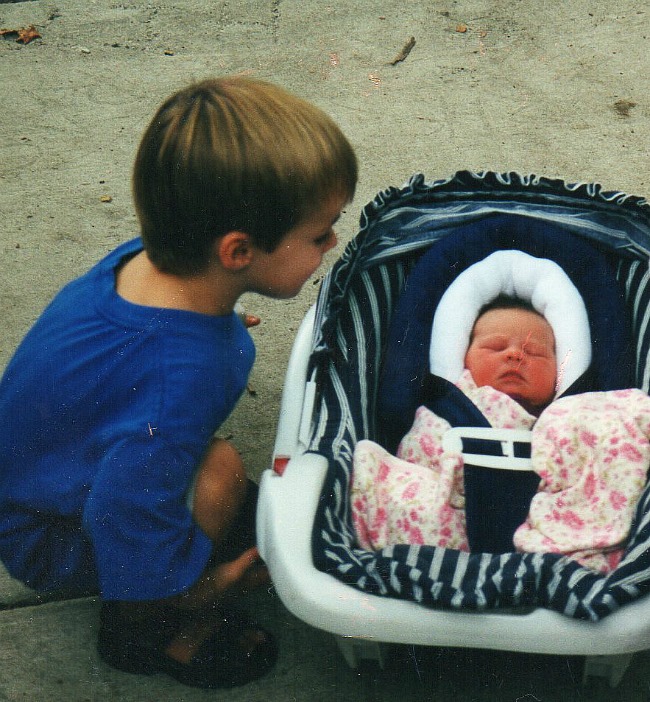 And then the story of one baby would have been expanded to two. And I would have shared tales of a brother who adored his new little sister with all his heart …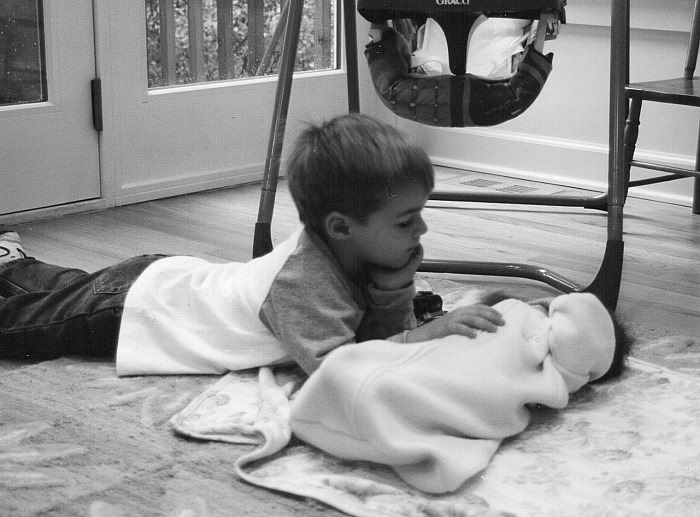 … and a little sister who adored her big brother with all her heart  ….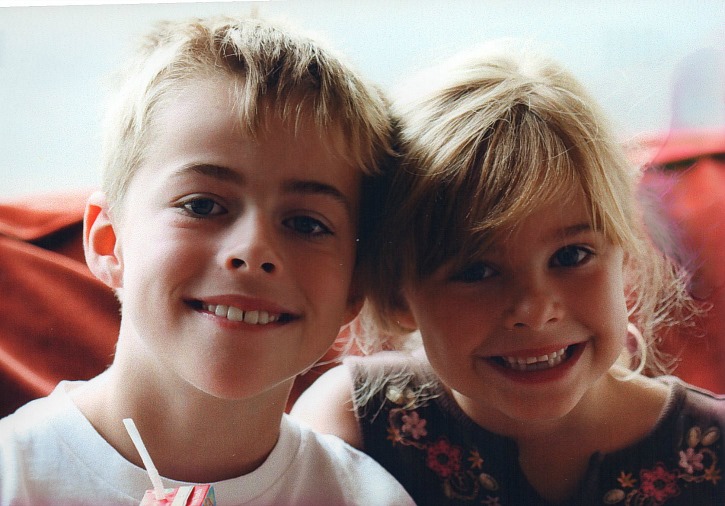 … and how, to this day, they continue to fill my heart. Even as the big brother is now looking at colleges. And learning to drive. And his little sister has entered the harrowing middle school years.
And, yes, the still adore each other. Between barbs. And silly arguments.
And I might have even shared some of the financial side of parenthood. The tough decision to stay home, even though it meant cutting our household income in half. And the sacrifices made. Manis and pedis became a thing of the past. Who needs HBO and Showtime? And the toughest sacrifice of all: cancelling the cleaning service. Oh how I miss the cleaning service …
The folks at BMO Harris Bank understand the financial challenges major life changes can have on a household. And to help out, they've launched the BMO Harris Bank Scavenger Hunt Sweepstakes, a five-week long interactive game experience that offers financial tips and the chance to win cash prizes by entering a weekly sweepstakes.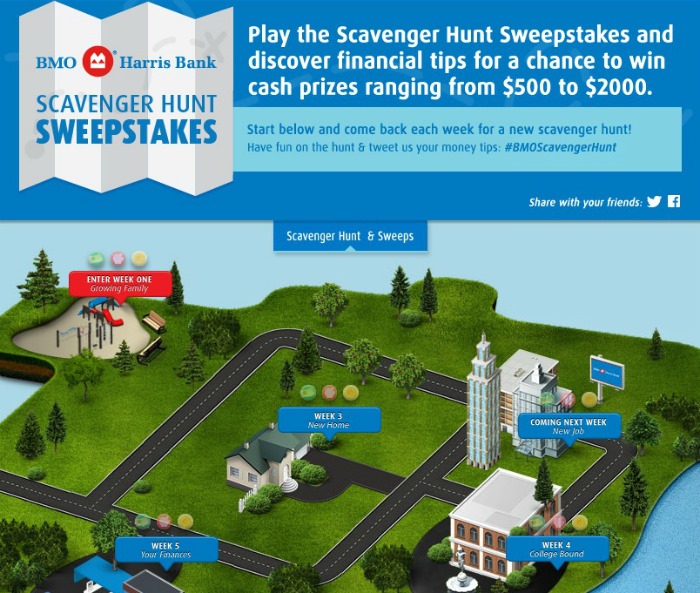 The game, which you can access through  BMO on Facebook, takes you through a town-like environment, highlighting key milestones in the journey of life.  Each week opens a new environment that focuses on a life stage moment, where you can discover relevant financial information and collect tokens for a chance to win anywhere from $500-$2,000.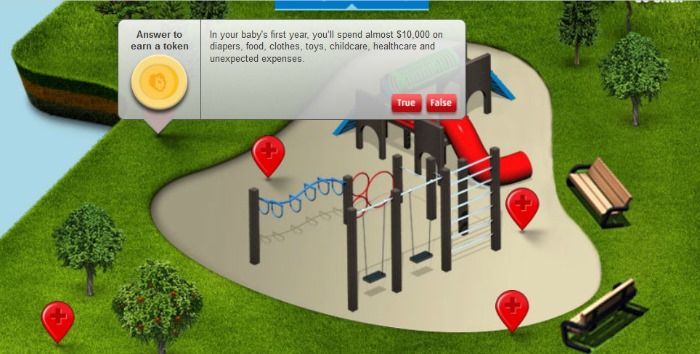 This week you can enter for a chance to win $500. The game is open through 11:59:59 am CT on 2/24/14 and a winner will be drawn on 2/27/14.

Check back next week to enter for a chance to win a $1000.00 prize!
So tell me, what financial sacrifices did you have to make when you started a family? Did you, like me, have to give up the cleaning service? (Oh how I miss the cleaning lady!)

#BMOScavengerHunt