Fall Living Room in Rusts and Neutrals – Fall Decorating Ideas for Living Rooms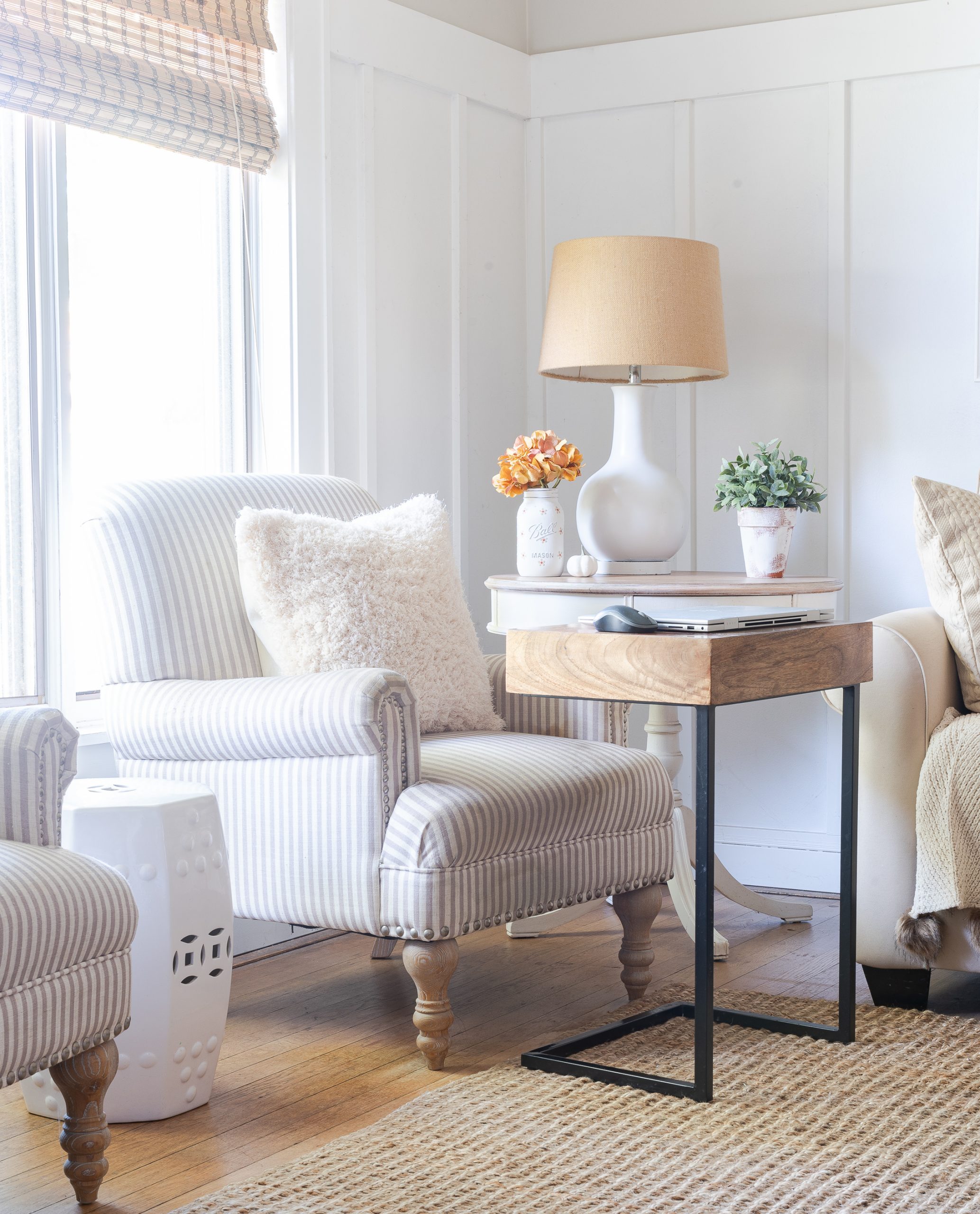 I can't fully express the joy I experience when the Hallmark Channel starts pumping out Christmas movies in October.
It's like deep in my heart joy.
Like that deep inhale of comfort you feel when you find yourself in a comforting place. Or smell a comforting smell. Or wrap yourself in the comfiest and coziest of comforting sweaters.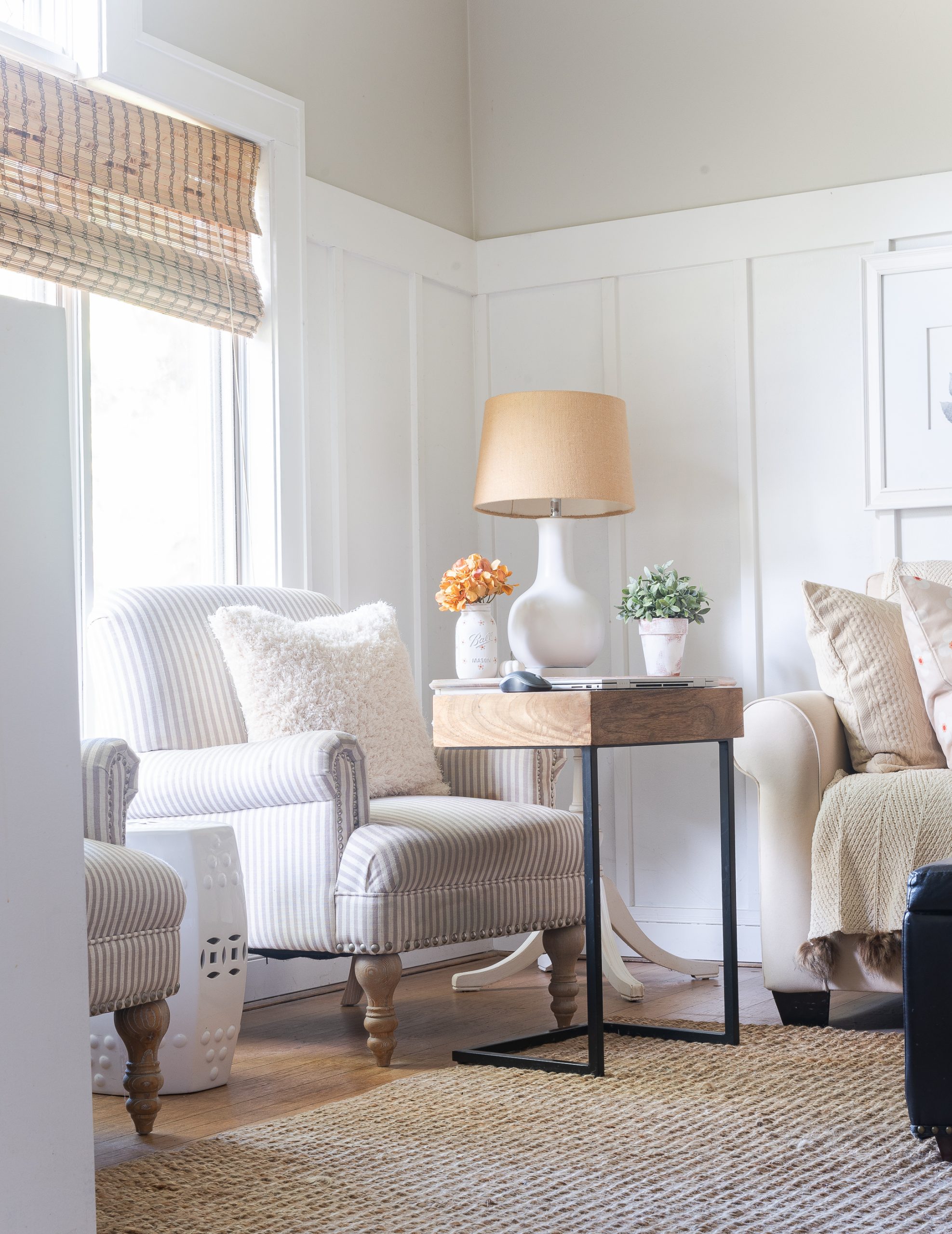 And I admit I do feel so very silly having such a ridiculous, over-the-top reaction to such silly, ridiculous movies.
Now, if you've never indulged in a Hallmark Christmas movie let me give you an overview. Because just about every movie follows a similar formula.
And as I type this (and you read this) you're probably wondering, 'Linda, why would you feel so much joy over such silly, formulaic movies?'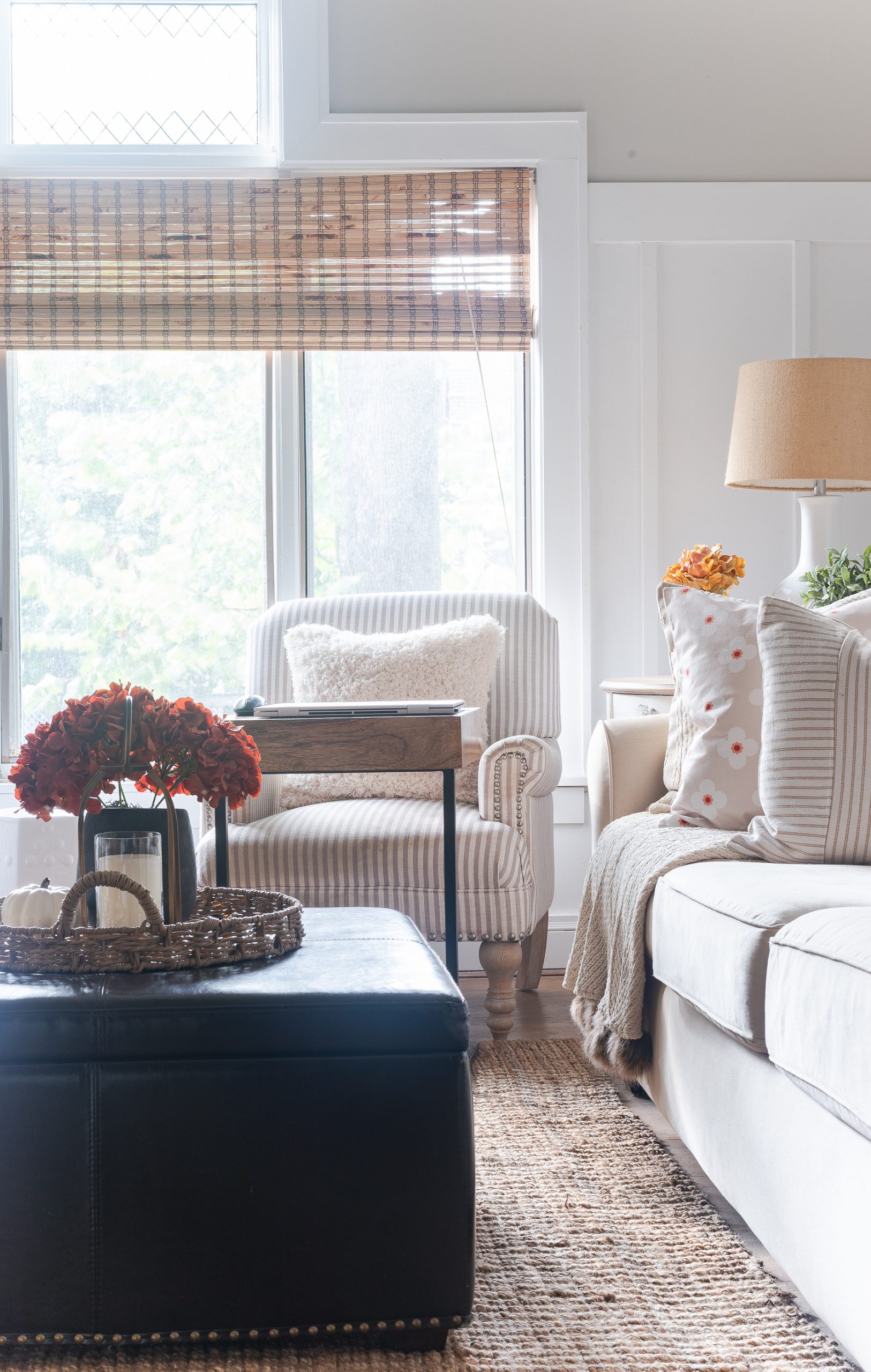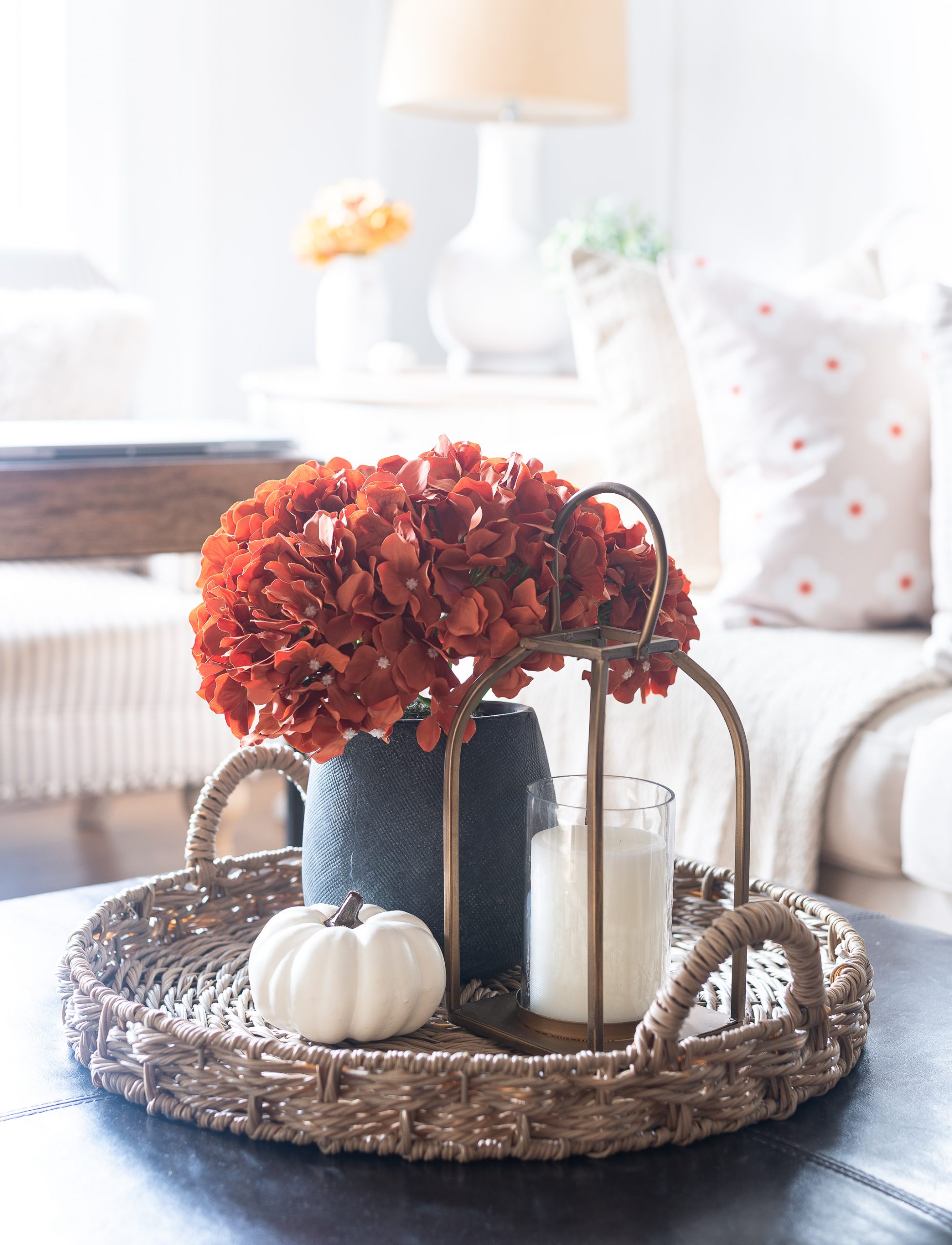 But that's the beauty of it. The formula! No big drama. No big tears. No big jump scares. Just middle of the road – dare I say – predictable enjoyment.
I would estimate that 98% of Hallmark Christmas movies start with a girl (okay, young woman) who is ambitious — some have achieved success; some still chasing that big break — who is working in the big city. Sometimes New York. Sometimes Chicago.
But it's clear from the on-the-street exterior shots it's most likely filmed in Toronto. Which always makes me chuckle. In a good way.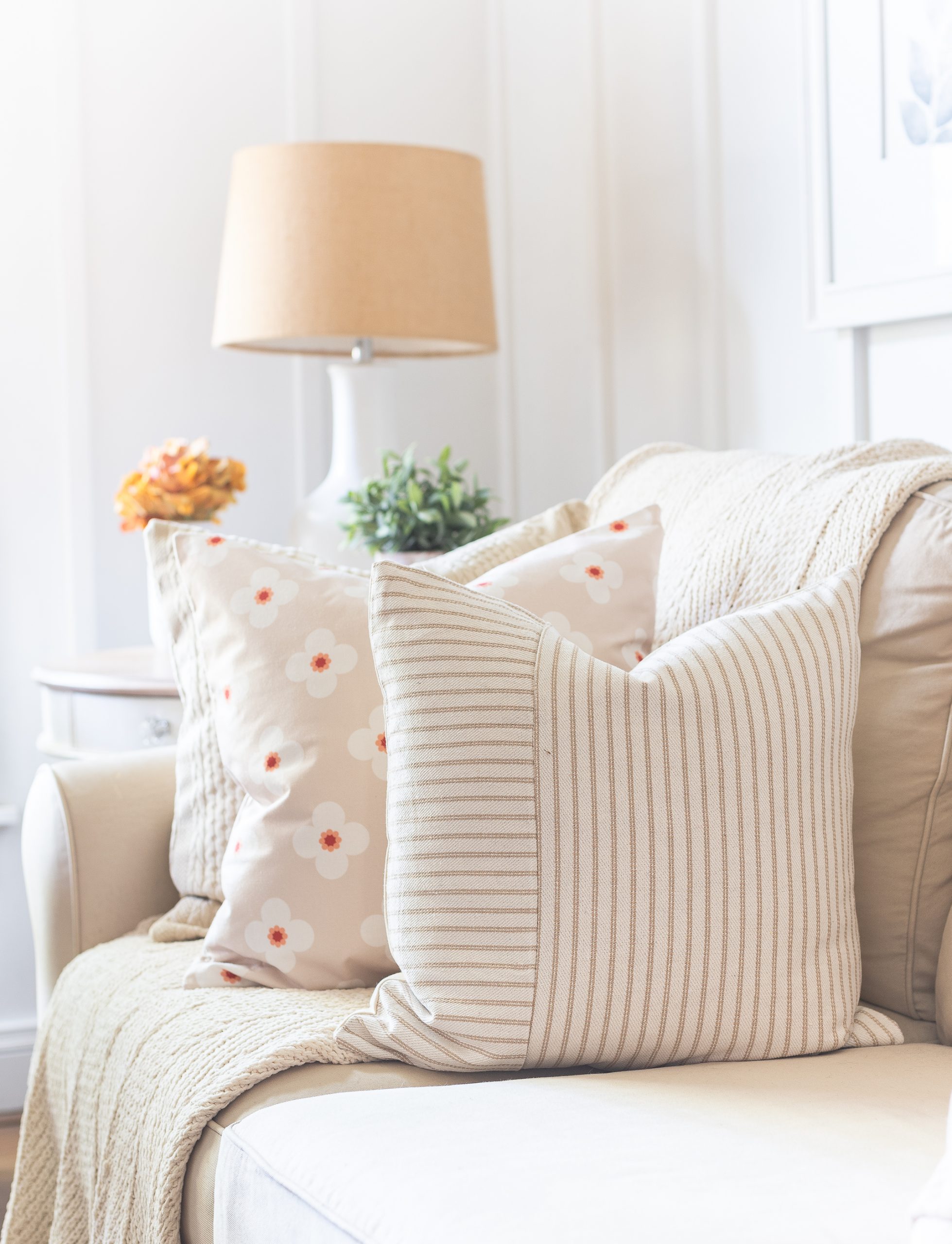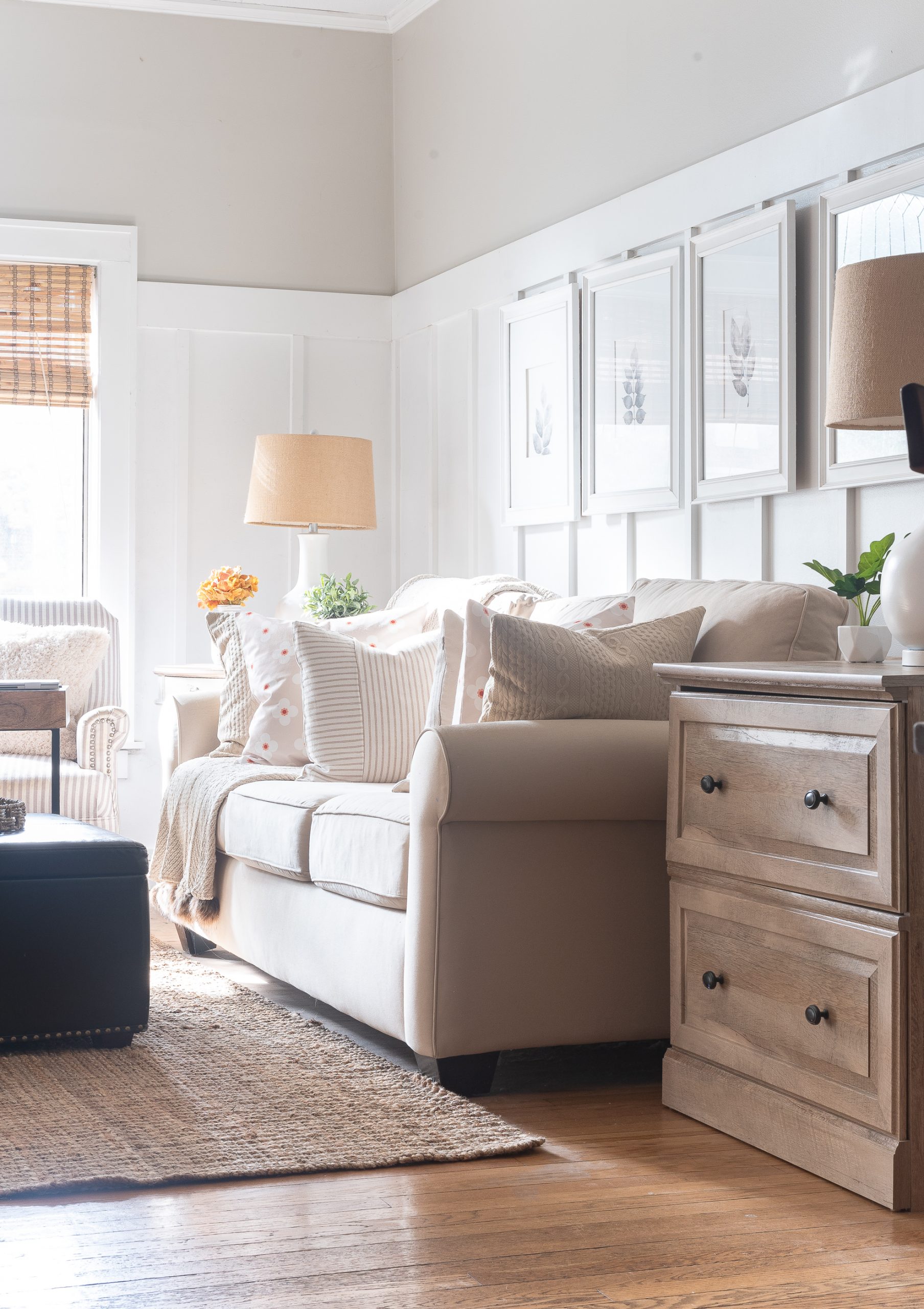 Within the first 15 minutes, there's something that brings that big city career-focused gal to a charming small town. It might be the small town she escaped from to pursue her career and hasn't returned to in years. Or in pursuit of her big break to close a small town deal. Or perhaps on her way to another big city her car breaks down.
And that's when the small town charm and romances brews.
Now, I've never lived in a small town. So I don't know if what happens next is fact or fiction (I'm skewing fiction) but in the Hallmark movies, small towns always have a full schedule of Christmas-related activities leading up to the big day.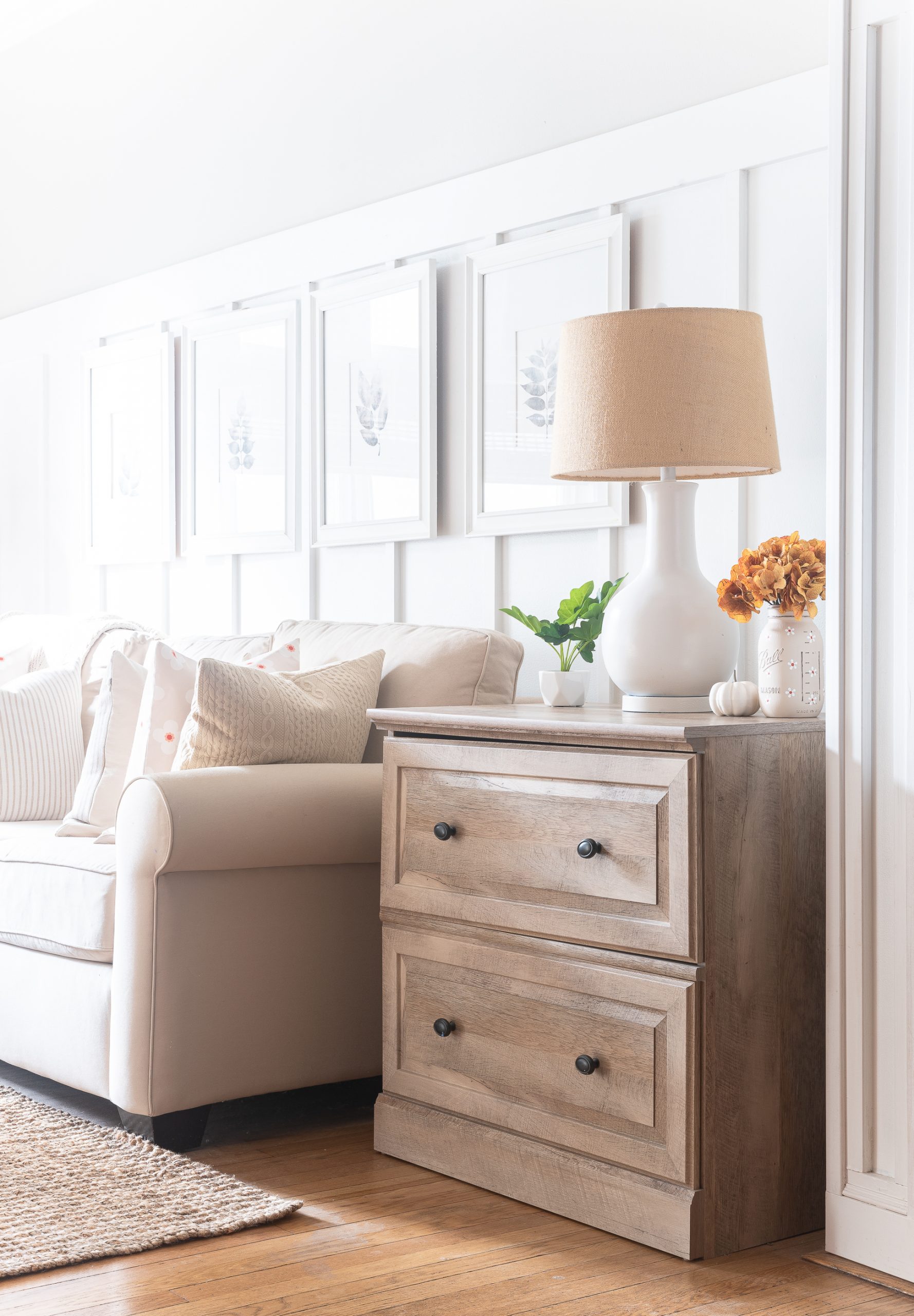 There's the tree lighting ceremony.
There's the gingerbread house-making contest.
There's ice skating.
There's wreath-making.
And there's hot chocolate drinking.
Lots and lots of hot chocolate drinking.
Do adults in their late 20's and 30s and 40s really drink that much hot chocolate? Or has Big Hot Chocolate gotten it's claws into Hallmark?
Oh, and there's romance simmering with a small town boy. But no kissing. Yet. Maybe just some hand holding. Or she might slip on the ice and fall into his big, strong arms kind of thing.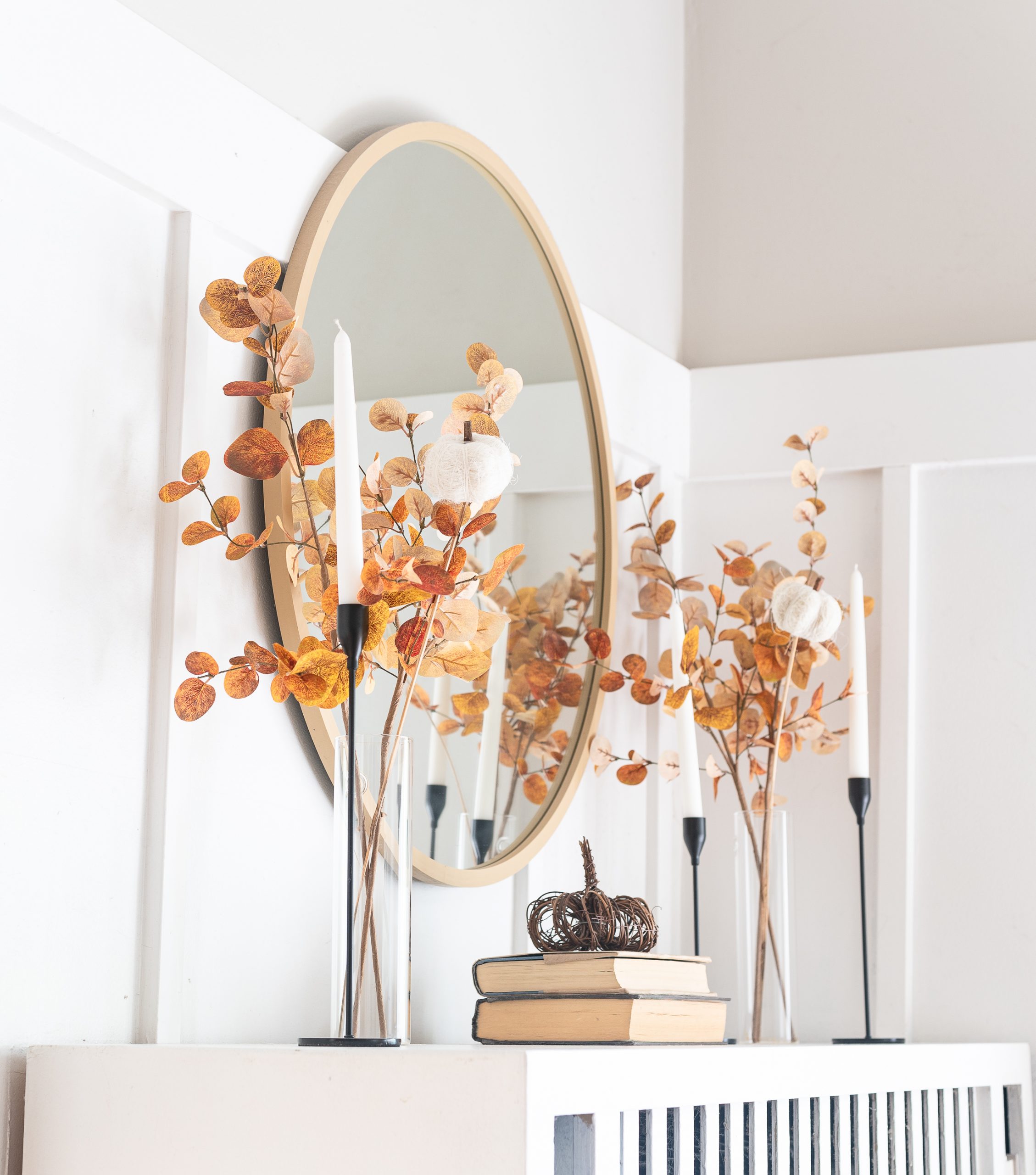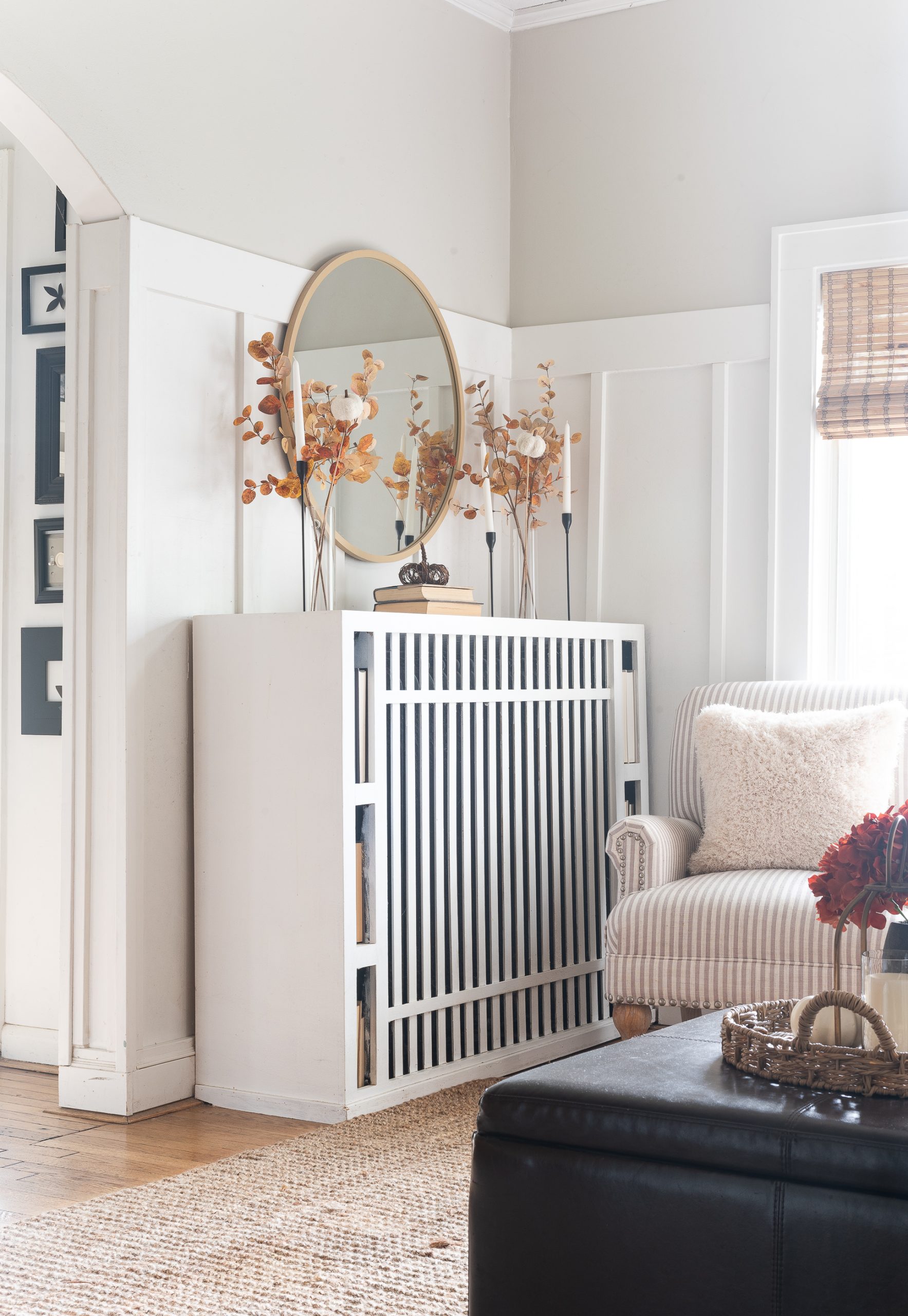 About 15 minutes before the end of the movie, there's some minor conflict that tears them apart. But they have 15 minutes to patch things up. And the big movie finale is the kiss.
That's it. In a nutshell.
And yet, as the weather outside gets colder and the atmosphere inside gets cozier, there's nothing I like better on a fall evening than to get comfortable on my fall living room couch and cozying up with a Hallmark Christmas movie!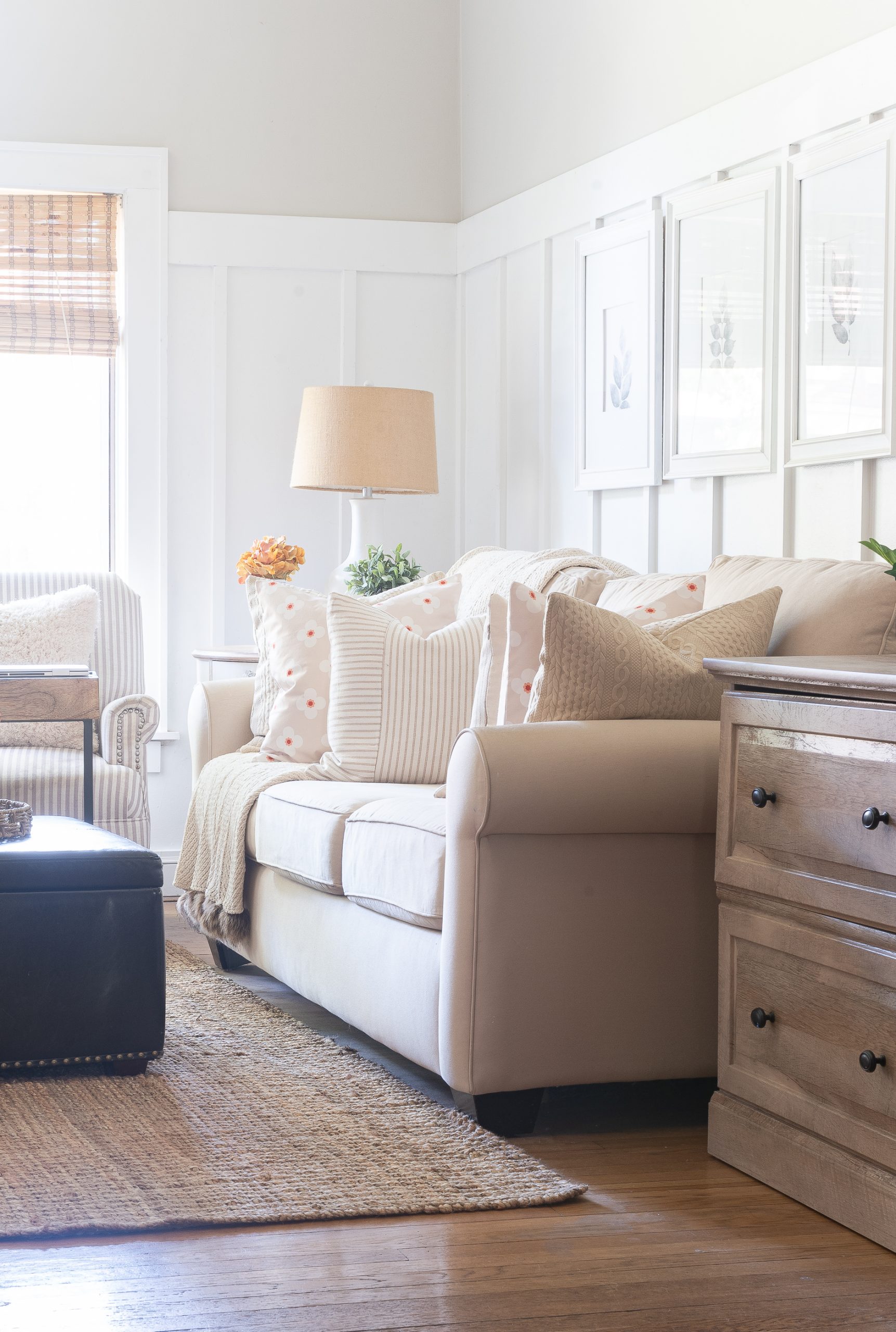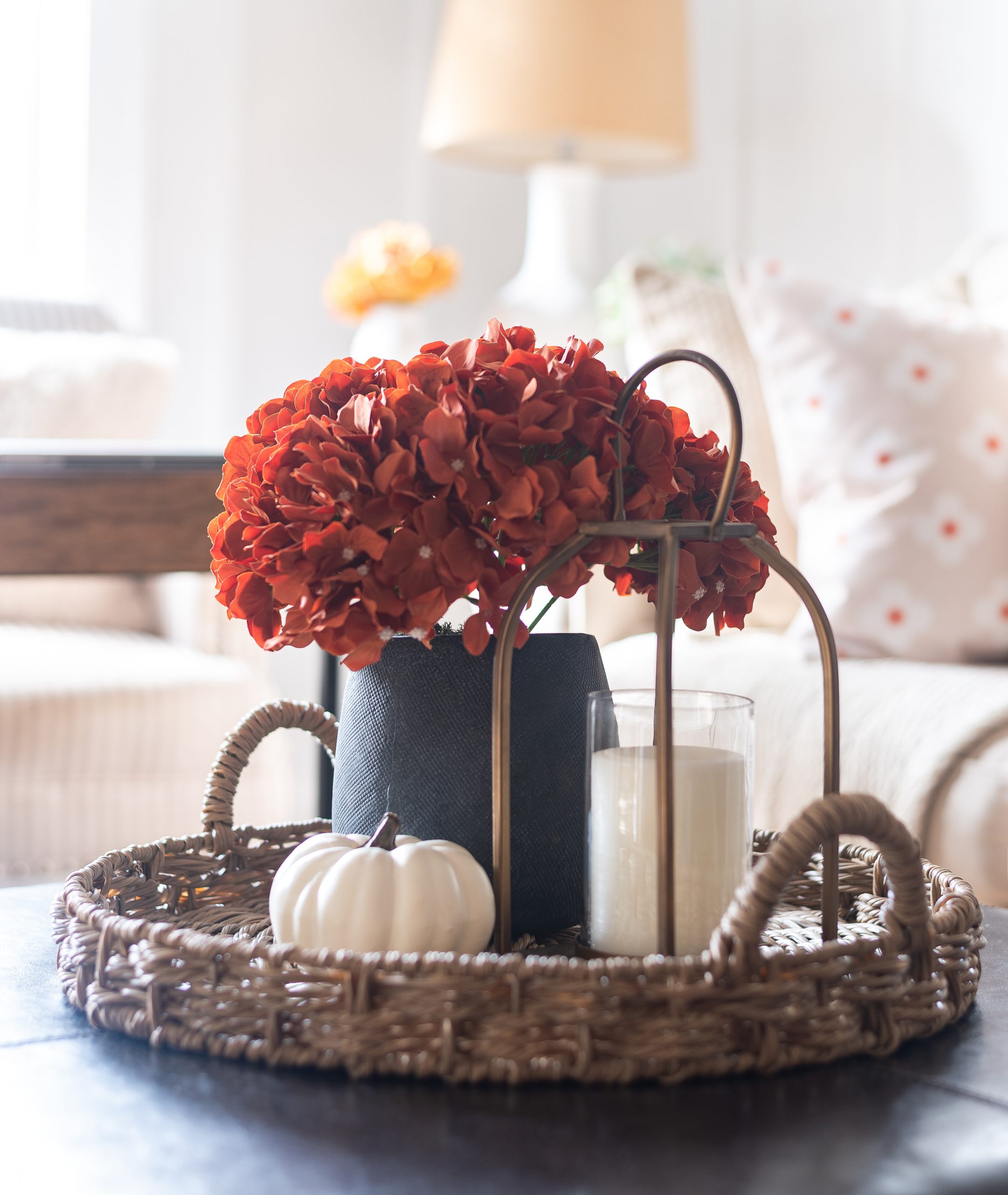 Oh, and conspicuously absent from these movies are cards. Like greeting cards. I mean Big Greeting Card even has its name on the channel! You would think there would be at least one shameless Christmas card plug!
Living Room Shopping Sources (includes affiliate links to Amazon)
Tan Sweater Pillow Cover | Floral Pillow Cover | Khaki Striped Pillow Cover | Pom Pom Blanket | Cinnamon Hydrangea Stems | Burnt Orange Hydrangea Stems | Fall Eucalyptus Stems | Jute Rug | Striped Armchair | Gold Round Mirror | Candlesticks | Faux Leather Storage Ottoman | Pottery Barn Couch | File Cabinet Dresser
You Might Also Like: