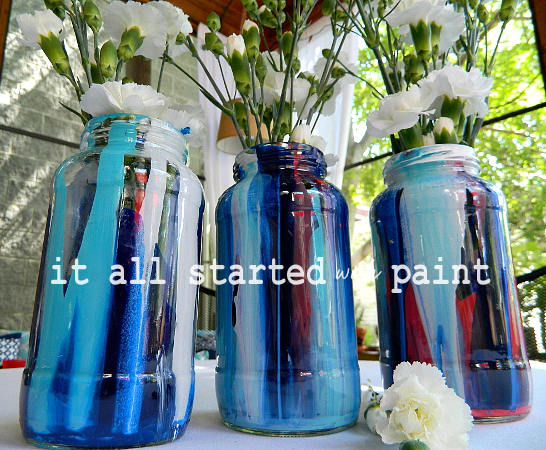 What does it say about me that when I walk into a store like Anthropologie …
(and, yes, I have a brick and mortar Anthropologie within walking distance of my home)
… that instead of focusing on the fabulous merchandise, I'm drawn to this display …
And the silly that is me I pick up one of the jars to look for the price tag. And then … and only then … do I realize this is not for sale. It's a prop. Part of the display.
* and now picture me clunking my forehead with my open palm *
And when I leave I cannot stop thinking about that Anthropologie display. Those paint drip mason jars stay with me. They haunt me. So I Google "Anthropologie paint drip mason jars" when I get home … you know, to find all those re-creation tutorials out in blog land …
… and I find two. This one and this one that I proceeded to pin on this Pinterest board …
Huh?
* and picture me clunking my forehead with my open palm again *
Only two? I expected to find hundreds upon hundreds of blog posts about this. Because I'm never ever ahead of the curve. On top of the trends. I'm typically trailing behind. Far, far behind …
(and it never ever occurs to me that perhaps there are so few blog posts or tutorials because this project is just not trendy or cool or ahead of the curve …)
So I forge ahead (thinking I'm way too cool) and enlist the help of my daughter for this super cinchy project. We grab some Prego jars that I've been saving …
… because, like pallets, the ever so popular mason jars elude me; I do not know where I would find these seemingly cheap and plentiful jars …
… and we grab the paint we used to make our birch tree painting. And we add a bit of water to the paint so that it will pour easily …
… and then we pour the paint into the bottom of the jars and turn the jar upside down so the paint runs and drips; and we twist it and turn it again and again …
… and then we layer more colors by pouring it in slowly and carefully along the top lip of the jar …
… and we repeat our pours around the lip of the jar until my daughter gives it her super sneaky smile of approval.
And then we put them on our fabulous screen porch and click away …
And when all was said and done, my favorite jar is my daughter's blue and white design on the left …
And the very best part of this super cinchy project? Unlike Anthropologie — who probably paid a steep sum of money to some high priced stylist to make all those pretty paint drip jars — this project cost me zero dollars.
That's right …
… Nothing …
… Nada.
Now I'm not the only one who put together a cinchy project this weekend. That's right. Me and some of my blog friends had ourselves a "virtual" crafting party. So be sure to check out their super simple cinchy projects (just click on the pics to be transported to easy peasy fabulous-ness) …
You Might Also Like: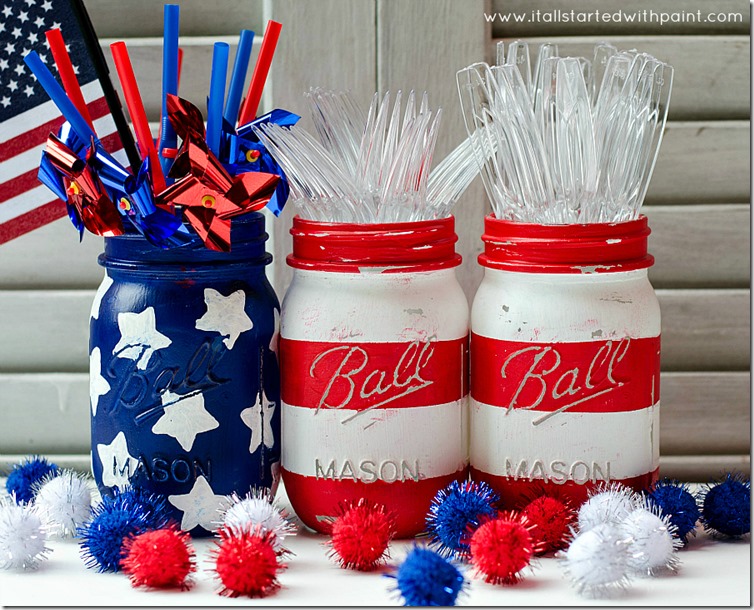 American Flag Mason Jar Set (click here)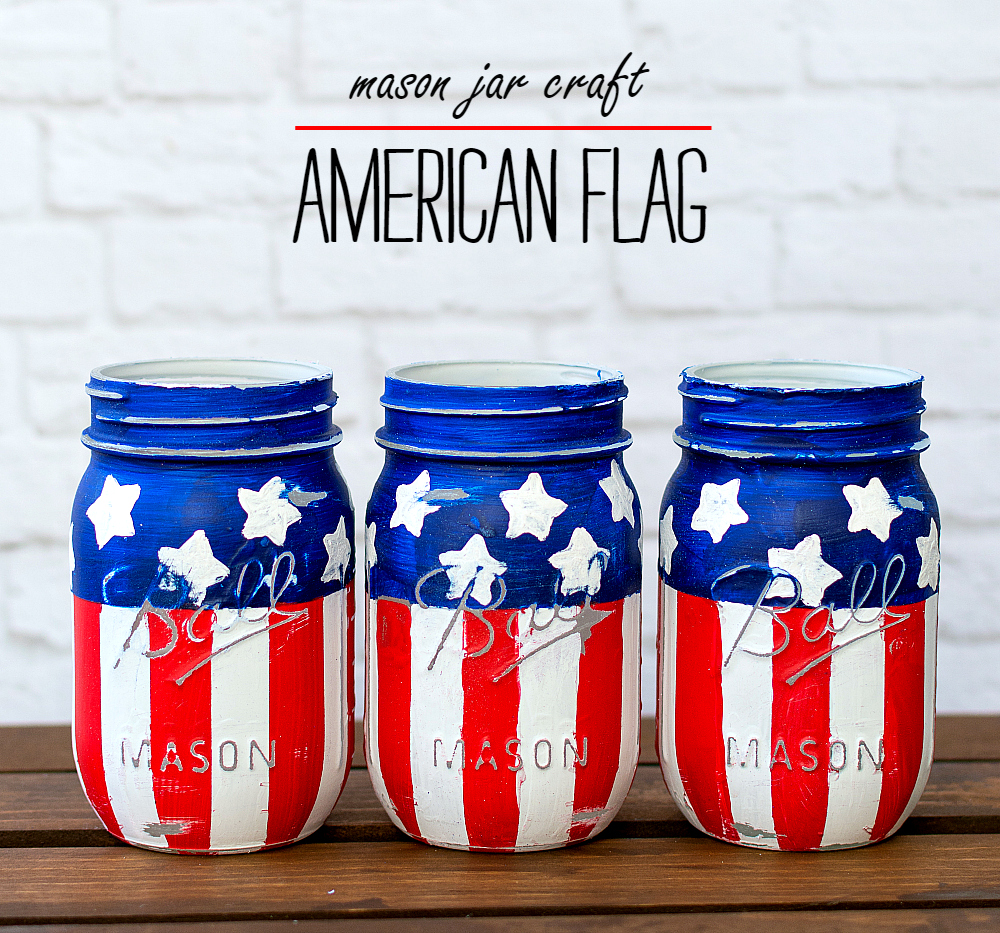 American Flag Mason Jars #2 (click here)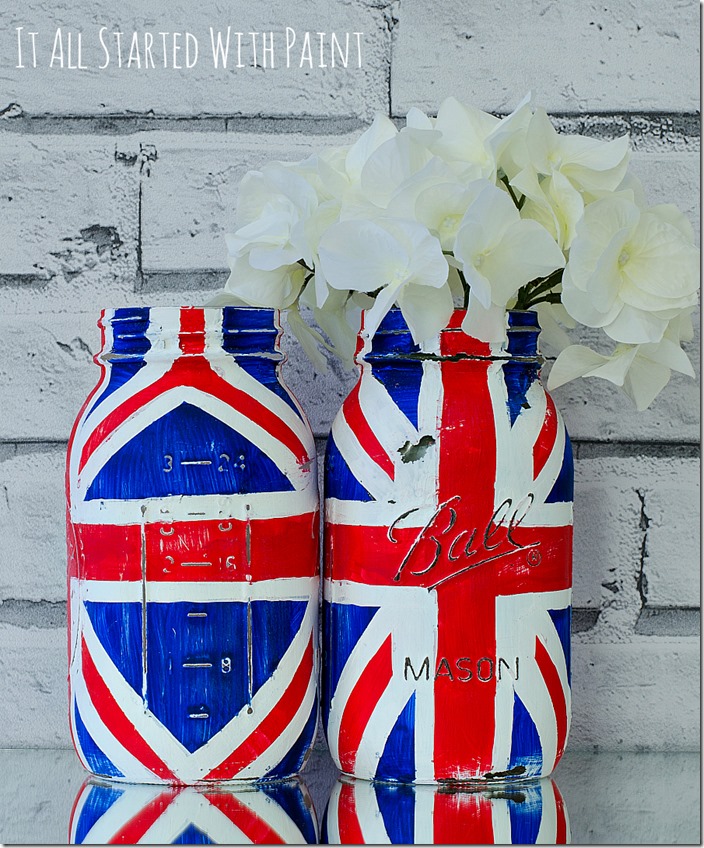 Union Jack Mason Jars (click here)

How To Paint & Distress Mason Jars (click here)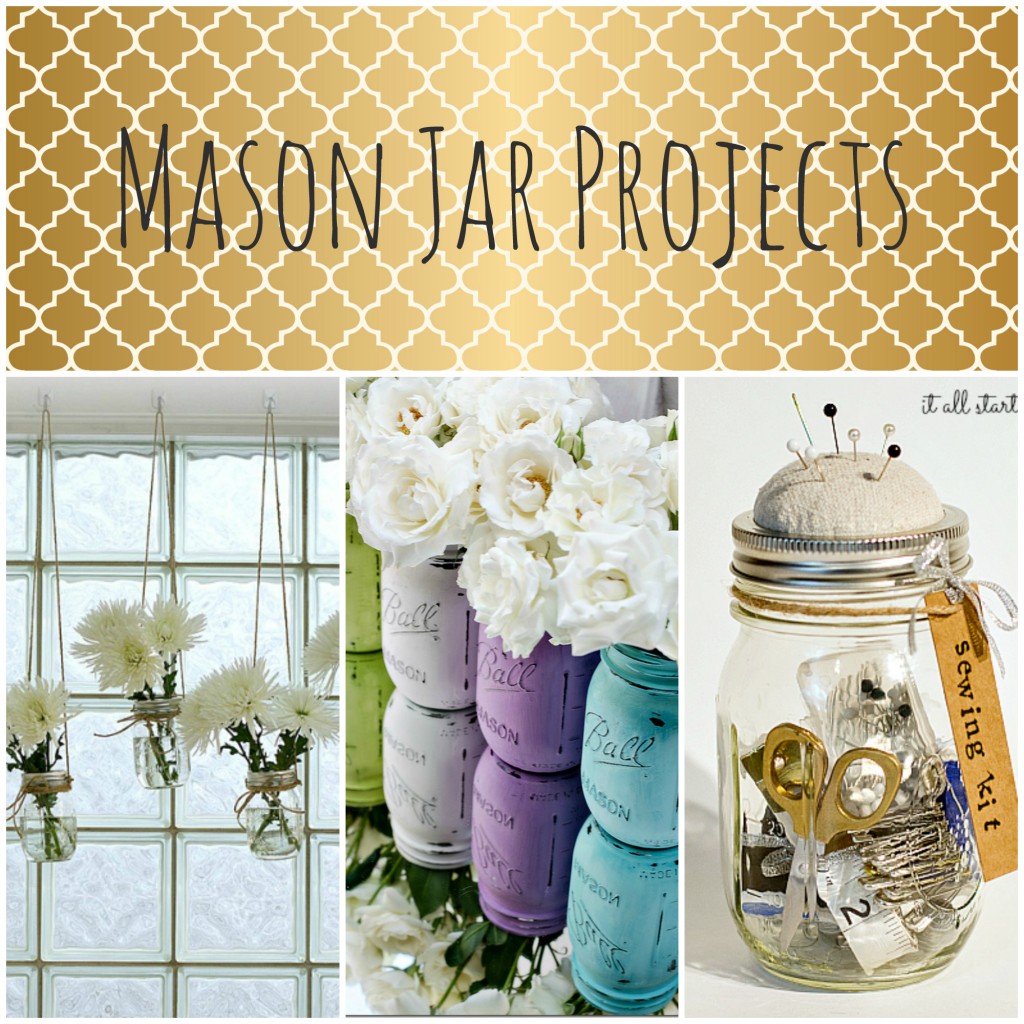 For more mason jar project ideas, check out my mason jar project gallery by clicking here …
And for even more inspiration, check out my mason jar blog …