No Carve Pumpkin Crafts – Pumpkin Craft Ideas for Kids.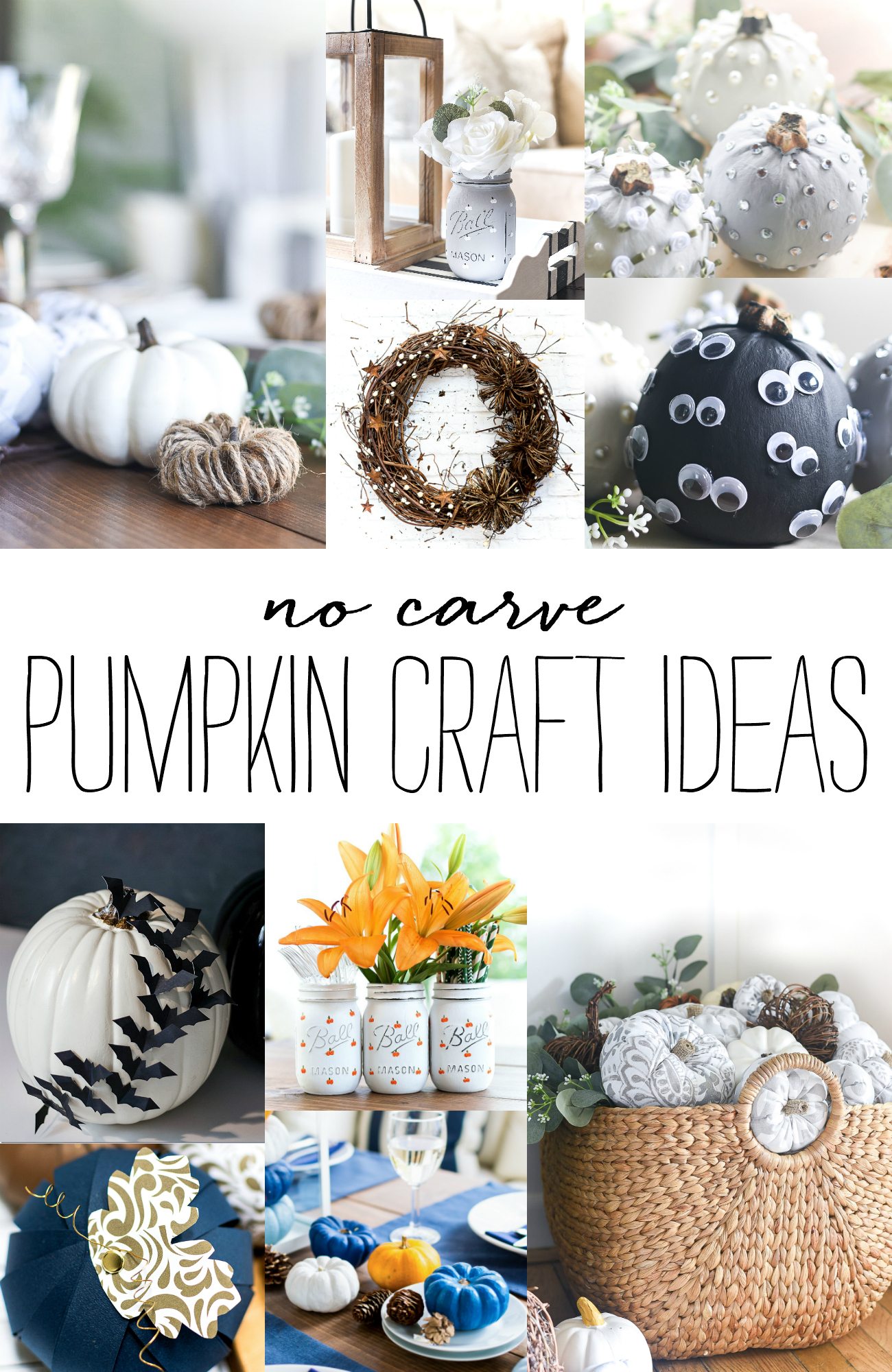 I have a little pumpkin fail story to share with you all.
It was October 1993 and I had packed up all my worldly belongings and hit the road in my white-on-white Volkswagen Cabriolet convertible to Chicago. I had no job lined up, but I did have a really fun and funny fiance with the most amazing blue eyes waiting for me. And a really cool apartment to live in.
I was eager to start our life as a couple, to make a home together, and to create and celebrate traditions together.
First up was Halloween.
We didn't have a front porch to decorate. We lived on the second floor of a building with four apartments. Our outside entry was four concrete steps.
Oh, and the chances of our getting trick-or-treaters was practically zero.
But I was eager to decorate for Halloween and we went ahead and got a couple of pumpkins from one of the many pumpkin patches that pop up on every empty lot in Chicago in the fall. We sat on the kitchen floor and carved them up. Then rinsed and dried the pumpkin seeds, sprinkled them with salt and popped them in the oven.
When it got dark, we put our pumpkins in the front window of our apartment and lit them up with candles.
And as they flickered away, we cozied up on the couch with our toasted pumpkin seeds.
The start of a great tradition. Right?
Oh how wrong I was!
The next evening as the sun fell, I decided to light up those pumpkins again. But when I removed their little pumpkin stem lids …
I jumped back.
And dropped the pumpkin stem lid.
Because the inside of the pumpkin was just filled to the brim with mold!
Yuck!
Apparently lighting a candle inside of a carved pumpkin inside of the house is not a good idea. And creates the perfect conditions to grow copious amounts of mold overnight.
Who knew?
If only no carve pumpkins were a "thing" back in 1993, I could have started a very different non-moldy tradition using any one of these no carve (and no mold!) pumpkin craft ideas … 🙂